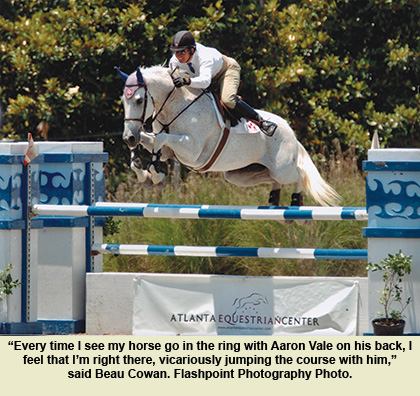 One young show jumping fan shares his unique connection to this grand prix show jumping star.
Aaron Vale is one of the most accomplished grand prix riders that this country has ever produced. You may think that this article is just one of many that's been written about Aaron's illustrious riding career. But it's not.
What makes my story about Aaron different from the others?
A lot.
First, let me explain my family background. My mom, Carol Wilson Cowan, grew up in Virginia Beach, Va., riding and showing at Hillcrest Farms with Pam Baker and Jimmy Cantwell. She then married Vaughn Wilson, and together they owned Tuskawilla Stables in Central Florida in the 1970s.
They had many top-quality hunters and jumpers, including Mr. Demeanor, who won the American Invitational in 1977 with Terry Rudd.
My mom has three kids: Bryan Hunter (my brother always says that he was glad my mom didn't ride jumpers because his name would be Bryan Jumper); Devon (You guessed it. Named after the Devon Horse Show); and myself, Beau.
Sounds pretty normal, right?
We all grew up around horses, but my brother and sister eventually moved on to other interests. Not me. I'm all about horses.
I was born with cerebral palsy, which confines me to a wheelchair. My limitations are that both of my legs and right arm are very tight and lack mobility.
When my mom and I watched the movie Dark Horse, about a girl who had to work at a therapeutic riding program and came to love horses, it gave me hope that one day I could ride a horse by myself.
With my mother's vast background in horses, she felt that I deserved the chance to try and ride. The only thing that made my mom mad was the fact that I couldn't clean stalls! I'm just kidding, of course.
Next, we placed an ad in the local newspaper. It read: "Looking for a gentle horse for a handicapped rider."
That ad resulted in the most precious gift, Fancy Bar Gold. I was 11 at the time and kept her for the next 11 years. Riding Fancy allowed me to look people in the eye instead of having to look up at people. She also allowed me to go anywhere I wanted. Horses' hooves don't get stuck in the sand like the wheels on my wheelchair.
I rode and showed Fancy for all those years in western pleasure against able-bodied competitors, and I even did my fair share of winning. We also founded a therapeutic riding program. We lost her at 31.
So, how does this involve Aaron?
Although my mom is a full-time schoolteacher, she still enjoys riding, showing and training a few students. We don't attend as many A-rated shows as I would like, but when we do I like to sit and talk to the riders and soak up as much information as I can.
On one occasion in Culpeper, Va., I met Aaron. It was funny how we met. I was watching the grand prix, and he came out of the ring saying, "I really blew that one." He was talking about the course he just rode.
I jokingly called out to him, "Yeah, I hate it when I do that!"
He really got a kick out of what I said. That's when I became Aaron's No. 1 fan.
A few years after I met Aaron, my mom bought a flea-bitten gray horse named Alaska that she thought she was going to retrain into a hunter. He had other plans, however.
He jumped way over every jump we put in front of him—3'9″, 4′, even 5′ was no problem. Then, we knew we had a jumper on our hands.
My mom told me that she didn't want another jumper because she knew that she couldn't ride and train a jumper like it should be done. I begged my mom to call Aaron. She did.
She asked, "Do you remember Beau from Culpeper?
Aaron said, "How could I forget him?"
But, really, how many kids in a wheelchair do you see at a horse show? I'm guessing not that many.
We made an appointment to take Alaska up to Ocala, Fla., for Aaron to ride the next weekend. I'd admired Aaron from afar, watching him on television compete in grand prix after grand prix, and now he was going to ride my horse.
Aaron schooled Alaska and said he could jump anything we put in front of him. He thought he was a great horse. I was speechless!
He schooled Alaska several times while he was in Ocala for the winter season. Aaron and I talked on the phone on a regular basis, and I would go to see him ride in as many grand prix classes as I could.
Aaron even calls me his lucky charm because it seems that Aaron wins whenever I watch him in person. I even snuck away from my aunt's wedding, claiming that I was "not feeling too good," to see him win the $50,000 Grand Prix of Roanoke (Va.). I know I'm a bad nephew, but come on, it's Aaron Vale jumping in a grand prix. If you've seen one wedding, you've seen them all!
Aaron's generosity allows a schoolteacher and a kid to be included at some of the best horse shows in the country, including HITS Ocala, HITS Culpeper and Atlanta (Ga.) Classics. Alaska showed in the level 6 and 7 jumpers.
I know another thing about Aaron—he's a competitor and wouldn't ride my horse just for me. Every time he goes in the ring on my horse he knows he has a shot to win! Every time I see my horse go in the ring with Aaron on his back, I feel like I'm right there, vicariously jumping the course with him.
I know that I can't jump the course on my horse. Aaron does a better job than I could ever do! So, I'm living life to the fullest, being a one-man cheering section. Perhaps you've heard me yelling for him at a recent show? Aaron says he can hear me in Europe!
My mom dreamt once that Alaska won the American Invitational with Aaron on him and me strapped to his back in my wheelchair. Maybe one day that dream will come true—minus the me strapped to Aaron
part.
I guess what makes Aaron and I such good friends is that we treat each other as equals. He tells dumb jokes and picks on me like an older brother would.
He even told me once that the show steward was looking for me because I yelled too loudly. He had me hiding from the steward all day. My mom asked Aaron if the steward was really looking for me. He started laughing and said he was just kidding. He had me worried, but I'll get him back when he least expects it.
To some people in the hunter/jumper world Aaron is a hero, but I'm lucky enough to call him my friend.
Beau Cowan