Check the barn aisles the night before the ASPCA Maclay Finals this weekend, and I'd bet you won't find too many Maclay riders out there on a ladder, braiding their own horse for the class. In fact, it might be just Rachael Davis there in the dark.
Davis, 16, is at the CP National Horse Show (Ky.) for her first ASPCA Maclay Finals with Luxury, and she's a hands-on junior rider—she and her mother, Marybeth, do all the grooming and work for her horse, Luxury. In fact, she picked up the clippers and gave Luxury a body clip earlier this week in preparation for the big class. Even though a lot of her do-it-yourself approach is to save money, Rachael also definitely enjoys the time with her horse.
Rachael Davis clipping Luxury at the
CP National Horse Show.
"That time helps me focus; if I've had a long week, especially, it relaxes me. Spending time with my horse calms me and it's really therapeutic," Rachael said. She doesn't mind the lack of sleep. "It's really relaxing and it gives you two hours to think about whatever you need to think about and give you time with your horse. I usually do it at night, so I'll be the last person in the stalls at night braiding her and then I put her sleezy on her and go back to the hotel. Then I get up early to ride her in the ring before the show starts.
"[Grooming and braiding myself is] definitely for financial reasons, especially now, but I really enjoy it, too," Rachael said. "I started by braiding my pony when we were doing schooling shows. I would practice, but my braids were horrible. Then as I came along, I'd get tips along the way, and they've gotten better and better as I've braided over the years. I'm definitely one of the very few people at the shows we go to who braids their own horse."
Rachael is on her first trip east for the indoor shows from her Woodinville, Wash., home. She kicked off her East Coast tour with a sixth place in the THIS National Children's Medal Final at Capital Challenge (Md.) aboard Luxury, then competed in her first Pessoa/USEF Medal Final. "I had a nice round. It wasn't flawless, but it was good for a hard course. We found all our jumps and it was smooth. It definitely was a confidence boost for this weekend," she said of the Medal.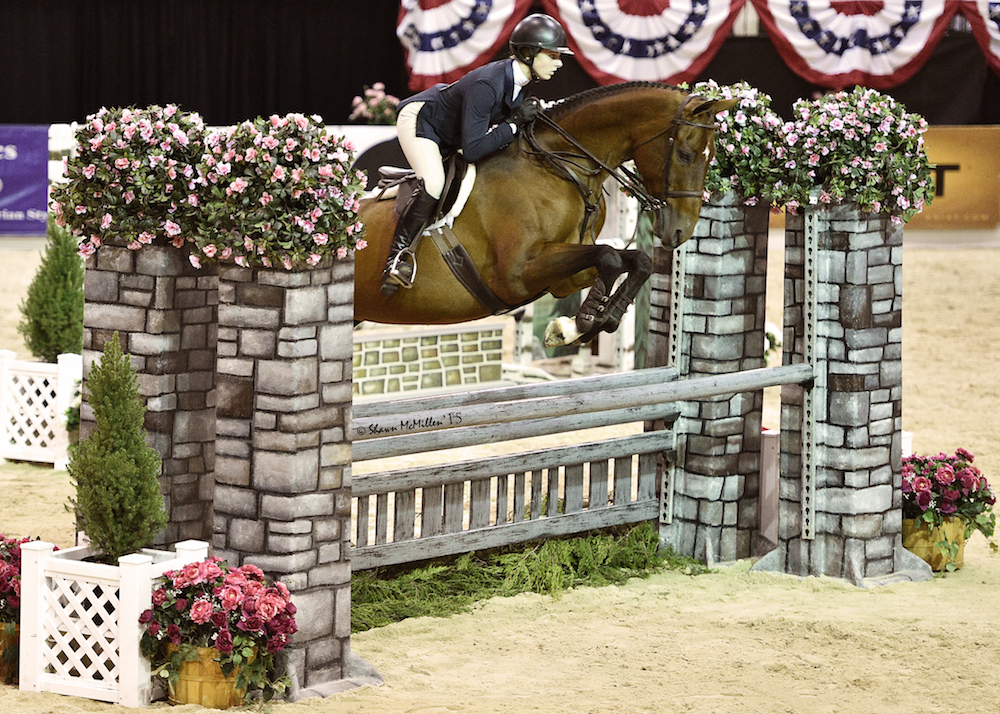 Rachael Davis and Luxury showing in the THIS National Children's Medal Finals, where they placed sixth this year at the Capital Challenge (Md.). Photo by Shawn McMillen
Rachael's trainer, Heather MacDonald, alerted the Chronicle to how dedicated the 16-year-old is to not only her riding, but also her horse care. "Rachael is one of the hardest working kids I know," she wrote. "At home she is the first one to ride without her stirrups if she feels she needs it and is always striving to push herself. Her horse is not the most expensive or fanciest one out there. In fact she was bought from a sales barn with limited show miles. Rachael has done the majority of the training on her. She rarely does pro classes and it's Rachael who rides her in the mornings at the show. I think Rachael deserves a spotlight article for all of her hard work and dedication and to show that she is a true horseman."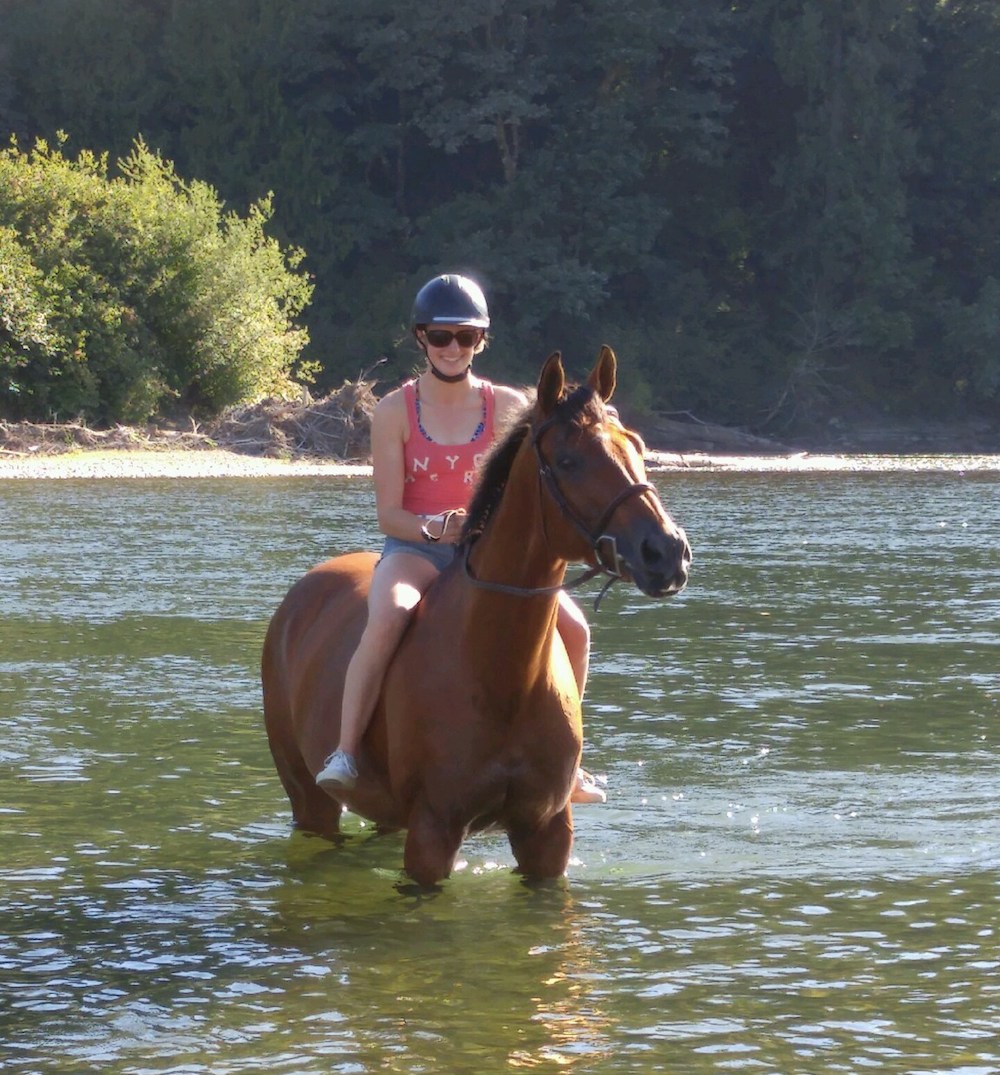 Rachael Davis and Luxury having some fun in the river after showing in the Cascade Classic Horse Show.
Rachael has worked hard in the last three years to develop Luxury into the horse to take her to her first equitation finals. The mare is 13, but hadn't done much when Rachael found her in British Colombia, Canada, in 2012. "I borrowed her to show in the children's hunters at Thunderbird and I fell in love with her," Rachael said. "We went back to Canada in December of that year and rode her in a clinic up there and then we bought her."
"She was out of a field and had been in the sale barn for a month. She was pretty green," Marybeth added.
Despite "Lucy's" greenness, Rachael felt comfortable on her right away. "She has a really great brain and she was really relaxed. She just went around and jumped all the jumps and didn't care when I missed," she said.
But there were some holes in Lucy's training, so Rachael and MacDonald have worked diligently to build her up with flatwork. "When we first got her, she didn't really know how to collect and she didn't go in a frame," Rachael said. "She didn't have a lot of muscle. I've really worked on her flatwork and getting her super-adjustable. We started jumping a little higher and she got stronger in her hind end. We started putting her in a frame and getting her topline built up. She also never landed on the left lead when I started riding her, so we worked on that a lot. And now she does it almost whenever I ask, so she's come a long way."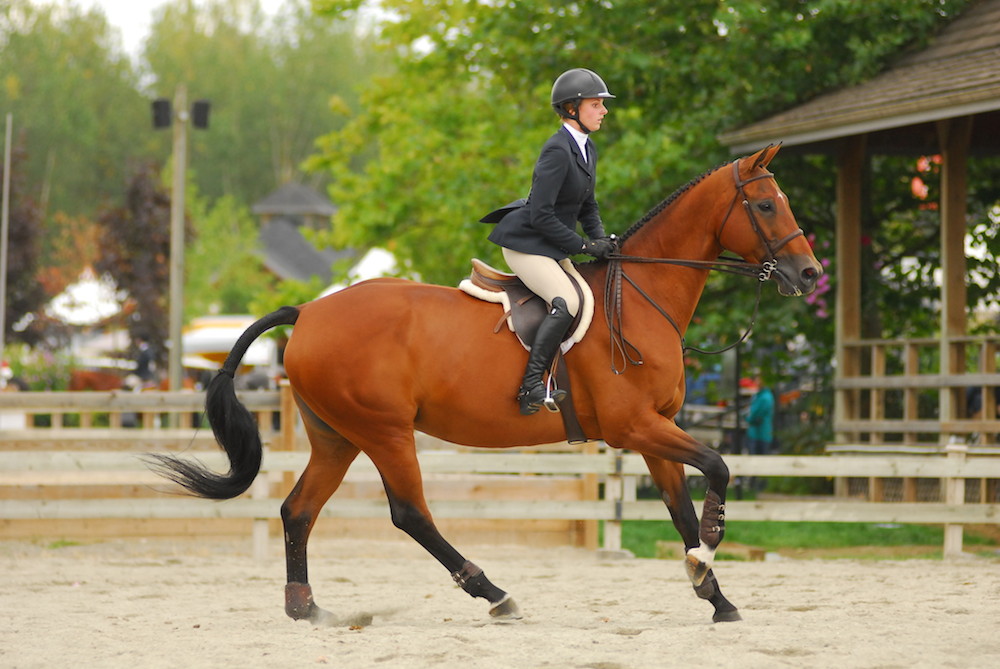 Rachael Davis and Luxury on course this summer.
"It's really rewarding to come to the finals on a horse I've done so much with. She wasn't a perfect, made horse—I had to come a long way to get here in her training. It's good to know that work can pay off, that you can put in the effort and make a horse like this instead of just buying a nice, made horse," Rachael continued.
Together, Rachael and Lucy moved up to the 3'6″ in the summer of 2013, showing in the junior hunters and the equitation classes. Marybeth noted that if Lucy needs a warm-up class in the performance hunter divisions, Rachael's the one riding. "Heather does a lot of 'Rachael needs to do this by herself.' She'll say, 'I can help you do it,' but she believes it's important for Rachael to learn how to do it for herself, which is a different approach than we'd had before," Marybeth noted.
Rachael and Lucy were eighth in the Region 7 Maclay qualifier to earn the trip to Kentucky for the Final. They were consistent ribbon-winners in the junior hunter division in the Northwest last year, but this year focused on the equitation classes. Rchael and Lucy would go in a few 3'3″ performance hunter or children's jumper classes to help prepare.
Of her goals for the ASPCA Maclay Final, Rachael kept it simple. "I just want to go in and have a nice round, to make it smooth and to have it look like it's effortless. I want to show I've improved on my riding from last year, in my coursework," she said.
Rachael goes 63rd in the first round of the ASPCA Maclay Final, which starts at 6:30 a.m., on Saturday, Oct. 31. The Chronicle will be live-blogging from ringside—you can find all the links and information you need here.