The first and only time British eventer Ben Way came to the United States was a few years ago to ski in Colorado, so he was in for quite the surprise when he stepped off the plane in Virginia this week.
But the heat and humidity are no worry to the 27-year-old rider, who brought new ride Willows Tipster to the inaugural FEI Nations Cup at the Land Rover Great Meadow International.
"The horses have coped amazingly well. They have fans in the stables, and we work them early in the morning," he said.
The rest of Way's team; Jodie Amos on Wise Crack, Rosalind Canter on Zenshara and U.S.-based Justine Dutton on Huck Finn, are all part of Great Britain's next generation of team riders, and they're hoping for a good finish this weekend.
"There's a bit of pressure obviously, but it's come at quite a good time because we've got teams for Rio and Aachen [Germany] next week, so it opens it up to other riders, which is great," said Way.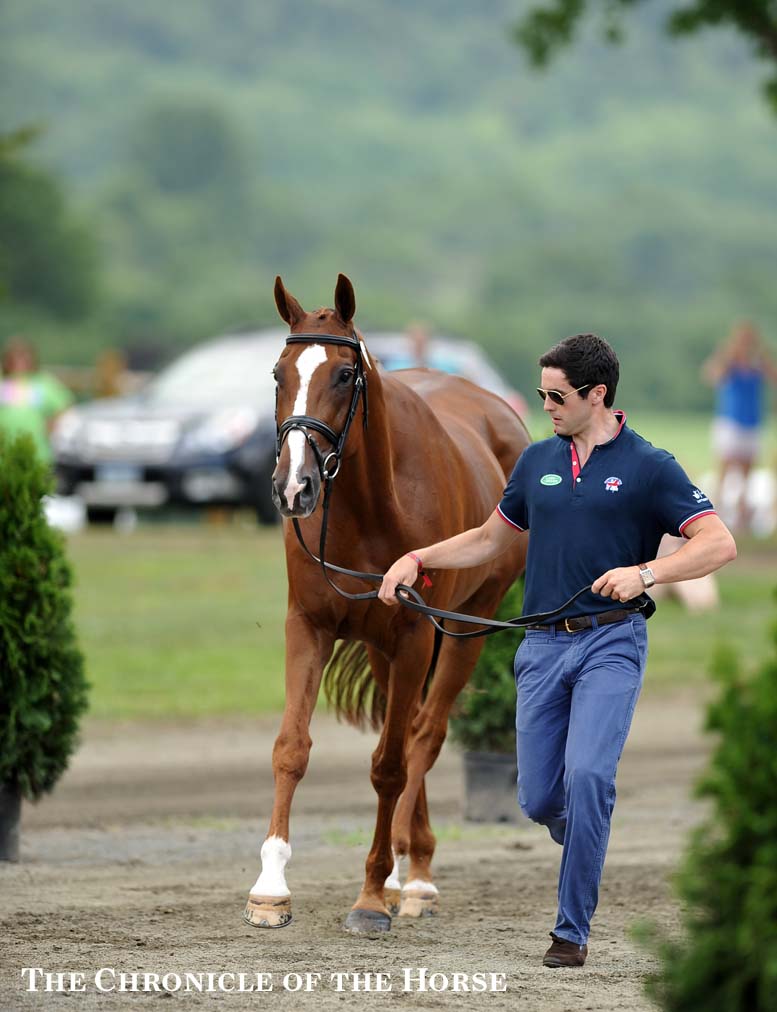 Ben Way and Willows Tipster. Photo by Lindsay Berreth.
Way's also unique in that he'll be using some vacation time to compete at Great Meadow. He works full time as a chartered surveyor and land agent for equestrian properties at Butler Sherborn near his home base in Rugby, Warwickshire, England.
Way grew up on a family farm and rode in Pony Club, where he earned his "A" rating while pursuing eventing and foxhunting. He picked up recognized eventing in 2007 and rode as a point-to-point jockey for five seasons, but when he grew too heavy, he decided to focus more on eventing.
"I think it helped my cross-country riding a lot, but it didn't help my show jumping at all, or my dressage riding!" he said.
Way knew it would be tough to make a living just riding horses, so he followed in his father's footsteps to the realty business.
He earned his degree in rural land management at the Royal Agricultural College and now works full time in addition to keeping a barn full of 18 horses with his girlfriend Sarah Parkes.
Way commutes an hour to work four days a week and works from home one day a week. He tries to fit in cross-country schooling or team training on those days.
He usually rides one horse in the morning before work and two at night on a normal day.
Thankfully his boss is also very knowledgable about horses. "My boss is very horsey, and his wife's got a four-star horse called Improvise with Bill Levett, so they're really understanding about working," said Way.
Way enjoys the balance that working full time gives him.
"On the one hand, you have a busy day at work, you come home and switch off and completely focus on the horses, and the alternative, if you go into the office after you've had a bad day with the horses. I think it's quite good that when you're in the office, you're in the office, and when you come out, you forget about work," he said.
"Especially in England, it's difficult to get financial support and backing, and I was always conscious that I needed a fallback. The plan would be that I was going to come out of university, you have to do two or three years to get qualified, and I was going to do those two or three years and then focus on the horses completely," he continued. "But I managed to make it work quite well doing both. The horses are getting busier and busier now, so it may be that I have to take a view going forward that I take a break out of doing the property work and just do the horses. I don't quite know—we'll see."
Way's horse for the Nations Cup, "Archie," is a 12-year-old Irish Sport Horse gelding (Vasco—Madison, Coevers USA) owned by Posy Kopanski and Peter Finer.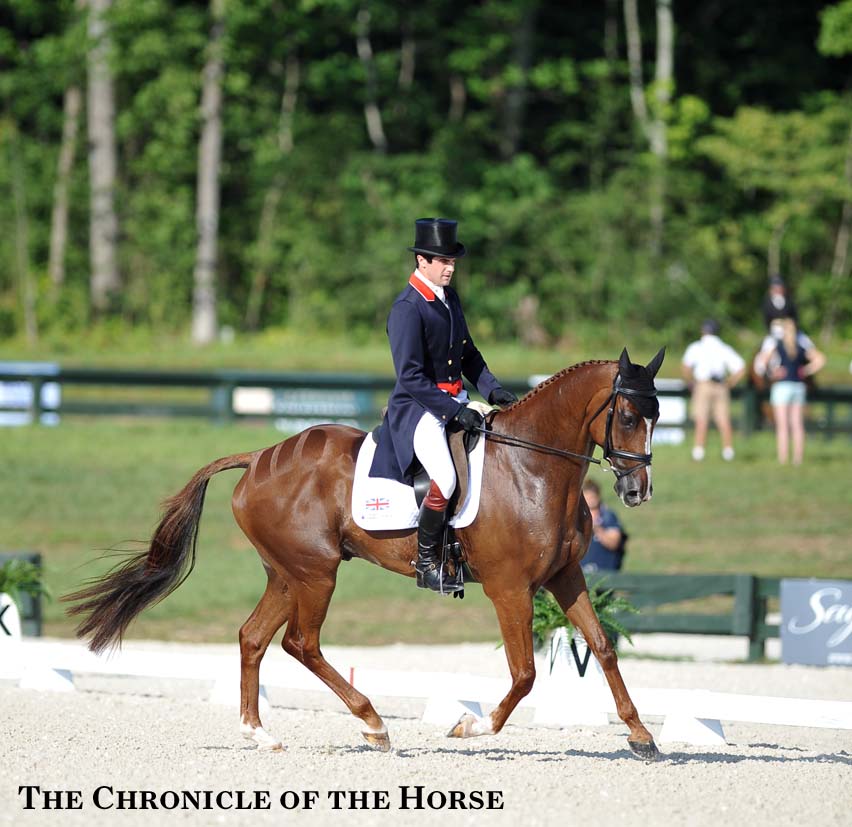 Ben Way and Willows Tipster scored a 60.7 in dressage. Photo by Lindsay Berreth.
He got the ride early this season after the gelding had been produced to the three-star level with British rider Ben McClumpha.
His other top horse, who's staying at home to work on his flatwork before a fall four-star, is the 13-year-old off-the-track Thoroughbred Galley Light (Turtle Island—Coola Cross, Be My Native) that he and Elisabeth Collins own. They finished 12th this year at the Mitsubishi Motors Badminton Horse Trials CCI**** (England), Way's best four-star finish.
"I quite like my Thoroughbred-type horses," he said. "He went the best he's ever gone at Badminton, jumped a double clear, ended up 12th. He's not the easiest on the flat, but he's a brilliant jumper and really galloped."
Archie is a bit of a different ride since he came to Way as an advanced horse.
"He's been all around with a lot of different riders, and I've taken him on," he said. "He's a bit of an unknown entity to me. He struggles on the flat; he gets a bit tense. But he's normally quite a good jumper.
"It's been an experience for me. My other horse I produced from pre-novice up to four-star, so I really knew him, whereas I've never taken a three-star horse on, so it's quite a different way of dealing with things," he added. "He's quite a complex little character as well. It's taken time to know him and for him to trust me. He's a nervey sort, so it's just getting that trust and taking the time."
Way is hoping to contribute a good score this weekend and is eyeing the CCI*** at Blenheim (England) in the fall as he continues to get to know Archie.
"He's tended to have a run-out occasionally, but he went really nicely at Bramham [CIC*** (England)], was very straight and very true. He's a Thoroughbred too, so he gallops. He's quite a careful jumper if all goes to plan," he said.
Wondering how Way and the other riders at the Land Rover Great Meadow International are doing? Make sure to follow along with the Chronicle for lovely photos and all the news at www.coth.com and on Facebook, Instagram and Twitter.