It was quite a way to end an amazing opportunity. On the way home to Missouri from showing for the first time at the Winter Equestrian Festival (Fla.), Isabella Baxter won the high junior/amateur-owner jumper classic on March 19 during the Gulf Coast Finale (Miss.).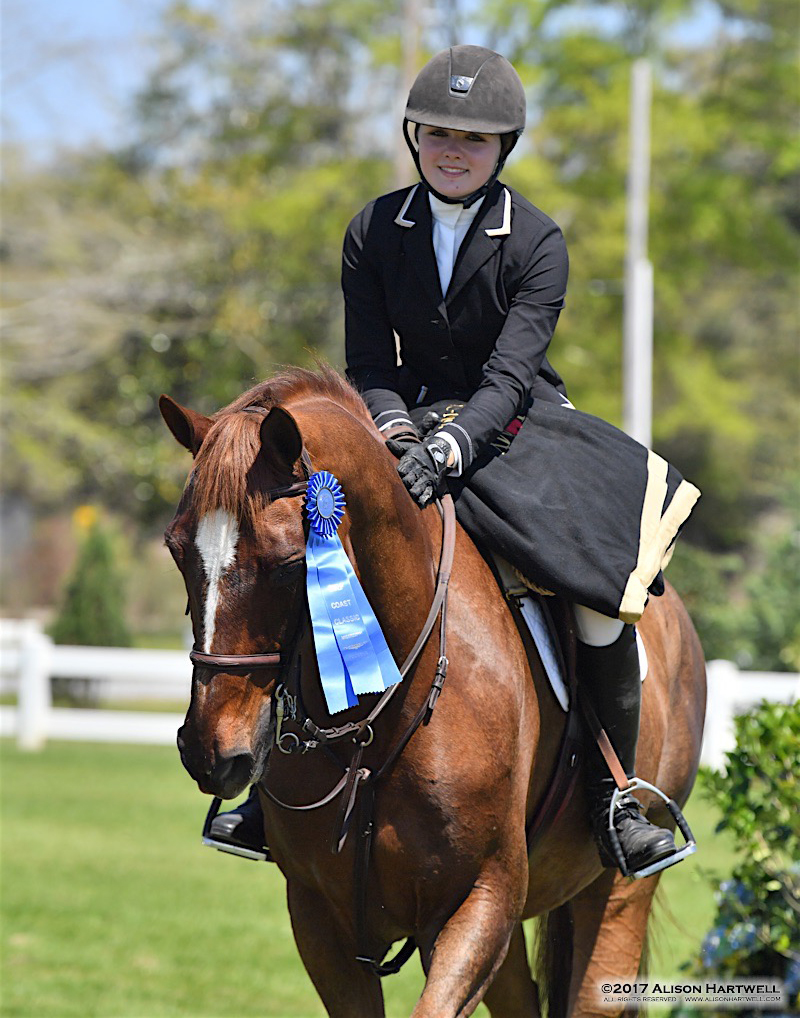 The win came aboard the only horse the 16-year-old owns, Jahil, and it reflected what she'd learned in a remarkable opportunity this winter.
Before Baxter traveled to Wellington to compete at WEF this year, she had never set foot at the horse show. Never rode into the ring under the iconic green bridge, never watched a class under the lights on Saturday night, never competed against some of the biggest names in horses, riders and trainers in the world.
As she sat at home on her family's farm outside St. Louis, Mo., WEF and all the glitz and glam of the country's arguably most competitive horse show was 1,000 miles away, but it was the level of sport to which Baxter aspired.
"When I first started doing the equitation, I wasn't just looking at the people I was showing against, I was looking like, 'OK, well who are the people who are at these big, big shows?' " Baxter, 16, said. "Who are they training with? I would say, 'Here are the people showing at WEF, here are the people winning at WEF, and here's who they train with.' "
Andre Dignelli was one of those trainers—the head trainer at Heritage Farm in Katonah, N.Y., has practically legendary status in the equitation world, leading many of his students to wins at the equitation finals as well as in the jumper and hunter rings. It was through a fortuitous turn of events that when Baxter did finally make her WEF debut this year, it was under Dignelli and the Heritage Farm team's tutelage.
"What Andre is doing for me right now, there aren't enough things that I can say to show my appreciation for that," Baxter said. "He didn't have to do them."
Baxter was born to a horse family—her father is the equine veterinarian Dr. Burny Baxter of Mid-Rivers Equine Centre, one of the most well known vets in the Midwest region, often serving as the official horse show veterinarian at the National Equestrian Center's rated shows in St. Louis. Her mother, Terrilee, grew up competing on the paint circuit in the hunter under saddle divisions.
That she would ride horses was then almost inevitable for Isabella, but she took up the cause with vigor.
"I remember I was gone for the weekend when she was little, and her dad was watching her, and there's a video of her out in the paddock with the pony riding around with just the saddle blanket," Terrilee said with a laugh.
Thanks to Dr. Baxter's specialty at his practice of diagnosing lameness sport horses, he spent a lot of time around hunter and jumper horses, and Isabella went the way of any horse-crazy kid at the shows. She started in leadline and quickly moved on to short-stirrup and ponies. She showed a pony her mother bought as a foal in the large green division, and the family leased the pony Reservations Required, who Isabella showed at the 2013 USEF Pony Finals (Ky.) and place ninth overall in the large division on.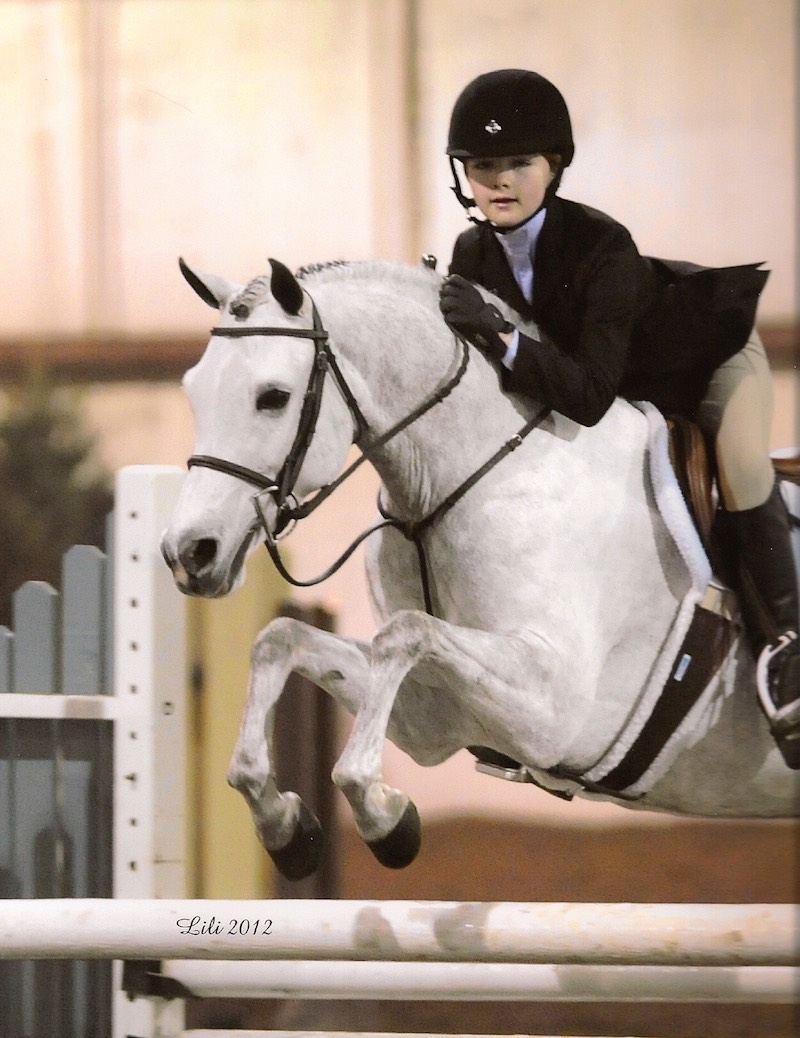 The Baxters care for their own horses at home on their farm, and when Isabella started to move off ponies and onto horses three years ago, they started trailering in for lessons with Shannon Hicks, the head trainer out of Great Griffin Farm in Wentzville, Mo. Hicks recognized Isabella's talent immediately.
"She's just a great student and just so natural, she makes teaching her easy," Hicks said. "You really just get her on good horses and guide her along her path and it comes naturally to her."
Hicks was able to give Isabella a leg up on some very good horses. Isabella's parents leased a children's jumper for her, Keystone, who Isabella rode to the individual gold in the USHJA Children's Jumper Central Region Championship in Parker, Colo., in 2015.
She catch-rode a junior hunter that belonged to a client of Hick's, Brego, placing eighth over fences at U.S. National Junior Hunter Championships in June 2016. Isabella also picked up equitation wins aboard Carit DMZ, owned by Hick's client Helen Gilbert, and Chief, a horse the Baxter family half-leased.
Two years ago, Isabella switched from a brick-and-mortar school to online tutoring so she could dedicate more time to riding and spend the fall season traveling to the indoor finals. At that time her family also took the plunge and purchased Isabella's first "big" horse, Jahil. The 14-year-old gelding was formerly campaigned by British rider Michael Whitaker at the FEI level, and he is the only show horse the Baxters own for Isabella.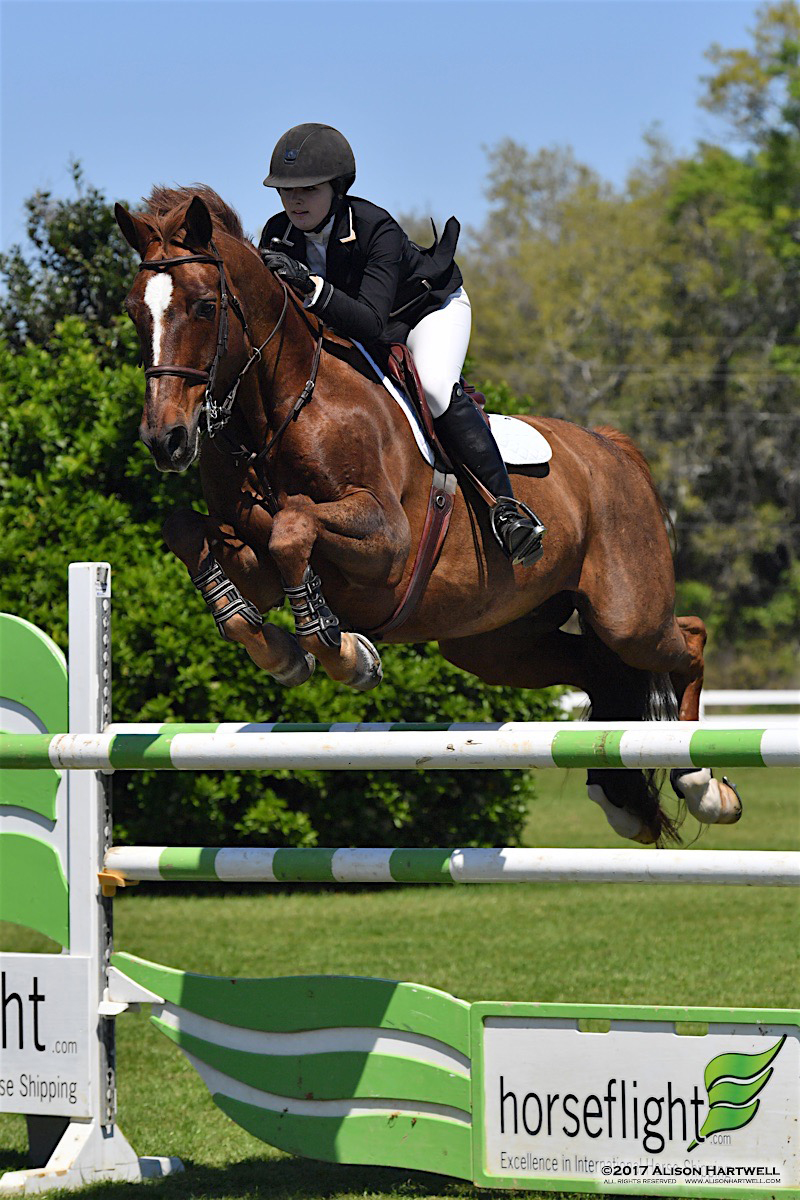 "We bought him for me to show and move up in the jumpers," Isabella said. "I've always really liked the jumpers, I would say before this past year they were my priority, but then I got into the equitation was like I actually really enjoy this too!"
Last year was the first year that Isabella qualified for and competed at the ASPCA Maclay Finals at the National Horse Show (Ky.), the Pessoa/U.S. Hunt Seat Medal Finals at the Pennsylvania National and the WIHS Equitation Finals at the Washington International Horse Show (D.C.).
It was during last year's show season that Dignelli and Isabella first crossed paths.
"Another trainer had spoken to me about her," Dignelli said. "To Isabella's credit, people notice that she's a good rider, and someone kind of tipped me off and tipped them off, and that was sort of how the connection happened.
"You couldn't help but notice she was a talent, and her dad is a top vet and her mom is supportive, so you can get the feeling that they really want to do this," Dignelli said. "Shannon has done a great job with her. We sat down at Washington this year and decided we were going to collaborate and put something together for [Isabella] this year."
So Isabella and her mother packed up their horse trailer/camper and traveled to Wellington, Fla., to train with Dignelli for part of the winter circuit, with four dogs and Jahil in tow. Dignelli paired Isabella up with one of Heritage Farm's equitation horses to compete in Florida, and Isabella began lessoning with Dignelli and fellow Heritage trainers Patricia Griffith and Laena Romond.
"I definitely expected it to be, but it really is incredible. There's a reason they're the best," Isabella said. "They take the time, and no detail goes over looked. It's incredible. Any piece of tack, they always have an idea, and even just having a lesson they can tell immediately what you're doing that's making the horse react in whatever way."
Isabella spent seven weeks at WEF and earned ribbons in the equitation classes on horses from the Heritage string and in the low junior jumper division on Jahil. And when she wasn't competing herself, you could bet on finding Isabella hanging about watching and learning from other competitors.
"It's very eye –opening; it's a lot different from a lot of other shows," Isabella said of WEF. "You can see a lot of different people from not just all over the country but all over the world that come and show down here."
"She's a very good student and she's a well-rounded horse woman for her age," Dignelli said. "They keep the horses at home; obviously with her dad being a veterinarian you can see there's a real love for horses and understanding of the care. They trailer their own horse, they care for their own horses, they're really do-it-yourselfers. They're at the barn from the minute the day starts and they're hand walking at the end of the day.
"She's also interested in more than just winning the classes, I think she's interested in the whole thing which is what I think is so inspiring about her," Dignelli continued. "She's there when we're setting jumps or training horses or the blacksmith or vet comes, she's interested in everything that's going on."
Isabella and her mother couldn't stay for the whole 12-week circuit of WEF—they trailered to Gulfport, Miss., to meet back up with Hicks for the last few weeks of the Gulf Coast winter circuit before heading back to St. Louis. Isabella capped her winter circuit tour with the win with Jahil in the high junior/amateur-owner jumper classic.
Isabella and Dignelli plan to meet up at horse shows in the spring and summer leading up to this year's indoor finals, where Isabella hopes to improve on last year's performance. "I would like to go to all the finals again, and for sure make the call-backs, and maybe place top 10 or 15," Isabella said of her goals. "And I would really like to qualify for [USEF National Junior Jumper] Prix De States [at the Pennsylvania National] with Jahil."
At 16, Isabella is yet unsure whether riding will become her profession, but one thing is for sure—she's striving to be the very best at it.
"I continue to be flattered that kids who want to make it all the way to the top continue to seek us out—that's the kind of rider that I'm trying to attract," Dignelli said. "It's so rewarding to have kids like her come year after year from all over the country to come and train with me. It's really, really fun."