Little did Ali Potasky know that when she pushed 'Accept' on a phone call from an unknown number that her life was about to change.
After one lesson with Morten Thomsen, Potasky's phone rang. "I just answered the phone, and [Thomsen] was like, 'Do you want to come to Denmark?' I almost fainted. I thought for sure he was looking for someone else," said Potasky. That one lesson led to a job offer for Potasky—in Denmark. Now the successful young Grand Prix rider is packing all her belongings and moving abroad.
Potasky competed in Brentina Cup and Grand Prix classes last year with Lamborghini, a Danish Warmblood (Michellino—Abbey Row, Cannon Row) owned by Jocelyn Wiese, and has ridden with Pam Goodrich for about four years. She was hoping to take a few lessons with Thomsen, a Danish Olympian and popular clinician, this winter.
"I love riding with Pam, but I was thinking while I was in Florida for the winter that I should get some lessons with someone else. Pam thought that was a really good idea, and she really liked Morten," said Potasky, 23.
Potasky initially doubted the financial feasibility of riding with Thomsen, but a Renee Isler Scholarship from the Dressage Foundation made it possible.
"I only had one lesson with Morten because the clinic got rained out the first day. The next day we went to a covered ring," said Potasky, who's usually based in Boscawen, N.H., when not in Florida. "I had a really good lesson. 'Zoomie' is coming 17 now, but he's still raring to go all the time. I really liked how Morten was calm and relaxed but at the same time we were working on training issues—not just, 'More shoulders in the half pass, medium trot now.' It was about knowing where every leg is and every body part, having more control and rideability. We worked on exercises in pirouettes, piaffe and passage. The teaching style was very similar to Pam but just a different take on it. It was refreshing but at the same time not different at all."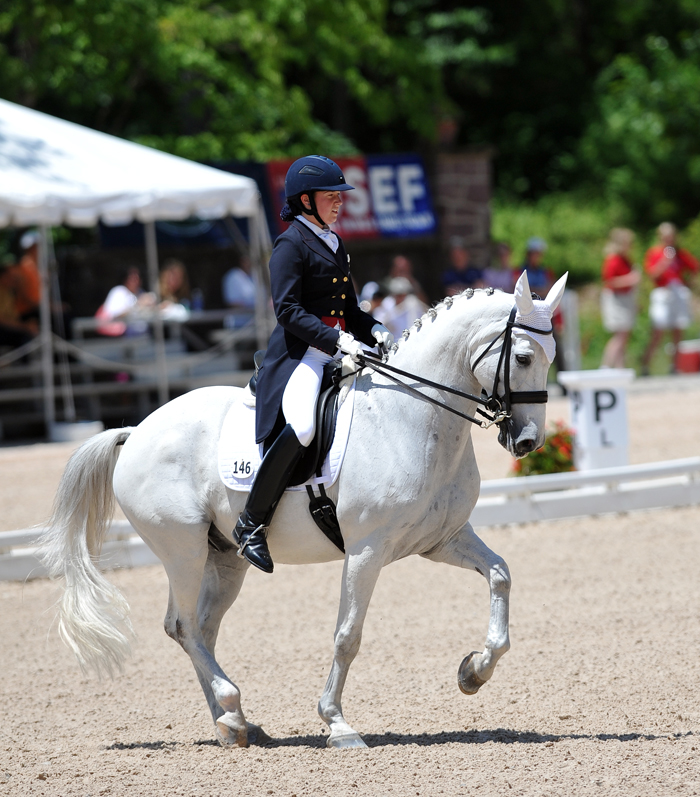 Ali Potasky learned much from her time
showing Lamborghini, but now she's
leaving him behind to pursue more
opportunities. Photo by Sara Lieser
While Potasky was thrilled with her lesson, she wasn't anticipating what came next. Thomsen had mentioned to Chris Hickey that he was looking for a rider, and Hickey recommended Potasky to him. That life-changing phone call came next.
Even though she was staring down a huge life change, Potasky knew her answer right away. With Thomsen's help, she started working out all the logistical challenges.
"I'm really excited. I don't know too many details, but I'm kind of just going with it. This doesn't happen often, so I'm not going to get picky and ask him what I'm doing every second of the day," said Potasky. "I'm going to help a little in the morning and afternoon with chores, and help tack up and warm up horses for Morten. Morten is away teaching a lot, so the job is also to help keep his horses in work when he is gone. I ride maybe two horses a day right now, so it's going to be a big change."
Despite her excitement, Potasky is feeling a little sad, as she'll be leaving Goodrich and Zoomie, her partner for the last two years, behind.
"It's an opportunity that's so exciting that I right away said, 'Yes!' But then I realized, 'Wait, I have a lot going for me here right now between my job with Pam as barn manager and Zoomie.' Pam helps me every day, and I ride some of her horses when she's busy," said Potasky. "I feel like I'm leaving a lot, but Pam was really encouraging to me. She said, 'You can always come back. You've ridden with me for a long time, and you've learned so much. It's not the worst thing in the world if Zoomie gets to teach someone else.' "
Potasky originally got the ride on Zoomie when Wiese went off to law school, and the two formed a fast partnership, with the gelding helping Potasky make the transition from Young Rider tests to Grand Prix-level riding. They competed in the USEF Festival Of Champions Brentina Cup Championship (N.J.) last year and most recently won the Young Rider Grand Prix and Intermediaire II at the Palm Beach Dressage Derby CDI (Fla.).
"I'm going to miss him because he's so much fun, and obviously showing Grand Prix is pretty exciting, I think it's perfect for him," said Potasky. "He knows his job, and I'm not saying I've mastered him, but the amount I've learned is so much. Why be selfish and keep him? There's a list a mile long of people who want to ride him. Jocelyn is graduating next year, so as of right now she's hoping to take him back then. They're a really great pair, and I'd love to see her ride him again. I was glad I could help her get through law school, and I was so grateful to her for letting me ride him."
Potasky departed for Denmark on April 21. She's planning to keep a blog about her experiences. And though Zoomie didn't making the flight with her, Potasky is keeping all the lessons she learned from the gelding as she adds to her education base.
"Zoomie was the most unbelievable show partner," she said. "He not only loves his job and knows his job, but he tries all the time. At first, in the Grand Prix tests, I was just steering around, but at the end I felt like I was riding the test. That's been a big evolution. I've done quite a bit of showing, just taking advantage of the opportunity. It all came together with his help."