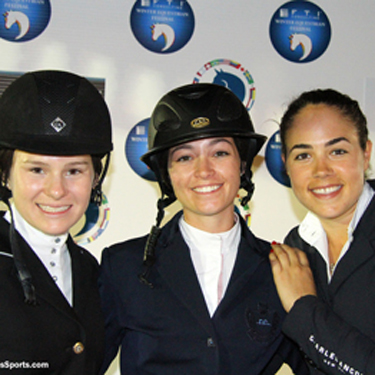 The young ones of (from left)
Katie Dinan, Reed Kessler,
and Brianne Goutal ruled the
day at FTI WEF.
Photo by Kenneth Kraus
Youth ruled the day on Jan. 19 at Week 2 of the FTI Winter Equestrian Festival in Wellington, Fla., as a trio of fresh talent claimed the top three spots in the $50,000 Wellington Equestrian Realty Grand Prix. Reed Kessler, 18, took the top prize on Ligist over Katie Dinan, 19, on Nougat du Vallet and Brianne Goutal, 24, on Nice de Prissey.
"I think that is the best Goose has ever jumped; he jumped incredibly," Kessler said with a smile after her win. "I just tried to keep a nice, tight track and take a shot and he was fantastic. I'm not sure where I made up the time [to best Dinan's time]. He is a really fast horse; I use him as my speed horse mostly."
Earlier in the week, Laura Kraut won the $33,000 Ruby et Violette WEF Challenge Cup Round 2 on Jubilee d'Ouilly. And McLain Ward scored an early win by riding Super Trooper de Ness to win the $25,000 Suncast 1.50-meter Jumper Classic. Interestingly, Ben Maher of Great Britain was second in that class in one of his first outings on Cella, Jane F. Clark's horse and the winner of last year's $200,000 American Invitational. Maher took over the ride from Mario Deslauriers. See full results from WEF Week 2.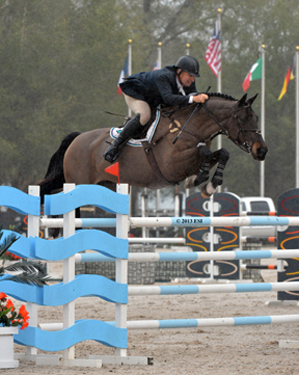 Aaron Vale dominated
the grand prix classes
at the first week of
HITS Ocala.
Photo by ESI
On the other side of Florida, in Ocala, Aaron Vale kicked off the HITS Ocala Winter Circuit with two big wins, taking the $25,000 SmartPak Grand Prix and the $50,000 HITS Grand Prix on Palm Sunday. Amanda Steege made a splash in the hunter divisions, topping the 3'3″-3'6″ performance division on Zidane and winning the $5,000 Devoucoux Hunter Prix on Majestic. Full results can be found on the HITS main website.
Back in Wellington, the dressage side of showing heated up quickly at the GCDA Opener Festival. The Swedes have invaded, with Patrik Kittel claiming the blue in the CDI Grand Prix with Watermill Scandic HDC (72.72%) and Tinne Vilhelmson-Silfver taking second on Divertimento ((71.17%). See full CDI Grand Prix results. Adrienne Lyle was the top U.S. rider in the Grand Prix, in third with Wizard. In the CDI Grand Prix freestyle, Kittel triumphed again, with Lyle second and Vilhelmson-Silfver in third (see full CDI Grand Prix freestyle results). Caroline Roffman won both the CDI Prix St. Georges and CDI Intermediaire I on Her Highness O. See all the results from the GCDA Opener Festival.
In eventing, Poplar Place ran divisions of preliminary, training and novice. See full results of Poplar Place HT.
Also running over the weekend were shows such as the Jackosnville National (Fla.) (results), Pensacola Mid-Winter II (Fla.) (results), Atlanta Winter Classic I (Ga.) (results) and Blue Ribbon Winter Festival (Texas) (results).