The first advanced level event of the year—Rocking Horse Winter II in Altoona, Fla.—kicked off the season and Buck Davidson showed he's more than ready. Davidson won two divisions of advanced and placed third in the other, riding six horses total at advanced (see results). His wins came on veteran Ballynoecastle RM and new star D.A. Adirmo. Chronicle staffer Lindsay Berreth was there to document all his exploits and the other big stories.
The other event of the weekend, Paradise Farm Winter Horse Trials in Aiken, S.C., hosted up to preliminary level (see results). The dashing Cooley Cross Border, who won the 5-year-old division of the Spalding Labs USEA Young Event Horse East Coast Championships last fall, made his presence known with a win at open preliminary with Kim Severson. Ryan Wood claimed first and second in one division of training level aboard Woodstock Wallaby and Pygmalion Prince, and won another on Woodstock Bennett.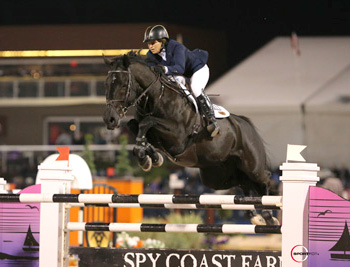 Cortes C has really come into his own, and his relaxation
helped Beezie Madden ride him to the top of the
$125,000 World Cup Qualifier during Week 6 of
the FTI Winter Equestrian Festival.
Photo by SportFot
Down in Wellington, Fla., Beezie Madden has been back showing for just a few weeks after recovering from shoulder surgery, but she didn't let that stop her from riding Cortes C to the top of the $125,000 World Cup-Qualifier Grand Prix (see results) at the FTI Winter Equestrian Festival. The powerful Cortes C dug in to top the nine-horse jump-off.
"He can jump the moon," Madden said. "He's a bit of an internal worrier and I think he is just starting to come into his own. Last year he was a little inexperienced under the lights and he was very tense when he came up here each time. This time he started out very relaxed and he felt terrific. If he can relax like he did tonight under the lights in a big atmosphere I think he's going to be fantastic."
Madden had also been leading the $50,000 Ruby et Violette WEF Challenge Cup Round 6 on Friday with her London Olympic Games partner Coral Reef Via Volo, but a torrential rainstorm canceled the remainder of the class. The 17 riders who had gone clean up to that point split the prize money equally. (see results).
Teenage phenom Katie Dinan, who's balancing showing in Florida with her freshman year at Harvard University, took second in the $125,000 World Cup-Qualifier with her old friend Nougat du Vallet. Dinan also won the $15,000 Artisan Farm Young Rider Grand Prix (see results) on her new ride, Glory Days.
Youth ruled the day across the state as well, as Jared Peterson, son of grand prix rider Derek Peterson, guided the family's Titus 2:11 to the top of the $50,000 HITS Grand Prix during the HITS Ocala Winter Festival (see results). Two other up-and-comers, Hayley Waters and David Tromp, took second and third. Eventer-turned-show-jumper Scott Keach won the $$25,000 SmartPak Grand Prix on the 9-year-old CoCo at Ocala. HITS shows in California took a break, as HITS Desert Circuit in Thermal took a mid-circuit break.
At the HITS Tucson Winter Classic, Kyle King rode to the top of the $25,000 HITS Grand Prix on Onyx, with Allison Kroff in second on Little Miss Sunshine and Bjorn Ikast in third and fourth. (see results)
In Gulfport, Miss., Holly Shepherd rode with a broken ankle to guide the grand prix/hunter derby specialist Triompf to the top of the $25,000 Adequan Grand Prix during the Gulf Coast National. (see results) In Katy, Texas, Christian Heineking continued his streak of grand prix wins in the $25,000 GSEC Grand Prix during the GSEC Winter Series III. (see results) Other shows going on were Raleigh Indoors Winter II (N.C.) (see results) and Lake St. Louis Hunter/Jumper IV (Mo.) (see results).
In dressage, Sweden's Tinne Vilhelmson-Silfven continued her swath of winnings through Florida, claiming first and third in the Grand Prix (see results) and winning the Grand Prix Special (see results) at the Florida Dressage Classic CDI-W. U.S. rider Tina Konyot flew the Stars and Stripes by winning the Grand Prix freestyle on Calecto V over Vilhelmson-Silfven (see results).
Also in the CDI (see results), Christilot Boylen dominated the Prix St. Georges and Intermediaire I with Hudson 18 and Dio Mio, taking first and second in both as well as winning the Intermediaire freestyle with Dio Mio. Chronicle blogger Lauren Sprieser did well during the national show at the Florida Dressage Classic (see results), taking first and second in divisions of Grand Prix with her Victorious.