We started early this morning to ride the horses in the ring at 7:30. After flatting both horses, I headed straight to the gym around the corner where Sage Clarke, Charlie Jayne, and Saer Coulter also joined me to work out.
After some good exercise I headed back just to change and return to the show for the 1.45-meter power and speed class. Goose (Ligist) felt a bit tired and didn't jump like himself really—it was a very long trip up here so hopefully a good night's rest and he will feel better tomorrow.
After the class I did an interview/photoshoot for a Swedish magazine that the show asked me to do. The photoshoot was cool because the photographer is a fashion photographer; he has never worked with horses or riders. The pictures looked quite cool—he just took photos of me in some different places around the arena.
After we finished my mom finally arrived from her long journey. She had to take three planes to get here and it took an entire day. There was a rider's meeting at 5:00, then we went back to her hotel which is a bit nicer than mine to read Vogue and have some mother-daughter catch-up time.
At 8:00 we came back for the welcome party during which they drew the order. We have some good draws—Christine McCrea starts us off going third. I go 21st which I am very happy about! After the order was drawn we grabbed a quick bite then headed home to get to sleep early—tomorrow the World Cup Final begins!!!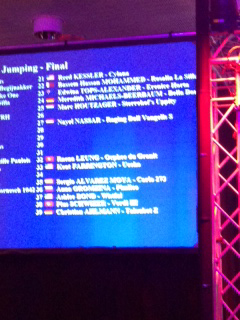 As the riders draw slots, the order of
go is formed.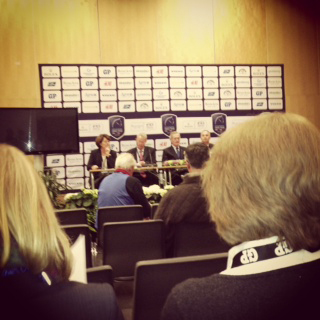 The rider's meeting for the Rolex
FEI World Cup Final.