Mill Spring, N.C.—Sept. 1
Novice riders got to tackle Mark Phillips' cross-country course today at the U.S. Eventing Association American Eventing Championships. From adorable ponies to hardworking adult amateurs, there was a lot to be inspired by!
Read on to hear more from the day's leaders.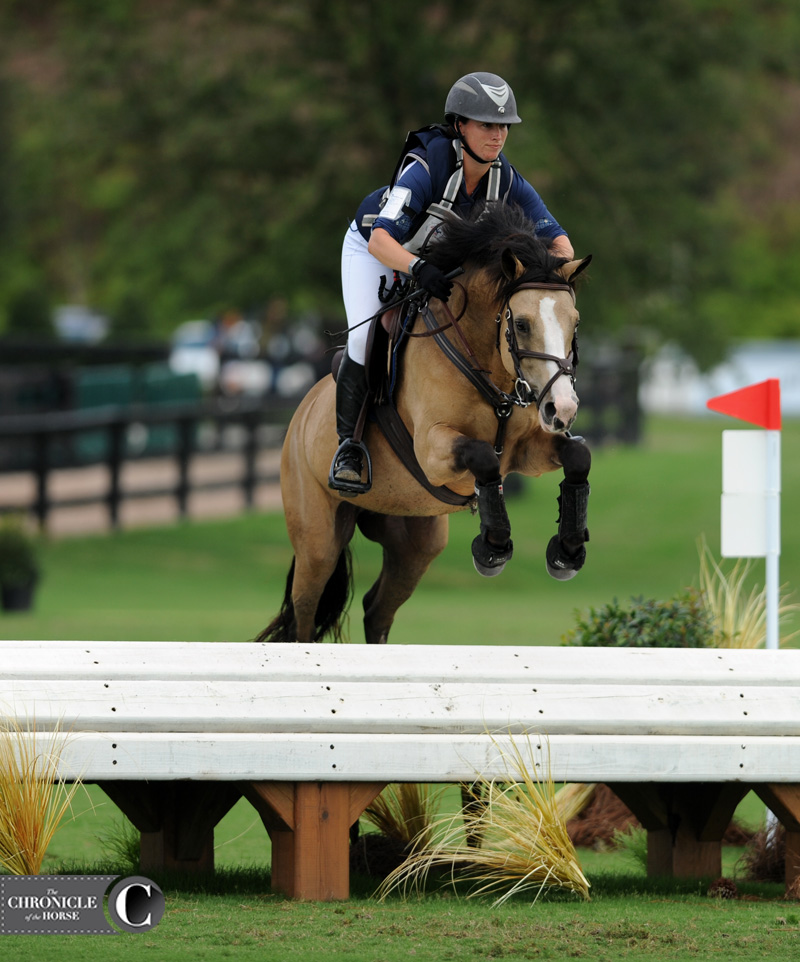 Lauren Chumley is leading the novice rider division on Nikolas, an eye-catching German Riding Pony. Chumley broke Nikolas as a 3-year-old herself and competed him in dressage until she decided to try jumping him.
"[His owner] Melissa always caters to my insanity, so she said, 'Sure, go jump him!'" Chumley said. "He was here last year for the beginner novice, and now he's back in novice, and I'll see how he jumps tomorrow, but I'd like to move him up to training at some point because he's so much fun and is just so honest."
Chumley saw a student of hers have unfortunate stops on her horse, so she left the start box with a plan to ride aggressively. Nikolas met the challenge and crossed the finish line without jump or time penalties. Chumley and Nikolas only have two points between them and second place team Claire Solomon and Ballyneety.
"I'm going to try and not do anything stupid tomorrow," Chumley said. "He's pretty cocky, so we have to try and make him focus a little bit and make him slow down a little bit and not run through the jumps."
Megan Northrop and Fleur de Lis are leading the master novice amateur division. Northrop was concerned about making time on the twisting track because Fleur de Lis has a habit of bulging out.
"I thought we might have a little trouble turning but she was on it," Northrop said. "I just made sure she saw everything when we got there and knew what we were doing, and she was fantastic."
Northrop said her nerves nearly got the better of her in the start box, but once she was alone on the track and felt the mare's confidence she settled down.
"I knew she was on it and we just had a great time," Northrop said. "And that's the part of the sport that keeps you coming back over and over again."
Northrop plans to keep her nerves in check and stay out of Fleur De Lis' way heading into the stadium phase tomorrow in hopes of earning another clear round and keeping their first place standing.
Booli Selmayr and Kildare's Mhs Tampa lead a class of 39 in the novice horse division. Selmayr said the 5-year-old mare exceeded her expectations.
"She was fantastic, she's such a competitor and she just wants to go out there and do her job," Selmayr said. "I was wondering how she was going to be because this is more of a derby-cross kind of feel here, and there are a lot of distractions for a young horse."
Bailey Snyder and Corina went double clear to maintain their lead in the novice amateur division. Snyder got Corina as an unbroken 4-year-old the same year she started at Texas Christian University.
"I got her going into my freshman year as a young project horse to bring along to give me an appreciation for a different side of the sport—for bringing up a young horse," Snyder said. "It's been challenging but so rewarding."
The Tryon International Equestrian Center is the biggest venue Corina has seen, so Snyder has taken each day as a learning experience and said she feels prepared going into the last phase.
"I've been watching a lot this morning and the course looks really nice," Snyder said. "I think that today was a great confidence-builder for her, so for us it worked out great to have showjumping last, to kind of fill her up with some confidence before she goes in, and kind of settle her."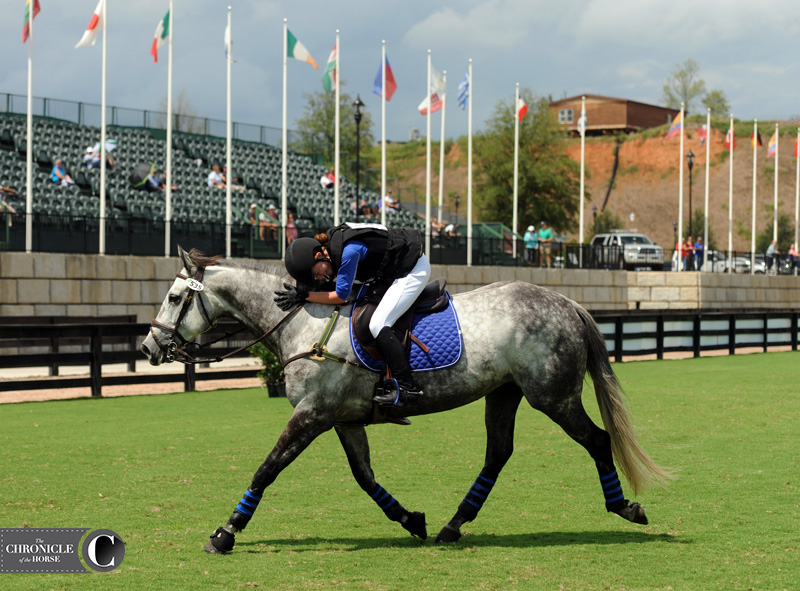 The day ended with Sunny Courtwright and Around Midnight going double clear to hold their overnight lead in the junior novice division. Courtwright had to contend with nerves and impending storms, but said she enjoyed the course.
"Before I left my trainer told me to just kick if I couldn't see a distance and that was kind of a boost. There are just a couple spots where there was mud, but it was a nice course and I liked it."
Courtwright's plan for tomorrow consists of staying straight and riding forward. "I'll get there when I get there," she said.
Important links:  All the COTH coverage of the 2017 AEC  |  full results  |  live streaming
2017 AEC - Novice Cross-Country
Lindsay Berreth / Sep 1, 2017 10:03 pm