As Lisa Marie Fergusson galloped around the CIC** cross-country at the Horse Park of New Jersey Horse Trials II on July 30, observant spectators might have noticed her mount LandLunar was missing something. Studs aren't on the packing list when the gelding is competing, as the 8-year-old runs barefoot.
"He's got really great feet," said Fergusson. "I'm lucky enough to be based in Unionville, [Pa.], and I took him out foxhunting with Cheshire barefoot, and he never had a problem in the mud or the rain or any of that. My farrier said he didn't need shoes, so we just figured we'd continue on until he needed them."
"Lunar" isn't the only horse in Fergusson's barn that is barefoot. Her four-star mount, Honor Me, is the only horse she owns that currently wears shoes.
"I think it's healthy for them," said Fergusson. "It's just more natural, and I find I've had really good luck with keeping my horses sound, and I think that has something to do with it, but as soon as they need shoes we put them on.
"Some horses need them; it's a very individual thing," she continued. "Lunar, I think because he was able to foxhunt without any shoes, slipping doesn't unnerve him. He did slip slightly coming out of the Jersey Shore [water complex,] and he just put his butt underneath him and galloped off. It didn't faze him; it didn't bother him; it didn't rattle him, so it was not a problem."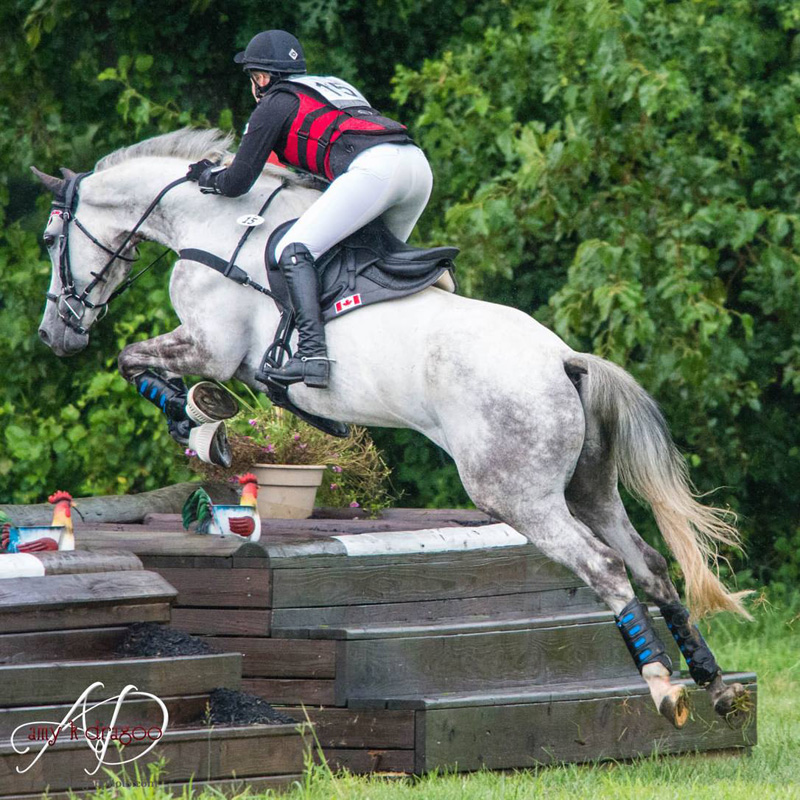 Fergusson, who rides for Canada, purchased the 8-year-old gelding as a green-broke dressage horse two years ago. She'd seen a video of the Dutch Warmblood (Rousseau—Lady Kaye, Landwerder), bred by Michael Healy and fell in love with him. Lunar ran his first CIC* in March at Red Hills (Fla.) where he finished fifth. He won a preliminary division at the Horse Park of New Jersey in June, so she decided it was time to move up. The pair finished fifth this weekend.
"He didn't put in the dressage test he's capable of, but he's a nice mover, and he goes in and goes to work every day, so the dressage is easy for him," she said. "He got a little rattled in show jumping warm-up, but he came back and did a pretty good job, and he doesn't have a lot of experience. He just tries so hard, and he loves it! He loves to run and jump, and he was brilliant cross-country. I was so proud of him."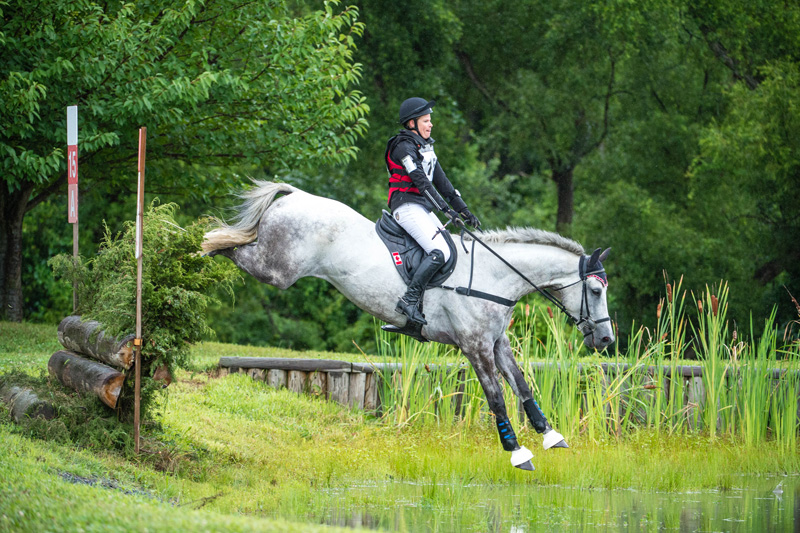 Like keeping her horses barefoot, foxhunting her event horses is a core part of Fergusson's program. It started back when her former advanced partner Uni Sprite wasn't running the two-star level boldly enough.
"Jimmy Wofford watched me run him around the Plantation CIC** [Pa.,] and he said, 'You need to foxhunt that horse, because then you'll know if he's going to be an event horse,' " said Fergusson. "I think that horse foxhunted twice, and he was so brave and surefooted after that and he ended up running advanced. It makes them brave, and it teaches them to jump out of any kind of footing and deal with lots of distractions. I think it's fantastic."