It's hard to say what the most special part of a memory is when every part of it is something you'll remember for forever… And it's great when it's one that memory is a good one, but with horses and life there are a fair few that are the other variety… The not-so-good ones. They say you need to experience those bad ones to appreciate the good, and I would say from my personal experience thus far in life that that statement is true.
I was lucky to experience one of the good memories last Saturday—one of the ones I'll remember for a long time and that will always make me smile. I was lucky to ride in my first race—and hopefully not my last—on a dream day. There's not many times I can say I would feel such joy in a fourth-placed finish, but with my friend Where's The Beef I got to feel that!
I remember being asked about why I was galloping race horses when I had a career and now business in a different sport, and I don't think I could really put into words how much the job, sport and people have meant to me over the years, or the feeling of calm and stress release I feel every morning I get to step onto a track.
To be honest, I never really thought I would get the chance to ride in a race, but I've loved the every minute I've spent working for Michael Matz and seeing his horses run. I've gone to the races to cheer on Jody Petty and Willie Mac before, but I never thought I would get to do it myself. The pure joy I felt being out of my comfort zone and doing something I never thought I would do was unreal.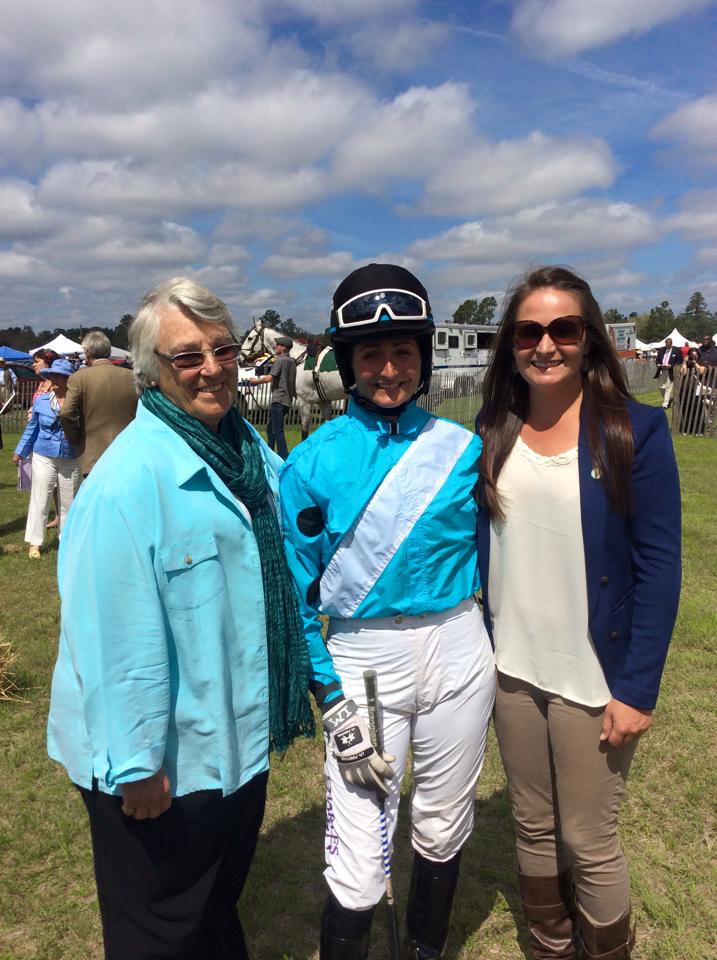 Owner Nina Gardner, Jennie Brannigan and
Hannah Sue Burnett.
The fact that I got to ride a horse I love for owners I love was another huge bonus. Sometimes taking yourself completely out of your world and feeling nervous is what it takes to make you appreciate your own sport and why you do what you do.
I'm so lucky that I get to experience this in working for Matz and in what I got to do on Saturday with the help of Willie Mac, Brian Murphy and the Gardners. And I also owe a huge thank you to the boys who rode in the races that day! I was fairly impressed that they pulled part of the tarps around jockey's tent to make me my own dressing section in the jocks' room. They were nothing but class and supportive to me… Very impressive!
I look forward to Rolex this year with Ping, and can't wait to get home and gallop again. I feel blessed that in three weeks I got to compete in a CIC***, an eventing jumper challenge, and ride in a race… How lucky am I to have the opportunity to experience these things?
Horses and the people who've come into my life because of them, whether in eventing or racing, have truly made my life special, and I am so thankful for that.
And one more huge shout-out to Karen and my girls who took care of Beef for six months—the unsung heroes!
Til next time,
Jennie