He chalks up his third grand prix win in as many weeks aboard Ultimo Van Ter Moude.
Todd Minikus knew he didn't have to go flat-out to win the $50,000 Budweiser Beacon Hill Grand Prix. But that didn't stop the speed demon from shaving 3 seconds off the leading time to take the top check on Ultimo Van Ter Moude.
Just three qualified for the jump-off in the headline event of the Beacon Hill Classic, June 19-22 in Colts Neck, N.J. Lara Gay, a student of Kent Farrington and a recent graduate of Brigham Young University (Utah), who was competing in her first grand prix with her new horse, Nairobi, kicked things off. But she had a rail at the first jump to end on 4 faults in 35.17 seconds.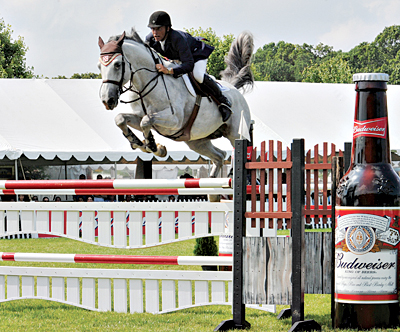 Laura Bowery knew that Minikus would go fast, so she tried for a careful clean round and hoped for the best.
Her time of 36.32 seconds was beatable, and Minikus made short work of blazing around the course to finish clean and more than 3 seconds faster, even with a slip before the final fence. Bowery had to settle for second.
"I know he's such a fast rider; I would have loved to go after him. My horse is quite a fast horse. But I didn't want to risk having one down," Bowery explained.
Minikus has been on quite a roll lately, winning the $100,000 Budweiser/ Upperville Jumper Classic (Va.) on Pavarotti on June 8 and the $25,000 Ariat Grand Prix in Saugerties, N.Y., on Ultimo Van Ter Moude on June 12. "If you don't have three or four horses, you have to pick and choose, because it's a long summer. I have three or four I can rotate, and that's been a plus for me," he said.
Minikus started showing Ultimo at the Hampton Classic (N.Y.) in September last year. "He's gone through a few growing pains, if you will, moving into the grand prix. I kind of threw him into the deep end of the pool a little bit and he survived that," Minikus said.
Bowery has been riding Indy Star, a son of Quick Star, for most of his 12 years. While he was backed and broken by someone else, she has done the training from that point on and knows him well.
But even with such an advantage, the fact that she went before Minikus, Bowery said, meant she really had no choice but to play it safe.
A total of 22 horses and riders jumped in the grand prix. After the first two starters over the first round of the class didn't finish the course, the spectators lining the arena wondered if Richard Jeffery's course might be too difficult for this group. But then Gay came into the ring and proved otherwise.
Her perfect trip was followed immediately by clear rounds from Bowery and Minikus, so sentiment on the sidelines shifted toward wondering whether it was too easy. But as is usually the case with Jeffery's courses, it was just the right challenge.
Making the time allowed posed problems for several riders. It kept Alister Gatherum out of the jump-off. Gatherum wound up fourth with a single time penalty on Santana.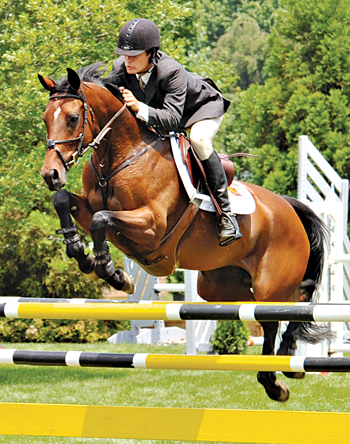 One of the big challenges of Beacon Hill is the grass field, according to Minikus. "As beautiful a venue as it is, it is up and down hill, and that kind of thing always makes it a little tricky for the horses," said Todd. "We don't have so many rings like this anymore."
For the NAL Beacon Hill Speed Derby, Jeffery incorporated natural obstacles out on the grass field, such as the double banks and the grob. The class went to Chris Cawley on Corina.
"She is just a super fast horse," said Cawley, of Wellington, Fla. "Honestly, all the pressure was on me just to be smooth."
Andrew Ross dominated the junior/amateur-owner jumper division on an off-the-track Thoroughbred mare, Electra. He won the qualifying class and then went on take the $15,000 New Jersey Life Magazine Junior/Amateur-Owner Classic and the division championship.
Ross, who rode professionally briefly, is a former operations manager for manufacturing companies. Now he is the office manager for his girlfriend and trainer, Laurie Jakubauskas, who has stables in Delaware and Pennsylvania. He shares her opinion that "you can't beat a Thoroughbred for foot speed."
Ross previously trained with Jeffery Welles and Peter Leone. "It was really fun to have all the old school trainers that grew up riding Thoroughbreds come up and say how fun it was to see a Thoroughbred doing well, butting heads with the warmbloods and beating them," Ross said proudly.
Ross had to earn his junior/amateur-owner grand prix win the hard way, since Philip Richter gave him a run for his money on Norman Dello Joio's former classic horse, Glasgow. Richter, whose time was 34.89 seconds, got nipped with a mark of 34.69 seconds as Ross flashed through the finish.
A Manhattan, N.Y.-based investment manager who rides part-time, Richter conceded that it could have been intimidating to ride a famous horse such as Glasgow when he started with him early this year.
"Norman has been great about not pressuring me, because that can be hard—he's such a successful horse. He's not hard to ride, but he's not easy, either. He's really powerful; it feels like you have a tiger by the tail," Richter said.
Nancy Jaffer