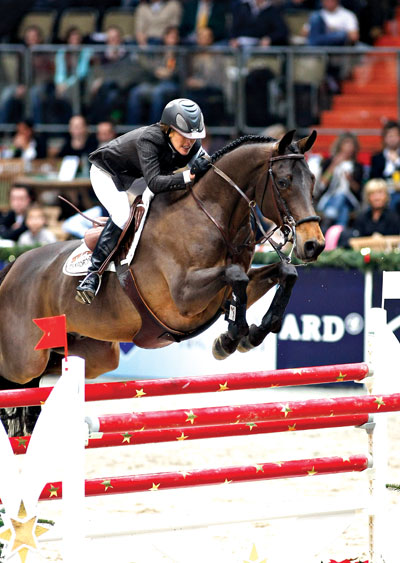 Fans anticipating a thrilling finale to the 2007 Riders Tour weren't disappointed on Nov. 30-
Dec. 2 at the Munich CSI in Germany.

On the last afternoon of competition, five riders were in contention for the Riders Tour title. Last year's winner, Thomas Frühmann of Austria, led with 47 points, but Ludger Beerbaum and Meredith Michaels-Beerbaum were breathing down his neck with 41 points each.
Christian Ahlmann—in fourth with 36 points—and Marcus Ehning, ranked fifth with 29, were both still in striking distance, since victory earns the rider 20 points, with 17 for second, 15 for a third place and 13 for a fourth.
The Riders Tour series, which offers more than $750,000 in prize money, began in 2001 and includes six German shows. Riders compete for points at Hamburg, Wiesbaden, Münster, Paderborn, Hanover and at the finale in Munich. Points from their best four shows count, and the rider with the highest total of points from the series tops the Tour.
Michaels-Beerbaum, Beerbaum and Frühmann have had a lock on the title. Beerbaum won the Tour in 2001, '02 and '03, while Michaels-Beerbaum took over the crown in 2004 and '05. Frühmann broke their stranglehold on the prize in 2006 when he won. The three would battle it out again, but this time Michaels-Beerbaum came out on top.
Ehning, on Sandro Boy, and Frühmann, on The Sixth Sense, both had a rail down in the first round and had to sit and wait to see if they'd qualify for Round 2. But they did and joined eight other riders, all coming back on a clean slate for the second round.
Ehning opened the second course with a clear round in 38.03 seconds aboard the 14-year-old Oldenburg stallion. Next to go was Frühmann and the 11-year-old Westphalian gelding, who had a rail. His 35.49-second trip was the fastest ride in the second round and put him in fifth place in the class.
Beerbaum piloted his 16-year-old veteran Goldfever, with whom he had been third in this year's European Championships, over the course, but the stallion caught a rail with his hind legs at the last fence. With his 4 faults in 36.71 seconds, Beerbaum placed seventh in the class and third in the Riders Tour.
Reigning European Champions, Michaels-Beerbaum and the 14-year-old Hanoverian gelding Shutterfly didn't appear to be going for speed over the first half of the course. But Michaels-Beerbaum took a short, challenging turn to the last fence and stopped the timers with a clear round in 36.37 seconds to lead the class and the Riders Tour standings.
The class wasn't over yet, however. But Belgian rider Judy-Ann Melchior did not try to win, going for a steady clear round aboard Grande Dame in 40.63 seconds, placing fourth. Last to go, Ahlmann saddled his top mount Cöster and set out for victory, but he took the turn to the Riders Tour sponsor fence too short, finishing with a four-fault ride in 35.72 seconds.
Michaels-Beerbaum, whose Riders Tour victory was sweetened by more than $350,000 in prize money, was totally overwhelmed by her success
"We have never seen such a final before in the six previous years of the Riders Tour," she said. "I tried to stay calm with the support of my husband Markus. And, I had the feeling that all spectators crossed their fingers for me. That I really felt."
Among those was also her father, a film producer, who had come from Hawaii to see his daughter win.
"Today was my day, also thanks to Shutterfly," Michaels-Beerbaum said. "I love this horse so much. I have a very special relationship with him. I have no children, but I guess this is somehow the same relationship. He is my best friend, and my small child at the same time."
Michaels-Beerbaum had no intention of going for a safe, clear round. "Sometimes, I think it is more difficult to try to ride for a clear round than to try to win," she said. "With a clear round I would have been ahead of Thomas Frühmann and Ludger Beerbaum, who each had a fault in the second round, but maybe I would not have won."
Frühmann, the defending Riders Tour titleholder, wasn't too upset to lose to Michaels-Beerbaum.
"We have seen really super sport here at Munich," he said. "Since I rode in the beginning of the second round, I had to risk everything. Besides Marcus Ehning, all the strongest competitors for the overall victory were still coming behind me. For one distance, I thought I could make it with one stride less, but that would have become a much too long distance. So I took The Sixth Sense back again, which caused the fault. I think I owe this fault to my greed. The horse fought fantastically, and we are content with the second place in the Riders Tour."
Birgit Popp