She turns 16 just in time to win her first intermediate event.
Max McManamy earned the best birthday present she could have gotten when she won her first intermediate start at Galway Downs Winter Horse Trials, Feb. 2-3 in Temecula, Calif.
"I had to wait until I was 16 to go intermediate, and I turned 16 on January 22nd," she said. "It was a really good first outing."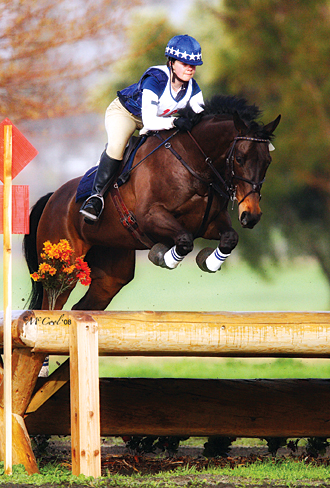 McManamy, Templeton, Calif., bought Beacon Hill, her 11-year-old Thoroughbred, two years ago. He had competed through the intermediate level with Kate Luce, a student of Darren Chiacchia's. In 2006, McManamy's trainer, Gina Miles, spent the spring preparing for the Rolex Kentucky CCI**** with Chiacchia, and when Miles spotted Beacon Hill in the barn, she knew he'd be the perfect horse for her student. She told McManamy to fly to Florida and try him.
"I just fell in love with him," said McManamy. "He's a really sweet horse. He's honest and does whatever you ask, and he's really smart. He has a sweet eye, and there was something I really liked about him."
Known in the barn as "Taylor," Beacon Hill (Pistols And Roses—Nasty List) had raced three times before embarking on a new career. He may have been a seasoned eventer by the time he met McManamy, but she had some major adjustments to make as she prepared to compete with him. Her last horse was a pony, and Taylor is a 17-hand Thoroughbred.
"It was a big change for me, getting used to all his movement," she said. "But he's really honest and does whatever you ask as long as he thinks it's safe."
The pair stood fifth after dressage at Galway, but a double-clear show jumping round moved them into second.
"I get nervous in show jumping, but we pulled it off at Galway," said McManamy. "I was really happy; he really tried. I knew I had to start riding and couldn't let my nerves get hold of me."
Last fall, McManamy was poised to win the CCI* at Galway, but a rail in show jumping relegated her to second place, so the clear round was especially meaningful in her first intermediate. "He respects the
bigger jumps; he's insulted when they're small," she said.
By the time McManamy headed to cross-country, the heavy mist was turning to rain. She had never ridden cross-country in the rain and thought it would be a good experience for her.
"I didn't think we were putting ourselves in danger," she said. "It was muddy, and I had a few time penalties because I didn't want to push him."
Although McManamy thought Ian Stark's intermediate course looked a lot bigger than preliminary, she said it rode well. "It felt the same [as preliminary], maybe a little harder," she said. "Some things were on the one-star last fall, and some of the things were on the two-star. He was right on his game the whole time, although it was hard to see with the rain and wind blowing in your eyes."
McManamy said she has total faith in Taylor. "If I see a big fence and don't know what distance I want, I just put my leg on and sit there, and he always knows the right decision," she said. "He sees the fence and the flags and says he has it under control and knows where to go.
"I knew he would take care of me. I trust him so much and knew he'd never put himself or me in any
danger," she added. "Our bond has gotten really strong over the past two years."
When the scores were posted, McManamy initially was penalized 20 points for missing a corner after a drop. "We'd done the huge bank and were supposed to go to the corner, but we landed unorganized and circled," she said. "They counted it as a run out, although I hadn't presented to the jump."
After protesting the stop, McManamy realized she was in first place. "I was so amazed it was our first intermediate and we had won," she said. "I was so excited; I wasn't in it to win it."
Unfortunately, her family wasn't at the event to celebrate with her. "I wanted my Mom to stay home," she said. "She gets pretty nervous. When I called her and told her I won, she thought I was joking. She couldn't believe me."
McManamy keeps Taylor at Miles' barn and rides with her six days a week. Schooling through independent study at her high school and taking local college classes allows her more time to ride.
"Gina has helped me so much," said McManamy, who started riding with her more than two years ago. "A year ago at Galway we did our first preliminary. She's been so helpful and supportive of me."
Now McManamy hopes to compete at the Twin Rivers CCI** (Calif.) in May and earn a spot on the two-star team at the North American Junior and Young Riders Championships (Colo.). Last year, she finished fourth in the CCI* at the NAJYRC.
Galway's open preliminary winner, Alexandra Knowles, and her trainer Hawley Bennett weren't sure if they should run cross-country or not due to the weather.
"All morning we went back and forth about whether to ride," said Knowles, 21. "We kept getting ready like we were going to ride—chose our studs, got ready and got out there—and people said it was still riding nicely."
But winning was the last thing on her mind—she just wanted a safe, clean round in her first run of the year on her experienced two-star horse.
"The rain was coming down, and the wind was blowing sideways. I was asking everyone where it was slippery," she said. "I was focused on a clean round and making the turns safely. The win was in the back of my mind, but it was an added bonus."
Dressage and show jumping have always been the strong points for Last Call, Knowles' 9-year-old, Mecklenburg mare found through Buck Davidson.
"She's pretty awesome," said Knowles, who has owned the horse for a year. "I love her. She can be a little slow cross-country sometimes, but she's gotten better. She's a big warmblood, and speed doesn't come naturally to her."
But since competing at the Twin Rivers CIC** last year and then taking the winter off, she's come out feeling better than ever.
"I was really impressed with her gallop. I didn't have to kick her at all," said Knowles.
One of the biggest challenges she's faced has been teaching "Fergie" to collect her stride for cross-country combinations. "Fly fences, big fences—not a whole lot backs her off. She's pretty brave," said Knowles. "We've had to work to make her collect because she's big. We've done a lot of pole work in the arena to get her able to come at speed and do it correctly, to make her stride fit like a small horse."
Originally from Auburn, Calif., Knowles now resides in Temecula, where she works for Bennett, right across from Galway Downs. She's also a full-time student, taking online classes at Sierra College (Calif.).
She couldn't believe how well the footing held up at Galway, considering how much rain fell, but she'd seen the crew working on the footing for weeks before the event.
"We can tell, from across the street, how much they'd worked on the footing," she said. "They did an excellent job of running a good event in bad weather for so many horses."
Although she's earned several red ribbons, Knowles had yet to win with "Fergie." She'll move back up to intermediate at her next event. "We started off the year with confidence, and I'd like to keep that," she said.
Beth Rasin