She'll have the chance of a lifetime with her longtime partner at the Rolex FEI World Cup Final.
Getting her chance to ride in the Rolex FEI World Cup Final in Las Vegas, Nev., surely has an element of fate for Christine McCrea. Two years ago, she'd qualified the aptly named Vegas for the event, winning back-to-back qualifiers at the Hampton Classic (N.Y.) and the American Gold Cup (Ohio).
But a poorly-timed injury kept Vegas at home that year. This year, Vegas is on track to make his first start in the Thomas & Mack arena. Not that McCrea named him with the intention of riding him there.
"Everyone asks that, but they didn't even have the World Cup in Vegas when I named him eight years ago," she said.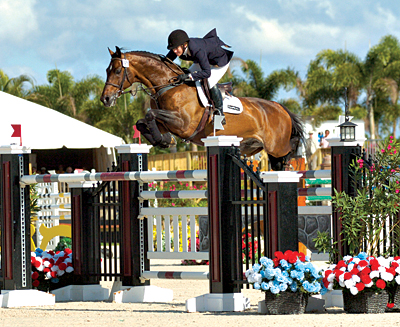 Imported from the Netherlands as Velusinus (Voltaire—Dulisina), the 8-year-old Dutch Warmblood stallion was purchased to be McCrea's high amateur horse and eventually introduce her to more grand prix classes than she'd previously had the chance to experience.
"I'd had aspirations of doing grand prix, but I had not had a great horse," said McCrea, 31, of East Windsor, Conn. "We bought Vegas not realizing what we were buying."
He'd competed in 1.4- and 1.45-meter classes in Europe but was more suited to the American ride, said McCrea, who owns and runs Windsor Show Stables with her husband Jon. "He's a little hot and liked to get to the base and pop up," she said. "He goes in the American style, on a loose rein. He has a great mouth. He's really suited to me."
From the beginning, they hit it off together. "I never had a problem with him," she said. "We did the smaller grand prix [classes] and were clear almost every time. We gradually moved him up, and he was really in the grand prix ring by the time he was 9 or 10."
As they learned the ropes at the top of the sport together, Vegas gave invaluable confidence to his rider. "We were a team from the beginning, and I felt secure on him," said McCrea. "He taught me to have confidence and believe in what I'm doing. I was 25, and it can be intimidating competing against people like McLain Ward and Beezie Madden. It was nice to have a horse to give me that confidence."

Ready To Go
When Vegas' injury prevented him from being fit enough to compete in the 2007 Rolex FEI World Cup Final, McCrea substituted Promised Land, her 15-year-old Holsteiner.
"It's been my goal ever since to try and get back [to the World Cup Final]," she said.
She gave Vegas the needed time off for the minor injury, and he came back strong. "Dr. [Rick] Mitchell is a great
veterinarian, and we did everything he told us to do and took the time to make it right," she said. "It's better to give them more time if you have it."
Although Vegas missed the World Cup Final that year, he was ready to go to Europe that summer, and he and McCrea were members of the winning Nations Cup team at Hickstead (England) and on the second-placed team at Dublin (Ireland).
But riding Promised Land at the 2007 Final (where they finished 22nd) gave McCrea experience to benefit from this year. "It was an eye-opener for me," she said. "I realized I've got to get myself showing inside more before I do it again. It's a huge change coming from Florida to indoors, with the jumps coming up that fast."
So this year she plans to compete in Charlotte (N.C.) and both Tampa shows for extra indoor practice. The last time she competed indoors, at Syracuse (N.Y.) in late fall, she won the $100,000 Budweiser FEI World Cup qualifier with the only clear round. "I want as much practice inside as possible," she said.
"I just want to be as competitive as possible. Last time it was a learning experience and all new."
George Morris, the U.S. show jumping chef d'equipe, said McCrea's soft, smooth style makes her a beautiful rider. "Since she was a young rider, she's always had a beautiful eye for a fence, very accurate," he said.
And he thinks just as highly of her mount. "He's an exceptionally talented horse," said Morris. "He has a wonderful jumping mechanism and is one of the loveliest individuals of this era. His temperament and character is very high-class, I would say special. He has a special personality, even for a stallion, and she's dealt with that with great tact. Whatever he does, she's relaxed about it and goes with it. She picks her battles."
This year she believes her partnership with Vegas is stronger than ever. "We've been maturing together, and we've been together for a long time," she said. "Everything is easier now because I've done so many rounds on him. I've done the Nations Cup in Europe and shown all over America with him. It's like riding a bike; you get on and do it. And he loves to jump."
An Extra Special Bond
McCrea spent most of the spring saving Vegas and competing more on Promised Land.
"This season I've not shown as much as I'd like because I want to peak him at the end of the season, not in Wellington," she said. "Now I'm focusing on Vegas, but I've been biding my time."
Having two top horses—even though they are totally different rides—has been a crucial factor in McCrea's career.
"Vegas has made my career, although Promised Land has had equal success and often gets overlooked," she said. "I'm lucky to have the two of them at the same time."
She's been working on improving Vegas' fitness for the past few months, riding him longer and now getting
him out twice a day. "I know it's an exhausting week [at the World Cup Final]," she said. "I think having been in the heat [in Florida] will help as well."
Morris said McCrea could expect anything to happen in Vegas. "She could have a good result if it's their week," he said. "They're capable of anything. He's naturally fast, which will help them in the first leg, and he's quite careful and scopey. If they're on, there's no telling how well they could do."
After the World Cup Final, McCrea hopes to compete in Europe at the end of the summer, and next year, she'd like to get Vegas to the selection trials for the Alltech FEI World Equestrian Games.
But more than anything, McCrea said her chemistry with Vegas will be their strength when they hit the real Vegas. "As a horse and rider we are such a match, and you can't manufacture that. I'm lucky at how well we get along," she said. "It just happened at the right time that we bought Vegas. He and I grew up together, and it's made the bond extra special. We work, and there's no faking that. You have to have it at the top level."