Loxahatchee, Fla.—Jan. 16
Training a young horse is a lot like parenting—and clinicians Lilo Fore and Hans-Christian Matthiesen want to help the riders and trainers at the Adequan/USDF FEI-Level Trainers Conference be better parents.
"Every horse has its strengths and its weaknesses—we don't want to only drill the weaknesses," said Fore, a retired five-star Fédération Equestre Internationale judge. "We want to make sure he also knows he's a great horse."
There are different parenting styles, and working with a young horse requires a positive one. Fore was all about showing riders and auditors exercises for their young up-and-coming talent that set the horse up for success and make him proud of himself, not afraid of failing.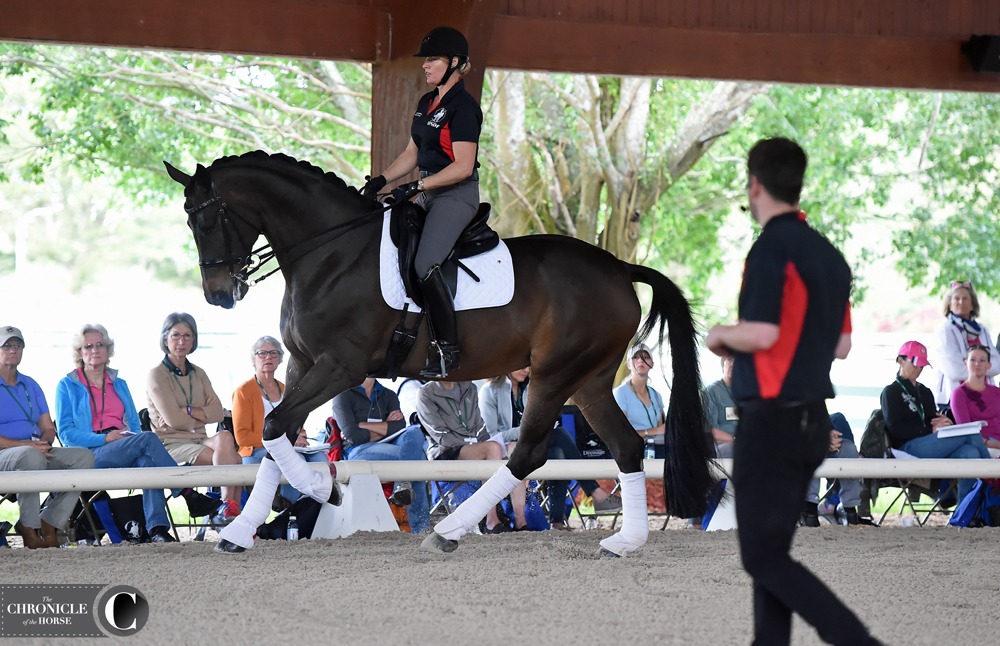 Karen Pavicic riding her mare Beaujolais in a lesson with Lilo Fore and Hans-Christian Matthiesen. Photo by Ann Glavan
When a rider pushed her horse to hold a collected canter for too many strides and the horse started thinking backward, Fore asked her to get in the mind of the young horse.
"She has to sit in that moment too long. I don't like that, because then she says, 'I can't do it anymore!' " Fore said. "You have to put her in a place for success."
It's easier said than done, and there are no shortcuts on the path to making an upper level dressage horse—it's all about patience and small victories.
"When the horse is learning something, you never want to drill it. You do it maybe twice or so, and that's it, you leave it, you go somewhere else," Fore said. "You revisit it the next day, or maybe in a week."
Matthiesen, a five-star FEI judge from Denmark, used a different metaphor for the young horse-trainer relationship.
"We want it to be a happy marriage," Matthiesen said with a laugh.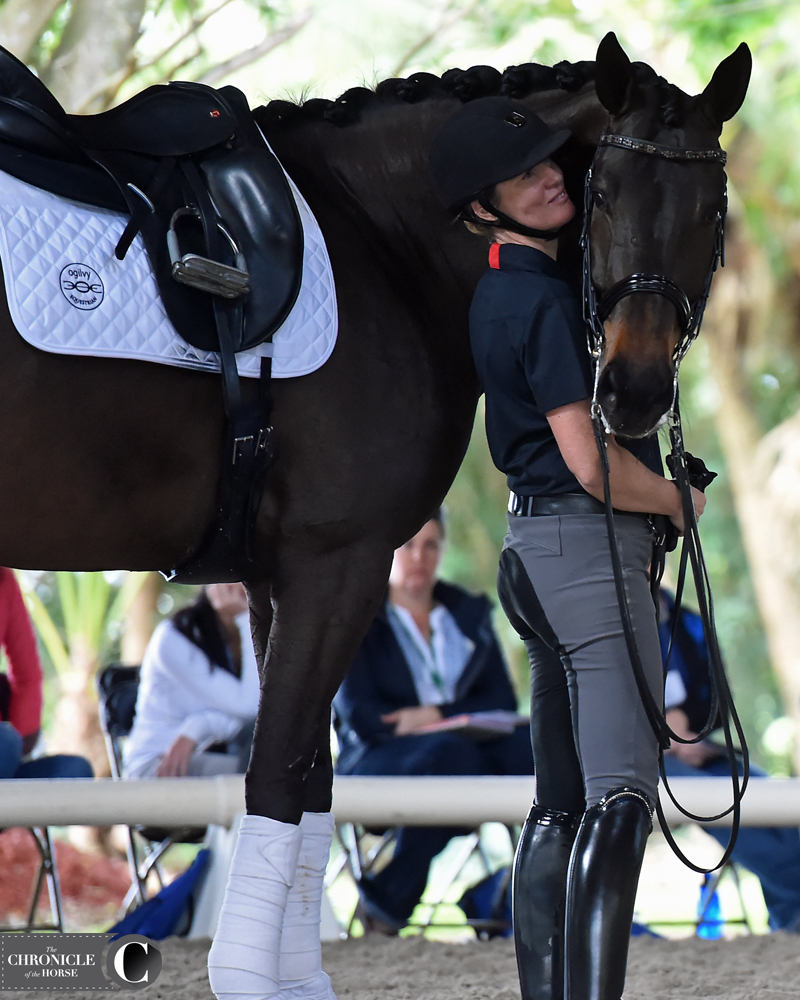 It's all about that happy rider-horse marriage! Karen Pavicic and her mare Beaujolais. Photo by Ann Glavan
A Little Ping Pong Ball
Fore and Matthiessen teamed up to teach seven lessons together on the first day of the clinic—both were equipped with microphones, so the large crowd of auditors and a forum of judges were able to hear as the two alternated giving tips and advice to students center ring.
The key to achieving success in any of the pair's lessons was forward—truly, honestly, and in all movements, forward. This especially included the collected work.
"Collected has nothing to do with slowing down. The gait you want to remain active, you want the same tempo in your collected work; duh-duh-duh, duh-duh-duh, duh-duh-duh," Fore intoned.

Nora Batchelder rode her mare Fifi MLW for the first session of the day. Photo by Ann Glavan
Rider Karen Pavicic's 7-year-old mare Beaujolais was capable of quite a dramatic collected canter, nearly rocking forth in place, and that was the problem for Fore prompting the comment about setting her up for success.
"No slower, no slower," Fore directed. "Otherwise she stays there too long there, she hovers on that hind leg and then the balance is lost."
Beaujolais was collecting like a yoga ball—Fore had a different sort of bounce in mind.
"Don't think slow or holding her too long on the spot—I tell people to think of it as a ping pong ball, rather than a big ball that bounces slow-w-w up and down, think ping, ping, ping," Fore said.
No Swimming In Dressage
Have a horse that tracks wide behind? Fore has an exercise for you!
Rider Elizabeth Caron was having trouble getting her 12-year-old stallion, Schroeder, to not track so wide behind in the passage. The horse wanted to swoop his outside hind leg behind him rather than raise it up underneath himself.
After watching Caron demonstrate her passage for a minute, Fore had her stop—she didn't want Caron to reinforce the bad habit, but she also didn't want her to get after the stallion, because the horse doesn't know what he's doing is incorrect.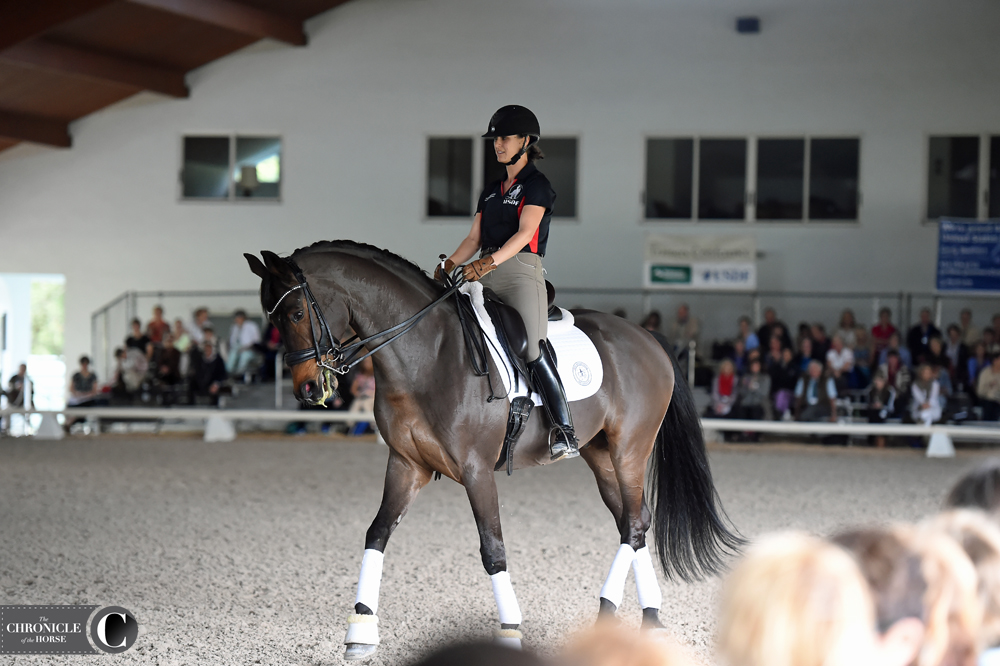 Elizabeth Caron and her mount Schroeder worked on lateral work to improve their passage. Photo by Ann Glavan
"What I don't want him to get used to is swinging side to side behind," Fore said. "But he has not read the manual, he does not know he's supposed to stay straight, and he does not know that we're going to say, 'Naughty, naughty, that's not good,' because he's not being naughty, he's doing exactly what he thinks he's supposed to do.
"What he's doing is he's trying too hard, he's trying to push himself off the ground," Fore continued. "And he's getting too long behind you and going side-to-side."
To fix the problem, Fore had Carron rein in the stallion's expressive trot to a smaller, more contained gait.
"I want to work on the technical aspect of the passage rather than the expression," Fore said "Make the trot a little smaller, and the moment you feel him pushing [and swinging] try and just collect the trot."
When the collection didn't address the problem entirely, Fore added a little lateral work.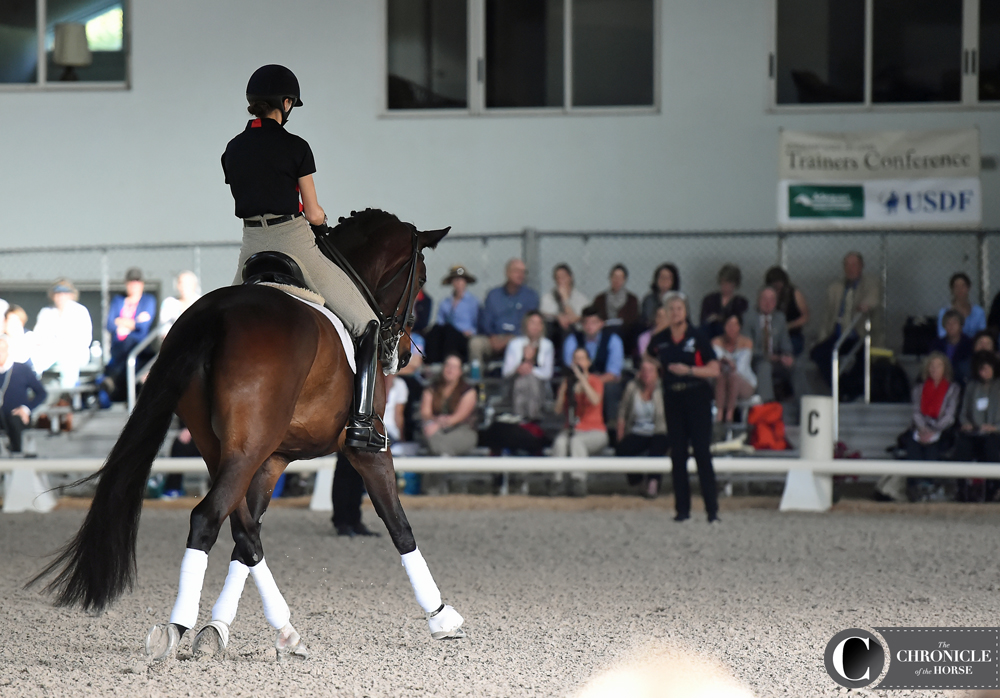 Nora Batchelder puts Fifi MLW through her paces. Photo by Ann Glavan
"When the horse is having issues of misunderstanding, you have to be able to vary his body position a little bit. If he wants to swing out, maybe do a little lateral work," Fore said. "He wants to widen his hind legs, so you have to say no, stay here, haunches in, put that hind leg a little more under you."
The lateral work made a very noticeable difference in the stallion's gait, very effectively engaging his hind end and removing nearly all of the swinging instantly.
"It's not because he's not capable, it's him not knowing how to raise that hind leg underneath himself," Fore said.
The Swiss Army Shoulder-In
A shoulder-in has so many purposes in dressage, and auditors got to see it be put to work in a number of different exercises throughout the clinic.
"The shoulder-in becomes the excercise that enhances the horse's engagement," Fore said.
Even just the thought of the shoulder-in is enough—Fore asked nearly all the riders to have the idea of a shoulder-in as they were riding a corner to help keep them straight and pushing from their inside hind leg.
"The hind legs are always the engine," Fore reminded auditors. "Without the engine the horse will never be able to get his front end off the ground."
One of the exercises Fore recommended was holding a shoulder-in while doing walk-trot-walk transitions.
"That is not easy to do," Fore said. Fore also warned against doing any shoulder-in exercise for too long.
"Don't do a shoulder-in for 60 meters, it's just like us having to walk 60 meters in the same position, that's tough," Fore said. "What I sometimes do is something like a shoulder-in, and then a lengthening straight ahead before collecting, shoulder-in again."
Fore had a few riders do a lengthening and shortening exercise at the canter while in a shoulder-in. At the end of each lesson, auditors were able to ask questions, and one asked Fore why she didn't put the riders on a circle for this exercise.
"Straight is harder, straight requires them to be balanced," Fore said. She allowed that maybe a young horse struggling with the exercise could begin on a circle, but the true test was doing it on straight lines around the arena.
How Does Your Horse Respond To The Aids?
Is he sticky and lazy? Does he take offense to the lightest touch? Or is he a high-pressure, bring-it-on champ?
All three camps were represented at the clinic. Nora Batchelder's 7-year-old Fifi MLW was the over achiever of the bunch. The mare didn't bat an eye at the crowd lining the rail or the early morning bustle before her session, the first lesson of the day.
Nothing seemed to faze the mare or be out of her reach ability-wise, and Fore warned not to abuse that "yes ma'am" attitude.
"This mare never says no, and we need to be careful not to exploit that too much," Fore said.
Batchelder spent a lot of her lesson working on collecting the mare's canter. It was the mare's weakest gait (though still lovely), and Fore wanted to work on the animation in the collected gait.
"Collect as if to walk but don't. Go someplace, but keep it," Fore said. "That's the feeling you want."
Karen Pavicic's mare Beaujolais was a sensitive soul, and Fore challenged Pavicic to see how much she could get with very subtle aids—the mare was capable of a very collected canter, and Fore wanted to see how much of it Pavicic could get with just her seat.
"Think of your reins as just guiding her path," Fore said.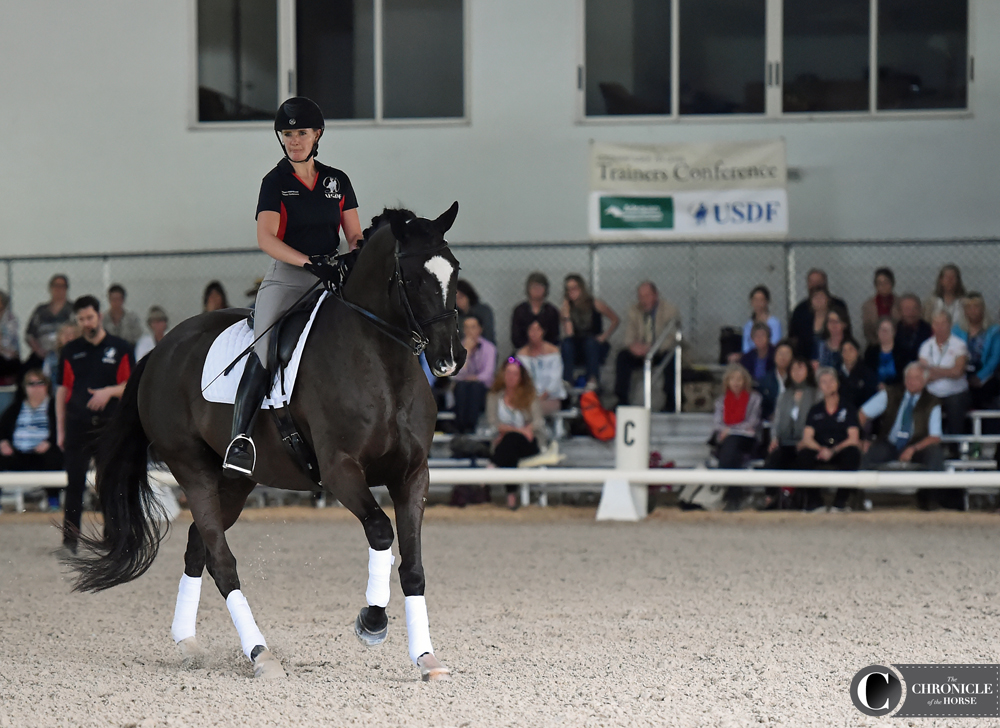 Alexandra du Celliee Muller and Rumba worked on getting more expression in their gaits. Photo by Ann Glavan
Alexandra du Celliee Muller and her 9-year-old horse Rumba represented for the laidback geldings out there—a lot of Muller's lesson was spent doing exercises meant to bring more animation to the gelding's gaits.
Fore encouraged Muller to get Rumba a little sharper on her aids and in front of her leg, but not to over-do it.
"If you're a chef, you add a little bit of salt or whatever, you add a little bit at a time," Fore said. "Rather than add too much and then you have to take away.
"It's the same with the aids, if you add to much and you have to correct it, then you're out of balance twice," Fore continued. "That's not putting him in a place for success."
It's all about experimenting with what each particular horse needs from its rider in cues.
"One has to always let the aids play for you, you have to allow the movement and the horse's reaction to tell us what aids he needs to be successful," Fore said.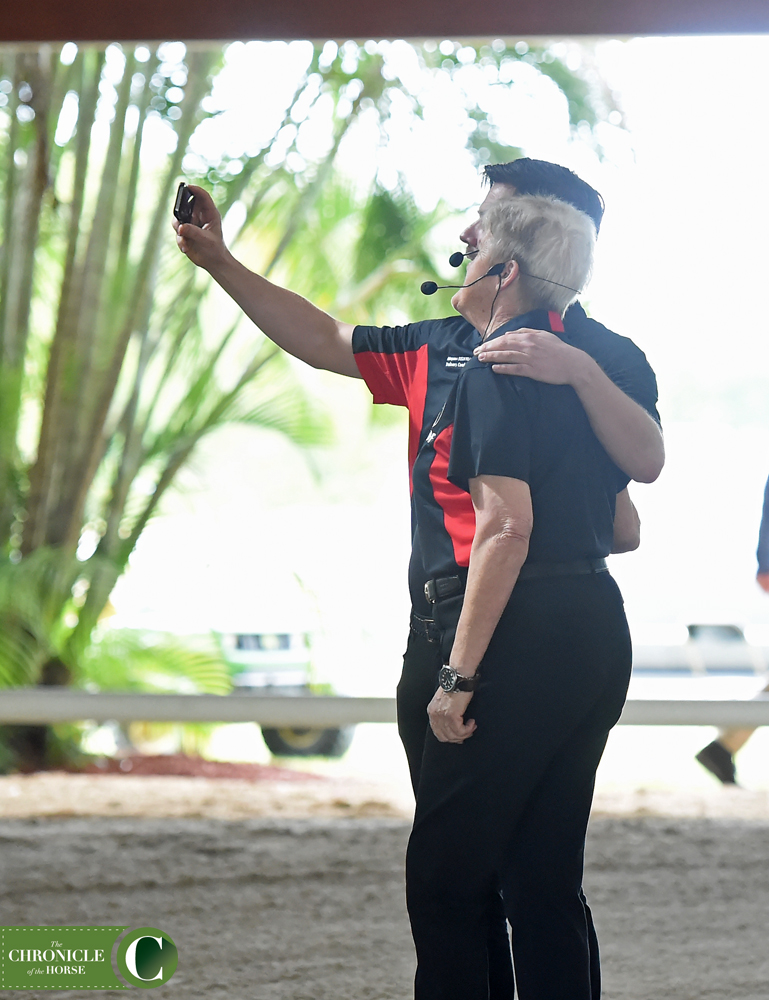 Hans-Christian Matthiesen couldn't resist getting a selfie with Lilo Fore and the crowd at the clinic. Photo by Ann Glavan
Check back at www.coth.com on Wednesday for a report on the second day of the Adequan/USDF FEI-Level Trainers Conference!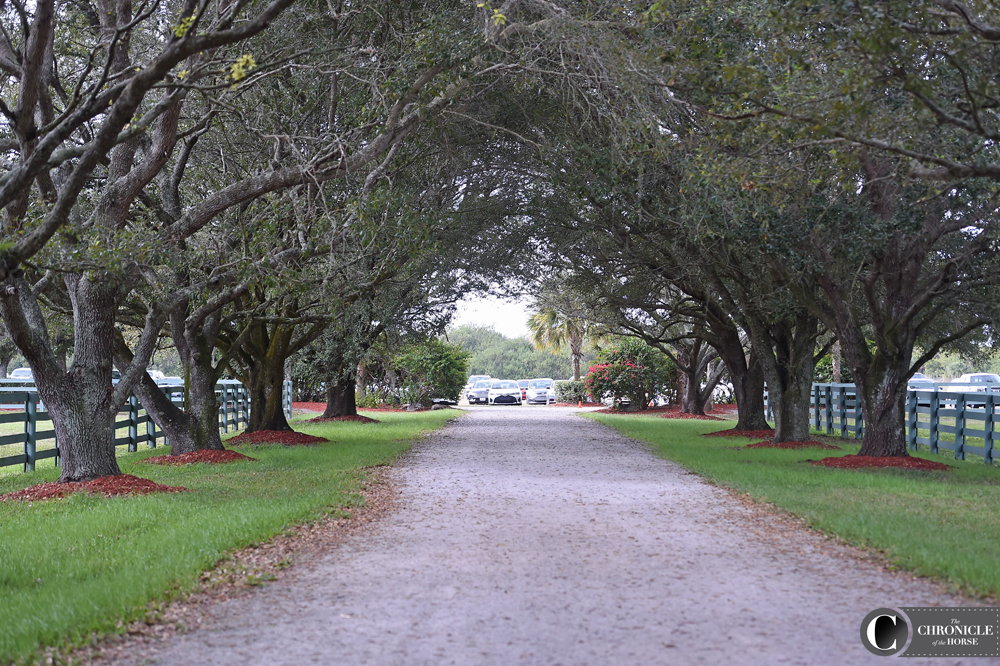 The picturesque High Meadow Farm in Loxahatchee, Fla., is hosting the two day clinic. Photo by Ann Glavan