While Kristy Truebenbach Lund, DVM, was thrilled to bring home the adult amateur Intermediaire II championship with Reel Adventure and the fourth level freestyle reserve championship with Akvavit at the inaugural U.S. Dressage Finals, the rest of her weekend was something she'll want to forget.
After several trailer malfunctions on her journey from Wellington, Fla., to Lexington, Ky., as Lund was unloading at the show, one of the heated seats in her Ford F-550 truck ignited—sending her three dogs to the emergency clinic, where one later died.
Blown Tires Just The Start
Lund's journey to the Finals started off on the wrong foot when the wiring in the living quarters of her trailer went haywire days before she was set to leave. The brakes also failed, so one hefty bill later, she was on her way with three horses in tow.
On the first day of travel, Lund's trailer blew two tires in separate incidents, requiring several hours on the side of the road and many phone calls to try to find the right replacements.
"Thank God for iPhones, because right now, I can get you a tire anywhere on I-75 from here to Lexington!" she said.
Lund pulled into the Kentucky Horse Park on Nov. 6 and began unloading. She left her two Chihuahuas, Gummy and Goldie, and her corgi, Shorty, in the truck with the windows cracked in the 55-degree weather. Her truck had been turned off for more than an hour.
An hour-and-a-half later, as Lund was finishing settling the horses in, someone came running to tell her there was smoke coming out of the cabin of her truck.
"I started screaming, 'My dogs are in there!' " said Lund. "We opened the doors and got two of the dogs. I couldn't find the smallest one, and I thought maybe she had crawled up underneath the seat. Everyone was screaming at me to get out, and a little girl finally said, 'There's a little dog in the bedding out here.' I guess when I ripped everything out of the truck, I must have flung her out with it."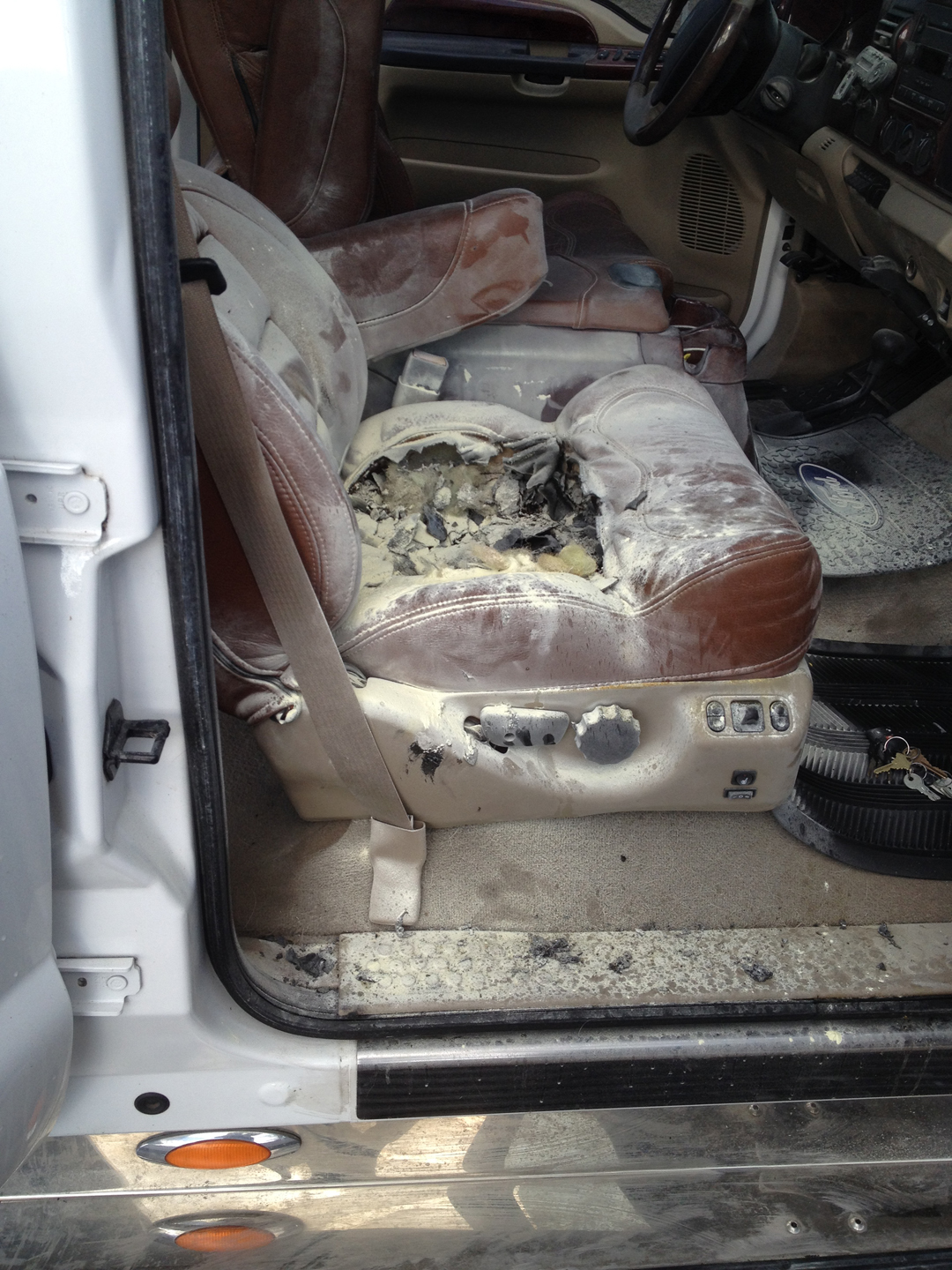 The truck seats in Lund's F-550 after they combusted.
Lund, who owns a small animal veterinary practice, was prepared with an emergency kit. Both she and an emergency vet at the Kentucky Horse Park administered steroid shots to the dogs as firefighters gave them oxygen through pet-sized masks.
Lund rushed all three dogs to an emergency hospital. "They were able to put them all on oxygen overnight and set them up for hyperbaric chamber treatment the next day," she said. "The biggest risk is 48 to 72 hours after it happens. The lining of your lungs can slough from smoke inhalation. By putting them in hyperbaric, it helps promote faster tissue healing."
The next day, Goldie started seizing, stopped breathing and went into cardiac arrest. The vets were unable to save him.
"He must have had some kind of lack of oxygen when it happened and some brain swelling," said Lund. "That's the only reason we can fathom why that happened."
Not For Nothing
Distraught, Lund turned to her horses to take her mind off the tragedy.
"At that point, I was like, 'I've been through all of this. I've gone to hell and back; I might as well stay and ride because otherwise I did this all for nothing,' " she said. "Riding has always been my stress relief. When I'm on a horse, because of my profession, I can get rid of the outside world and focus on my riding. That's the way I've always been trained. I've had to perform emergency surgeries and then rush off to a show. You have to be able to switch your mind over. It was helpful for me to get on my horses and focus on, 'How are my half-passes? How's my piaffe doing?' It made me forget about everything."
Lund's championship with Reel Adventure, a 12-year-old Hanoverian gelding (Rotspon—Lanthess), was the highlight of her weekend.
"I signed him up for Intermediaire II at the end of August against [my trainer John Zopatti's wishes] because he could barely piaffe in the ring," she said. "I [tried to get] some qualifying scores, and I actually did, even getting 0s on my piaffe. We had 60 days to get a piaffe and the one-tempis on that horse. We hired another trainer to help us, and I went to [GAIG/USDF] Regionals and won with a 66 [percent]. My trainer said, 'Huh!' and I said, "I told you I could do it!' "
Reel Adventure scored a 61.44 percent to take the Intermediaire II win.
"We really pulled it off," said Lund. "It will never justify everything that happened, but it just made everything a little more worth it.
"The ironic part about that horse is that I had him as a 4-year-old," she continued. "I qualified him for the [USEF] 5-Year-Old Young Horse Championships, and it was also in Kentucky. I rode him in the same ring where as a 5-year-old he tried to jump out, and they told me that he wasn't qualified for this level, and he doesn't have potential. It was a little bit gratifying to go back in that same ring and show them that, yes, he did have potential. It just took him a little bit longer to get there."
Lund shipped her horses home commercially as her truck was totaled. Her dogs were released from the hospital on Sunday and are doing well after two hyperbaric treatments.
After the incident, Lund did some research online in hopes of finding out what went wrong. She bought her truck in 2006 and didn't realize it had heated seats until recently. The truck's special custom interior was put in aftermarket.
"The car seat looks like there was a barbecue held in it," she said. "The smoke was unbelievable. It took me three days to get it out of my hair. The odor was just unbearable.
"This is not an uncommon problem," she continued. "A lot of paralyzed people have gotten third degree burns because of car seat heaters because they can't feel it. There is a research company out there that in 2011 went before the National Transportation Safety Board and said, 'Listen, you guys need to make manufacturers put timers and heating limits on these seats.' Some of them can heat up to 120 degrees. They presented their findings, but the [NTSB] said because there had never been an ignition or a fire hazard, they couldn't force the manufacturers to change it. Some of them have put temperature limits or timers on them."
Lund sent a report of the incident to the research group in hopes that they can use it for evidence.
"I just want people to know about this," she said. "Everybody leaves their dogs in the truck. Everybody leaves their kids in the truck. I'd never heard of this before. I just want people to be aware of this and a little cautious. If your seat feels a little warm, be careful."