Lexington, Ky.—Aug. 5  
A talented 8-year-old horse rose the challenge in the $50,000 Kentucky Summer Grand Prix and won in a field of 43 entries over a course designed by Mexican course designer Florencio Hernandez.
While the course did not initially seem daunting in size or technicality, only four riders qualified for the jump-off with a clean first round. In the end, Luis Biraben of Argentina triumphed by completing the jump-off in a time of 43.73 seconds on his 8-year-old gelding Eres Tu.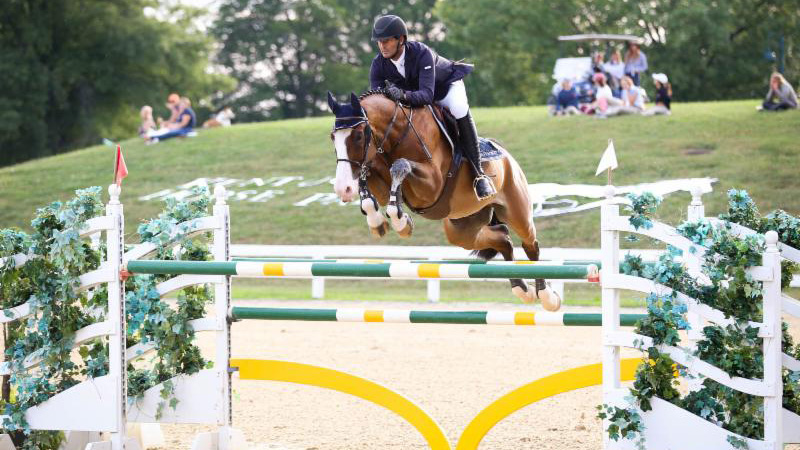 "When I was walking the course, it walked normally, and even nice, but it did not produce many clear rounds at all," Biraben said. "The last line was definitely the hardest part of the course. For me, who was showing four horses in the class and only had one in the jump-off, the win was a big accomplishment."
Hot on his heels was Martien Van Der Hoeven on Zerro Leone who gave a double-clear effort in 46.13 seconds. Young rider Kaely Tomeu finished third on Siboney Ranch's Gentille and Amanda Derbyshire rounded out the top four on Luibanta BH, who is owned by Gochman Sporthorses LLC.
Although the course was not overly high or posed any perplexing questions, rider after rider finished with a rail down or just over the time allowed. Biraben credits his ability to ride his youngest mount, Eres Tu, to a clear round with the gelding's heart, scope and sharp mind. Although Eres Tu recently turned only 8 years old, he completed each jump like a seasoned professional.
"I have had Eres Tu for two years. I found him in Holland and I continue to be impressed by him. He is only 8 years old this year but has such a great mind and is incredibly scopey. He is really easy to ride," said Biraben, who is a native of Argentina and competed in the 2015 Pan American Games (Ontario) but recently moved to the United States and splits his time between Wellington, Fla., and top shows on the East Coast.
Van Der Hoeven took the early lead in the grand prix class on his grey gelding, Zerro Leone. The pair were third in the original order of go and seemed to have no difficulty completing the course in the tight time-allowed.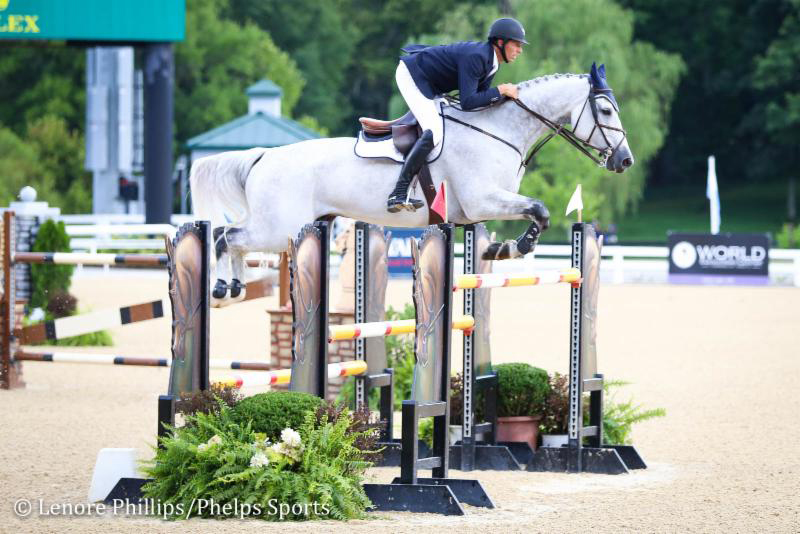 Van Der Hoeven has successfully competed Zerro Leone, who is owned by Augusta Pines Farm of Spring, Texas, in several major grand prix events including the $225,000 Sapphire Grand Prix at the Devon Horse Show (Pa.) as well as the Mary Rena Murphy Grand Prix, which is annually held during the Kentucky Spring Classic. He and Zerro Leone will make their next appearance together at the Hampton Classic Horse Show and the HITS $1 Million Grand Prix in Saugerties, New York.
"We've had this horse for two and a half years. I bought him from Darragh Kerins and Maarten Huygens. He is a horse we are excited to get to jump in these classes," said Van Der Hoeven. "He's come along nicely in the past two years. Leone has had a great couple of weeks here and he is starting to show that he can be reliable—that consistency is nice. I'm really pleased with him. In the jump-off, with only four, I wanted to ensure that I was double-clean and then hopefully the chips would work. I was a bit slow but very happy with the result."
See full results of the $50,000 Kentucky Summer Classic Grand Prix and full results of the Kentucky Summer Classic.