Gladstone, N.J.—May 19
Teaching a Grand Prix horse the Special is tricky business. For many young horses, the pattern for the Grand Prix is comfortable, so asking them to change where they perform movements can be unsettling. Olivia LaGoy-Weltz seems to have found the magic ticket for making that transition with Lonoir.
Though he is still relatively green to the Grand Prix Special, it's quickly becoming the bay gelding's specialty. He won the Special twice at the Adequan Global Dressage Festival (Fla.), and went for three in a row at The Dutta Corp. U.S. Dressage Festival of Champions, topping the class with a 70.68 percent.
"We're just getting used to it. Adrienne [Lyle] and I were talking about when you bring one up they're like 'OK! I've got the Grand Prix!' and then you start the Special and they're like 'No, no, no! The twos go on the other diagonal, and the ones go on this diagonal,' " she said. "He's just starting to be like 'OK, I know this test as well.' He's a very helpful horse, so the more he knows his test the better actually. He tries to help versus trying not to help."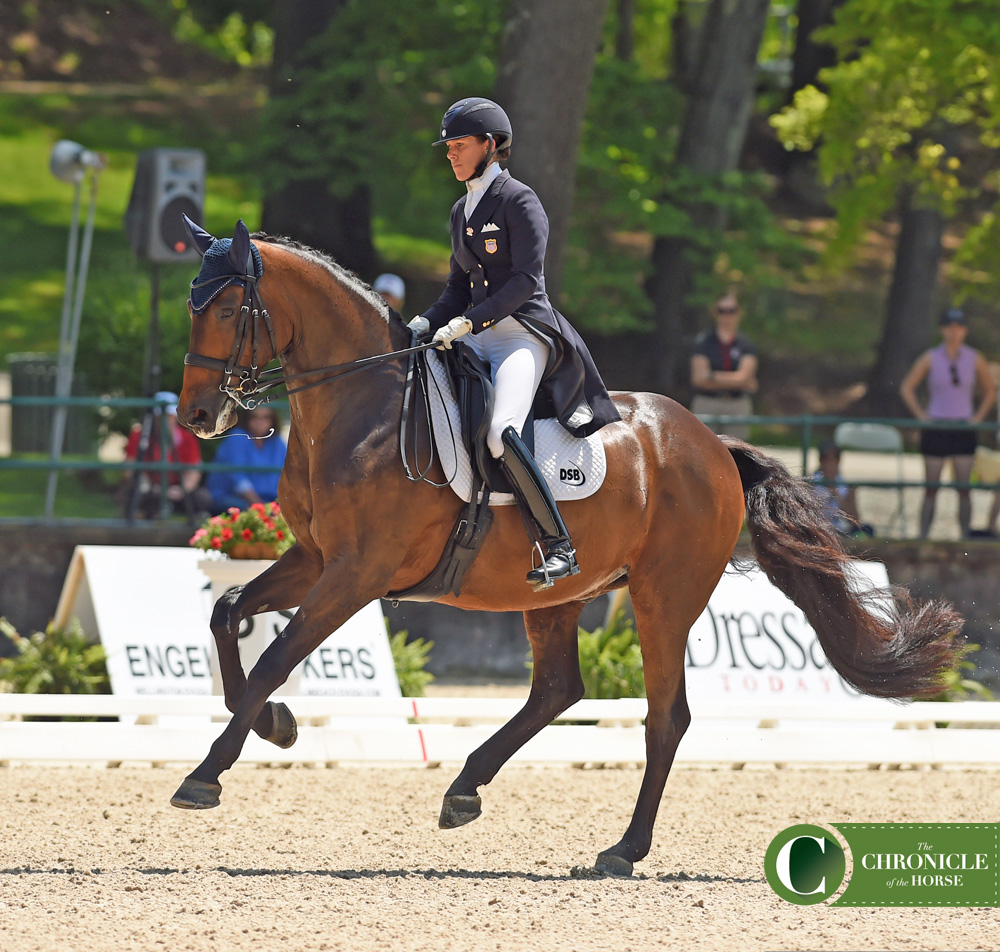 Anticipation of movements caught may riders today, and several ran into trouble during the Special when their mounts broke to the canter during the extended trot, including yesterday's Grand Prix winner Kasey Perry-Glass and Goerklintgaards Dublet. With multiple breaks that pair finished fifth in the Special, and while they still hold onto the lead for the USEF Grand Prix Dressage National Championship, the gap has been closed considerably by LaGoy-Weltz and Lyle.
LaGoy-Weltz also had a mistake in the final extended trot, but her otherwise consistent test with Lonoir prevented it from affecting her too much.
"I think for Lonoir in general most of the time [the strong point] is his harmony. For me it's the reliability," said LaGoy-Weltz. "I think it's the fact that he's going through it without any issues. We had a little break into the last extended trot out of the passage and that was my fault. I had him overcollected in that passage, and he was tired. It's a lot of forward and back forward and back, so I think just learning to ride that test, but just without a problem mostly he went through it. That's usually what people like about him."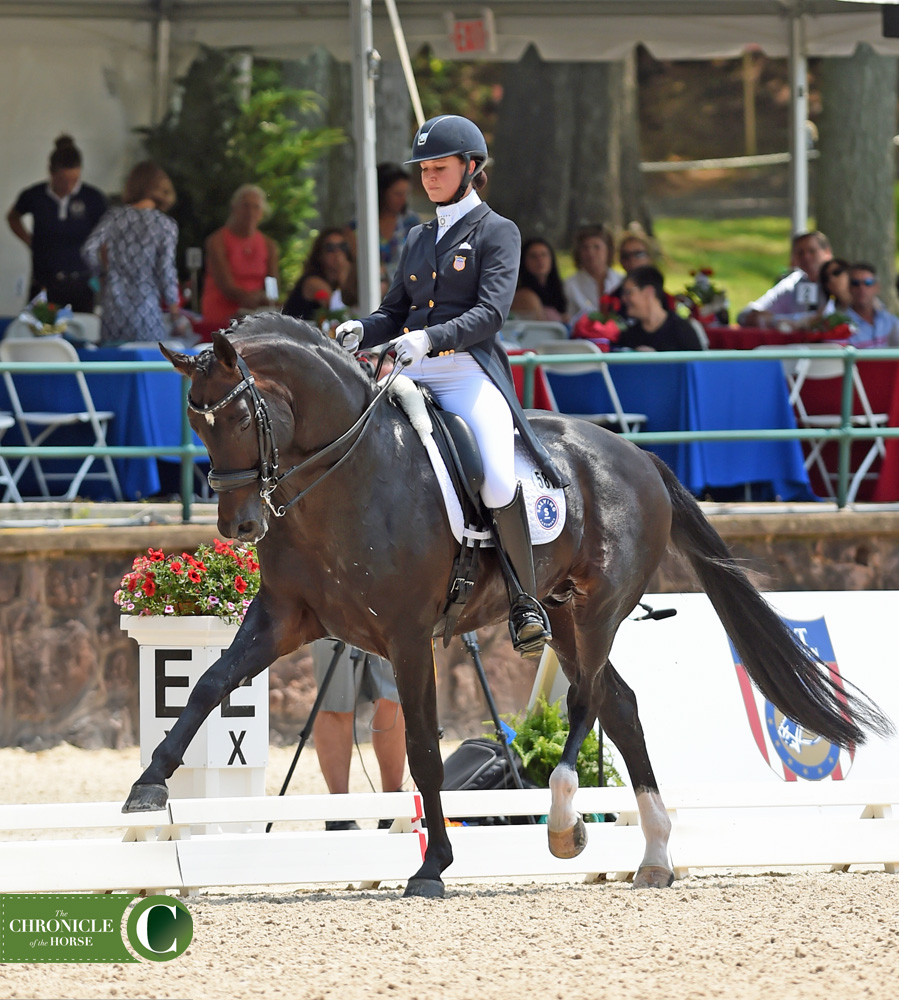 Lyle slotted into second once again today with a 70.31 percent on Salvino, another horse that's green to the level.
"I thought parts that I wanted to improve from yesterday were better," she said. "I though the trot work and the passage work was stronger today, and I really worked on that in the warmup today so of course that was better. We had some little mistakes in the canter stuff like the changes, which are normally pretty solid, but overall I was pretty happy with him. I thought he showed great potential for high scores. He's very green at this still, but the quality that we can get out of him I'm pretty excited for."
While LaGoy-Weltz and Lyle have their sights set on the FEI World Equestrian Games (N.C.) next year, third-placed finisher P.J. Rizvi is just excited to be at Gladstone for the first time after a successful winter season with Breaking Dawn. Rizvi first competed at Grand Prix four years ago, and she had big plans for "Edward", but a majority of their relationship has been spent tack walking since the 16-year-old Dutch Warmblood was injured in 2012.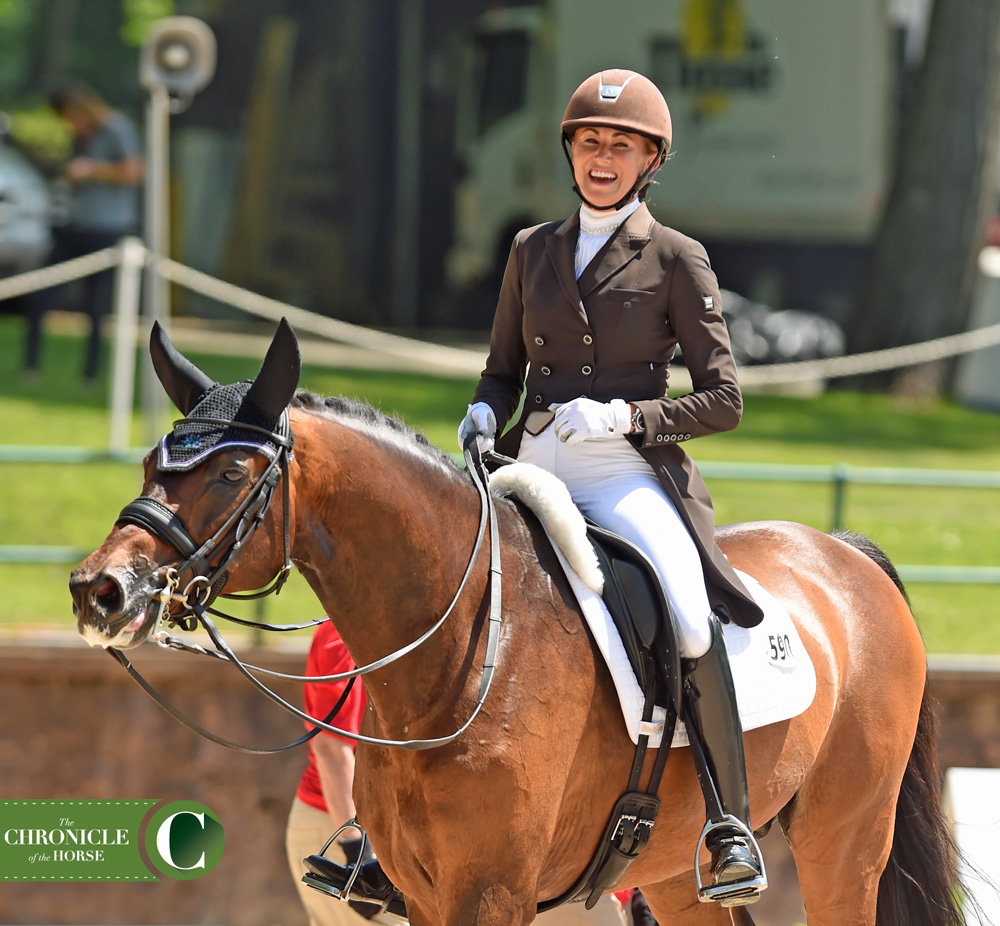 "For me Edward is a once in a lifetime horse, and I started out a lot later in my age, so I'm really grateful to be with these guys," said Rizvi. "Ever since we went to [Wellington, Fla.] after a long time tack walking these guys have been helpful to me and supportive and you always say funny things. It doesn't matter, whatever it is you smile and everyone's really nice.
"For me, you don't know when you start riding later in life if this would ever happen," she continued. "First I just meant to ride and then I was like maybe I'll do a Grand Prix. To be at this level is more than I could ever ask for, so I just take it as it comes and keep trying my best."
Pai Perserves In The Under 25 Grand Prix
Up until she qualified for the USEF Young Adult 'Brentina Cup' Dressage National Championship, Natalie Pai wondered whether she'd make it to the championship this year. She paired up with Unlimited just five months ago, and they've been experiencing some growing pains.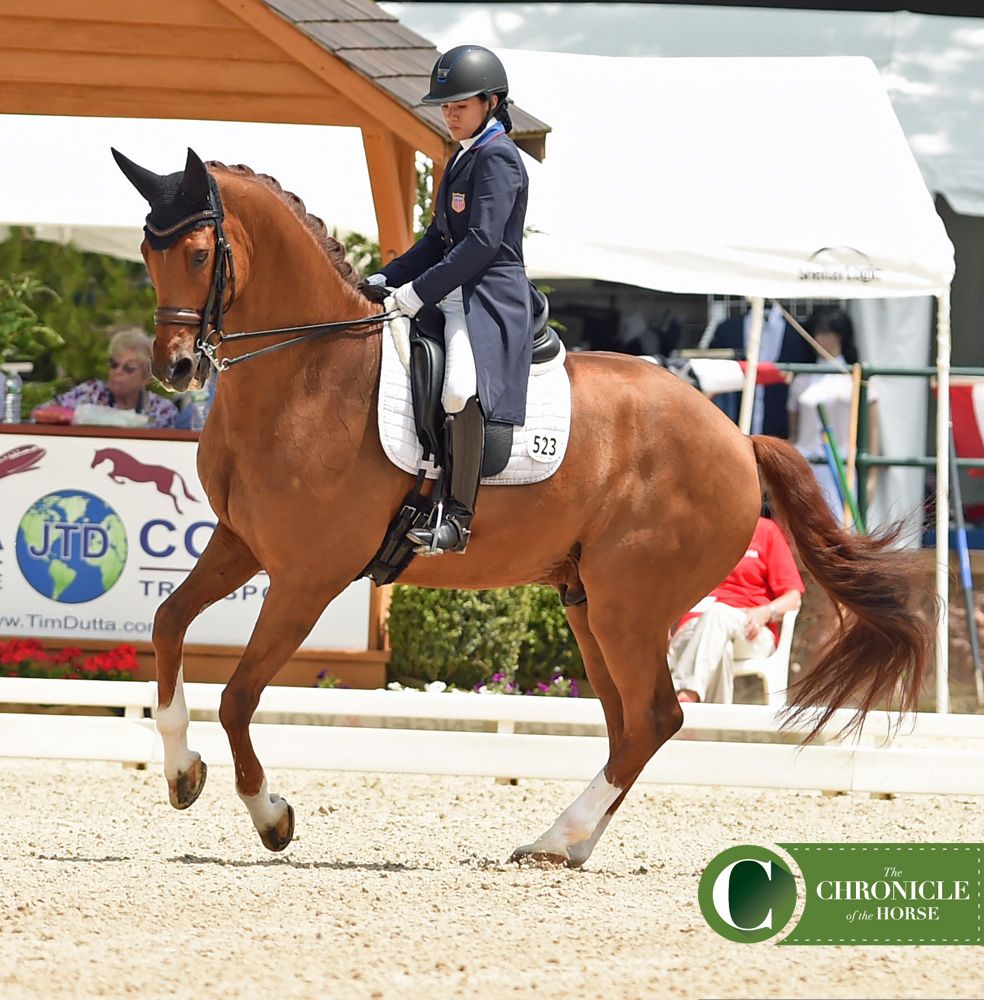 "I definitely had my doubts if I was going to be able to step it up and be able to make it here," Pai said. "I've been dreaming of this for a long time, so it incredible to be here; I couldn't be happier. I was really struggling this season mainly with my changes. Literally every single test either the twos or the ones I'd mess up or both I'd mess up both days. It was really hard for me to get those down, but he's been so patient with me, and he's been really awesome. He's a really good teacher."

While she was initially excited just to make it to Gladstone  she's exceeded her own expectations by topping the Grand Prix 16-25 on a 66.60 percent, which pushed her into the lead for the National Championship that will be awarded after the freestyle on Sunday.
"I really wanted to take more risk today and have a little bit more of a go button," she said. "I usually ride a little bit more conservatively; today I just asked him to go a little bit more. I've been really struggling with my changes all season, this is the first time I actually nailed both the first time in the same test, so I was really happy with him. He was fantastic. Very happy with him."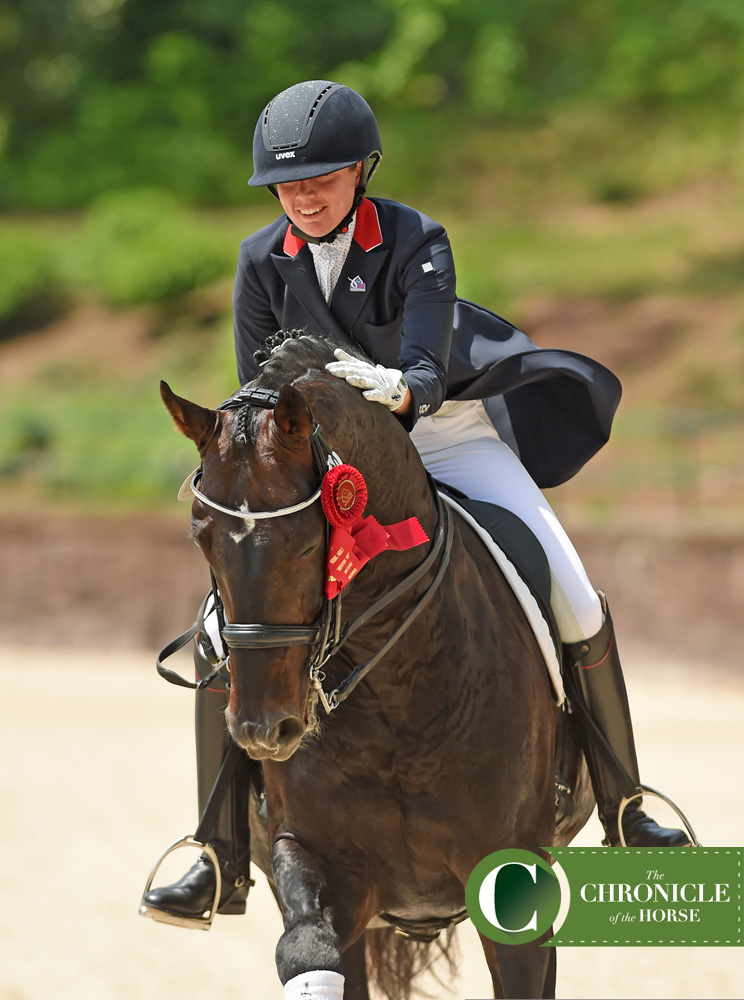 Slotting into second was Kaitlin Blythe and Don Principe on a 66.00 percent. At 25, this is Blythe's last opportunity to compete in the Brentina Cup, and afterwards she's looking forward to the open Grand Prix.
"It's just so fun to be in an environment that has so much history with the [U.S. Equestrian Team] and all of the great people before us that have competed here for the team and now we get to compete here, so it's really special," she said.
The winner of yesterday's class, Molly Paris tried to step it up today with Countess, and while it didn't go exactly as planned the pair took third on a 64.69 percent.
"Today I was going to do a little bit more boldly, take a little more risk. My mare really stepped up to the plate. She put on the gas and went with it. It just didn't quite play out the way I wanted it to, but I could not be any happier with her. She did everything I asked for. It's just another stepping stone and I'm really happy with it.
See full results here.
To see all of the Chronicle's coverage from the Festival of Champions, click here. And make sure to read the June 5 issue of The Chronicle of the Horse (which is also the annual Dressage Issue!) for more in-depth coverage from the Festival.