The dictionary defines versatile as: capable of or adapted for turning easily from one to another of various tasks, fields of endeavor, etc. Bold Minstrel was the poster boy of versatile.
Born in 1952 in Camargo, Ohio, Bold Minstrel was by Thoroughbred stallion Bold And Bad out of Wallise Simpson, who was the result of a test breeding of an unknown mare to a young Royal Minstrel. William "Billy" Haggard III purchased Bold Minstrel as a 5-year-old.
While Haggard never had any formal training, he competed at the highest levels of sport. From steeplechasing to show hunters to eventing, Haggard proved himself over and over again as one of the top riders of his time.
Topping out at 16.3 hands, the stunning gray was such an easy keeper that he was affectionately called "Fatty." Bold Minstrel's career actually began in the hunter ring, and his stunning looks and lovely jump garnered him dozens of ribbons in the conformation divisions across the country, including a reserve national championship at the National Horse Show (N.Y.). Eventually, though, Haggard switched his focus to eventing.
In 1959, Haggard and Bold Minstrel tackled the Pan American Games in Chicago, Ill., and helped the U.S. team win the silver medal in addition to placing ninth individually. Four years later, they were sixth individually in San Paulo, Brazil, and clinched the team gold. Between those two Games, Haggard still campaigned Bold Minstrel in the hunter ring.
While it seemed like the pair would be a shoo-in for the Olympic Games in Tokyo the following year, the selectors did not include them on the team. However, when J. Michael Plumb's mount, Markham, had to be euthanized on the flight over, Haggard loaned Bold Minstrel to the veteran rider.
"Michael Plumb, as can be imagined, was at a tremendous disadvantage having to compete in the Olympic Games after only riding the horse for two weeks before hand," wrote teammate Michael Page in the Nov. 20, 1964, edition of The Chronicle of the Horse. "However, from the excellent dressage ride on the first day, to the 'must' clear round to protect the medal on the last day over a trappy jumping course, Plumb and Bold Minstrel never once shook the confidence placed in them."
Since Bold Minstrel was only 12 after his first Olympic Games, Haggard decided to continue to campaign him. However, as the horse had already reached the highest levels of two sports, he loaned him to Bill Steinkraus.
Steinkraus rode the gray gelding in numerous international show jumping events between 1964 and Bold Minstrel's retirement in 1970. They won more than a dozen major competitions, including the Grand Prix of Cologne (Germany). In 1967, they also set two puissance records at the fall indoor shows, jumping 7'3" at the National Horse Show.
"It takes something special to make me wear a white tie and tails to a horse show, but the old Garden was special," wrote Jimmy Wofford in the April 2008 issue of Practical Horseman. "I was willing to dress up like the Phantom of the Opera to watch quality show jumping. It was even more special when Bill Steinkraus came out of the corner next to me on his way to a 6-foot 7-inch puissance wall. With his uncanny eye for a distance, Bill saw a steady seven strides to a deep distance. This is just what you want when you are about to jump a big puissance wall. Unfortunately, Fatty saw a going six, grabbed the bit and opened up his stride. The book will tell
you that you can't jump that big a fence from that big a stride, but Fatty left it standing, much to Bill's relief."
Bold Minstrel competed in his third Pan American Games in Winnipeg, Man., that same year and, again, earned the team silver. That medal solidified Bold Minstrel's epic career, making him the only horse to have medals in three Pan American Games and one Olympic Games in two disciplines.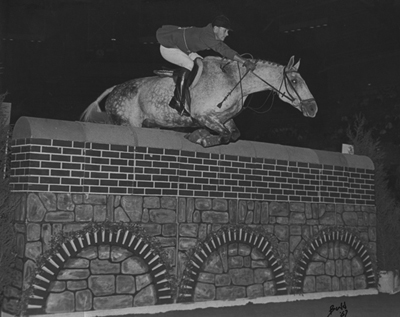 Bill Steinkaus rode Bold Minstrel in the 1967 Pan American Games in show jumping, where the gelding won yet another team silver medal. They also set several puissance records in that same year. Photo by Budd.
Bold Minstrel continued to compete well into his late teens and eventually retired in 1970 at 18 years old. That year, he won three times at Lucerne (Switzerland) and won the Democrat Challenge Trophy at his old stomping grounds, the National Horse Show. After he retired from competition, Haggard took him home to his farm and foxhunted him.
"This gray horse gets my vote as the greatest horse of the 20th century," wrote Dennis Glaccum in the Dec. 24, 1999, issue of the Chronicle, where Bold Minstrel was named one of the most influential horses of the century. "He stands heads and tails above any other horse I have observed in my lifetime."
One of web writer Coree Reuter's favorite parts of working at The Chronicle of the Horse is adventuring up into the attic. While it's occasionally a journey that requires a head lamp, GPS unit and dust mask, nearly 75 years of the equine industry is documented in the old issues and photographs that live above the offices, and Coree is determined to unearth the great stories of the past. Inspired by the saying: "History was written on the back of a horse," she hopes to demystify the legends, find new ones and honor the horses who have changed the scope of everyday life with this blog.
Curious about anything in particular? Have a question or an interesting topic? Please e-mail Coree, she'd love to hear from you!