Last year, I had been thinking that Quick Study [her mount for the 2010 Alltech FEI World Games (Ky.)] would be my top prospect for the Games. But after the Vienna Global Champions Tour, he fell in the paddock and cracked four ribs. It happened in September, and we couldn't figure out exactly what the problem was until November, when we did with a scintigraphy scan.
Now he's getting back in gear and made his comeback during the last two weeks of the [FTI Winter Equestrian Festival (Fla.)]. He jumped his first grand prix at [the Royal Windsor Horse Show (England) in May] where he was double clear and fourth.
But this year, my top prospect is Ohlala.
I've been very fortunate to get to go to a lot of events, to Olympic Games and World Games and Pan American Games. At this point in my career, I don't want to put my name in the hat unless I'm a serious contender. My goal isn't to go and be a participant; I don't want to go to say I've gone. I have a very open dialogue about that with [U.S. Chef d'Equipe] Robert Ridland, the owners, and everyone involved with the team.
Ohlala has always been very consistent as she's developed. I'd ask her big questions, then let her step down. We've never measured her—but I'd say she's barely 15.2 hands. Early on, I put her name in to be considered, even though I wasn't positive she would be ready. She was very good and consistent during Florida this year, but I let it go day by day and week by week. She was second in a big grand prix and won one of the Ruby et Violette WEF Challenge Series classes.
ABOUT LAUREN HOUGH
Home base: Aston Farm
in Gloucestershire, England,
and Wellington, Fla.
Age: 37
World Games Contender: Ohlala,
a 10-year-old Swedish Warmblood
(Orlando—Carrera, Cardento) owned
by the Ohlala Group (R. Bruce Duchossois,
Dennis Singer and his family, and
Desi Dillingham).
"Every time I ask her, she gives more
and more," said Hough. "She really
enjoys shows, she thinks that they're fun,
and I try to keep it that way.
"From the moment we got her, she was
really a character, quite feisty and
determined," she added. "She can be
mean in the stable—she doesn't want
you to change her blankets or adjust
the saddle, but once you're on her,
she's so happy and loves her job."
Notable Results:
• Winner—2012 Best Young Horse
Hamburg CSIYH (Germany)
• Winner—2012 Best Young Horse
Aachen CSIYH (Germany)
• 1st —2012 $50,000 Chartis Insurance
Company International Jumper Speed Class (Ky.)
• 1st —2012 $33,000 HorseGymUSA
Opener Grand Prix (Fla.)
• 1st—2013 $32,328 Massimo Dutti
London GCT Grand Prix (England)
• 1st—2013 $31,330 La Coruña
Speed (Spain)
• 1st—2013 $33,510 Sky Sports
Trophy (Great Britain)
• 4th—2014 $125,000 Trump
Invitational Grand Prix (Fla.)
• 1st—2014 $34,000 Ruby et Violette
WEF Challenge Round 4 (Fla.)
• 3rd—2014 $50,000 Ariat
Grand Prix (Fla.)
• 2nd —2014 $34,700 Ruby et Violette
WEF Challenge Cup Round 10 (Fla.)
• 2nd —2014 $125,000 Horseware
Ireland Grand Prix (Fla.)
• 10th—2014 Great American $1 Million
Grand Prix (Fla.)
• 3rd—2014 $200,000 Gene Mische
American Invitational (Fla.)
• 3rd—2014 $84,930 Grand Prix of
Mannheim (Germany)
Previous World Games Experience:
Hough represented the United States
at the 2010 Alltech FEI World Equestrian
Games (Ky.) on Quick Study, where
the team finished 10th.
"It was a huge disappointment," she said.
"I think we had the strongest team we
could have fielded—that's just our sport
sometimes. I do think I have that hanging
over my head a little bit, and it makes me
want to go back and keep improving."
Sponsor Support:
Equiline
OnTyte stirrups
Antarès
Verdus horse boots
VitaFlex supplements
LubriSyn joint supplements
I first started thinking she had a good shot when she jumped the Great American $1 Million Grand Prix (Fla.). She's very brave, and she's the type of horse that can walk into any venue and perform well. But when I walked the course for the Million, my first thought was that it was huge! It wasn't terribly technical, but just massive jumps, and things that looked like the second round of the [CN $1 Million] at Spruce Meadows [Alberta].
She jumped an unbelievable round. I had fence 13 down, which was my own fault—I pushed her through the front bar of a really wide oxer—and the second fence of a double of verticals, which was my fault because I leaned up the neck.
When she pulled up, she felt like she was saying, "OK, that wasn't very hard." Sometimes at the end of a course you can feel a horse go, "Oh my God, don't ask me to do that again."
She didn't jump another fence until the $200,000 Gene Mische American Invitational [Fla.] 10 days later. She jumped even better there. The ground wasn't ideal, but they rolled every 10 horses, and we went 11th and first in the jump-off, so we were lucky. She's so little she never sank into the ground.
After those two big competitions, I really felt like we could do it, and obviously we climbed our way up the Rolex/USEF Show Jumping Ranking list. I've always said that if I don't feel like I belong, I'll be the first one to tell you. But I feel like I've earned my spot on the short list and feel confident that if all goes our way, we could be a contributor to a team medal.
From Investment To Keeper
I originally bought Ohlala in partnership with In Showjumpers as an investment at the end of her 7-year-old year in 2011. She competed in the young horse classes during Florida, and I moved her up to a 1.50-meter level by the end of the season. Then we got to Europe, and she was very consistent there. She won an FEI-ranking class at her first show at Nörten-Hardenberg [CSI, Germany], then won two of the three young horse classes, including the final, at Hamburg [CSI, Germany] and Aachen [CSIO, Germany]. At that point, there was a lot of interest in the horse, but she was so great I didn't want to sell her. I was very fortunate to put together a syndicate with a group of wonderful supporters who bought out the investment group that had owned half of her.
From the moment we stepped in the ring, she was a winner. But in the beginning she didn't want to be told what to do. We had to take some time to make her more rideable. Up to the 1.45-meter level you can get away with not being able to steer terribly well or letting her head go way up in the air.
But in the last eight months, we've seen a really big turn in her performance and in her physique and muscle as well. She looks like a horse that jumps big jumps now.
With her, the key was patience. Nina Ulenburg started with me in October, and she's been a huge influence on the mare. When we professionals are in Florida, we're constantly teaching and riding and showing; sometimes we're running around like chickens with our heads cut off. But Nina was able to spend a lot of time with her. If it took an hour at the walk for her to accept the aids and get her going between her hand and leg without having a fit, she'd quietly take the time and do just that. It's been such a big asset to have her because during the winter season there aren't enough hours in the day to concentrate on yourself.
I'm very lucky that I feel like I have a great team around me. When I'm on the road with my other horses, Nina's here to ride her, and her groom, Zane Josta, knows her inside and out. I have been coming to Europe for half a year since 2009, so I have a good feel for which shows to go to and which people to reach out to. Henk Nooren has been a great resource for that—I've worked with him and been friends with him for 20 years, and he's been very helpful to bounce ideas off. In the United States, Missy Clark has been a great help to me as well. My veterinarian for many years, Dr. Brendan Furlong, works closely with my vet here in England, Dr. P.J. McMahon.
Knock on wood, Ohlala's been very sound and resilient and sturdy, and there aren't too many things that I have to worry about. She has a fantastic farrier, Arnie Gervasio, who's been my farrier since I was 18 years old.
There's only been one time she's been out of competition. On Dec. 24, 2012, she came down with a mild bout of laminitis. My staff jumped on it so quickly that we really beat it to the punch. We had a week of 24-hour, round-the-clock ice, nursing her back. We ended up finding she had an intolerance to sugar, so now she eats a specific pellet that's low in starch. She came through with flying colors, and it's never been a problem again, and she started showing again in March of 2013.
The Plan
Everyone on the short list has to attend a few observation events, and once I was chosen for Rotterdam [CSIO, the Netherlands] and Dublin [CSIO], I worked out the rest of my plan backward from there.
After I'd been in Europe about three weeks we had our first show back, a three-star in Mannheim, Germany, where she was double clear in the grand prix and finished third. She came out after that very strong, and then we moved to our new permanent base in England at Aston Farm.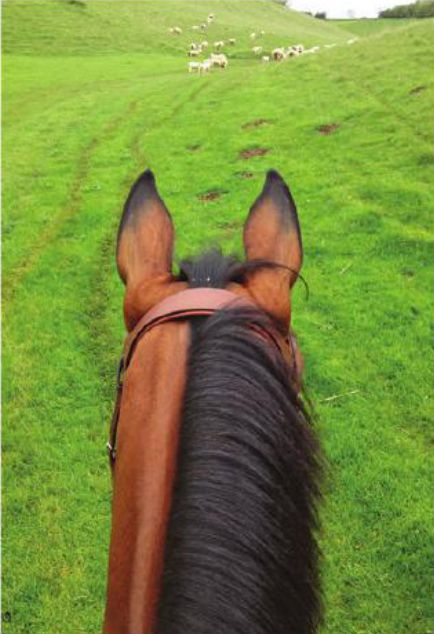 Lauren Hough is based out of
Aston Farm in England, a working
farm and equestrian facility, and
she fits regular hacks—sometimes
though pastures full of sheep—into
her horses' routines.
Photo courtesy of Lauren Hough
Aston is an amazing training and farming facility, owned by my partner [former U.S. Eventing Chef d'Equipe] Mark Phillips, with fantastic footing and great gallops and turnout. The trails are amazing, so the horses are really happy here, and they don't feel like they're doing the same thing every day. There's an indoor/outdoor riding facility and a treadmill, so Ohlala's living in a five-star hotel when she's not competing.
You almost have to be careful that you don't get "Lala" too fit, because she doesn't let herself down too easily. She gets quite bored if she doesn't feel like she has a job. She doesn't jump often, maybe one or two jump schools before a show, and I'll do her over some small cavaletti to get her muscles working the right way.
She competed at Nörten-Hardenberg [CSI, Germany] the weekend of May 24-25, where she had one down in the champions class, a 1.50-meter class, on Saturday, and then she had a fast 4-fault round to finish 13th in the grand prix.
Next is Wiesbaden [CSI, Germany] for two small classes, then we only have about 10 days until Rotterdam. That's a fantastic venue, and I've been there many times and feel comfortable there. The ground is great, even if the weather is bad. Rotterdam will be a big hurdle for us. [Editor's note: At Rotterdam, Hough and Ohlala had rounds of 8 and 4 faults in the Furusiyya FEI Nations Cup for the U.S. team's eighth-placed finish and 4 faults in the first round of the grand prix.]
She has a break after that, and we can evaluate if she needs a show or two before Dublin. Dublin is one of my favorite shows and hopefully by then we'll be in great shape.
This Road To The World Games article is one in a series the Chronicle is publishing in the print magazine. We're following two riders each from dressage, eventing and show jumping as they aim for a team spot in Normandy later this year.
Lauren's next installment will be published in the Aug. 4 issue of the Chronicle, where she'll share how the World Games observation events at Rotterdam and Dublin went for her and Ohlala. Don't miss it!