The results of the Longines Global Champions Tour Grand Prix of Vienna have set the stage for a nail-biter of a final in Doha, Qatar, on Nov. 21-23.
Without her top mount Cedric in the line-up in Vienna, U.S. rider Laura Kraut had her doubts about whether she would be able to retain the No. 1 spot in the ranking, but after a strong first round with just one rail, Kraut qualified for the second round aboard her lovely mare Jubilee d'Ouilly, who fought her way through to ensure Kraut has a fighting chance at the series title. Going into the final, Kraut still leads the field with 187 points.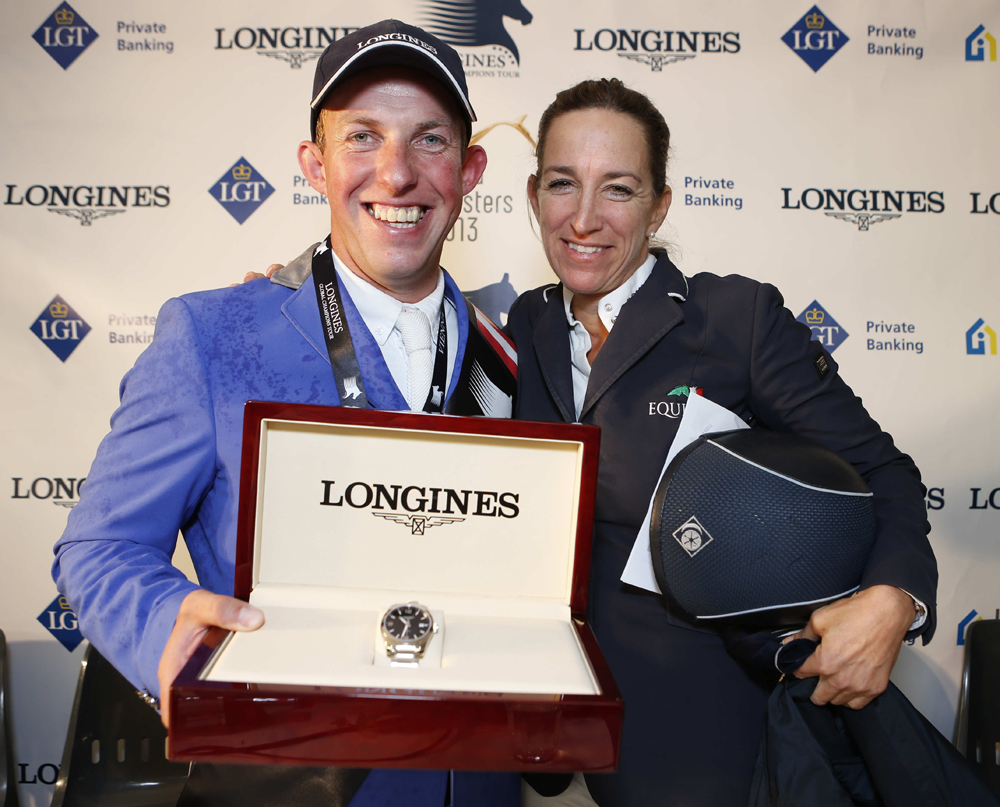 Laura Kraut (right) deemed it "a miracle" she's still
in the lead of the Longines Global Champions Tour
series rankings after Gerco Schroder won the
grand prix in Vienna.
Photo by Stefano Grasso/GCT
"It's kind of a miracle. I did not expect to be sitting here [in the press conference] tonight. It will be all down to Qatar, which is exciting for the sport and for the Global Champions Tour. I'm going to try to be in better form when I get there!" said Kraut.
The top 10 of the Longines GCT season rankings have certainly become more interesting. Kraut and Christian Ahlmann, who didn't compete in Vienna, have remained in the top two positions with two points separating them, but two-time series winner Edwina Tops-Alexander took seventh in Vienna and has climbed into third position and it only six points behind Kraut. Luciana Diniz of Portugal stands in fourth position, while last year's runner-up Rolf-Goran Bengtsson jumped into fifth position to make the standings incredibly competitive.
"Any of the top 10 still has a chance to win the final. It's very exciting this year; we are now on the 11th leg and no one has won twice," said Longines GCT President Jan Tops.
But on Sept. 21 in Vienna, the glory all belonged to Olympic double silver medalist Gerco Schroder, who won the Longines GCT Grand Prix with London in a four-horse jump-off amidst the grand architecture of Vienna's city center. Set in front of the famous City Hall of Vienna, Rathaus, Schroder and London delivered three world-class clear rounds in front of a stadium packed with passionate Austrian spectators.
Schroder beat his countryman Harrie Smolders aboard Jackson Hole, Portugal's Diniz on Winningmoos, and Bengtsson on Casall Ask. Rainy conditions caused Frank Rothenberger to set a milder course than usual and 11 riders jumped clean in Round 1. Kraut had 4 fault, while fellow U.S. rider Lauren Hough picked up just 1 time fault on Quick Study. She eventually finished in sixth after getting another time fault in Round 2.
There was so much excitement ringside when Schroder won that he took four laps of the victory gallop as the Vienna crowd cheered loudly. Every person surrounding the arena stood to cheer on Schroder and London as they galloped circles below the towering expanse of the Vienna City Hall.
"He jumped three fantastic rounds, so I am very happy with him," said Schroder, who stands 17th in the series rankings. "I am not high enough in the rankings to be in with a chance of winning the overall championship, but Doha is a really special show. I will try to do my best there."
See full results of the Longines Global Champions Tour Grand Prix of Vienna.