Gladstone, N.J.—May 20

When Laura Graves heard that Gwendolyn Powers' Calliope was prone to tension she knew exactly what she wanted to teach during her session for the Olympic Experience held Saturday morning at The Dutta Corp. U.S. Dressage Festival of Champions. Instead of letting Powers work the mare's tension out, Graves asked her to keep her pre-clinic warm-up short, so that she could turn it into a learning opportunity.
The first step? Setting Calliope up for success by picking places in the ring to work where the mare felt comfortable.
"I find it silly when people have tense horses, and they immediately push the horse towards it. Put her somewhere where she can be successful instead of fighting it. Post and control the tempo in posting," said Graves. "Regardless of what's happening in the mouth, pay attention to the tempo you post."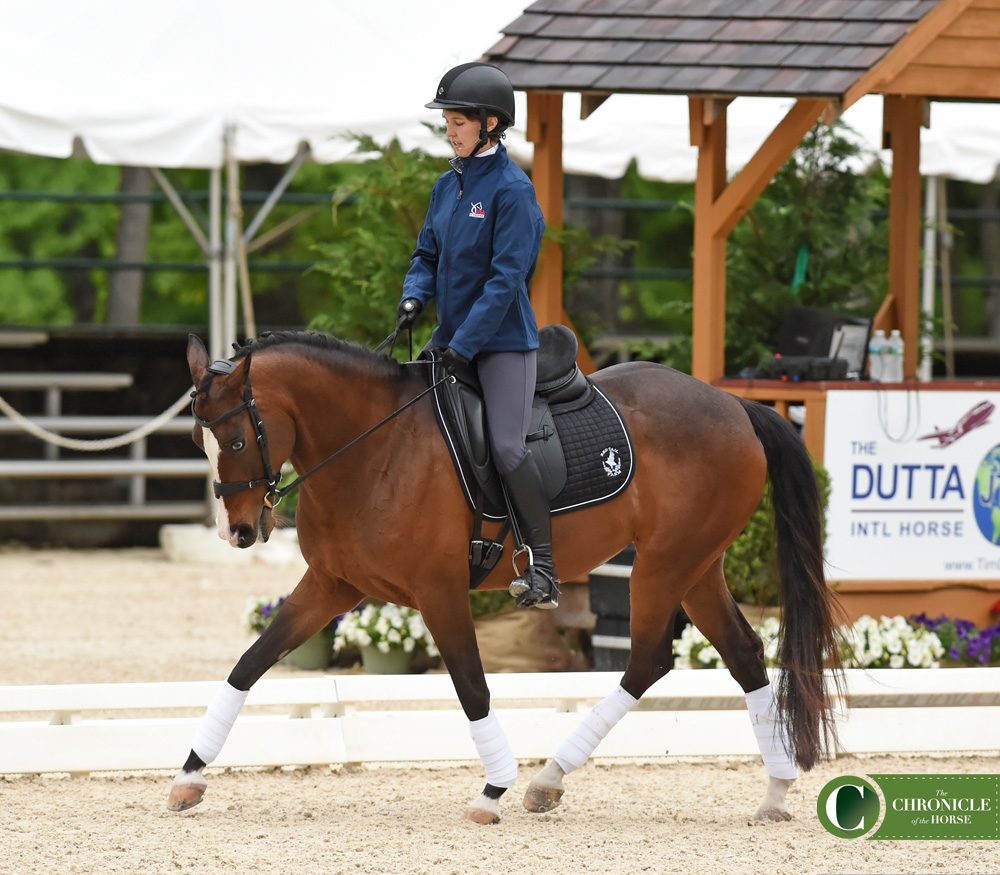 Until the 8-year-old Welsh Pony Cross relaxed, the only thing Graves wanted Powers to worry about was keeping the mare's tempo consistent with a relaxed topline. To do this, Graves wanted Powers to post using the tempo of her own body to influence her mare.
"You can post; I don't mind that," said Graves. "Especially on a back that's tight, post. I'd rather you post than sit on a back that's not accepting."
When Powers began to sit forward in the saddle and get tense herself, Graves reminded her that as a rider it's her job to keep her riding the same to give her mare confidence.
"When horses are tense, we start riding differently, and we communicate to the horse that she's right, that this is dangerous; I should be nervous," Graves said. "Even if she's tense ride her with confidence. This arena, these people, this umbrella is not going to eat her."
When Calliope became over reactive to the leg, Graves reminded Powers that when a horse is hot, it's important to ride with the leg on because if you take the leg off in an attempt to avoid an explosion, you'll never teach the horse to accept the leg.
"If she's jigging in the walk, don't be afraid to put your leg on," said Graves. "Let her feel your calf even if she jigs. If you don't touch her more that reaction doesn't go away. Don't let her reaction become the thing you focus on—tempo control. Don't let her think there's anything to worry about. Whatever she does, you're reflecting in your body relaxation and tempo.
"When you're at a show or a demo like this you need to expect something different and be able to adapt. If she's hot you have to ride with more leg, or if she's dull you have to jazz her up and then take your leg off," she continued. "They say a hot horse has to be ridden with leg on and a dull horse needs to be ridden with leg off."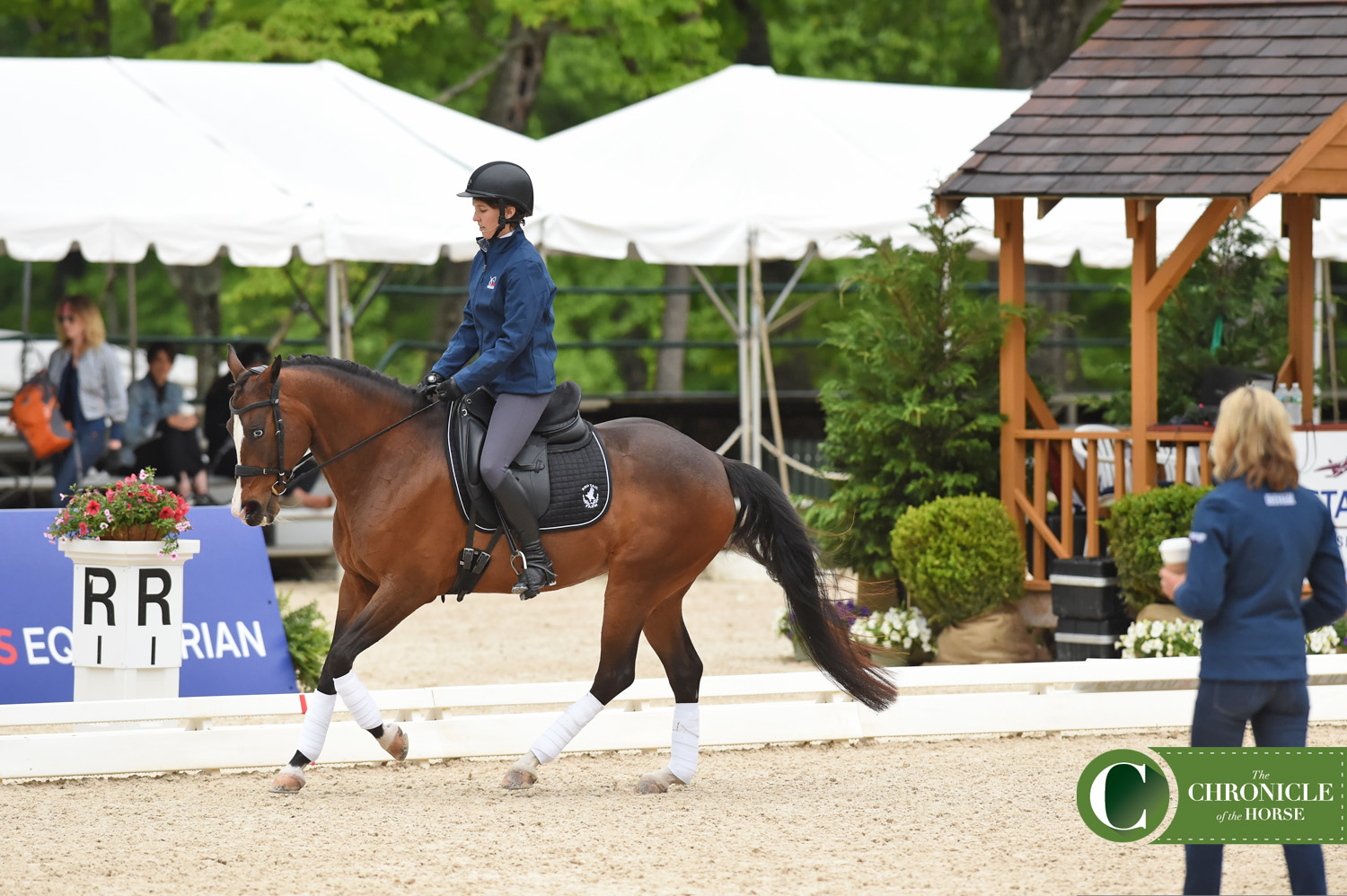 The other major point Graves focused on was straightness, as Calliope relied on the inside rein particularly to the left. The solution? Bringing your hands wide and away from the neck in order to figure out where the horse needs more leg.
"We're always taught to look up, look up, but look down," said Graves. "If Debbie McDonald hears me say this, she'll kill me, but I say look down. Sometimes what you feel is different from what you see. You don't have mirrors, so take a peek down at her neck and see if you can't keep it straight on her body.
"If you look down and can see where she's not between both reins, then you can see she's drifting more one way," she continued. "Then you know what leg she needs. There should be an equal distance from the left shoulder to the left fist and the right shoulder to the right fist. If there's not you need to fix it. When she fixes it then you can give to her."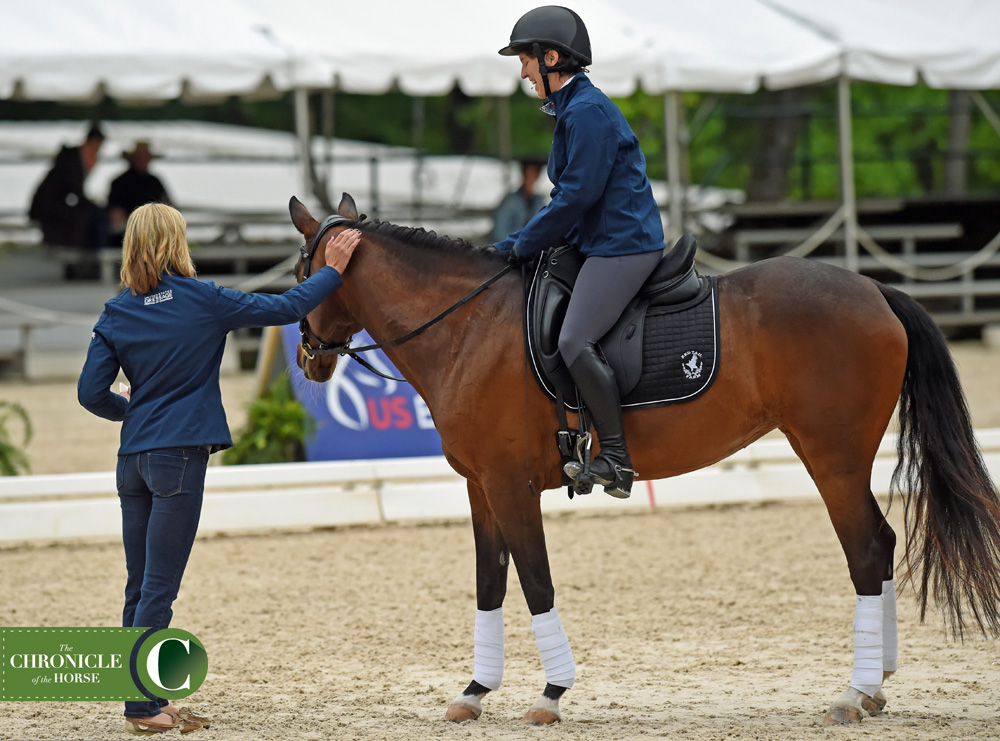 Everything Begins And Ends With The Half-Halt
Once a rider learns the basics of forward, whoa, left and right, the next step is the half-halt, which becomes one of the most important aids in a rider's toolbox. It was that aid that Robert Dover stressed while he taught Heather Mendiburu on her 16-year-old Intermediaire I mare What Happen.
"In every step of collected trot you need to know you have the grandest extended trot alive," he said. "In every step of extended trot you need to know you have the most beautiful collected trot, even to the passage. The grandest horses and the grandest riders, they know one thing: In the grandest extended trot they have a passage in the next thought.
"In the best version of what we're doing in dressage, the grandest collection and the greatest collection—the distance between those things is a thought—a half-halt—away. They're always a half-halt away from perfect."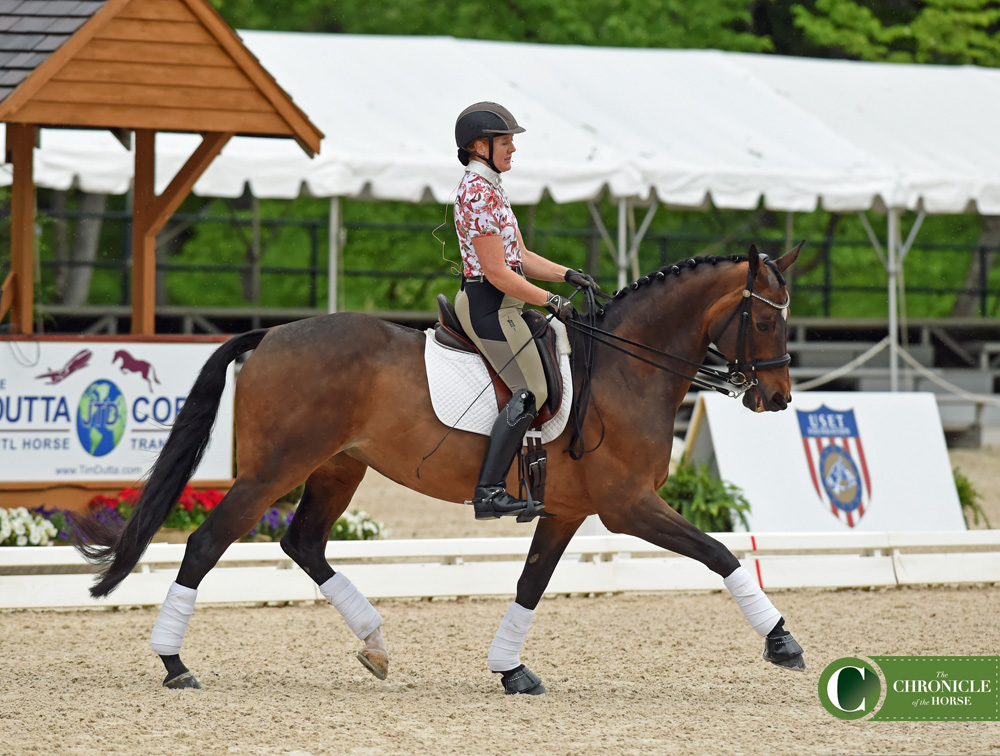 At the beginning of her session Mendiburu said "Happy" was always willing to go forward, but coming back into collected work was sometimes a struggle. To fix that Dover wanted her to use a half-halt, but not just by pulling back on the reins, but by using her seat and breath to affect the mare.
"The seat and how we use the seat is one of the biggest things professionals are supposed to teach young riders and amateurs. The seat—when you really lean this it becomes an art. The seat is 80 percent of how we communicate," Dover said. "Leg and hand is 20 percent. Usually, the problem is that we do the opposite of that. Usually we ride with 80 percent hand and leg and 20 percent seat."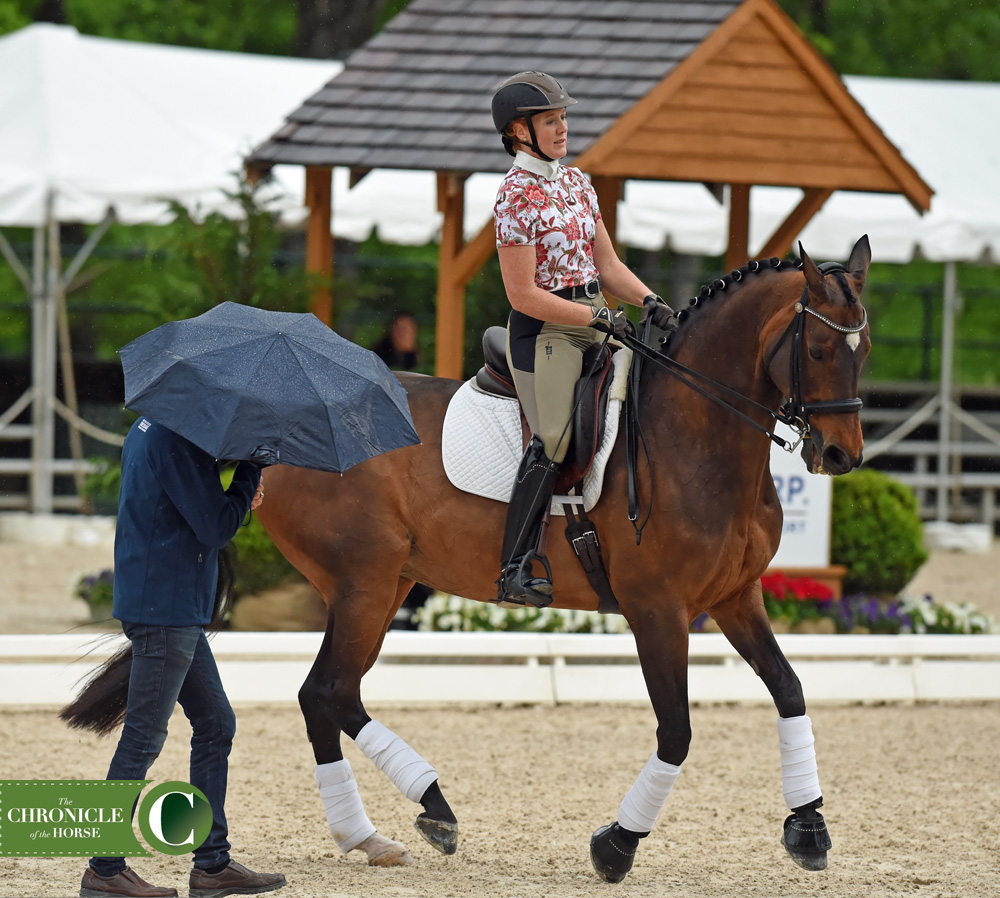 To help Mendiburu with the concept, Dover had her ride his favorite "rubberband exercise," where she rode forward for a few strides before asking her to collect for a pirouette canter.
"Breathe in, close leg, close your fists and imagine her coming back but thinking forward and round in the bridle," he said. "Riding in a way is like a bow and arrow. You might take back, but the arrow still wants to go exponentially more forward. The more you take back, the more it goes forward. When she says, 'Mom, I want to extend,' close your fists in that moment."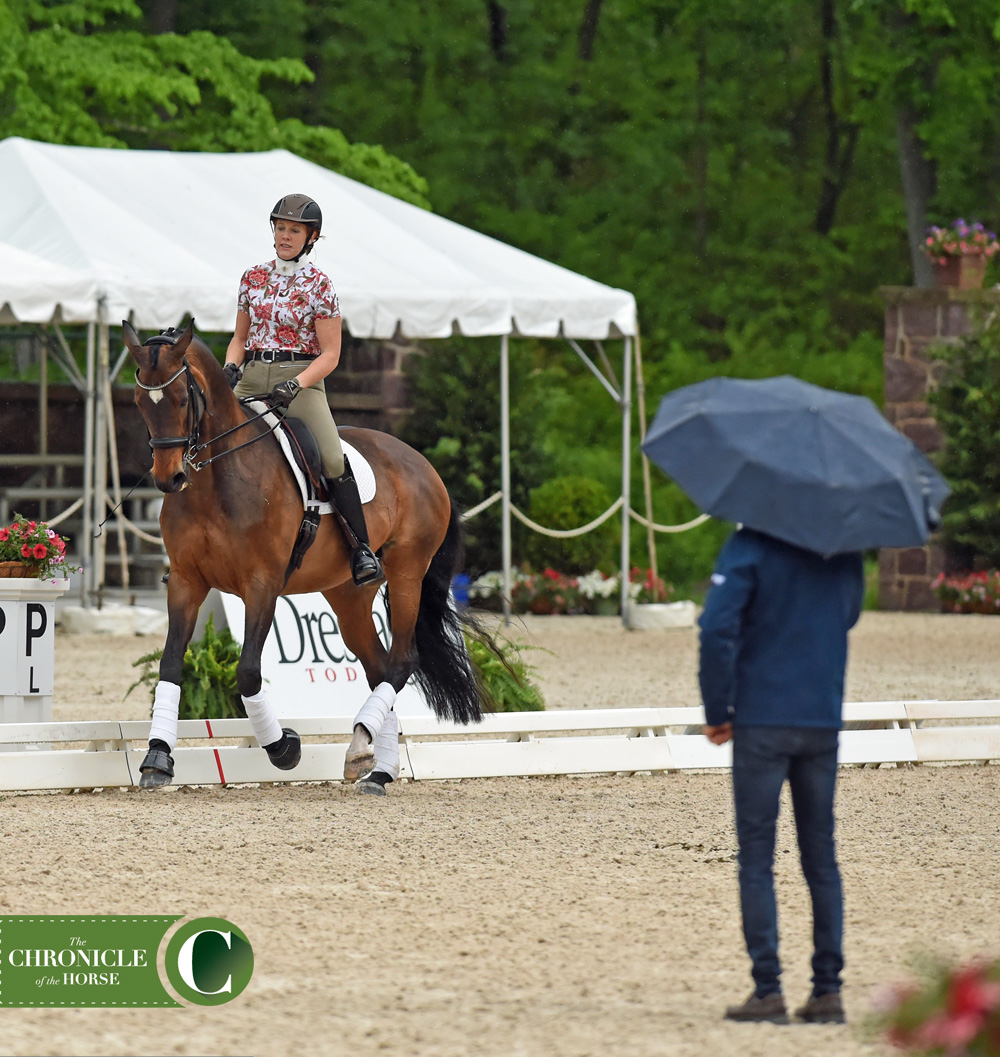 Save