Wellington, Fla.—March 24
After two rounds and a test, McKayla Langmeier of East Granby, Conn., emerged victorious riding Calberon B in the 10th annual George Morris Excellence in Equitation class of Week 11 of the Winter Equstrian Festival.
Langmeier, who finished second in the class last year, was sitting in second place going into the final test, but after flawlessly asking all of the test's questions, she moved up to win the blue ribbon. Ava Stearns of Chilmark, Mass., captured the reserve honors, while Taylor St. Jacques of Glen Allen, Va., earned the third place ribbon, and Coco Fath of Fairfield, Conn., settled for a fourth place finish.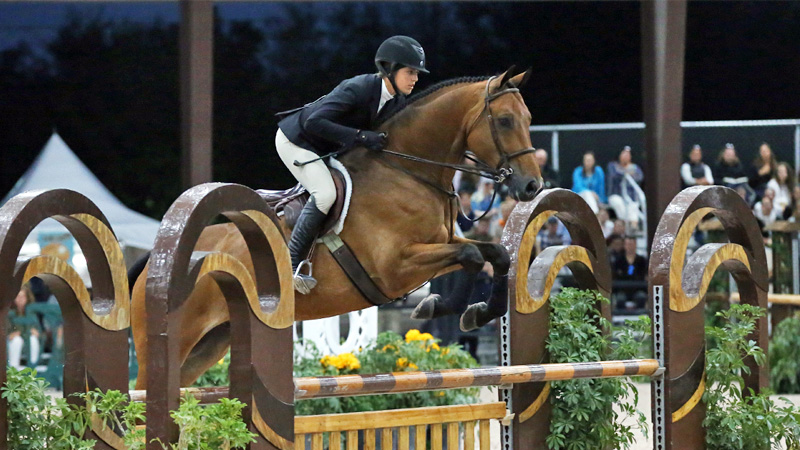 Thirty-nine horse and rider combinations tackled the first round course designed by Andy Christiansen Jr. and Frank Madden in the Van Kampen Covered Arena at Equestrian Village at PBIEC. Following the initial round, the top 15 riders returned for a second round, and ultimately the top four riders came back for a final test. Without the help of their trainers, the junior riders were responsible for walking the course, warming up their horses, and time management as no outside contact was allowed during the event and riders were required to turn in their cell phones at the start of the class. One groom was permitted to tend to the horse and set jumps during the warm-up.
The competitors received scores from two panels of judges and a schooling judge, who graded riders in the warm-up area and gave a score that ranged from minus 2 to 2. Panel 1 consisted of Anne Kursinski and Ralph Caristo, Panel 2 was made up of Frank Madden and Bobby Braswell, and Eric Straus acted as schooling judge.
Madden of Old Salem Farm in North Salem, N.Y., is a well-established figure in the equitation world and was greatly impressed with the talent demonstrated in the class.
"It was a real privilege to judge the class and be involved in building the courses," said Madden. "I thought the test was great. I loved McKayla's [Langmeier's] horse landing on the right lead and making the flying change. Overall it was a great class, and I hoped the riders enjoyed the courses and the test."
Langmeier piloted Calberon B, a 9-year-old gelding owned by Linda Langmeier, to a first-round score of 179 and a second-round score of 182 for an overall winning score of 361. The pair have not been partnered together long as Langmeier started showing the gelding, who previously competed in the jumpers, in equitation classes at the start of this winter circuit.
Speaking of her test, Langmeier explained, "Part of the test was to hold the counter lead, and I have had issues in tests not being able to hold it. I was going to try to go inside the hay bales, but I ended up going around. I saw in the previous tests that people held the counter lead after the second fence, but I decided do the flying change."
Although Stearns entered the test in fourth place, her impeccable performance aboard Eclipse, an entry owned by Missy Clark & North Run, earned her the reserve honors. Stearns received first and second round scores of 174.5 and 179, respectively, for a combined score of 353.
"I had a lot of fun tonight!" Stearns exclaimed. "I have an incredible mount, Eclipse. I was really excited to get to compete in the class on him because he is so special, and he handles everything so well. He is so handy, and everything you ask of him he does perfectly, so that made it really fun."
St. Jacques was sitting on top when the final four entered the test; however, Madden explained that her hand gallop in the test dropped her down to finish in third place. The talented junior guided Charisma, owned by Heritage Farm, Inc., to a first round score of 182, and the highest second round score, 187.5, for an overall total of 369.5. Charisma, a 10-year-old warmblood gelding by Stakkato, won the honor of Best Equitation Horse after the first two rounds.
"Charisma was incredible today," St. Jacques praised. "Everything I asked him to do he did perfectly, and he could not have gone any better. It was a really good class overall! The class is a different atmosphere than we are used to, and I think it is a lot of fun under the lights."
Fath rode veteran equitation mount, Class Action, owned by Hillside Farm, LLC, to a fourth place finish. The pair earned first and second round scores of 177 and 178, respectively, for a combined total of 355.
Speaking of the her first time showing in the class, Fath said, "It was such a fun experience! Not having trainers was something new and different that I have not experienced before. I rode Class Action, who has done this many times. I could not imagine doing this on any other horse. He is so special and perfect, he could basically do it by himself."