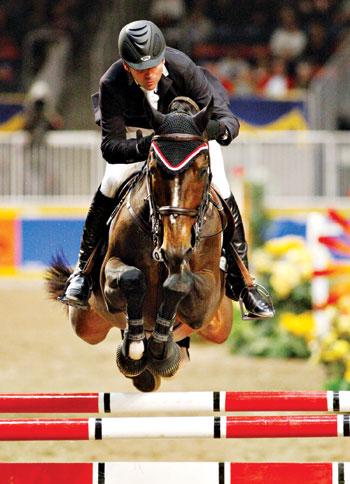 It was good to be Canadian at the Royal Agricultural Winter Fair, in Toronto, Ont., on Nov. 7-16.
The Great White North's equine community is riding the crest of a great wave of patriotism in the wake of their team silver and individual gold show jumping medals at the 2008 Olympic Games in Hong Kong. So it was no surprise that the attending members of the Canadian contingent to Hong Kong—individual gold medalist Eric Lamaze, Jill Henselwood, and team anchor Ian Millar, who finally scored an Olympic medal at his ninth Games—received thunderous applause each time they stepped into the Ricoh Coliseu
Tidbits
• In addition to an exciting international jumper division offering more than $639,000 in prize money, the Royal Winter Fair presented its usual array of the finest horseflesh from Canada and beyond: hunters, ponies, roadsters, Hackneys, four-in-hand coaches, and massive draft horse hitches all graced the ring during the show's 10-day run, along with Grand Prix dressage horses and some of the world's top eventers.
• Among the half-time entertainment acts were rodeo trick riders, Roman riding with a team of six burly Belgians, the perennially popular indoor carriage racing derby (with retired international competitor, Michael Freund, returning to entertain the crowd once again with his running commentary as he negotiated the obstacles), and the always majestic Royal Canadian Mounted Police Musical Ride.
Lamaze, in particular, brought the 8,000-strong crowd to its feet on several occasions, a heartening response to the one-time black sheep of the Canadian show jumping squad.
A somewhat reluctant hero, he preferred to let his horses do the talking for him, and his Olympic mount, the remarkable stallion Hickstead, delivered with a win in the Royal's richest class, the $80,000 CN World Cup CSI-W, while his agile young Dutch Warmblood mare, Take Off, scored third-placed finishes in the $60,000 Ricoh Big Ben International Challenge and a $20,000 International Welcome.
Lamaze, of Schomberg, Ont., closed out the show as leading Canadian rider and leading international rider, a result well worth his having taken time off from his grueling European tour to ride in front of a hometown crowd.
After the Olympic Games concluded on Aug. 21, Lamaze and Hickstead returned to Canada to compete in the Spruce Meadows Masters the first week of September, where they helped the Canadian team tie for second in the BMO Nations Cup and took fifth in the $937,867 CN International. They then shipped back to Europe, jumping to second in the grand prix at the Deauville CSI (France) on Sept. 21. In October, Hickstead won the grand prix at the
Caen CSI (France) and competed at the Lyon CSI (France). Those results helped Lamaze take over second place in the Rolex World Jumping ranking before he shipped Hickstead home for the Royal Winter Fair.

Making It Count
The $80,000 CN CSI-W was the only class in which Lamaze entered Hickstead at the Royal, but he made it worth everyone's while. The pair captured the top check with a thrilling jump-off round that left spectators gasping as he left out strides, fully trusting his big-hearted little stallion's talent and carefulness.
Haute Couture Is In Style
The Governor General's Cup and its sister class, the Lieutenant Governor's Cup, are the Royal Winter Fair's showcase for sport horse breeding. Both open to 3-year-olds, the coveted Governor General's Cup is a traditional on-the-line class, while the format of the Lieutenant Governor's Cup was altered a few years ago to become an under saddle class, with athleticism and conformation rewarded and concessions made for greenness.
This year, for the first time in more than a decade, one horse captured both Cup classes: Doreen Clausner's fancy Trakehner-Thoroughbred filly, Haute Couture, by the Schickedanz-bred
stallion, Asher (Heinzelmann, aka Storyteller—Alouette), out of Thorn Run (Sovereign Dancer—Rose Above).
A registered Canadian Sport Horse, the dark bay filly has a large star and stripe and four white socks. Ronnie Davidson showed Haute Couture to perfection in the Governor General's Cup, defeating 20 other entries.
Judges Thom Brede and Steve Wall gave her the nod over Anna Christina, another Canadian Sport Horse filly owned by Carroll Nasager and shown by Martin Nasager. Anna Christina is a daughter of Autocrat, a Hanoverian stallion hailing from the Celle State Stud and now standing in Manitoba.
Minutes later, Jackie Tattersall piloted Haute Couture to top honors in the Lieutenant Governor's Cup, narrowly defeating Ulla Brooks' entry, Airbourne Supremacy, ridden by Robert Sharpe.
Airbourne Supremacy (Karandasj—Ugando) was placed first in the line-up after the group of surprisingly civilized 3-year-olds had completed their flatwork, but with the class criteria giving 50 percent to conformation, the judges expressed a preference for Haute Couture just before pinning the ribbons, and reversed their placings.
Clausner, of Brooklin, Ont., purchased Haute Couture as a yearling from breeder Jim Florence. "In my whole career, I never ever had a mare," she said. "But I just fell in love with her. I've never had more than one horse at a time, either, but I purchased her despite having another horse at home, whom I later sold.
"She has her sire's beautiful temperament, that's the best thing about her," Clausner added.
Clausner doesn't dabble often in producing Cup horses, but when she does, she has extraordinary success. "This is only the second time I've entered these classes. The first time, in 1994, I also had a double winner, with Signature, who was by Eyes To Rule. I never thought I'd have another one," she said.
"I'm very selective. And I tend to select the same type, time after time. This is very exciting. I've had a very good team behind me who has helped me with the filly all the way. Jackie Tattersall broke her in January, and Vivian Millard rode her all summer. I've been keeping her at Nancy Fagan's NCF Farm in Port Perry, Ontario—she owns her sire, Asher."
Clausner is planning a conformation hunter career for Haute Couture and has engaged Tattersall to show her in the baby green division in 2009. But for now, she's savoring the double win. "I'm a very lucky girl," she said. "I get to do what I love, which is horse around."
A surprising 11 riders of the 23 starters in the class delivered clears in the opening round. The first pair back in the ring, U.S. rider Lauren Hough on Quick Study, laid down the gauntlet with a clear round in 37.53 seconds, a time that held up while succeeding riders took down rails.
Lamaze was taking no prisoners, however, and scorched around the ring to stop the timers in an untouchable 35.80 seconds for the win.
"When I need him, he's there," Lamaze said of Hickstead, a 12-year-old Dutch-bred stallion owned by Ashland Stables of Wellington, Fla., and Lamaze's own Torrey Pines Stable. "I really wanted this class to go well, and he gets the message. I knew that Lauren had a beautiful round, but Hickstead is very quick and clever with verticals, so I took a chance and left out a stride between [fences] 1 and 2.
"This maybe wasn't the biggest competition he's been in lately, but it was the most important, competing here in front of the home crowd like this. I really brought him for this class, to show him to people in Toronto who haven't seen him for a while. This ring played such a large part of bringing him along as a young horse; to come back here after the gold medal and silver team medal is really exciting for me."
Lamaze also scored in the $20,000 Accumulator class, which replaced the six-bar competition of previous years, aboard Narcotique de Muse II. British prodigy Ben Maher was second, partnered with Ornike, and Dutch competitors Henk Van De Pol and Rhodos took third.
The British Came
British rider Michael Whitaker successfully defended his title in the finale of the
international jumper division, the $60,000 Ricoh Big Ben International Challenge. He rode Insul Tech Wonami Van Den Aard, a 9-year-old, gray Belgian-bred mare to the blue.
Danny Foster set another technical but flowing course that resulted in only four clears from the 23 entries: Whitaker, the Netherlands' Harrie Smolders with the 12-year-old Dutch stallion, Exquis Oliver Q, fellow Brit Nick Skelton aboard Transmission, and crowd favorite Eric Lamaze, on Take Off.
irst into the ring in the four-way jump-off, Whitaker knew that only a damn-the-torpedoes approach would suffice, and his young mare obliged, leaving all the rails up and stopping the timers in 36.50 seconds.
Smolders was also clear, but more than 2 seconds slower, with a time of 38.65 seconds, and Skelton was both slower and had a rail down with Transmission.
Hayes Doubles Up
Quincy Hayes could do no wrong in the equitation divisions at the Royal Winter Fair. The 17-year-old captured the Jump Canada Medal and the Running Fox CET Medal classes aboard Clarin, an elegant, gray Belgian-bred gelding.
Hayes placed fourth in the preliminary flatwork and gymnastics phase of the CET Medal, with a score of 84. But in the jumping phase, Hayes bounced back, showing smooth, well-thought-out turns and a razor-sharp sense of pace. She scored a definitive 90 points to push her total to 174.
Only 4 points separated the top four riders—Dana Henson, Alysia Lynch, Billie de Rouet and Hayes—who were called back for a final test, which included transitions between fences, a turn on the haunches, a fence to be hand-galloped, and a turn to be performed in counter-canter. Late transitions may have been the downfall of her competitors as Hayes kept her composure, delivered the goods, and was declared a clear winner.
Hayes has been riding with Mac MacQuaker for four years, but also credited her mother, Darcy Hayes, with a lifetime of coaching and advice. MacQuaker helped her find Clarin, who is owned by Alex Rohling, in August, so the pair has had only a few months to prepare for the demands of the Royal Winter Fair.
"I never thought it was possible to win both [the Jump Canada Medal and the CET Medal]," said Hayes. "I've only been focusing on equitation for the past year.
"He was such a good boy. Right from the beginning, he went in there and marched around like a much more experienced horse. He's only 8. Alex imported him from Belgium, and he was supposed to be his grand prix horse, but he got hurt and ended up being gelded. He's for sale, unfortunately, so this is going to be my only year with him."
Hayes, who is no relation to Canadian team veteran, Jay Hayes, rides out of her family's Willowwood Springs Farm in Aurora, Ont. She has one more year of eligibility for the Jump Canada Medal, after which she has set her sights on university.
Lamaze had definitely captured the hearts of the crowd, but it was not to be on this night: he managed to beat Whitaker's time, galloping through the timers in 36.38 seconds, but with one rail in the dirt, the win was Whitaker's, and Lamaze and Take Off settled for third.
"It's difficult being first to go in the jump-off so I basically went as fast as I could, without doing anything really stupid," Whitaker said. "I just wanted to put the pressure on the others, to force them to make a mistake, which they did."
Of Wonami Van Den Aard, who is in her first year in the grand prix ring, Whitaker commented: "She went very well. We had a bit of a problem out here in the warm-up ring—she got a bit scared of the low ceiling, and it has taken her a couple of days to get into the swing of it, but she was really good yesterday, so I thought I had a good chance today. She's new at this level, but I think she has the potential to be as good as [his 2006 World Equestrian Games mount] Portofino."
Karen Briggs