Laura Kraut has retaken the lead in the Global Champions Tour series after a grand prix full of drama in Valkenswaard, the Netherlands on Aug. 17.
Alvaro de Miranda on AD Rahmannshof's Bogeno won the class with a jump-off round. The Brazilian set the arena on fire, shaving a full 4 seconds off the time of Frenchman Simon Delestre. Dutch home rider Gerco Schroder had the capacity crowd on the edge of their seats and finished third on 4 faults.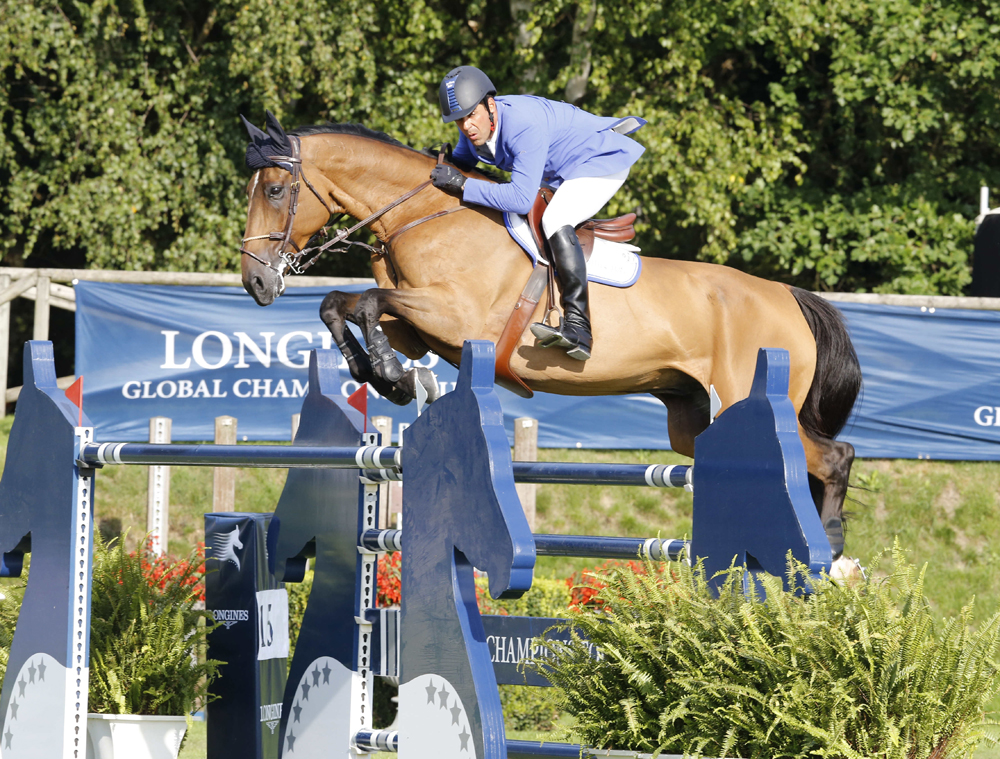 Alvaro Miranda cruised to the top of the Longines
GCT Grand Prix of Valkenswaard with AD
Rahmannshof's Bogeno.
Stefano Grasso/GCT Photo
Kraut had to settle for 11th in the class with a rail in the second round, but the points she earned were enough to put her back on top of the series by just 2 points over Christian Ahlmann. "I am thrilled to be back on top. I am disappointed; I wanted to be part of the top three today but I had an unlucky rail," she said.
"[Partner Nick Skelton said] he was disappointed with me. He said I should have ridden the oxer stronger than I did. I felt I rode the horse as I always do and was unlucky, but I will agree with him to make him happy," Kraut joked.
The shake-up sets the stage for a thrilling final stage of the championship series at next month's leg in Lausanne. See full results of the class. (Hint, you can watch video of each round from that results page!)
There are two more GCT events—Lausanne, Switzerland on Sept. 12-14 and Vienna, Austria on Sept. 19-22— before the Final on Nov. 21-23 in Doha, Qatar.
There were plenty of U.S. riders on the hunt in Valkenswaard. Kent Farrington was the top-placed U.S. representative in the Global Champions Tour Grand Prix of Valkenswaard, claiming sixth aboard Voyeur with a rail in the second round but the fastest time. Beezie Madden was 15th on Simon with 8 faults in Round 2. Margie Engle had ridden Royce to a clear first round and was coming to the last line of the second round with just 4 faults when Royce tripped and went to his knees the stride after landing from an oxer. Engle tipped off over his shoulder, eliminating them in Round 2, which put them 18th.
Richard Spooner had 4 faults in Round 1 on Cristallo and Reed Kessler had 8 aboard Wolf S, keeping them from the second round.
There were 50 starters in Round 1, and with the current season leader, Christian Ahlmann, entered with the powerful Taloubet Z, previous season leader Laura Kraut entered with Cedric and two-time season winner Edwina Tops-Alexander entered with Cevo Itot du Chateau, it was clear to all that the title would be hard fought.
But in actual fact, some of the lesser-known combinations came through to shine. The first round saw exactly 18 clear combinations including Ben Maher and Tripple X III, Kamal Bahamdan and Noblesse des Tess, Beezie Madden and Simon as well as Laura Kraut and Cedric, just to name a few. It was a technical first round, not overly large but Italy's Uliano Vezzani had set a course that would certainly weed out the less experienced combinations but perhaps forgive a lucky few.
It was a course demanding decisive action from the riders, with some short bending lines and a moderate but less-then-forgiving time allowed. Young British talent Alexandra Thornton, trained by Norman Dello Joio, jumped a very smooth first round with her 12-year-old mare Blue Curacao.
For Round 2, the fences were larger and although the course was not as technical as the first round, the oxers were wider and the verticals taller. It was France's Simon Delestre, riding Qlassic Bois Margot, who earned the first double clear. Three Dutch riders and "Doda" Miranda joined him to jump off.
Miranda got to go last in the jump-off and left no doubt about his desire to win. He urged AD Rahmannshof's Bogeno to an amazing round 4 seconds faster than anyone else. "My horse was always jumping very good and he is naturally very fast," Miranda said. "I have wasted a lot of chances at clear rounds in jump-offs in the past because I was exaggerating the speed. Today I had this in my mind, so today I tried to stay with my horse and tried to keep cool; he is so fast. What changed is my mental approach to the jump-off."
On Aug. 17 in Valkenswaard, U.S. rider Reed Kessler scored a big win in the 1.50-meter speed class aboard Soroya de l'Obstination.