In this series, the Chronicle follows six riders as they seek to fulfill their Olympic dreams in Hong Kong in 2008. Click here to view Karen's first installment from our April 4 issue.
Eventing, like all horse sports, is a humbling endeavor.
[Karen O'Connor and her top advanced mount, Theodore O'Connor, were eliminated at The Fork CIC***-W (N.C.) in early April after incorrectly jumping a corner early in the course.]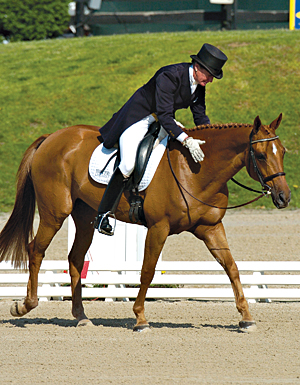 I think that there must be 101 ways that you can eliminate yourself in a horse trial, and I've never jumped an option incorrectly before, so now I can cross that off the list!
I did that early on in the course, and then I think it took the officials a little while to be sure of my mistake, so I was actually able to make it almost all the way around the course before they flagged me down.

I didn't know that I'd jumped it incorrectly at the time, and it came as a little bit of a surprise to me, but I only missed the last half-dozen jumps or so. So Ted did get the run in and he ran very well, which was a great preparation for Rolex [Kentucky CCI**** two weeks later, where they ended up finishing sixth], and he'd jumped a very good show jumping round the night before. He was fit as a fiddle and ready to run.
The draw came out for Kentucky, and once again Teddy had drawn No. 1, which I again was OK with, because I always kind of maintain that he's unique enough that the course is what it is. I don't much need to see how the courses ride to see how I think it's going to ride for him.
I thought that he did a pretty good dressage test at Kentucky, and there are some things I've got to work on and will be working on shortly just to have him in a better competition frame. I think that I didn't go for it enough, and I almost made it a little bit boring for the judges, and they're not going to reward boring! So I've got to make sure that if he's settled and in a good balance and relaxed enough that I go for it. That'll be important.
I actually did have a lot of anxiety of being capable of recreating his great [cross-country] round from last year, and was again concerned whether I was going to be able to be accurate enough. Obviously, with his successes last year I knew he was quite capable of doing this course and doing it well, but I still had the weight of it on my shoulders because he takes a lot of his confidence and his easiness on the courses from me, so my responsibility hasn't diminished at all.
And, once again, he gave me an amazing performance. I don't think he had a bad jump and he did the time very easily. I was probably 20 seconds up a few minutes from home, so I slowed down at the end, and he came in about 8 seconds under the time.
Forward Thinking

After Rolex [Ky.] and Jersey Fresh [N.J.], all of our thoughts and plans and everything start to form, based on keeping everything going this summer. The team that stays at home this summer will make a huge contribution to the O'Connor Event Team, because it's very important that wherever our road's going to take us, we'll come back to the next group of horses that's going to carry on.
Then I went into the show jumping, and he was having an amazing round. The last line was close to the rail with the crowd of people, and I had the second element down. The crowd made a big noise and sort of broke our concentration. There were few clear rounds, so when we had the second-to-last fence down, it was too bad, but I would have thought that would be OK.
But then with the break in rhythm and concentration, I lost count to the last fence. I kind of made a mess of it, and I had the last fence down myself. It had nothing to do with him. He just couldn't get out of the mess I put him in. There was a little bit of confusion going down to that one because of the noise. Not to blame the crowd at all, because, my God, he loves his fans! It just was a sudden loud noise that took our moment of concentration.
We haven't been on him since show jumping day. He's been doing really well on his holiday, and we're going to give him one more week off. We have to be careful that he doesn't gain too much weight with the fantastic Virginia grass [as the O'Connor Event Team has now returned to its home base in The Plains, Va., after spending the winter in Ocala, Fla.], so he's on limited turnout. He goes out about three hours every morning.
Mandiba Makes An Impression
Other than Red Hills [CIC***-W (Fla.) in March, where Mandiba was eliminated on cross-country], Mandiba's whole season has been really great. Red Hills just came a little too fast, a little too strong of a course a little too early for him.
And then we dropped him down to do an intermediate before I took him in the CIC*** at The Fork and he [placed] second, and he never looked back. He gave me just a wonderful three events.
I changed his bit and bridle. Amy Tryon's been stabled with us, and she put me onto a pretty cool bit that's a Myler combination bit that's very soft on his mouth and has a little bit of nose pressure. He really likes that.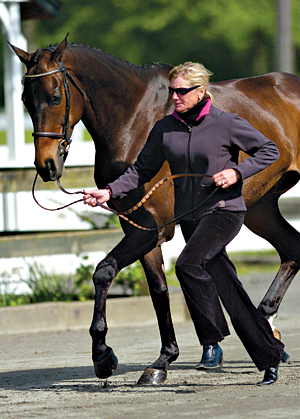 I had him in a three-ring with a soft mouthpiece but no nose pressure. But he likes the nose pressure because the nose it engages before he feels the pressure on his mouth. He's not a heavy horse to ride at all, but if he feels it too strongly he doesn't yield to it—he goes against it. It's all part of the learning curve of getting the right recipe.
[At the Jersey Fresh CCI*** (p. 8), Mandiba was third after dressage but finished seventh after O'Connor chose to run him slowly on cross-country.]
I had just taken a digger on Allstar [who fell at the fourth fence but was unharmed], and then very shortly—like minutes—after that, our beloved Tigger died [after suffering an aortic rupture while competing with O'Connor's longtime student, Lauren Kieffer (p. 10)]. And I spent the next hour with Lauren and then got in the saddle with Mandiba. I was pretty emotionally drained at that point, and that's it.
He was ready to rock and roll, and I "shoulda, coulda, woulda." He could have walked away winning that thing easy, but I don't regret it. It was just the circumstances of the day, and I think I was emotionally drained. And you don't want to be that way when you go out on the cross-country course.
He gave me a lovely, beautiful ride. I guess the only regret I have is that when you have a horse that's ready to kind of get on with it, and you're not into it, you regret having them miss their opportunity.

Nurturing The Reserves
[In O'Connor's last installment (April 4, p. 54), she also discussed her three other Olympic prospects, Allstar, Hugh Knows and Bad Boy Billy. Since then, Allstar finished second at the Red Hills CIC***-W, but was eliminated at the third fence at The Fork CIC***-W, then fell at the fourth fence at Jersey Fresh. O'Connor withdrew Hugh Knows before show jumping at the Rolex Kentucky CCI****, and she's not competed Bad Boy Billy since The Fork, where they placed 20th in the CIC***-W.]

I think we're just going to reevaluate where Allstar is. He gave me such a strong run at Red Hills but hasn't really been as confident since then. So we're going to review his season and quite possibly drop him down to get his confidence back. He's a lovely horse and a great athlete, but we need to really reevaluate what's happened and why it's happened, and then we're going to go from there.
Hugh had a green stop [on cross-country] at Rolex, and he just didn't understand the question. He was injured that day a little bit as well, and although I tried to get him through the trot-up, thinking it was his foot, he also had a little bit of an injury higher up. It's very slight, but he's going to need some time off. It's no big deal. Billy also got a very slight strain at The Fork, but it's minor so you'll see him in the fall season.
I think that that typifies what equestrian athletes have to deal with at the highest level. You have to have the complete package. You have to have the horse with the ability that also has the emotional and mental capacity, but also a horse that's very sound, and that is confident, relaxed in their work and all of that.
The Fitness Outlook
Our fitness trainers take their lead from us and what we feel like we need as athletes. We certainly need to have cardiovascular exercise, but we need strengthening and endurance as well. You can't just be on an elliptical machine for an hour a day and expect to be thin. I think as the season gets warmer here [in Virginia], I'll be doing a lot of exercise outside to try to get ready for the heat as well.
So you have to go through this, and you find out where each horse needs to focus his attention, and
the cream is always going to rise to the top. I'm delighted that both Teddy and Mandiba have shown what they can do.

Just because it happens to be Teddy and Mandiba this time doesn't mean that those horses won't come back around for the next big thing. I've got great hopes for the others for '09 and certainly 2010, and they'll be there for that. And that's kind of how you go through the spring season when you have more than one horse—you try to give each horse the necessary preparation. I think we feel pretty good about the spring season as far as how they've prepared and how they've performed for us.
There are some disappointments, but definitely some excitement too about what's going to happen for the rest of the year. We're making our plans for the final decision as to whether to stay here and do the final [mandatory outing Olympic] trial at The Fork, or whether to send the horses over earlier and do the final trial at Barbury Castle (England). And that decision depends on the owners, the funds that are available to do one or the other, and what's right for the horses and for my preparation as well.
It gets a little bit more multi-layered because [my husband] David also has his own schedule with the Canadian team [which he coaches], as well as his commitments with the U.S. Equestrian Federation [where he's president], so his schedule is chock-a-block full. So he and I are trying to work out our schedules together so that we all achieve our goals but at the same time don't abandon the business.
It's a great challenge to be able to do a trip like we hope to do this summer, but at the same time we still have a long way to go. I know this is about "The Road to Hong Kong," but we are just getting started!
Karen O'Connor, as told to Kat Netzler