Michael Jung of Germany has made a great start in the CCI**** at Les Etoiles de Pau, first leg of the FEI Classics™ 2015/2016, and is in first and second places after dressage, with his two horses split by just 1 penalty.
Pau is one of very few major events that the Olympic champion has yet to win, but he looks to have two excellent chances: he heads the field of 49 on his 2013 European champion, Halunke FBW, an 11-year-old black gelding by Heraldik, and is second on the mare fischerRocana, winner of Rolex Kentucky CCI**** in April.
Both horses, which Jung had brought with him on his "French tour"—he won the 6-year-old CIC* at Le Lion d'Angers (France) last weekend were among the quartet to score below 40.
The American combinations are off to a strong start at the Pau CCI**** with solid performances in the dressage phase. USEF Land Rover Competition Grant winner Jennie Brannigan and Cambalda lead the way in ninth place after having a lovely test which earned them a score of 42.6.
Brannigan, of Kennett Square, Pa., and Nina Gardner's Cambalda had a beautiful test in front of the ground jury of Joachim Dimmek (Germany), Eric Lieby (France), and Les Smith (Great Britain). She and the 13-year-old Irish Thoroughbred cross gelding had a smooth, fluid test with excellent trot and canter work. Their performance put them in the top 10 of a star-studded field, and they are ready to tackle the cross-country course.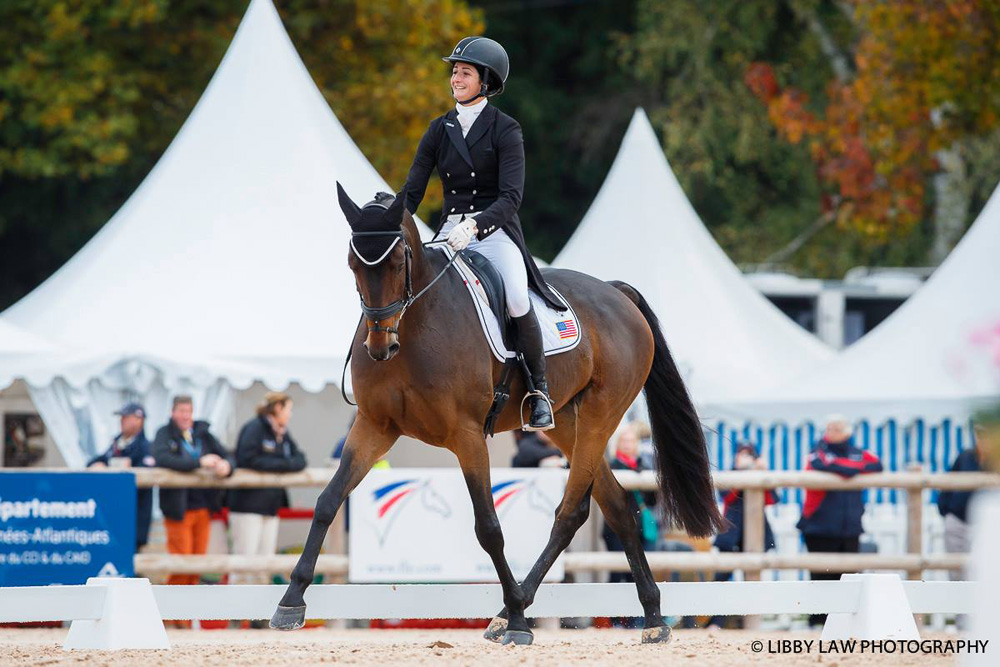 Jennie Brannigan had a big smile on her face as she rode Cambalda into ninth place in the dressage. Photo by Libby Law Photography
"I was thrilled with 'Ping' today. This was his best effort yet at this level," Brannigan said delightedly. "I was so thrilled he was close to 70 percent after his trot work since that is usually the weakest point of his test. His canter work is usually what brings my score up and I was thrilled to see a 9 on a change. To be honest, it was very cool to sit inside the top 10 after dressage in such a strong field but I know this isn't a dressage show and I need to have my head screwed on straight tomorrow. I plan to fight for this."
Katie Ruppel, of Anthony, Fla., and her own Houdini began their overseas debut with a nice test which earned them a score of 49.3. Aside from bobbles in the halt in the middle of the test and during the final counter canter, the pair had a great effort with good trot work and smooth flying lead changes. Ruppel and the 11-year-old Thoroughbred gelding are in 23rd place following the first phase.
Lillian Heard of Poolesville, Md., and her own Share Option had an obedient test in their dressage on Thursday afternoon. The 13-year-old Thoroughbred cross gelding struggled with tension in the busy atmosphere in the beginning of the test, but improved with Heard's guidance. The pair had markedly better canter work than the initial trot work helping to improve their score, giving them a score of 53.5 and putting them in 34th place.
Barbara Crabo, from Scottsdale, Ariz., and her own Eveready had a respectable performance in their European debut. She and the 16-year-old Swedish Warmblood gelding had a decent start to their test but a rough first flying lead change hurt their score. However, the pair recovered and finished well to receive a score of 54.2 to put them in 38th place.
In contrast to Jung's mighty record, 19-year-old Emily King, a member of Great Britain's gold medal-winning Young Rider team this year, is competing at her first CCI****.
The teenager has made quite an impression already and currently holds third place in this stellar field with the brilliant mark of 38.3 on the German-bred Brookleigh, a 13-year-old gelding previously ridden by Clayton Fredericks of Australia. The pair were recently second behind Sir Mark Todd and NZB Campino at Ballindenisk CIC3* (Ireland).
"I've been to Pau lots of times with Mum [Mary King, the 2011 FEI Classics™ winner] and have dreamed of riding here," said Emily. "It's such a lovely, friendly event and I feel very lucky to be here."
She added: "The cross-country is quite different to some of the major tracks in England. It's nice and bold and challenging, but also more twisting and technical. I'm excited about it!"
The home side have plenty to cheer about with French rider Astier Nicolas in fourth place on the 12-year-old Piaf de B'neville with the good score of 38.5 and Karim Florent Laghouag in sixth place on the 10-year-old black stallion Entebbe de Hus with a mark of 40.6.
The accomplished New Zealand combination of Tim Price and Wesko, Luhmühlen winners in 2014 and Kentucky runners-up behind Jung this year, are fifth on 40.0 penalties. Price's wife Jonelle is 19th on Faerie Dianimo on 47.7.
Six nations are represented in the top 10: Tim Lips of the Netherlands is seventh on Concrex Bayro, Paul Tapner is the highest-placed Australian in eighth on Indian Mill and Jennie Brannigan is best of the American riders in ninth on Cambalda.
"Indian Mill is in the best form ever, so I'm confident," said Tapner. "I will be disappointed if he doesn't finish the cross-country within the optimum time. I think there's quite a few potential problem fences out there, but there is no one fence that I'm stressed about."
Mark Todd, currently well in touch in 14th place on NZB Campino with a good mark of 43.3, predicts that the water complexes will be influential. "The course looks good with a lot of forward distances," he said.
"The last water complex could be quite a big effort. There's a big drop in and a bounce out of it. And I think the two corners in the preceding water are big. There's lots of places where riders could be caught out.
Results after Dressage
1 Michael Jung/Halunke FBW (Germay) 34.5 penalties
2 Michael Jung/fischerRocana FST (Germany) 35.4
3 Emily King/Brookleigh (Great Britain) 38.3
4 Astier Nicolas/Piaf d'B'neville (France) 38.5
5 Tim Price/Wesko (New Zealand) 38.5
6 Karim Florent Laghouag/Entebbe de Hus (France)
7 Tim Lips/Concrex Bayro (the Netherlands) 40.9
8 Indian Mill/Paul Tapner (Australia) 42.3
9 Jennie Brannigan/Cambalda (United States) 42.6
10 Bill Levett/Shannondale Titan (Australia) 42.9