Irish Olympic event rider Jonty Evans is recovering from a serious fall on June 3  at the Tattersalls International CIC*** in Ratoath, Ireland.
Evans was riding his 2016 Olympic Games (Brazil) horse Cooley Rorkes Drift, whom he secured through crowdfunding last year, when he fell at fence 19B, an angled brush at the final water complex. "Art" hung a leg, and Evans came off to the left.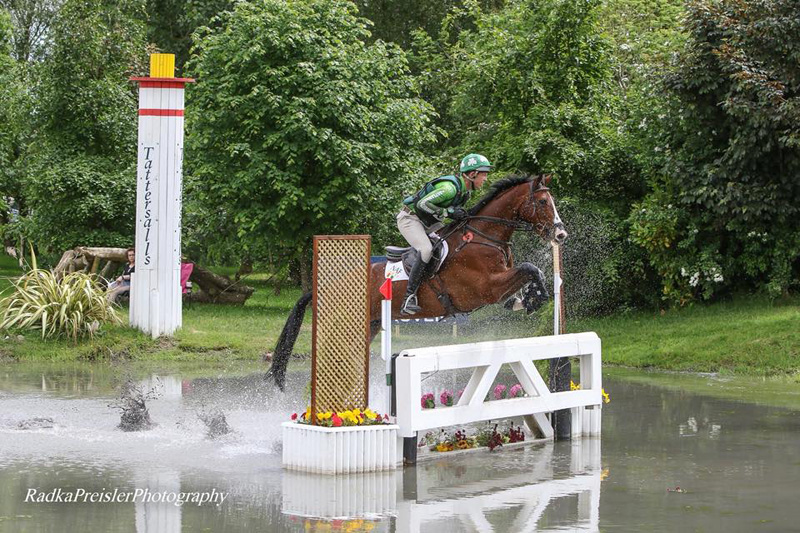 Art, a 12-year-old Irish Sport Horse gelding (Courage II-Doon-A-Ree-Lass, Rachelle Comet xx), was uninjured. After a 25-minute hold, Evans was transported by ambulance to Connolly Hospital in Blanchardstown for further evaluation, according to officials at the event.
Following initial evaluation, Evans was transferred to Dublin to Beaumont Hospital's neuro intensive care unit, and his condition is being monitored and treated.
Updated: A June 11 update released on Horse Sport Ireland stated, "Jonty continues to be in a stable condition in intensive care in the Beaumont Hospital under the care of the hospital's neurological team. Jonty's family would like to express their thanks to the wonderful staff at the hospital and for all the best wishes and kind messages of support that have poured in over the past days.
"The family appreciate that people do wish to understand the nature of Jonty's head injury, and we can confirm that Jonty has not yet recovered consciousness after his fall. Although no longer under heavy sedation, further tests in the past few days have shown that it is a significant brain injury, and it may take Jonty many months to recover. The Beaumont Hospital medical team continue to emphasize that every case has to be treated individually and people's recovery rates vary case by case.
"Once again, please do not contact the hospital for information, if there are any changes in Jonty's condition, further updates will be issued in due course through Horse Sport Ireland."
Updated June 21: Eventing Ireland released the following update on June 20.
"Jonty remains in a stable but serious condition in hospital. Jonty has now been moved from intensive care at the Beaumont Hospital to a high dependency ward in the Connolly Hospital, Blanchardstown, West Dublin.
"Unfortunately, there is no change to report in his condition from the most recent update. Jonty remains unconscious with a very serious head injury.  The family deeply appreciates all the care for Jonty from the Beaumont Hospital staff and the support and messages from all his family and friends.
"Further updates will be issued if there is a change in Jonty's condition."
Updated July 12: Horse Sport Ireland released the following update on July 11.
"Jonty remains in a very serious but stable condition and has recently shown some early signs of progress in regaining consciousness. However, he remains very seriously ill having suffered a significant brain injury in his fall and any recovery will take an indefinite period of time.
"Jonty continues to receive expert medical treatment and rehabilitation from the staff at the Connolly Hospital. We are especially grateful to the nursing teams for all their wonderful care and treatment. We are also, very grateful for the support Jonty has received from the David Foster Injured Riders Fund. The family has requested that rather than send flowers or cards, donations to the David Foster Injured Riders Fund would be welcomed.

"Jonty's family thank everybody for their kind thoughts, continued support and best wishes."