After more than a year of uncertainty regarding the future of Dutch show jumper Jeroen Dubbledam's Olympic, World Games and European Championships partner SFN Zenith, the Springpaarden Fonds Nederland II fund announced Dec. 1 that it has purchased the gelding. He will remain with Dubbeldam.
"Yesterday we got the great news that Zenith will be staying with us, and that he will not be sold!" Dubbeldam wrote on his Facebook page. "Zenith has been purchased by SFN II, which will enable me to continue riding him till the end of his career. I am really grateful to the SFN for the collaboration over the past years, which has enabled me and Zenith to achieve some amazing successes."
With Dubbeldam, Zenith, a 13-year-old Dutch Warmblood (Rash R—Sascha, Fuego du Prelet), won team and individual gold at the 2014 Alltech FEI World Equestrian Games (France), team and individual gold at the 2015 FEI European Championships (Germany), took seventh individually at the 2016 Rio Olympic Games and team gold at the 2014 Furusiyya FEI Nations Cup Final (Spain).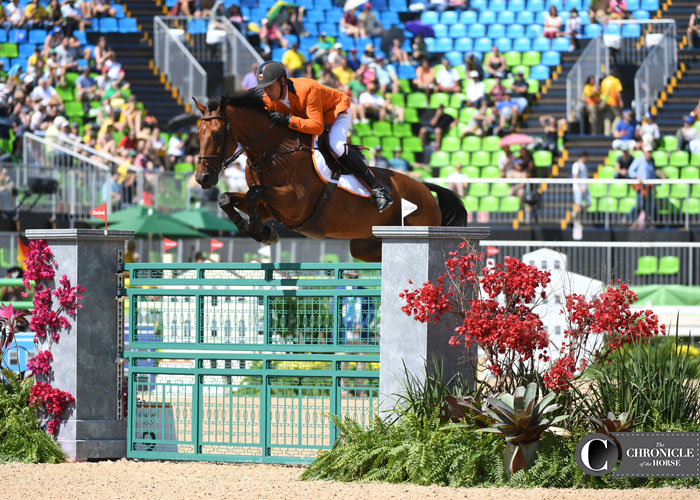 The SFN members announced in June of 2016 that the group would be selling all six horses under its ownership, including Zenith, in an online auction operated by BVA Auctions in the Netherlands on Sept. 21.
The sale was unsuccessful when bidding did not reach the expected value of Zenith. The SFN repurchased Zenith for 850,000 euros, which was $948,582 at that time. The SFN then looked to conduct a private sale of the gelding. The successor to the SFN, the SFN II purchased the gelding this December.
The SFN, which was created in 2006, was a uniquely structured syndicate group designed by Dutch equestrian journalist Jacob Melissen. Melissen's plan was to create a financial fund, open to Dutch equestrian fans, to secure Dutch-bred horses for Dutch riders. Five of the country's leading horse dealers, Emile Hendrix, Willy van der Ham, Egbert Schep, Teus van den Brink and Johan Heins, would advise the SFN Board on horse purchases and rider placement. Only when all five unanimously agreed would a purchase be made.
The SFN had a 10-year lifespan, at which point the horses would be sold and investors would see a financial return. With the SFN dissolving, the SFN II was created in partnership with Van Lanschot Bank and was open to investors worldwide.