Anky van Grunsven debuts her new freestyle and wins.
When Anky van Grunsven and IPS Salinero win a Grand Prix freestyle it usually isn't news.

But at the London International Olympia Horse Show, the reigning queen of the freestyle and the elegant,
black gelding showed off a new freestyle and won yet again, scoring 83.05 percent.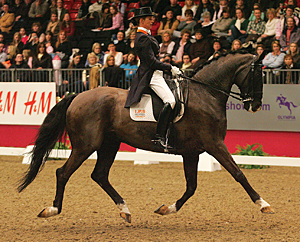 Speaking of her new test, van Grunsven admitted to being nervous, both about riding it for the first time in international competition and about what people would think of it.
"I wanted a new one a bit earlier," she said, "But as the other one was so successful it had to be of a higher standard."
She need not have worried; the capacity crowd at the London, England show, Dec. 17-22, and the judges loved it.
"It was a great test, though not necessarily foot-perfect," said British judge Stephen Clarke. "But Anky has definitely brought the sport to a higher level than ever before. What Torvill and Dean did for skating, Anky has done for dressage."
In a test with zig-zags in trot, canter and passage, and including extended canter to double pirouettes, quick thinking helped van Grunsven keep her marks high after a stutter in the one-tempi changes when, having done the required number to gain a mark, she abandoned the line rather than try to rescue them after IPS Salinero (by Salieri) faltered.
"It's realistic to realize it cannot be perfect yet," she reflected. "I was pleased with the test, though in the back of my mind I was a bit disappointed as I wanted it to be perfect. This test is more difficult than the last one and a few times I was ahead of the music and that didn't happen in practice at home: he goes a little faster in competition."
Looking ahead to the 2008 Olympics, van Grunsven added: "I don't want to stay on 83 percent—I want to get better every time I ride it, which will probably be six or seven times more before the Olympics."
Concert pianist Wibi Soerjadi composed van Grunsven's music and titled the arrangement "Dance of Devotion". He said the title is in "appreciation of what Anky has already done for dressage."
It took Soerjadi six months to complete the music, which has "nine themes—which is enough for three symphonies—but in six minutes," he said.
Van Grunsven described the music—played by 70 musicians—as "a bit classical but also like a movie theme."
Van Grunsven and IPS Salinero also reigned supreme in the Grand Prix (78.04%). "I was very pleased," said van Grunsven following her Grand Prix win. "The first extension was a bit tense but after that he settled down, and for me the changes were the best ever."
British-based Finnish rider Kyra Kyrklund claimed second in the Grand Prix freestyle, one place better than her third at this show last year. "I will win next year, when I have practiced more!" she declared.
Riding the 12-year-old Swedish Warmblood Max, a horse by her former Grand Prix partner Master, she produced a test that was relaxed and rhythmic, with just one small error in the second line of one-tempi changes. Her program and music are unchanged from last year, when she finished fourth in the FEI World Cup Final in Las Vegas, Nev.
"Ideally, you should change music every year," she said, "But when you have something really good you don't want to give it up!"
Danish rider Anders Dahl's third place (73.55%) was enough to keep him at the top of the Rolex FEI Western European League. His freestyle was packed with technical difficulty, including a 20-meter circle—half in two-tempi changes and half in one-tempis.
At 17, his mount, Afrikka, was the oldest horse in the class and displayed the confidence of great experience, making the demanding test look easy. Afrikka, an Oldenburg gelding, belongs to the mother of Dahl's partner, British dressage rider Fiona Bigwood, and was also probably the cheapest horse in the class, having been bought originally in England for around $5,000.
"It was one of my best tests—it didn't get the highest percentage, but it is a high level of competition here," Dahl said.
Carl Hester finished as the highest-placed British rider, riding Dolendo into fourth (73.10%). This horse competed in this class in 2006 with Spencer Wilton, who also rode him to triumph in the 2007 British National Championship.
Hester is a joint-owner of the 13-year-old gelding (by Donerhall) but has not ridden him in competition since 2001. Having only reclaimed the ride seven weeks before Olympia, Hester took it easy in the qualifying Grand Prix, finishing in eighth place (68.33%).
With a freestyle set to music he has used for seven years and with four different horses, Hester eased into the program then built the pressure, producing huge half-passes and beautifully balanced double pirouettes, moving seamlessly from one move to the next to score 73.10 percent.
"He had a dodgy temperament when he was young," said Hester, "So to come with no expectations and come fourth is a great Christmas present!"
Highest placed of the British in 2006, 22-year-old Laura Bechtolsheimer made an exciting start to the show, placing second in the Grand Prix with a record British score in international competition—75.33 percent. This talented and sympathetic rider did her best to nurse Mistral Hojris (by Michelino) through his first freestyle, but nerves got the better of the 12-year-old, chestnut gelding and despite a flowing ground pattern, moments of inattention and several errors kept their final score down to 72.45 percent and fifth place.
Dutch riders filled three of the top five places in the qualifying Grand Prix, displaying the depth of the sport in the Netherlands. Rising star Aat van Essen, who works for the Dutch National Federation, finished third in the Grand Prix on Premier, a 10-year-old by Jazz, with 72.20 percent. He too suffered from an inattentive horse in the freestyle, dropping to eighth place (72.05%).

Debby Lush