The Dutch driver steps in to fill Michael Freund's winning shoes.
For 13 consecutive years, Michael Freund won the Schenker German Masters at the Stuttgart World Cup-qualifying driving competition. But Freund retired from competition last year, so on Nov. 16-17 it was certain that a new winner would be crowned in Stuttgart, Germany.
And, no surprise, it was the 2006 World Cup Final winner Ijsbrand Chardon, who has been three times individual World Champion (1988, 1992, 2002) and in 2006 the individual silver medalist.
Until this year, Stuttgart had not been a good place for him. "Twelve years ago, I drove 600 kilometers to come to Stuttgart, but then my competition was over after 30 seconds. I was eliminated for taking the wrong course," he recalled.
But this year, the 46-year-old Dutch driver knew just where he had to go, and he became a deserving successor to Freund. The crowd of 8,900 spectators celebrated his win as if he were German. "Now I know why everyone had told me I would have to come to Stuttgart. The crowd here is fantastic," Chardon said.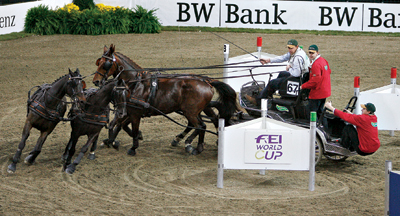 Christoph Sandmann—unlike Chardon and Boyd Exell—was driving his outdoor team, and went first for Round 2. He'd been a bit surprised to qualify for the second round, with a slow first-round time, but neither Zoltan Lazar of Hungary nor Ulrich Werner of Switzerland drove a clear round in Round 1, so Sandmann joined Chardon and Exell in Round 2.
Sandmann had one ball down in the final line, putting his total at 282.85 seconds. The times for each round are added for a final total time.
Exell, twice second in the World Cup Final, went clear and added 114.91 seconds to his first-round time to take over the lead with 260.07 seconds.
Chardon had a ball down in Round 1 and came back for Round 2 with a 140.19-second time. Knowing that he didn't have any room for error, Chardon opted to drive a safe, conservative second round, but it was just fast enough and his total of 256.87 seconds won the day.
The biggest surprise at Stuttgart was 17-year-old local hero Michael Brauchle. The youngster set out to give the top drivers a run for their money, but he made a mistake at one of the last obstacles on course and had to circle and re-approach the obstacle.
That mistake, combined with 5 seconds added for a ball down, brought Brauchle's first-round time to 152.93 seconds, putting him into fourth place—just out of the three drivers who qualify for Round 2.
"Maybe I was a bit too ambitious, and I got the turn to obstacle 11 badly," commented Brauchle, who had been runner-up in the 2007 German Championships behind Christoph Sandmann.
Nevertheless, a fourth place was a great success for the German youngster, whose whole family is involved in the driving sport. His father, Franz, is a farrier and four-in-hand driver, and his 19-year-old brother, Steffen, contributed with his pony pair to the German team gold medal at the World Pony Driving Championships in Denmark this summer. His mother, Brigitte, is also into the carriage driving sport.
Michael is a member of Michael Freund's "Perspektivgruppe," a group of young and talented drivers who are looked after by the master himself. Brauchle's brother and a cousin assisted Michael on the carriage in Stuttgart.
"It was super to compete in the Schleyer Halle—the feeling is great and I was amazed by the spectators. They are much better than at the outdoor shows," said Brauchle, an apprentice in the metal industry, trained twice with Freund over indoor driving courses before Stuttgart.
Birgit Popp