Devon, Pa.—June 2
"You'd better step back, Jack's going to go crazy," Louise Serio advised the group of people standing at the in-gate of the Dixon Oval watching Liza Boyd's handy round aboard Like I Said.
Jack Towell was there, watching his daughter intently. And as she landed over the last, huge oxer, he jumped up and down, whooping and clapping, proving Serio right. "See, I told you. Crazy!" Serio said with a laugh.
Towell's applause was matched by the judges' scores—93 and 95, with 9 and 10 for handy bonuses. With a galloping, flowing handy round, Boyd and Like I Said vaulted from fourth after Round 1 into the lead. "I don't mind going back a little low, because you just go for it and take the shot," Boyd said. "The mare was a little green in the first round, she acted like a first year horse. She shied away from the edges of the ring. For the handy I just went in, not nervous, and just went for it and she just jumped higher and higher."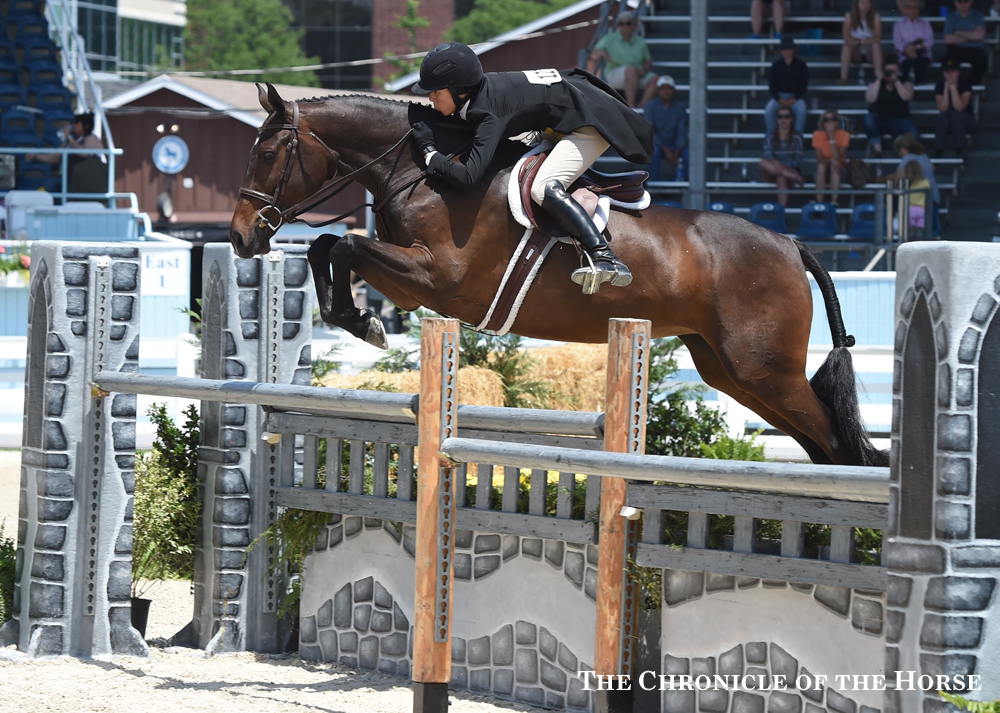 Liza Boyd on Like I Said on their way to the win in the $25,000 USHJA International Hunter Derby at Devon. Photo by Molly Sorge
"A good mare has a lot of desire, and I think she showed that in the final round," Boyd said. "When some other horses made mistakes, that mare just dug deep and tried really hard for me. Her groom is a girl named Randy Button, and Randy told me this morning 'She's her playful, fun self; she's ready Liza,' and she was right."
And when the top two after Round 1 made major errors, the blue belonged to Boyd.
First, Serio, in second after Round 1 aboard El Primero, saw victory disappear when the horse stopped at the trot jump. He was the second horse to object to the trot jump, which was a wingless log set atop straw bales and decorated with flowers.
"It was spooky," Boyd said of the trot jump. "It had purple flowers and it was big. My horse studied it. Jack said 'whatever you do, don't lean up and chip the trot jump.' "
"It was a big log with bushes and flowers coming up underneath it," said Sandy Ferrell, who claimed second in the class with Fifty Shades. "That's something that you wouldn't have thought would cause so many problems, but it did. It came at an angle, and then it was just there. Again, that's how the class is sometimes."
Nick Haness, out from California with Countdown for the class, held a healthy lead after Round 1 after he picked up scores in the 90s. And Countdown made amazing efforts over the jumps in the handy as well, but it caught up to him at the last oxer. Countdown's airtime meant he didn't quite clear the back rail with his hind legs and the fence came crashing down, relegating him and Haness to ninth place overall.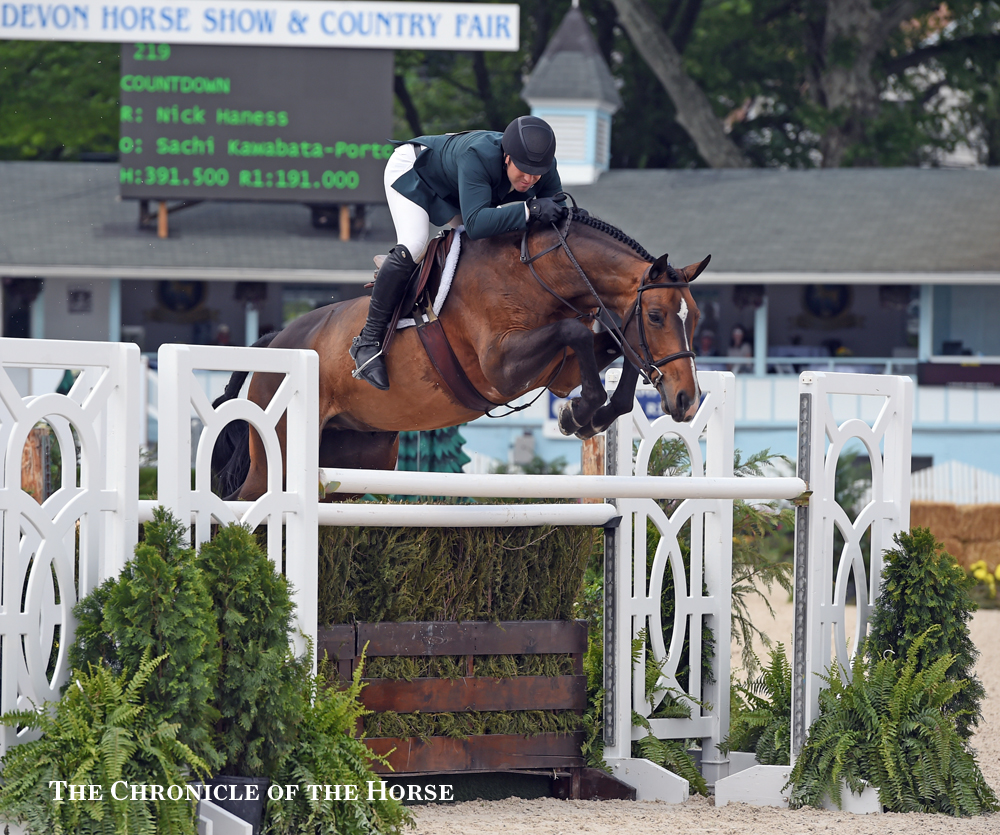 Just after this photo was taken, Countdown pulled the back rail of the oxer with his hind end, dropping him and Nick Haness from the lead to ninth. Photo by Molly Sorge
Boyd noted that Haness, who had picked up the first year green hunter championship aboard Technicolor earlier in the week and earned good ribbons with his other rides, didn't seem too upset with the mistake. "Nick said to me, 'Liza, I've had the best show ever. Whatever happens, I'm happy!' The horse just tried too hard, and that's a good problem to have, Boyd said.
"I had told him to go out there and have fun," Ferrell said. "He was so worried about the trot jump, I don't think he cared about crashing the last fence. He said, 'I'm just glad I did the trot jump.' He's had the week of his career. Everyone was here cheering him on, because he kept riding so great."
Ferrell joked that she was just happy to be second to "the hunter derby queen," as she called Boyd, the three-time winner of the USHJA International Hunter Derby Finals. But she and Boyd both noted that it was special that the class—which was sponsored by the Wheeler family—was dedicated to their friend Russell Frey, who passed away suddenly on May 26.
"That this class being in memory of Russell was special for everyone. I think he would've given us a run for our money today," Boyd said. "We might be second and third right now. I think he would be happy."
Boyd is aiming Like I Said, an 8-year-old Mecklenburg mare, for the Derby Finals in August, but she made the announcement that the venerable hunter Brunello—who won the Finals in 2013, '14 and '15—won't be back again this year.
"He's good, but I don't think I could handle it. I think he would be fine. I mean Elle could show him, Sandy could show him, but I don't think I could keep it together four years in a row," Boyd said. "I don't think there's any reason to show him there again. Now I just pick and choose when to show him. When there is a fun show, I'll take him, but not finals."
See a great gallery of photos from the $25,000 USHJA International Hunter Derby at Devon.
Click for full results of the class.
The highlight of the open jumper division at Devon is the $225,000 Sapphire Grand Prix of Devon on the evening of Thursday, June 2. Stay tuned to www.coth.com all week for coverage of the open and amateur hunters, the Sapphire Grand Prix of Devon, and so much more. Check out all the Chronicle's online coverage of Devon. Find full results from all of Devon at Ryegate and check out full analysis of the whole show in the June 20 issue of the magazine.