Impressive riding, solid training and an exceptional horse help this adult amateur make her dreams come true.
Beth Noteman knows she's found her horse of a lifetime.
And HSA Haleys Comet proved it once again by winning two more titles for her at the Great American/USDF Region 4 Championships.
A self-described "little, ordinary amateur" from North Aurora, Ill., who works in consumer package good sales, Noteman never imagined she would accomplish all she's done with the 12-year-old, Arabian stallion (Skamper—Ok Ellazella G).
The two regional championships in St. Louis, Mo., Oct. 12-14, were just icing on the cake.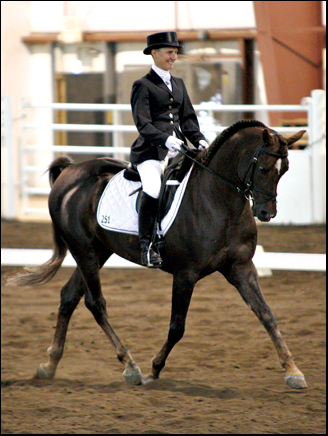 Their remarkable story started eight years ago when Noteman was searching for the perfect Arabian.
"I didn't have a horse until I was an adult," said Noteman, 40. "I got my first Arabian Horse World magazine in 1984. There's a picture of Khemosabi on the cover. They're beautiful, intelligent horses, and I decided I was going to have one."
Her first horse was an unregistered, gray Arabian mare, and when she had to be euthanized, Noteman went looking for another just like her.
She heard that Kim and Yvonne Barteau, Gilberts, Ill., had an Arabian mare that might be suitable for dressage, so she decided to take a look.
The Barteaus showed her several horses, both Arabian and warmblood. "Yvonne said to me that if I wanted to do open dressage I ought to be on a warmblood," said Noteman.
But the horse that stole her heart wasn't a warmblood, and it wasn't an Arabian mare.
"I didn't want a stallion. I wasn't looking for a brown horse. I wanted a gray mare. But [Yvonne] looked at me and said, 'This is the one you need to buy.' She was right," recalled Noteman.
"Big Guy" or "Liver" was a 4-year-old stallion with just a few months of training under his belt. Noteman
admitted that a green stallion was an unlikely choice for an amateur.
"I've had fabulous training and instruction from Kim and Yvonne," she said. "The horse is a good soul, and I've had great people to teach me. I haven't been able to stray too far from the right path."
The pair moved up the levels, showing in open dressage shows and Arabian shows. In 2001, Big Guy earned the Arabian Horse Association's Horse of the Year title, and in 2006 he helped Noteman to the AHA Amateur of the Year.
"He's won more Arabian National Championships than any other purebred Arabian stallion in the history of the breed," said Noteman. "And he did it all with me."
Not only do they show in dressage classes, but Big Guy also likes to jump.
"When we hit second level, I was showing him a lot, and I needed to mix it up a little. He needed some variety," recalled Noteman.
So with the help of Cheryl Ehrlick, she taught him to jump and started winning over fences classes as well.
"It makes him so happy," said Noteman. "I love dressage, but we stay in the same ring, do a bunch of little circles. He's a quiet noble soul in the dressage ring, but he gets in the jump ring, pricks those ears and he's a different horse."
Even with so many wins behind her, taking home the regional championships at third and fourth level was still important to Noteman. She had to apply to switch regions this year to attend the championships because the Region 2 Championships fell on the same weekend as the Arabian National Championships.
"Winning at Region 4 was really neat," said Noteman. "With all of those gorgeous warmbloods, those big-moving, amazing horses, it was really cool and fun to do well on my little Arab."
Noteman doesn't believe she encounters breed prejudice when showing Big Guy.
"My horse isn't perfect, and I'm a mess-up of a rider. We work hard at getting that work correct and right. I firmly believe that I get a fair shake from the judges, purebred Arabian or not," she said.
Noteman was happy with both of her championship tests, although she said the third level test was more fluid with correct trot work.
"I think this winter will be spent on our canter work, really working on the
half-pass canter work and the half-pass zigzag," she said. "The fourth level and Prix St. Georges work—if I set him up correctly he does lovely canter pirouettes."
But it's not the canter pirouettes or the awards that mean the most to Noteman.
"I think the coolest thing about him is that he's nice to be with," she explained. "He's a pleasure. When you're an amateur and you do this for fun—I work 12 hours a day to afford to do this—it's nice to go to the barn and have him be a pleasure to be around. I'm pretty lucky. He's a once-in-a-lifetime horse. I know. I get it."
Better Than Therapy
Makenzie Rath is another rider who knows the value of her mount. She and Calido 49 took home two titles at the Region 4 Championships, one in the junior/young rider Prix St. Georges (68.75%) and another in the fourth level freestyle (67.91%).
"He's worth his weight in gold," said Rath. "I wouldn't trade him for anything. He's taught me so much."
Rath, 20, is a college student at the University of Nebraska, Lincoln. "I love going to the barn," she said. "The barn is my time to get away from campus, reenergize myself. It's better than therapy. It's my time."
This year she rode Calido at the Collecting Gaits Farm/USEF Young Rider Championship and at the North American Junior and Young Rider Championships. Rath rode her first Prix St. Georges test a year ago at the regional championships.
"I'm so grateful that I've gotten Calido, and that I own him and work with him every day," she said. "It's amazing to see where we started a year ago at this time. I've definitely accomplished some dreams of mine this summer."
Rath purchased the 14-year-old Swedish Warmblood (Kaliber—Eriztza) three years ago when she had ridden no higher than second level, and he was just starting to tackle the FEI classes.
"He's like an old professor," said Rath. "He's a very sensitive horse, but he's taught me so much. We've formed this incredible bond. We trust each other."
As a child and teenager, Rath trained as a classical dancer, so the performance part of dressage appealed to her. She said she worked hard to create emotion in her winning Prix St. Georges test, rather than a certain score.
"I think that passion is the key to everything," Rath said. "It's about loving the sport. In my test I think of everything coming together to create an overall picture. It's more for me about letting the bond between Calido and I, and that harmony, show. It's not just going in there and showing what a nice extended trot he has. I know he can do that. It's raising the bar for both of us."
She's Branching Out
Linda Strine's always had a passion for horses, but a new pursuit has actually helped her improve her teaching skills. The Versailles, Ky., trainer took up classical guitar this past year.
"It's been a positive thing," said Strine, 43. "I'm very empathetic about nervousness. I hadn't had that experience in riding in a long time, so it was hard to help people through that, but now that I'm experiencing it myself, I have a lot more empathy. I have all the problems [my students] have, only I have them playing the guitar."
And spending some time out of the barn hasn't hurt her riding either. She came away with multiple championships aboard two different horses, Trijntje Wytske M and Remington.
"Trijntje" is a 9-year-old, Friesian mare (Jillis—Wytske M) owned by Char Hummel. She won the open Prix St. Georges championship (67.62%) and the Intermediaire I (67.87%).
"The I-1 went very well," said Strine. "It's a little easier test for her—the lines are bigger, and there's not so much tight stuff."
They did have one mistake in the three-tempi line, but Strine blamed that on herself.
"I was thinking ahead to the line of twos, and my leg misbehaved and asked her for the change early," she explained. "So we had a two at the end of the threes. It wasn't the fault of the horse. This was entirely my asking."
She hopes to combine her love of horses and classical guitar in the next year as she develops a freestyle for Trijntje.
Strine was also proud of Remington, a 10-year-old, Friesian gelding (Jurjen—Wietskje B), owned by Julie Roche. He placed third in the open second level championship and won the third level championship (65.46%).
"He wasn't really settled in the second level test, but by third level he got in his groove and had a really strong test," said Strine.
Sara Lieser