Like any great outfit that begins with a fabulous pair of new shoes, my son's leadline "debut" began with the purchase of a fabulous bowtie. Neither the bowtie nor leadline would have seemed like good ideas but for the two (maybe three?) martinis that preceded them.
I did learn this: A mom that horse shows does not a "Horse Show Mom" make. I don't know how the pony moms do it. Never mind the financials, I mean the nerves.
I'll be a wreck if my kid ever really horse shows. I believe that the amount of nervousness you feel standing outside the ring watching is inversely proportional to the amount of control you have over what's going on inside the ring. It's all relative. A division pony mom doesn't know whether her kid will slide up to a single oxer or eat it for lunch. As a leadline pony mom I don't know whether my kid is going to smile for the lollipop or take a giant poop.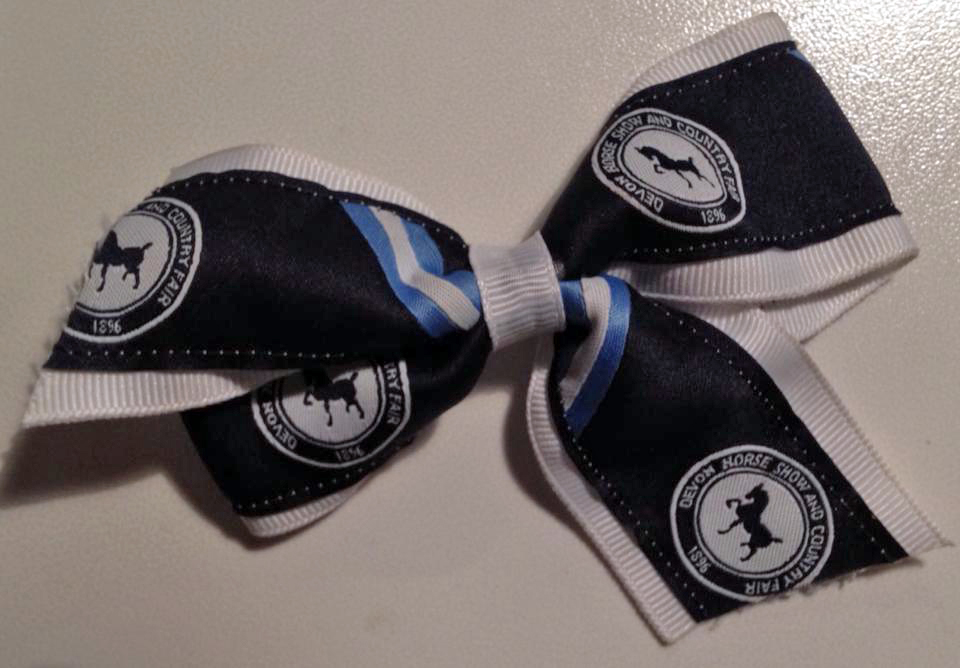 Just look at that bowtie!!
I purchased the fabulous bowtie exactly one week prior to our first leadline class. Not once in that week did I sit my son on a pony, except to see if it would require five bungee cords or six to rig him up to the saddle and the pony.
My son is 2. I understand that most of my time with him is borrowed. I get about five minutes of his undivided attention per week. I couldn't spend them all on a couple of practice rides, so, we took the Allen Iverson approach to leadline: Practice? Who needs practice?
We selected one of the oldest, most historic horse shows in the country at which to make our debut. No, not Devon or Upperville: The June Fete Horse and Pony Show & Village Fair. Yes, fair. Complete with carnival rides and clowns. Because, given the choice, what 2-year-old boy wouldn't choose riding a pony over a Ferris wheel?
A leadline wardrobe was not an investment I was willing to make with such a low expectation of returns. And by "returns" I'm not talking about a blue ribbon; I'm talking we might not even make it into the ring. However, I was advised that just the bowtie (no matter how fabulous), a diaper, and cowboy boots (complete with rowels) were not only considered "improper attire," but might also invite attention from Child Services.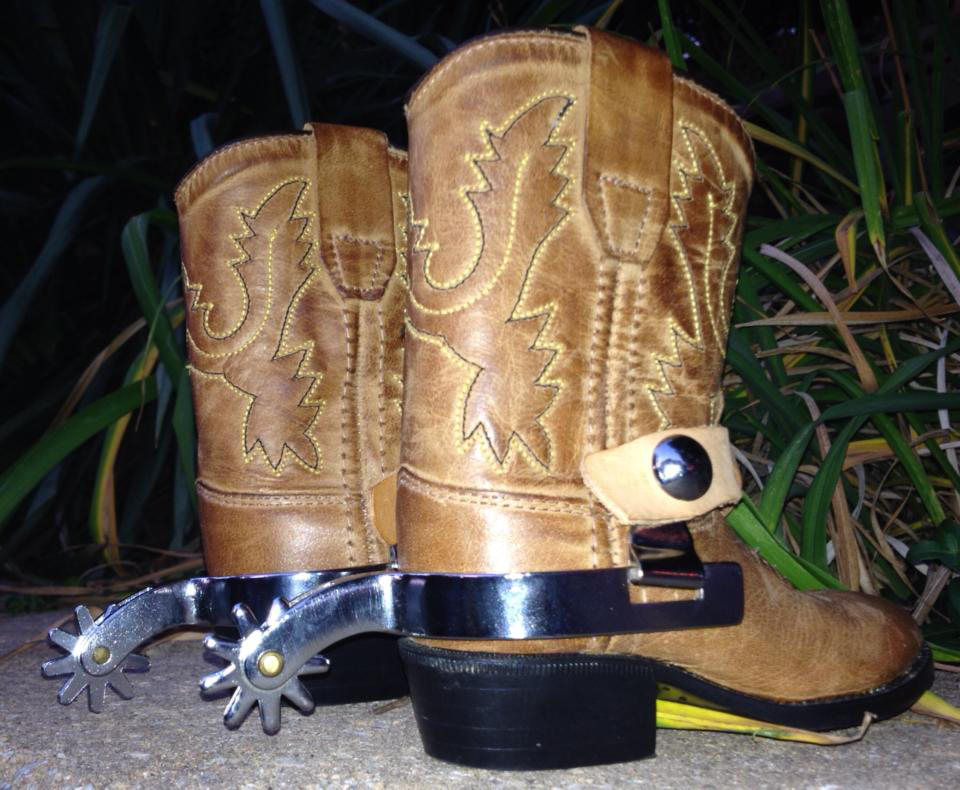 Who needs paddock boots?
Building a leadline wardrobe was probably below "practice" on our priority list. Most of the time I'm too cheap to buy new attire for myself, so I was not about to outfit my son from basically scratch.
I found a "reasonably priced"—but six sizes too big—pair of jodhpurs. I had a white dress shirt he wore for a wedding a year ago, that now fit like a short-sleeved belly shirt. I managed to borrow paddock boots (that he wouldn't wear without the rowels), a helmet (that made him look like a black mushroom with lips) and garters (do boys even wear garters???). I could only hope it would pass the 100-degree mark so it would look like our lack of hunt coat was intentional.
Planning around a horse show schedule is hard enough, but it's absolutely impossible if you, the leadline mom, are also horse showing. This is particularly true when, as in our case, my son's leadline class was scheduled to be the opening act for my hunter derby.
The realization made me think of the recent viral blog post that compared weekend mornings before and after children. The same is applicable to horse shows: Before kid, I was relaxing on our golf cart, casually sipping an iced tea and studying the derby course map before walking the course. Now, I've already used the derby classic and handy course maps as a diaper wipe and a snot rag, respectively, and I don't have time for iced tea or a course walk because my kid needs to eat something before I stuff him into his white shirt and jodhpurs.
Horse show managers probably think they are doing moms a favor by putting leadline classes after lunchtime. News flash: Nobody ever did anybody any favors by creating a situation in which kids must either eat lunch in show clothes, or eat lunch fast and get dressed faster. This brilliant scheduling also makes a mockery of naptime. The leadline division inevitably becomes a parade of gremlins, all competing for… a lollipop??
The circumstances suggest that the keepers of the leadline tradition have never had to deal with the fall-out.
I know my kid; I pick my battles. Food trumps nap, and he doesn't like to be rushed. Close to "go time," but before attempting to get dressed, we grab a food-truck hot dog. Ah, the unsung hero of the superfoods. Cheap, hand-held, filling, (theoretically) non-messy.
Unless, of course, yours is one of those "I eat ketchup on my ketchup" kids. These types inevitably eat ketchup on hot dogs. A lot of it. I sit my son down with his hot dog and single package of ketchup, and go back to trying to learn my derby course. Thirty seconds later the bun is gone and the amount of ketchup appears to have doubled.
Whatever. I have to plan out how to ride that bending line.
I look at my son again and he's putting more ketchup on his hot dog.
Never mind, that two-stride looks awfully long.
Now he's putting ketchup on the corgi sitting next to him.
Geez, that's a tight roll-back.
Now, the bun is stuck on either side of the corgi, and my son is dipping his hot dog in the ketchup on the corgi.
OHMYGOD, where did my kid get all of this ketchup??
And this is why we go nowhere without OxyClean. They're calling for leadline and the derby course walk and my kid looks like an extra in Night of the Living Dead. So does the corgi.
It's times like these I think I need a clone. Or a nanny. Or Inspector Gadget appendages. I figure I'll get myself and my horse ready first and then get the kid and the pony ready. Of course, when it's time to get the kid and the pony ready, I can't find the kid and I can't find the pony's tack.
Behind the trailer, I find a small child on all fours, "wearing" the saddle and the bridle. My son is "riding" the small child and the small child is tethered like a cart pony to the golf cart. The golf cart is carrying six more small children. On the bright side, my son is finally sitting in a saddle. We're practicing. Even posting!
We are finally headed to the ring in half an outfit. I'm just about to put my son on the pony when he makes a face: "Too small!"
What, the shirt? I know. Bear with me, kid.
"Too small!"
The helmet? No way, mushroom man. There's room for four of you in that helmet.
"PONY TOO SMALL!!!!!"
Nobody in the history of the world has ever referred to a division pony as "too small." My son has just secured his future as the most sought after Pony Finals steward in the country.
This is a problem. We're half-dressed (or half-naked if you're in the glass-is-half-empty school), and the pony is too small. We're about to get on the pony but we spy the tractor and drag outside the ring, and they're clearly more interesting than anything going on inside of it.
The rest of the gremlins are already shuffling into the ring. And we've just spotted a frog in the grass that's even more interesting than the tractor.
The leadline class is in the ring. Our entire family is there to watch. Excited about his leadline debut, my mom bought my son a "present,"—a bag of cotton candy three times his body weight. Grandmothers have no shame when it comes to bribery.
I look in the ring and think "that lollipop could be ours."
Then I look at my son and realize winning that lollipop would require me fitting a square peg into a round hole. The institution of horse shows, and my son's enjoyment of horses and riding, are mutually exclusive. The gremlins walking around inside the ring look like members of the lollipop guild charged with guarding Buckingham Palace.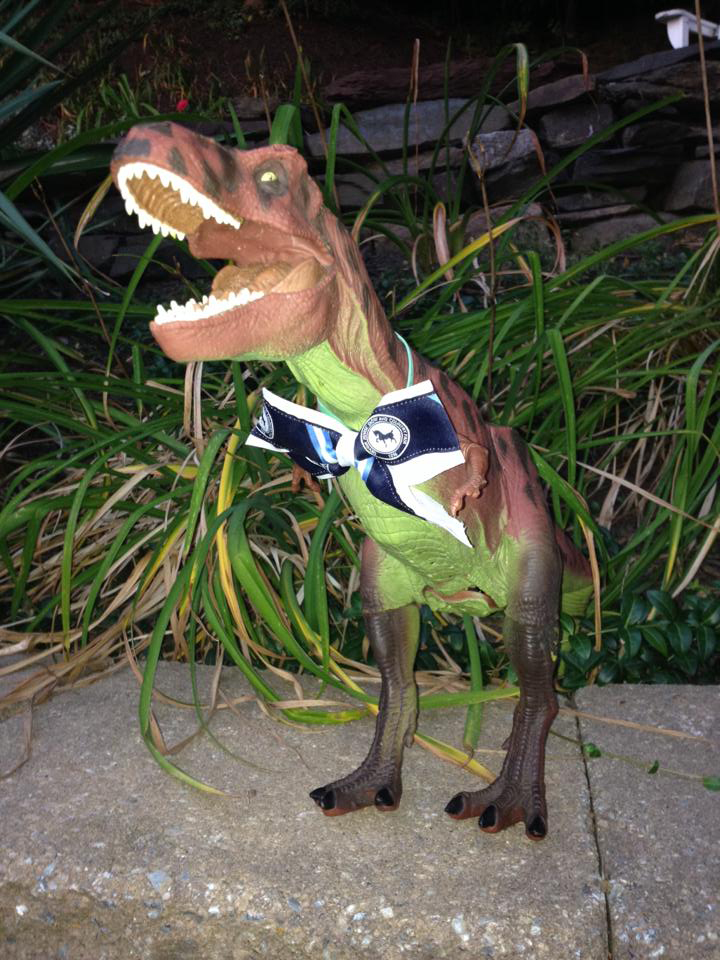 After the show, we found a place for the bowtie…
And then there's my son—outside the ring—now happily sharing his cotton candy with the pony (that he's apparently forgiven for being too small) and stuffing frogs in his diaper, along with the ketchup packets he's apparently been hoarding there.
What goes on inside the leadline ring is such a small and insignificant piece of the bigger picture. What goes on outside of the leadline ring—and leading up to it—is what this sport is all about. Outside the ring, my kid's happy, the pony's happy, and the audience of small children watching frogs disappear are delighted.
Most importantly —leadline or no leadline—my son totally adores the pony (despite its disappointing size), and horses generally. He loves to come to the barn to visit the horses and share treats with them. He likes to help groom and care for them. Horses—not horse showing—make him happy. And that makes me happy.
My revelation is quickly interrupted by my son squealing "FISH ON!" I look down to see a fish hook through the tail of my shadbelly, and my son—five feet away—excitedly "reeling me in." Yes, we brought his fishing pole to the horse show. He may love horses, but I do not subscribe to the notion that horses alone are enough to keep him entertained for 15-plus horse show hours, on end.
We never made it in the leadline ring that day, but we spent the day together at a horse show. And maybe it was the Ferris wheel (or the ketchup, or the frogs), but Liam had fun. Who needs lollipops anyway?
Christiane Campbell is a lawyer, mom and amateur hunter rider from Pennsylvania. She rides with in the amateur-owner division and has shown at Devon and the Pennsylvania National. You can read all her blogs here.