Four years ago, Holly Bergay was so close to her dream of participating in the Alltech FEI World Equestrian Games. She was on the short list of U.S. para-dressage riders in the lead-up to the World Games in Lexington, Ky., but then had to withdraw Grand Ballerina from contention just weeks before the start of the Games because of an injury. The mare was then retired from showing.
The disappointment was crushing for Bergay, but it also solidified her desire to regroup and keep trying. Bergay carried on tirelessly—fund-raising and training—to achieve another opportunity to ride on the U.S. Para-Dressage Team. "I was progressing so well and loving riding so much; I had all of that positive momentum beforehand. I knew I didn't want to get stuck and not moving forward," Bergay said.
Bergay, who was born without a left hand and competes as a Grade IV rider in para-dressage, also shows in open classes and was the first para rider to compete in the North American Junior and Young Rider Championships, which she did in 2007.
By 2012, Bergay had found the opportunity to ride another talented horse, Rubino Bellissimo. The Hanoverian stallion had competed to the FEI levels with able-bodied riders but owner Violet Jen was looking for a new situation for him. She agreed to have Bergay show the horse with the 2012 London Para-Olympic Game and the 2014 Alltech FEI World Equestrian Games as a goal. An injury to Rubino kept them off the list for London, but by the beginning of 2014, they were back in action.
The year started with scores in the 60s in open Prix St. Georges and Intermediaire I classes and Bergay and Rubino qualified to compete in the selection trials for the 2014 World Games Para-Equestrian Team at the U.S. Equestrian Federation Para-Equestrian Dressage National Championships in Gladstone, N.J., this June.
So, Bergay packed her and Rubino's things and shipped from her home in Rancho Santa Fe, Calif., to the East Coast. They spent two weeks at a farm in Maryland before the trials, and it was there that Bergay noticed that Rubino wasn't quite right. "Working with horses my whole life, things happen, especially when they travel. But it never crossed my mind that it was anything major. The first thing I thought was 'Oh, no I've got the selection trials and will we be able to compete?' And then it was, 'So how long are we going to rehab him for and when are we going to be back to work?' I just assumed it was minor."
Unfortunately it was not. Extensive veterinary examinations revealed devastating news. The 18-year-old stallion had a large tumor. He was euthanized on June 9, days before the selection trials were to begin.
"I might become emotional," Bergay confessed in a phone interview about the events. "Being away from home, on the opposite coast, talking to a vet who was not my vet, nothing seemed familiar; it was kind of unreal. The whole thing just seemed like this weird nightmare. It was shocking and devastating."
Bergay paused to collect herself. "I was lucky to have my trainer there, Sara Dodge, who has known me for a long time and who has been with me through a lot and also I had my mom there—so I had a few familiar faces. Anyone who has had a horse can imagine; you just hope it doesn't happen."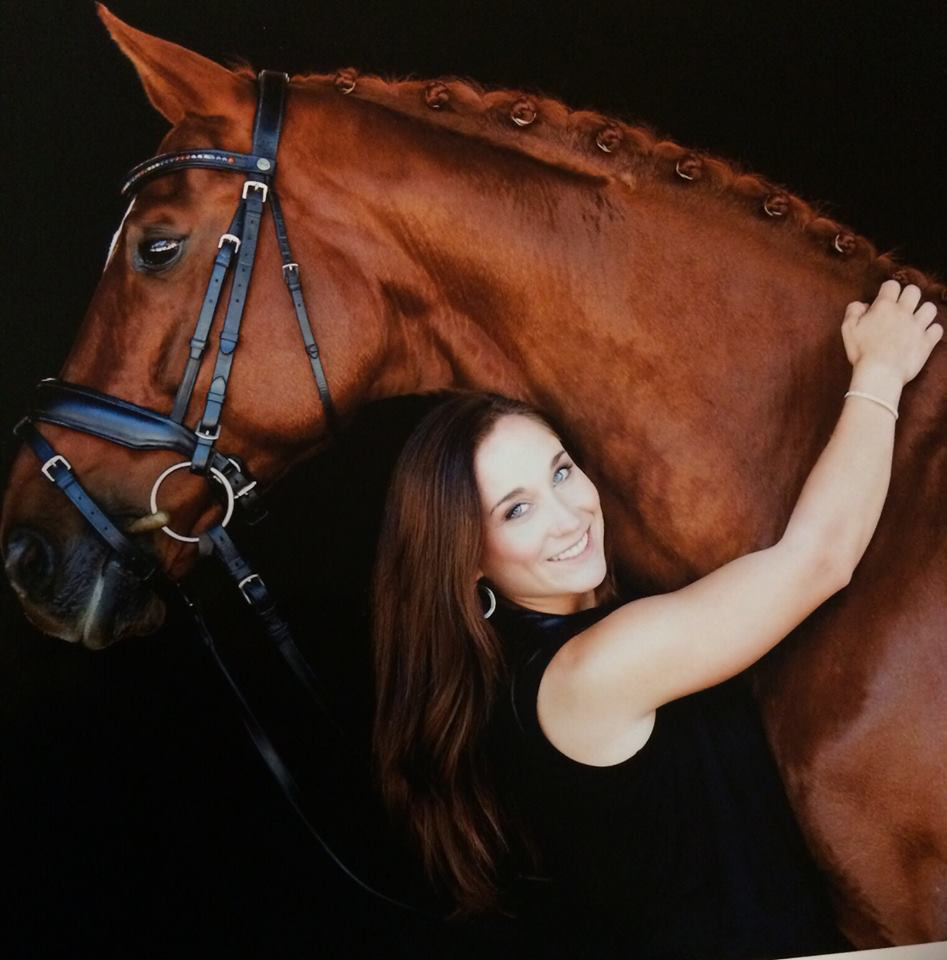 Holly Bergay and Rubino Bellissimo. Photo by Elma Garcia
Despite the loss of Rubino, Bergay was determined not to detach herself and rallied for an opportunity to ride. U.S. Para-Equestrian Chef d'Equipe Kai Handt offered her the ride on his daughter, Julia's, horse NTEC Royal Dancer at Gladstone. Even though Bergay wasn't able to compete in the selection trials, since she hadn't qualified on NTEC Royal Dancer, she earned scores in the mid-60s in the team and individual tests and rallied for a 68.25 percent score in the freestyle in the National Championships on the horse she'd ridden just a few times.
"He is this huge horse, almost 18 hands and I'm 5'3″ on a good day! I rode him about a half hour before I showed him," Bergay said. "It was a great experience, I mean, my head wasn't all there but I tried. It would have been more fun under different circumstances. It was really nice that my team coach was encouraging. He really believed in me and it was great to hear that. And I did want to be there to support the rest of the team members. They are fantastic riders and you can't help but to connect over the love of horses. It was great to see them ride."
Time generally heals all wounds and I wondered if time had given Bergay any relief. "Well, preparing for the World Equestrian Games, you spend every day with that horse and you are out of town and your whole life is pointed in a certain direction. Now I am back home and just trying to do my routine again but without the most important part of it," she said.
"I keep telling myself I will be OK and I know that. But it's very sad and there is nothing I can do about it so you just hope you get less sad as time goes on," she continued.
Bergay's dedication to her sport seems evident. Bergay has carried on and strived for a sense of normalcy by teaching lessons. In 2013, Bergay started the San Diego Saddle Club LLC, at Sunset Hill Ranch in Rancho Santa Fe. She has a riding program with six lesson horses and has attempted to fill the time and void with her students. She runs a popular summer camp there as well.
"I try to teach as much as I can and be as positive about that as I can. I also took a job working for a trainer, Ashleigh Luca-Tyson. She has been really awesome to give me opportunities to ride horses but mostly I'm grooming,' Bergay said. "In that way I am able to be exposed to really good riding every day, watching Ashleigh and Shannon Peters and all of those other really amazing trainers. I am trying to stay in the loop and continue my education in any way I can while I am not riding. I am working all day every day. And I am so grateful for the educational opportunities that I have right now and to be exposed to such a high quality training program."
The most important thing to Bergay right now is that she continue her education in training. "And keep my fitness as a rider, of course. I would love to have a young horse to develop and hopefully it would be in the right price range," Bergay said. "And if another opportunity comes along, where someone has a horse that they want to show or campaign and they happen to meet me that would be ideal too."
Although the thought is overwhelming, Bergay has considered that she will need to begin a search for a new mount. However, she admits that it will take her time to feel excited about it. "I had a really phenomenal horse, so it's going to be hard. He was a stallion and we definitely were not best friends right away. I had never worked extensively with a stallion before so it was all a big learning experience for me," she said. What I heard from most people is that stallions are very guarded and defensive at first but once they are working for you they will go to war for you. They will give 200 percent and that was the experience I had.
"Most people who met Rubino will agree he was very extraordinary so I don't know if I will meet another horse like him," Bergay's voice trembled again. "But as far as falling in love with another horse, I don't want to say I won't, because you know us crazy horse girls, we always do," she laughed.
When questioned on what she would miss the most about Rubino, Bergay was silent for quite some time. Finally, after a gentle prompt, she replied, "I think one of the things that made him so exceptional was he was really easy to communicate with; he really understood what was going on and what you needed and what you were asking of him. That didn't mean he always went along with it," Bergay chuckled.
"But that communication I had with him was unique and I don't know if I'll have that with the next horse. I'm going to miss that." She pauses again before saying quietly, "We were a good team."
The rollercoaster ride of emotions is clear as the mood shifts from a hushed reflection to a fond memory. "The other thing was he was notoriously noisy. He would sing all day; well, I called it singing but everyone else called it screaming. I would yell back: 'I love you too!'"
I ask Bergay if she ever wonders, after two such setbacks before the same event, "why me?" "Yes, I do wonder, why me. But the answer is it's because I am in this sport and anyone who has been in this sport for a long time has been through heartbreak. Heartbreaks are part of being a horse person and competitor. The only way to prevent a disappointing or heartbreaking situation from happening again is to not continue. But that's not something I am willing to do. As tempting as it is to give up it just not in my make-up."
So, as the Alltech FEI World Equestrian Games kick off, with the Para-Dressage running Aug. 25-29, Bergay will be following along from afar, but dreaming of the future.