Charmer the pony knows how to make an entrance—whether it's into the world, or into the ring at the recent Robert Dover Horsemastership Clinic.
In a crowd of leggy bays, the 7-year-old pony gelding's paint coat caught everyone's eye as he entered the dressage ring for the five-day clinic—Hannah Irons was one of 18 riders selected for the clinic, and has spent the past two years competing Charmer in the FEI pony divisions.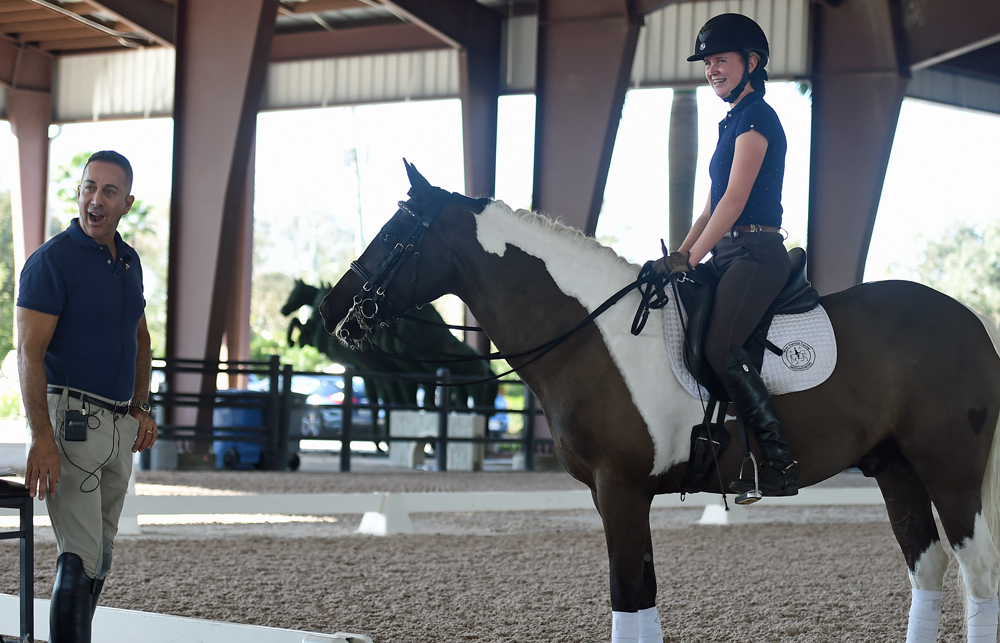 This was Robert Dover's reaction upon being told Charmer is a Gypsy Vanner cross. Photo by Ann Glavan
But no one can say they have ever been more surprised to see the half-Gypsy Vanner, half-Welsh/Paint cross pony than Irons herself on the day Charmer was born.
"When we bought my first pony in 2009, no one knew she was pregnant," Irons, 16, said with a laugh. "She got fatter and fatter, and the vet said, 'Oh she has worms,' so we wormed her like five times in a year. And then he said, 'Oh she has a hay belly,' but she kept getting more and more food and had a big belly but her ribs were showing.
"I still showed this pony and went to the fair, did all this stuff, until two weeks before Charmer was born," Irons continued. "The mare got an udder—we called the vet and he said, 'Oh it's a false pregnancy,' and we said, 'No way, this isn't right.' "
A call to the mare's former owners confirmed that they had tried to breed the mare to a Gypsy Vanner stallion, but tests showed she hadn't conceived, so they sold the mare to Irons as a project.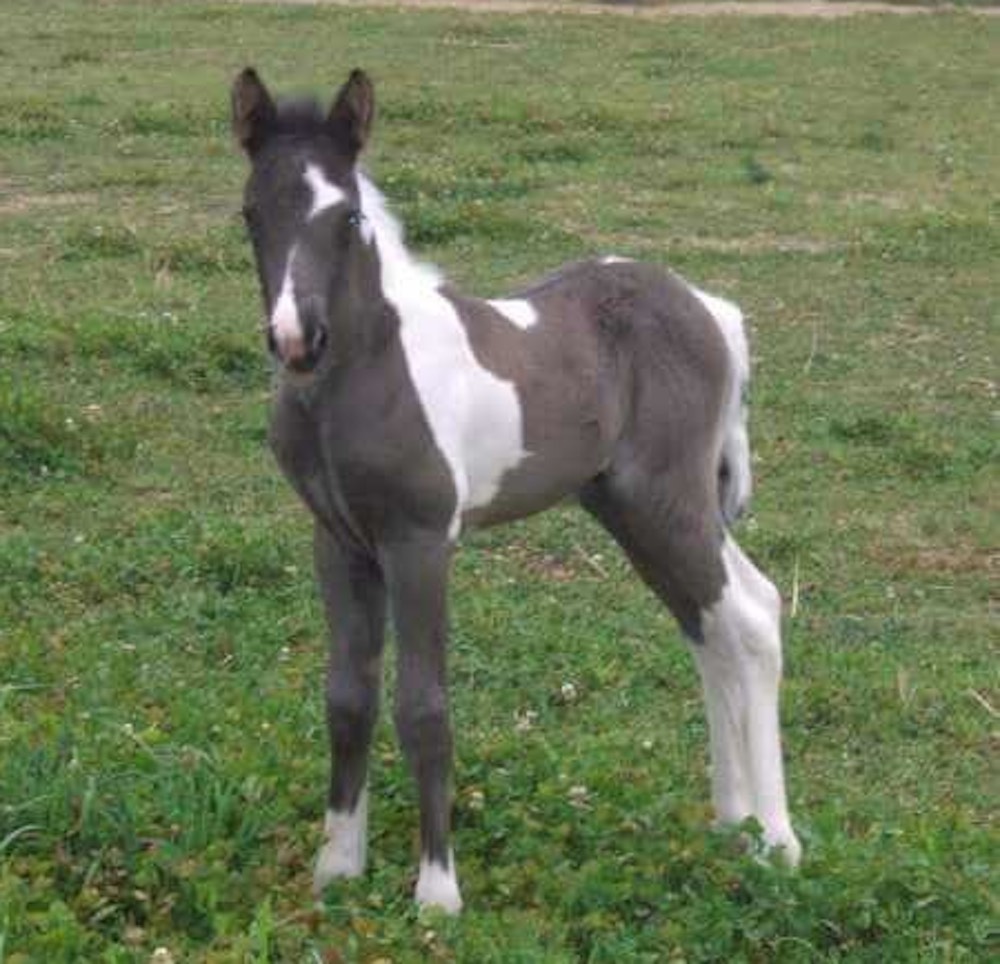 Charmer as a foal. Photo courtesy of Hannah Irons
"So that was Charmer!" Irons said with a laugh. "I've had him since Day 1, and I've done all the training on him."
While Charmer was a foal, Irons rode his dam and Charmer followed along behind. Irons' family owns a farm in Queenstown, Md., and Charmer grew up alongside the family's other horses and ponies. Irons' parents don't ride, but were more than happy to let their small farm play host to a small contingent of equines for both Irons and her brother.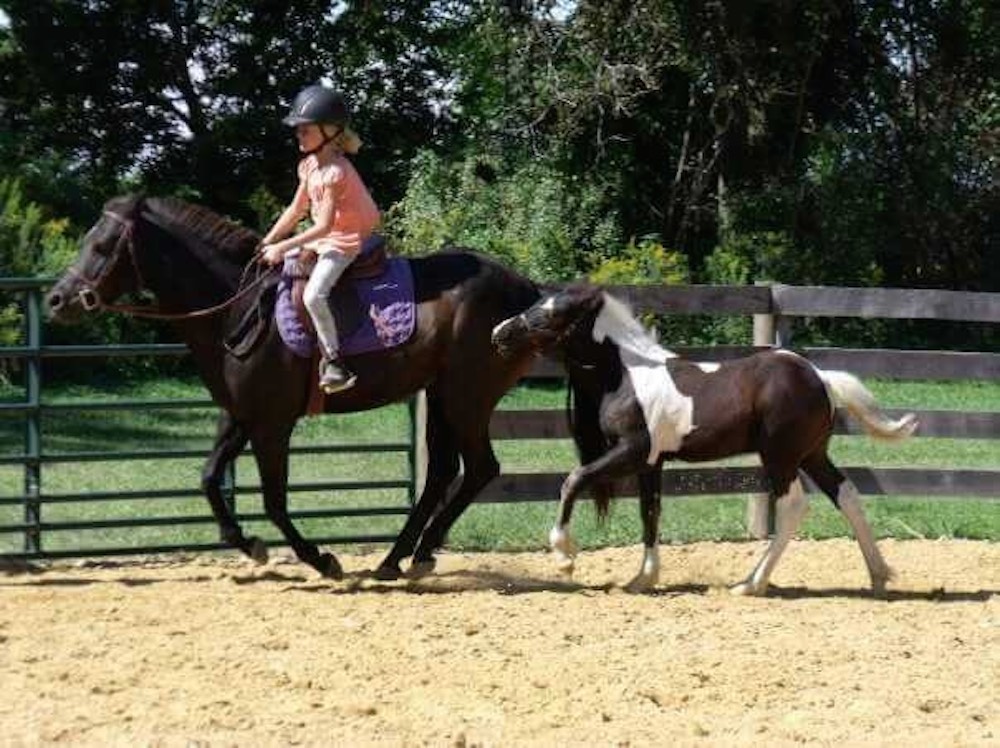 Hannah Irons riding Charmer's dam as Charmer canters along. Photo courtesy of Hannah Irons
Irons didn't have her heart set on dressage as a child, however—she wanted to jump! When she started Charmer, it was with the idea that he could event.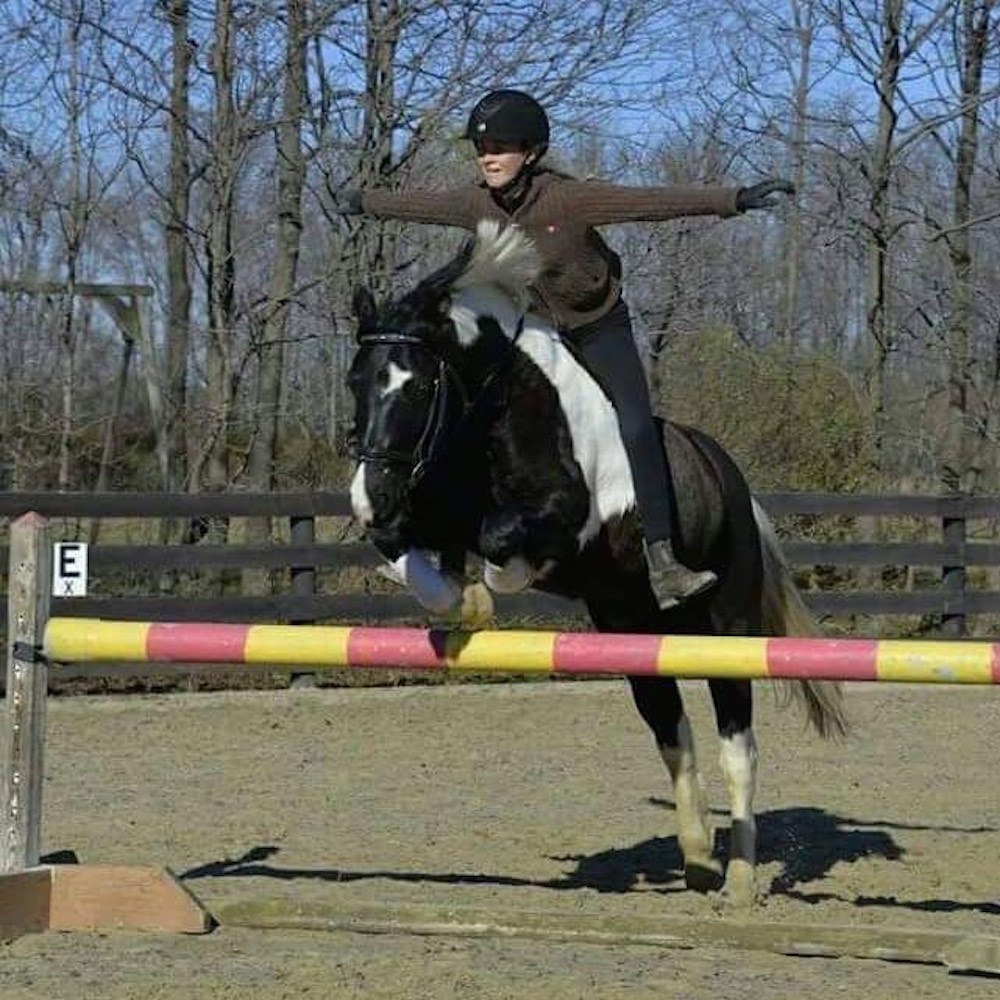 Hannah Irons jumping Charmer. Photo courtesy of Hannah Irons
"I used to think I just liked to jump and thought dressage was pretty boring until 2010. We went to watch the [Alltech FEI] World Equestrian Games in Kentucky," Irons said. "We just went to watch the cross-country, and I saw the four-star jumps on the course and I was like, 'OK, I could never see myself doing this,' I guess it's not good to be scared of your dream!
"And then I watched Edward Gal and Totilas perform [in the Grand Prix freestyle], and I decided that's what I wanted to do," Irons continued. "I've loved dressage ever since. I still jump for fun, but my priority has been dressage."
With her new dream in mind, Irons set to work teaching Charmer all about life in the little white sandbox. Irons wasn't sure her BOGO pony would be up for the FEI pony dressage tests, the highest level of pony dressage, but a winter spent training with Lendon Gray in Wellington, Fla., changed her mind.
"Two years ago when my other horse went lame, I brought Charmer to [the Dressage4Kids' Winter Intensive Training Program] instead. I think that's when I focused on him more and realized that he could do it," Irons said. "I believed in him, and it's been great since then."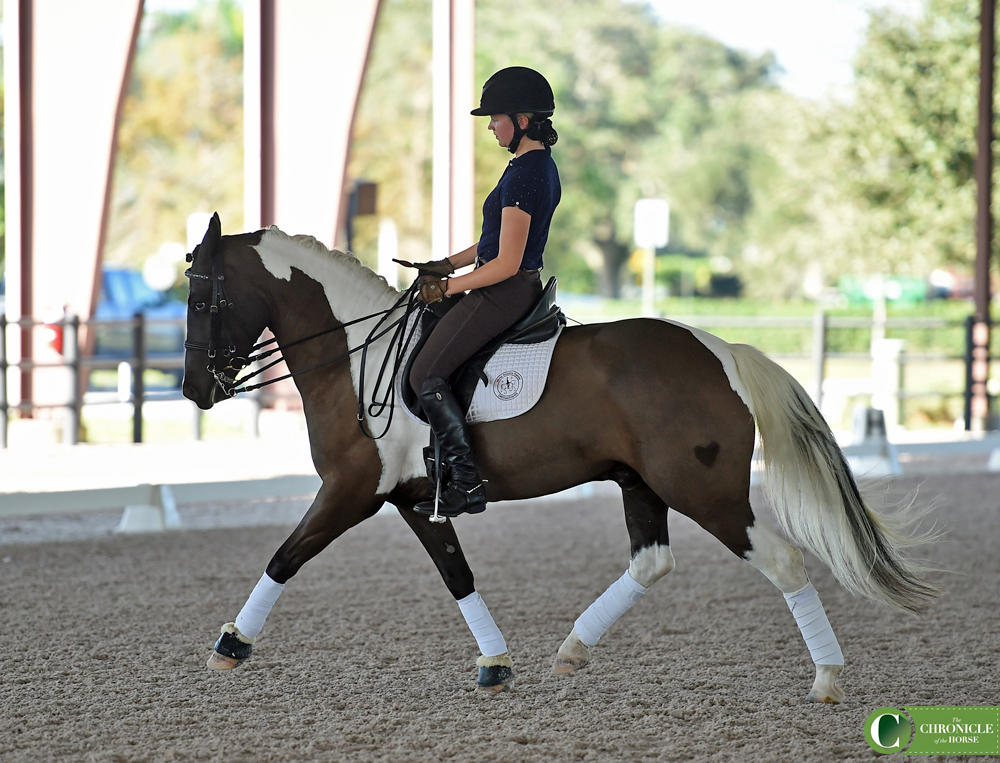 Charmer and Hannah Irons riding in the Robert Dover Horsemastership Clinic. Photo by Ann Glavan
Irons has been showing Charmer at rated dressage shows since 2014 under the name My Lucky Charm. Their highest score at first level is 69.84 percent and a 68.29 pecent at the FEI pony level and they showed at Dressage At Devon (Pa.) last fall. In 2015 Irons also got the opportunity to show Bohdjan, a pony owned by the Dressage4Kids program that is leased out to a selected rider each year to further the rider's show experience.
In the summer of 2016, Irons began a working student position with U.S. rider J.J. Tate, and will be working with Tate during the 2017 winter circuit. Irons has a young horse she is working with, and hopes to train Charmer to third and fourth level. When she's home at her parents' farm, the family has a small contingent of lesson ponies Irons teaches beginners on.
"My goal is to go pro," Irons said. "I hope to have the opportunity to ride a junior or young rider horse, and keep I'll training Charmer up the levels in the meantime!"