Geneva, Switzerland—Dec. 13
Roared on by the near 9,500 spectators packed into the world-famous Geneva Palexpo Arena, Swiss hero Steve Guerdat and his champion horse Nino Des Buissonnets, demonstrated their impeccable partnership, exceptional skill and perfect timing to win the Rolex Grand Prix in dramatic style for a impressive third time.

Guerdat celebrated his victory in front of an appreciative and enthusiastic Swiss crowd. Photo courtesy of Revolution Sports
A line-up of 16 riders made it through the challenging first round course into the jump-off. Guerdat was ninth to go, chasing an incredibly fast time of 41.45 seconds set by Eric Lamaze from Canada. Guerdat knew he had to be fast, and as he entered the arena the Swiss fans wild.
The crowd then hushed and held its breath as Guerdat expertly guided Nino around the course with a new time of 40.94 seconds, taking him into first place ahead of Lamaze.
With seven more riders still to follow to try and beat his time, Guerdat could only watch on. France's Simon Delestre held nothing back and came within a breathtaking 0.03 seconds of Guerdat's time for second place.
It was then left to U.S. rider Kent Farrington—who had won the Rolex IJRC Top 10 Final on Friday night— to beat Guerdat. Typically, Farrington gave it everything and went clear, but his time of 41.47 was not quite fast enough on this occasion.
Having already written his name into the history books, Scott Brash from Great Britain, riding Hello Sanctos, came to CHI Geneva as the first, and so far only, rider to succeed in completing the extraordinary feat of winning the Rolex Grand Slam of Show Jumping: he won the three majors of the year—the Rolex Grands Prix of CHI Geneva 2014; CHIO Aachen 2015 (Germany); and the Spruce Meadows Masters 2015 (Canada).
Unfortunately it was not to be his day this time around, as Hello Sanctos just clipped fence 11 in the first round, taking him out of the competition. So a new cycle of the Rolex Grand Slam of Show Jumping has now began at CHI Geneva 2015, with Steve Guerdat—who must now win all three majors in succession to claim the biggest challenge in the history of the equestrian sport.
Guerdat said: "The beginning of the jump-off was maybe not ideal for me and Nino, because there was a wall and then a liverpool at the second oxer and that makes him really careful, so I was a little bit worried about these two fences," said Guerdat.
"But the distance came very good to Number 2, so maybe I did not leg him enough and that is why he had to do this special move in the air. He is a special horse; he is a genius and he was able to do it. I had to add a stride to Number 3 because of that, but the rest of the jump-off went like we planned and I am just really happy with it."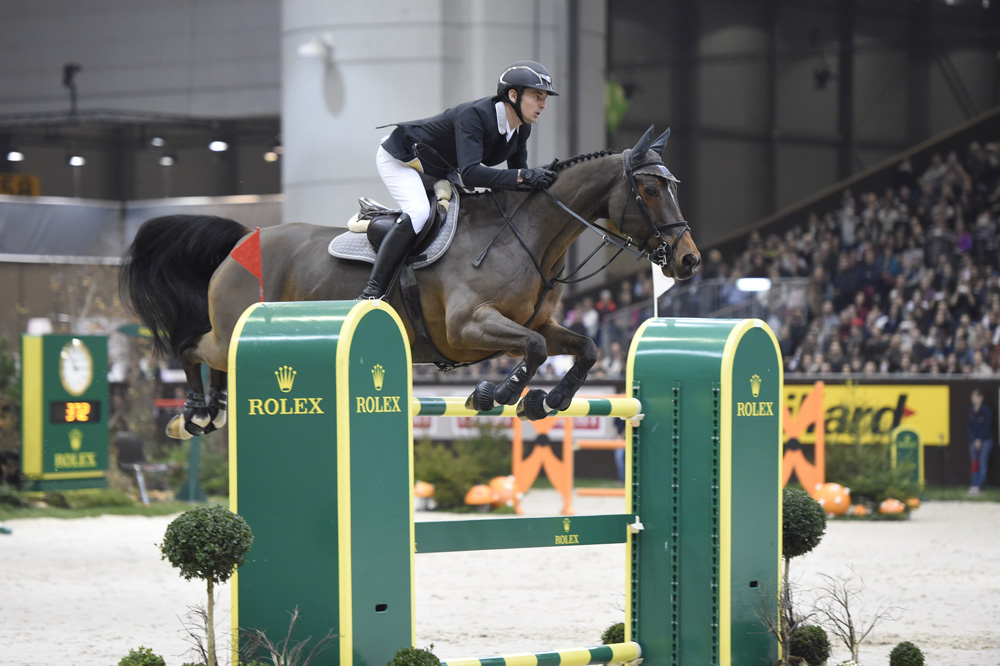 Steve Guerdat and Nino des Buissonnets on their way to victory in the Rolex Grand Prix of Geneva. Photo courtesy of Revolution Sports
As a Swiss rider, based in Herrliberg, Switzerland, Guerdat holds the CHI Geneva close to his heart. "This show is really, really important for me. I always plan it as it is one of the main weekends in the year for me. For me it is not just another show so I try to plan in long in advance and come with fresh horses like it was a championship for me—the crowd always helps me and luck must do the rest," he said.
This big win was also a bit of redemption for Guerdat, as it was his first time back in the spotlight after successfully fighting an FEI suspension. "It was hard for me to forget what happened these last months with the suspension. So the victory comes at the right time; it is a new start for me," he explained.
After four qualifying classes at CHI Geneva, 40 of the world's best horse and rider partnerships secured themselves a place in the Rolex Grand Prix. The roll-call of riders in the Rolex Grand Prix was a truly star-studded cast, with riders travelling from 18 different countries. These included some of the world's top current riders: the reigning double World and European Champion, Jeroen Dubbeldam from the Netherlands; Daniel Bluman from Columbia; and Lauren Hough from the USA.
The Rolex family of equestrian testimonees were well represented with six riders qualifying for the Rolex Grand Prix. These included Kevin Staut; Rolex's youngest testimonee, Bertram Allen; Rolex Grand Slam of Show Jumping winner Scott Brash; Eric Lamaze; Kent Farrington and the new 2015 CHI Geneva Rolex Grand Prix winner Steve Guerdat.
All eyes now turn to CHIO Aachen in July 2016, for the next leg of the Rolex Grand Slam of Show Jumpin— the sport looks to Guerdat to see if he can now continue on where he left his journey after winning the CHI Geneva Rolex Grand Prix in 2013 to write himself into the history books once more.
See full results of the Rolex Grand Prix of Geneva.