Erin Rose evented growing up, but never expected to make it her career. With a degree in psychology from the University of North Carolina, she was working a full-time job at a vocational day program for adults with developmental disabilities in 2014 and thinking about applying for graduate school in social work when a chance meeting at the Rolex Kentucky CCI**** changed her path.
Now she's head groom for four-star eventer Jennie Brannigan, taking care of nearly 20 horses including top mounts Cambalda and Catalina.
"Jennie's such an amazing person, and she has so many friends and relationships in the sport that it's been great to be able to represent her and be a part of her community," said Rose. "I look forward to going to the barn everyday and paying the utmost, closest attention to all her horses and grooming each one every day. They're all incredible athletes, and I enjoy taking care of them."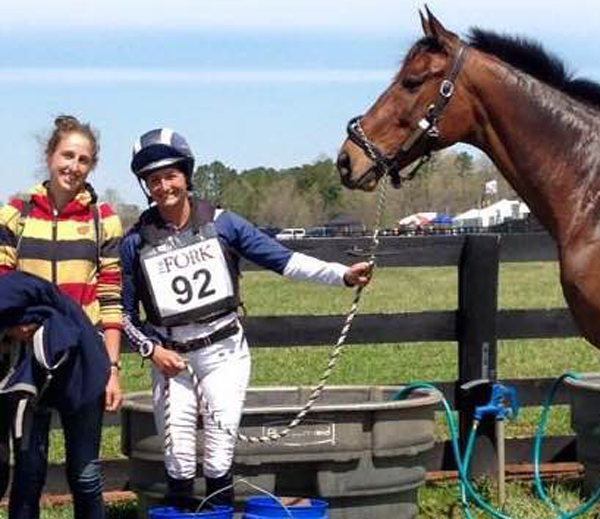 Erin Rose and Brannigan at The Fork CIC*** (N.C.) with Cambalda.
Rose started riding in Pony Club in Pennsylvania before her family moved to England for her dad's job at an agricultural company when she was 9. She joined the local Pony Club there, and her mother bought an Irish Sport Horse, Emerald Traveler, when he was 5.
After stints in Switzerland and Singapore, the family settled in North Carolina when Rose was 16, where she connected with Lauren and David O'Brien and competed Emerald Traveler through preliminary level.
During college Rose took a break from competing. She kept her horse with her parents in Greensboro, N.C., and rode occasionally. After school she brought him with her in hopes of reconnecting with the eventing community.
Rose had worked for two years in her job with adults with developmental disabilities before heading to Rolex in 2014 with her mother, Susan, who's certified in Bowen therapy for horses and humans and now practices in Lexington, Ky.
At Rolex, Erin met Michael Pollard's groom Abigail Sell, who told her Brannigan was looking for a groom.
"I was looking to move and felt like it was kind of my last opportunity before I moved to see if I could jump into the eventing world full time," said Erin. "It was definitely kind of an impulse decision to go back into the eventing world full time. I didn't have any previous grooming experience, but I had taken care of horses my whole life. I wasn't necessarily looking for a career change because I loved what I was doing, but after talking to her and coming and visiting her farm, I had a now or never kind of attitude and went for it."
Erin joined Brannigan's team that August, just as Brannigan had gone out on her own from Phillip Dutton's True Prospect Farm, and she admitted it was a whirlwind.
That fall, Brannigan and Cambalda won the prestigious Dutta Corp. Fair Hill International CCI*** (Md.) and carried the momentum into the next year when they won the Land Rover Great Meadow CIC*** (Va.) and were selected as traveling alternates for the Pan American Games in Toronto, Canada.
"She had such a successful fall it felt really surreal. The Fair Hill CCI*** was my first FEI event with her, and she won. It was definitely not because of my knowledge! It was such a whirlwind I can barely remember the weekend," said Erin.
"Admittedly she was very green. She didn't really have a ton of experience, and we went to Fair Hill with a two- and a three-star horse, and 'Ping' wins," Brannigan recalled. "She was green but very willing. I think I'm a little tough to read probably in the beginning of getting to know me, but it's funny, two years later I begged her to stay. She's wonderful.
"'[Dutton's groom] Emma Ford called me after the Pan Ams and said, 'That girl is the real deal. That's the best up and coming person I've ever seen for grooming. You should really try to keep her because I was very impressed.' Obviously that holds a huge amount of weight to me because I highly respected Emma just as much as I did Phillip when I worked there."
On a typical day, Erin cares for between 15 and 22 horses at Brannigan's Unionville, Pa., and Ocala, Fla., bases alongside assistant trainer Stephanie Cauffman and a couple of working students.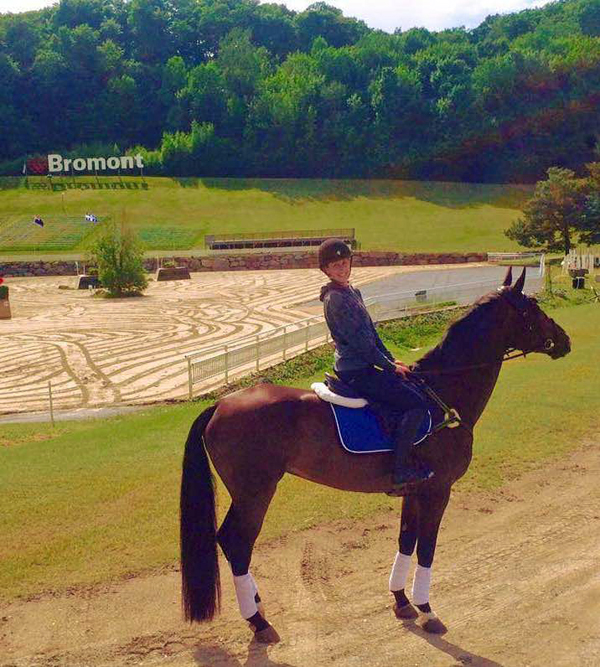 Rose riding Catalina at the Jaguar Land Rover Bromont International (Quebec). Photo by Jennie Brannigan
Brannigan gallops racehorses for trainer Michael Matz in the morning, so Erin has until 10 a.m. to get things organized and ready for the day. She also helps manage show and travel schedules as well as farrier and vet visits.
She does some conditioning work, but is mostly on the ground. "Honestly what I was looking for was to just be a part of the community and be able to be involved in eventing. I definitely didn't approach her looking for a riding job, that wasn't my own personal focus," she said. "I didn't really ride throughout my undergraduate career, and I hadn't evented for several years, so for me being able to take ownership of her top eventers and be at the top events is really satisfying and amazing for me. I think in the future I'll look to event again, but now I'm enjoying being a big supporter of the sport and taking care of her top horses."
Brannigan was impressed with how quickly Erin learned her job, and appreciates having a close friend to travel with. It's often the two of them and five horses when they go to FEI events.
"I completely trust her to do anything. I really genuinely enjoy being around her. When you're with your groom that's the person you're going to spend the most amount of time with—over your boyfriend, over your family, over your friends. I can't think of anyone I would rather be with. She's just perfect because I get wound up, and it would be really hard to get Erin wound up! She's pretty mellow. If I'm acting like a psycho, she's like, 'OK.' She basically doesn't say anything! She's a perfect mix for my personality," she said.
"We've had some wonderful times, a lot of wins and a lot of really cool things, but there have been some huge heartbreaks. If Catalina's hurt, Erin's in tears. If Ibella can't pass the trot up, she's more upset about it than even I am. I think that shows a lot about a person and why they do it. I'm trying to entice her to stay longer and longer and make the job better and better. I'll be honored for as long as she's willing to stay with me because she's very good, and she's a very good person. She's educated and she's smart—she's got a bit of it all. She could be successful in anything she wants to be in her life. I trust her with everything. I don't even have to worry."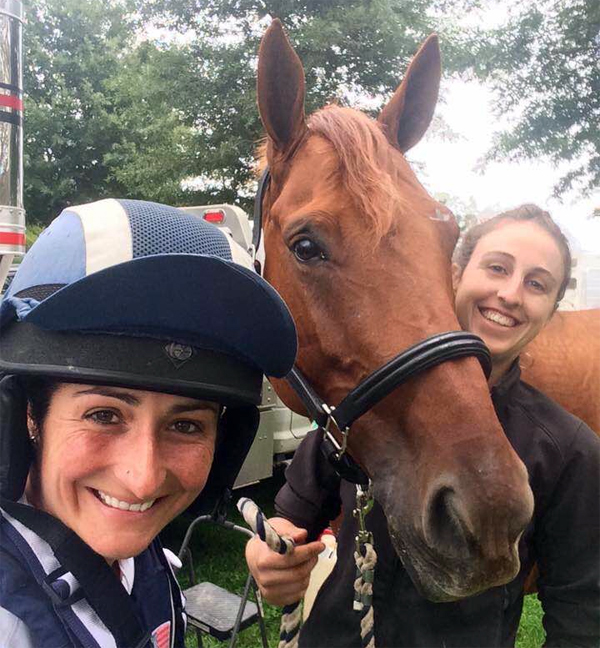 Erin Rose (right) and Jennie Brannigan with FE Lifestyle after cross-country at 2016 Radnor Hunt Horse Trials (Pa.). Photo by Jennie Brannigan
Erin says she really felt her relationship with Brannigan and her comfort with her job cemented this year.
"We travel a lot together, and I think just this year we've gotten to click. It's the type of relationship when you know when words are needed and when they're not, and how to spend 12 hours in a car together and have fun. As an amateur eventer coming in to it, just being able to experience everything, from the people she works with like training with [show jumper] Scott Keach and everything leading up to the Pan Ams, I feel like I'm auditing these clinics. It's an amazing experience. I'm becoming a better rider by being able to learn how she does what she does.
"She always wants to make the right decision, and she's open to change and open to advice and lessons from anyone. She doesn't close any doors and is very humble and hardworking. It's definitely an amazing team to be apart of," she added.
Erin still has Emerald Traveler, now 22, at Brannigan's farm and has done some starter trials and dressage shows with him.
She's not sure how long she'll stay a groom, but at 26 she's got some time to figure it out.
"Having learned all the things I have and having made all the connections, I want to take this experience as far as I can. I'm definitely setting goals and making sure I'm finding ways to learn new things and look for new opportunities, whether it's in sales or getting involved with programs like riding for the disabled and things that are a little more personal to me," she said.
"I want to keep learning and improving and figure out what path I want to take, but I've dropped the deadline on when I'm going to be done grooming and kind of just relaxing and seeing where things take me. But right now I'm really happy where I am, and I'm excited about the future."
This is an article in Groom Spotlight, a new series of groom profiles. Make sure to follow www.coth.com and like the Chronicle's Facebook page to see them posted. If you know a fantastic groom you'd like to see appear in this series, email molly@coth.com.