A friend of mine lost her horse recently. He was older, and he died in the way we all dream for those we love—out in the field with his friends on a beautiful day, healthy and sound and full of life. And then gone, in an instant.
That doesn't make it much better, of course; just because it's a far cry from the slow decline and the tough choice doesn't make it easy, just ever so slightly easier.
This horse had had an excellent competition career, but you'd probably never heard of him, or at least not heard much about him. But that wasn't the thing that made him extraordinary. He'd brought countless young people up the levels. He gave his riders the big horse feeling for the first time. He taught them. He humbled them, often rather a lot. He made them.
He's not the only one. My barn has had more than a few great old men, and has a few more great-old-men-to-be. This past week, at both the Adequan/FEI North American Junior and Young Rider Championships and at the Pony Club Festival, there were horses in the stabling that are held together by Adequan and a prayer, horses on their second or third or fourth little girl, even a few horses with red FEI passports instead of purple.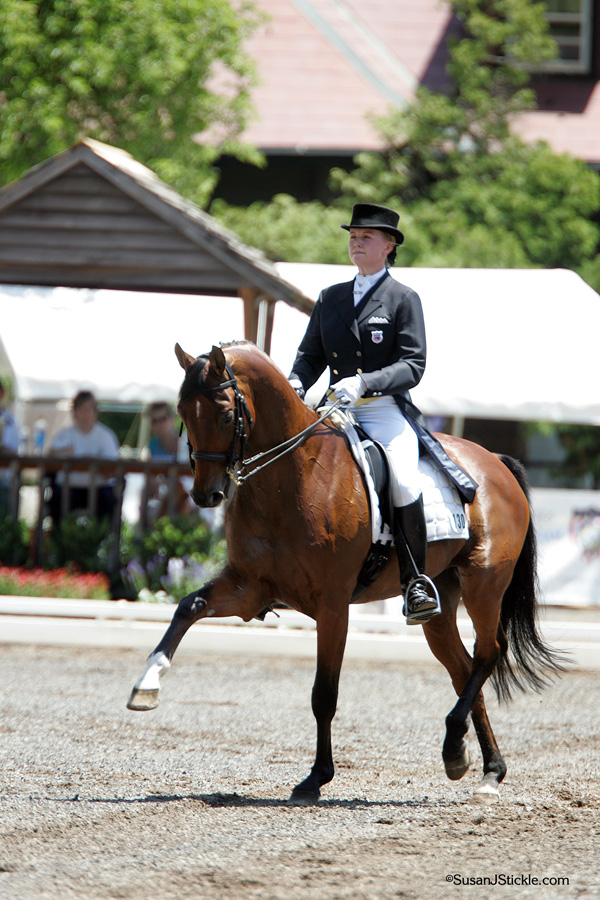 My Bellinger brought me to FEI, brought one of my students to FEI, went to national and international championships, gave dozens of students that taste of the big time, and reminded me often of how I was a blip in the cosmos, that the universe owed me nothing, and that I should get a grip.
He's 25, out in a field with his friends, sound but retired because of a breathing issue that had developed over time, and still looking sleek and shiny and conditioned like he could trot into the Dixon Oval tomorrow. And among Billy's competitive accolades is an award from Lendon's Youth Dressage Festival, the Umego Perpetual Trophy, for the highest scoring performance on a schoolmaster.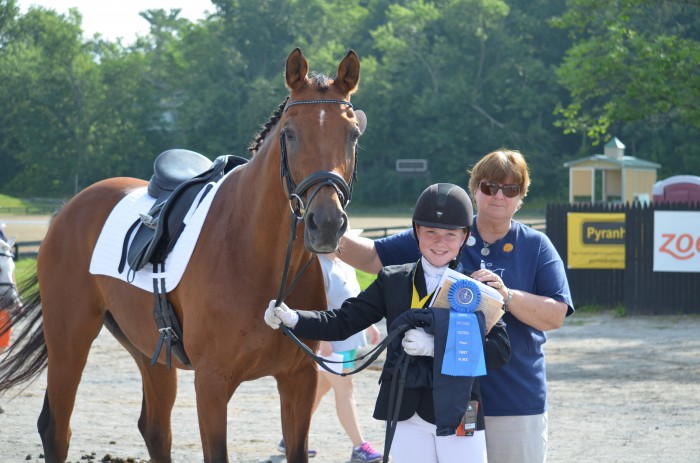 Once, an acquaintance cavalierly announced that Billy "wasn't as good a horse as I thought he was." She meant that he was an athlete undeserving of the revered tones in which I spoke about him, and she had a point. To know Billy by his performance in the arena was to know a good-enough moving horse with an exceptional front leg in the trot but a normal hind leg, and no swing; a difficult neck, with a perpetually open mouth; fantastically even and rhythmic changes and pirouettes but ghastly piaffe; and, particularly in his younger days, a zest for standing on his hind legs.
But to know Billy is to know the respect he taught me by dropping me on my ass one time when I was being a teenage brat to him. I have a scar on my elbow from the experience. To know Billy is to know that the proceeds of his four-year lease to an amateur student of mine paid for Stratocaster, who paid for Danny Ocean and Dorian Gray, and set me on a path to bigger and better things. To know Billy is to know the tears and the sweat and the month without stirrups learning to sit the trot and the getting my ass kicked by life that made me the person I am today. To know Billy is to revere him for all that he gave me, not all the ribbons he earned.
The measure of a horse can't be found on CenterlineScores.com. The measure of a horse comes in the life lessons they've taught, and the qualities they've bestowed upon the humans whose lives they've touched. Humility. Dedication. Grace.
One day, Valegro will die. So will Verdades, and Weihegold, and Totilas; so already have Gigolo, and Rembrandt, and Goldstern. Life is a terminal condition, and theirs will be celebrated and cherished and toasted to, as they should.
But so should the Great Old Men (and Mares!) in barns worldwide, bestowing confidence and scars, ribbons and long walks home. They make us, and then they leave us both more whole because we've known them, and empty because they're gone.
SprieserSporthorse.com
Lauren Sprieser on Facebook