Wellington, Fla.—Feb. 22  
Laura Graves and Verdades claimed another victory in the FEI Grand Prix CDI-W, presented by The Axel Johnson Group, during the seventh week of competition at the Adequan® Global Dressage Festival.
The 2016 Olympic team bronze medalists Graves and Verdades, a 15-year-old Dutch Warmblood gelding (Florett AS x Liwilarda) owned by Graves, ended the day with another win in the Global Arena and a score of 80.24 percent.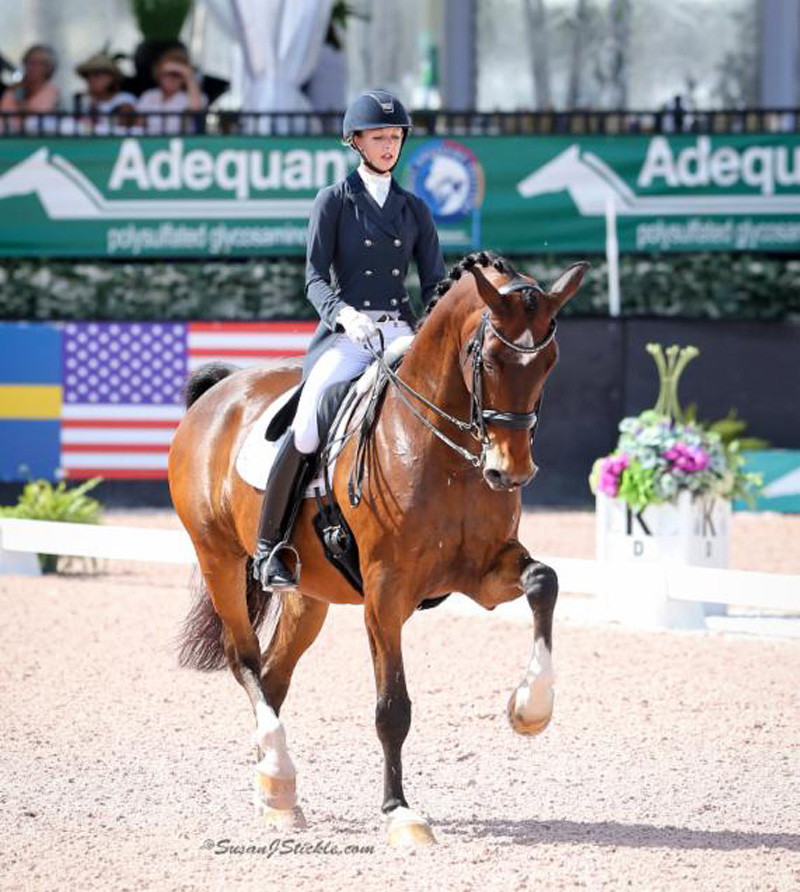 "It feels much more secure. It's nice to know that what happened at the [AGDF five-star CDI in early February]  wasn't a one-hit-wonder," Graves said of her second 80 percent score in the FEI Grand Prix. "It's still pretty awesome. It's a really, really exciting way for us to go into the big things we have planned."
Of her ride, Graves continued, "His rideability was really super. I was happy with my zig-zags. I feel like we covered a lot of ground in both directions. The pirouettes were really on; I was really happy with my final centerline. I think we ran out of a little steam. It was warm, and they were running a couple of minutes behind. He just doesn't ever say 'no,' so he tried his best."
Placing second and third to Graves in in the FEI Grand Prix CDI-W were 2016 Olympic teammates and team bronze medalists, Steffen Peters and Kasey Perry-Glass.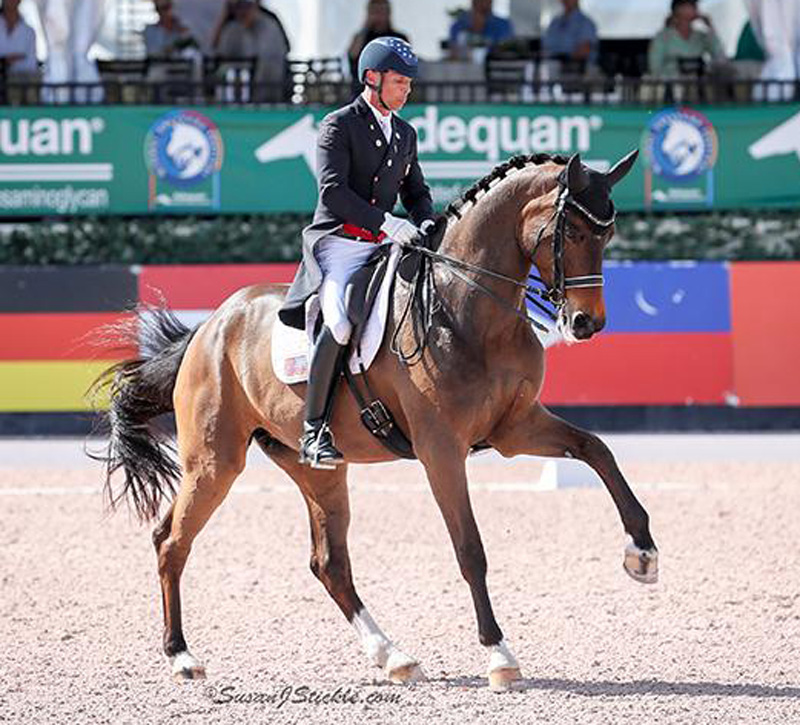 Peters and Rosamunde, a 10-year-old Rhinelander mare (Rock Forever x First Lady) owned by Four Winds Farm, took second place (74.82%).
"I still had a little more energy than I wanted," said Peters about his ride with Rosamunde, "but it was so much better than two weeks ago. I'm super happy with her. She did awesome trot half-passes, beautiful extensions, the piaffe and passage transitions were better. She is just so much fun to ride. She's so beautiful in the bridle [and] always goes. Most of the time we have to say, 'Hey wait, not that much!' So it was a beautiful step ahead, and I thought that showing here in this arena a bunch of times would help her. Certainly, that worked out as planned.
"Apparently, our tattoos have been working!" joked Peters of the Olympic rings tattoos that the U.S. Olympic dressage team members recently got together. "It's nice to be here with the two teammates."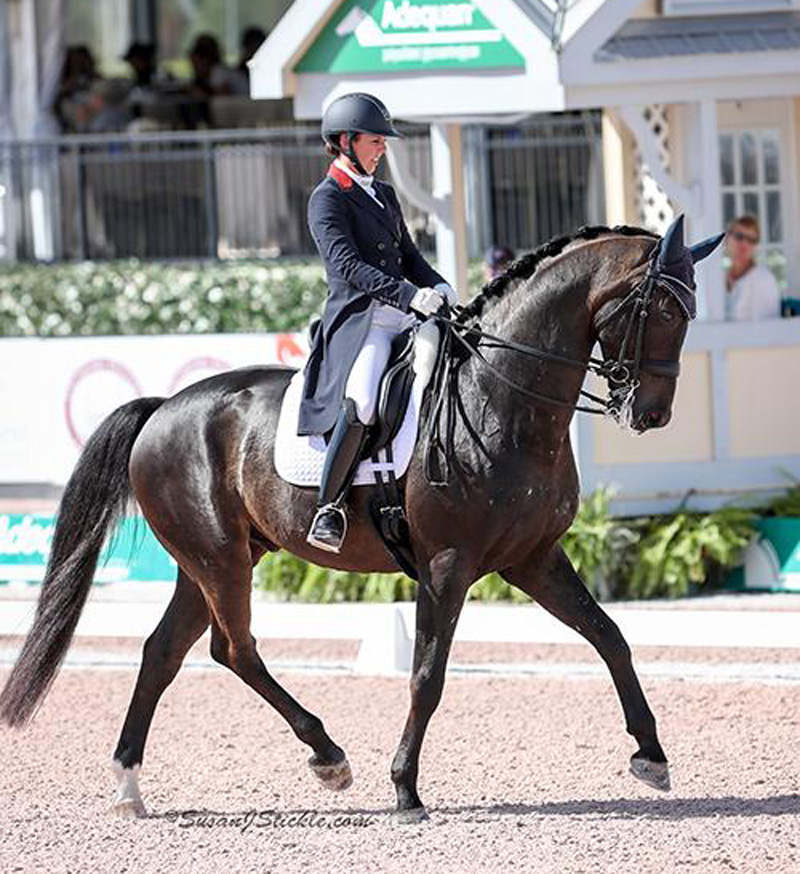 , a 14-year-old Danish Warmblood gelding (Diamond Hit x La Costa x Olympic Ferro) owned by Diane Perry, came in third (73.20%).
"I feel like it's all still changing, and it's going to change a lot because this is only his second year," said Perry-Glass, of her progress with Dublet. "Two weeks ago, I felt like I was coming out and he was a little bit more amped to be in there. This week we finally found that relaxation in the ring, to where we can eventually add more power and consistency to it."
Final Results: FEI Grand Prix CDI-W, presented by The Axel Johnson Group
Place, Rider, Nationality, Horse, Horse Information: Judge E%, Judge H%, Judge C%, Judge M%, Judge B%, Total %
Laura Graves (USA), Verdades, 2002 Dutch Warmblood gelding by Florett AS x Liwilarda, owned by Laura Graves: 79.400%, 79.800%, 83.700%, 82.400%, 75.900%, 80.240%
Steffen Peters (USA), Rosamunde, 2007 Rhinelander mare by Rock Forever x First Lady, owned by Four Winds Farm: 75.600%, 76.000%, 75.700%, 74.600%, 72.200%, 74.820%
Kasey Perry-Glass (USA), Goerklintgaards Dublet, 2003 Danish Warmblood gelding by Diamond Hit x La Costa x Olympic Ferro, owned by Diane Perry: 76.300%, 71.200%, 72.900%, 71.700%, 73.900%, 73.200%
Tinne Vilhelmson Silfven (SWE), Paridon Magi, 2003 Swedish Warmblood gelding by Don Primero x Napoli x Napoleon 625, owned by Lövsta Stuteri: 72.900%, 74.300%, 72.500%, 72.900%, 73.300%, 73.180%
Dawn White-O'Connor (USA), Legolas 92, 2002 Westfalen gelding by Laomedon x Furstin x Florestan II, owned by Four Winds Farm: 75.300%, 71.400%, 71.200%, 72.100%, 72.800%, 72.560%
Charlotte Jorst (USA), Kastel's Nintendo, 2003 KWPN stallion by Negro x Rodieni R x Monaco, owned by Kastel Denmark: 70.200%, 72.500%, 72.800%, 71.000%, 70.200%, 71.340%
Shelly Francis (USA), Doktor, 2003 Oldenburg gelding by Diamond Hit x Gurena x Renoir I, owned by Patricia Stempel: 69.200%, 72.800%, 70.700%, 72.500%, 69.600%, 70.960%
Jan Ebeling (USA), FRH Rassolini, 2003 Hanoverian stallion by Rubioso N x Sweetheart, owned by Vantage Equestrian Group: 67.900%, 71.300%, 67.200%, 69.000%, 70.200%, 69.120%