Wellington, Fla.—Feb. 24  
Laura Graves and Verdades were victorious in their third "Friday Night Stars" of the season in the FEI Grand Prix Freestyle CDI-W, presented by The Axel Johnson Group during the seventh week of competition at the Adequan® Global Dressage Festival.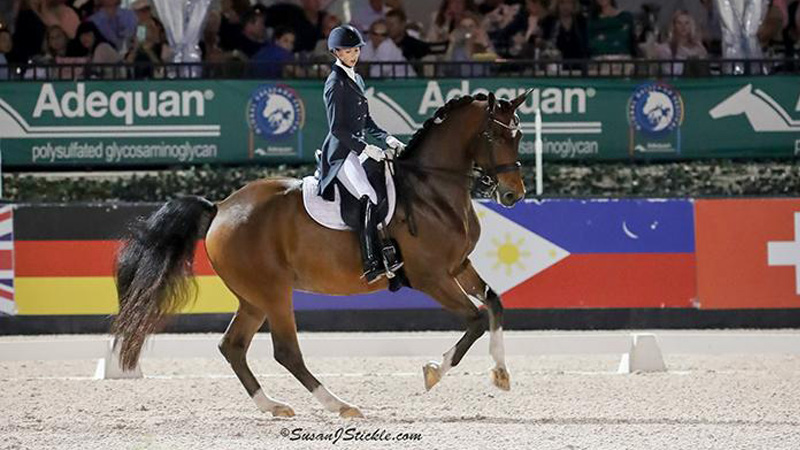 Graves and Verdadestook charge in the Global Arena this week, coming out on the top of the leaderboard in the Grand Prix and again in the CDI-W Grand Prix freestyle with a winning score of 81.90 percent.
"Tonight he was hot, maybe hotter than he's been the past two shows, so that was a bit challenging, and we have yet to ride a completely clean freestyle this year," said Graves. "That's definitely a focus going into March, but this horse does a fantastic job even when he's hot and maybe a little spooky. He never lets me down, and he gets really excited when he's about to go in. He knows when it's his turn, and I love that about him."
This is Graves' and Verdades' fifth score in a row of 80 percent or higher in FEI Grand Prix competition.
Placing second and third to Graves in the FEI Grand Prix freestyle CDI-W were her 2016 Olympic teammates and bronze medalists, Kasey Perry-Glass and Steffen Peters.
Graves commented on her relationship with her teammates, "It's so fun to have everyone back together and [to see] friendly faces. We are all so competitive; we're all out there riding for two spots for the FEI World Cup [Finals]. It doesn't affect our relationships outside of that. It's amazing to have friends that can compete against each other and want the best for each other. I just wish Steffen didn't live in California."
Perry-Glass and Goerklintgaards Dublet placed second with a 79.54 percent.
Perry-Glass commented on her ride with Dublet, "I was expecting a little bit of a nervous horse today. Debbie McDonald and I have been working tirelessly on his relaxation, and he proved it tonight. All of our hard work and dedication [is] to that, to his happiness in the ring. He showed me tonight that he has more in him and that he loves his job. I really liked our piaffe passage tour. Everything about the test was fun for me."
Peters rode Rosamunde to third place (78.73%).
"Of course she still had more energy than I was hoping for, but it was controllable," said Peters. "The flying changes were better this time. [There was] a bit of an exuberant transition to the canter in the beginning, but what a good girl. She tried extremely hard."
Commenting on the possibility of a competition spot for the 2017 FEI World Cup Finals in Omaha, Neb., Peters continued, "We will see what happens from here. The bottom line is, those are two extremely exciting World Cup candidates. If we happen to get a wild card, in that case, 'Rosie' and I will be ready."
Judge at C, Isabel Wessels of Great Britain, spoke in regard to the rides she witnessed throughout the night.
"It was a really exciting competition to judge," said Wessels. "I have to say, it was the first time I've done this new system, so it was nerve-wracking. I was blown away by the energy and scope of these three riders. They're obviously good riders, but they have amazing horses. It's just so lovely to sit there and think, 'Oh should I give it a 9 or maybe a 10.' It's that type of judging where you can really find the high marks."