There's not much Hope Glynn hasn't done in the hunter divisions, but on April 21, she got to chalk up a new experience—winning a big-money, prestigious hunter classic under the lights in California.
The excitement of the WCHR Hunter Spectacular, held for 17 years in Wellington, Fla., traveled west this year as well. The Flintridge Spring Classic (see results) in La Canada Flintridge, Calif., hosted the $30,000 WCHR West Coast Hunter Classic Spectacular. "I had a lot of excitement about the class because we've never had a championship hunter classic, we've done several USHJA Derbies here now and so I've gotten to jump in some night classes, but rarely have we ever had a hunter classic where we actually get to jump under the lights." Glynn said.
Glynn admitted that she might have been a bit nervous before the class because riders on the West Coast don't get the opportunity to compete under lights often. But she put that aside to ride Sabrina Hellman's Woodstock to an incredible narrow victory over Christa Endicott on Fabricio—just .25 points separated the two in the final scoring.
Endicott and Fabricio actually ended with the same score as third-placed Jenny Karazissis on Victory Road, with the final placings decided by the allotted tie-break judging panel's score. The class also saw top West Coast rider John French return to the ring with panache after suffering a broken ankle during the HITS Desert Circuit (Calif.) this winter. French placed fifth on Quinnus.
In the $25,000 1.40-meter Grand Prix at Flintridge, Susan Artes rode Zamiro to the top over Susie Hutchison who placed second and third on SIG Zuleika and SIG Excel.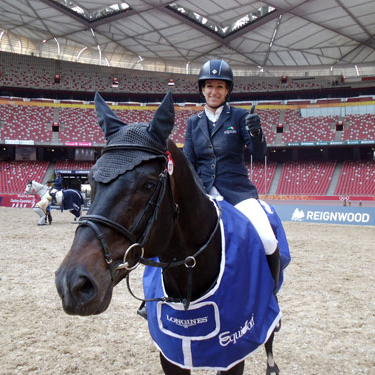 Laura Kraut rode a borrowed horse to
the top of the Longines Beijing Masters
Grand Prix in the famed Bird's Nest
Stadium in China.
Photo courtesy of Longines
U.S. grand prix rider Laura Kraut traveled all the way to China for the Longines Beijing Masters Grand Prix, held in the famous Bird's Nest stadium that hosted 2008 Olympic Games events, and ended up winning on a borrowed mount, U-Prova. She was the only American representative at the show, though many top European riders traveled there as well.
In Aiken, S.C., at the Aiken Spring Classic, junior rider Victoria Press scored a big win on her Mayfair in the $15,000 USHJA International Hunter Derby over Julie Curtain on Patrick and Liza Boyd on Fieona. Harold Chopping topped the $25,000 Aiken Spring Classic Grand Prix on Calando Z over Daniel Geitner on Jumbo Jet. (see results)
Elizabeth Gringas rode Floreen SFN to the top of the $40,000 HITS Grand Prix at the HITS Constitution Classic in Culpeper, Va., (see results) over Callan Solem and VDL Torlando.
Back on the East Coast, Will Coleman moved up from second to first in Obos O'Reilly with a quick cross-country round in the CIC*** at the Fair Hill April Horse Trials (Md.) (see results). Coleman commented on his Twitter feed "This madman was a beast across the country today," after his round.
Sharon White topped the CIC** on Don Sheffield, while Amy Ruth Borun rode to the CIC* win on Casarino.
Other events taking place over the weekend included the Holly Hill Spring Horse Trials (La.) (see results), Longleaf Horse Trials (N.C.) (see results), River Glen Spring Horse Trials (Tenn.) (see results), and Redland Hunt Pony Club Horse Trials (Md.) (see results).
Across the Atlantic, Steffen Peters competed Legolas 92 in Germany at the Hagen CDI and placed a nail-bitingly close second place in the Grand Prix freestyle to Andreas Helgstrand of Denmark on Akeem Foldager—just fractions of a percentage point separated them (see results). Peters and Legolas were also second to Helgstrand in the Grand Prix (see results). In the Hagen show jumping, British rider John Whitaker rode Argento 11, a son of the famous Nick Skelton ride Arko, to the top of the grand prix over Meredith Michaels-Beerbaum.
Hunter/jumper fans will recognize the hero of Auburn University's victory in the National Collegiate Equestrian Association National Championships in Waco, Texas. Top junior riders Elizabeth Benson and Jennifer Waxman clinched wins to help Auburn claim the Hunter Seat championship, forcing a ride-off for the overall championship with the University of Georgia. In the ride-off, Benson and Carly Anthony scored big wins to help clinch the title.
Other horse shows taking place over the weekend included: Brownland Farm Spring (Tenn.) (see results), Spring National Jumper (Wash.) (see results), GO Tulsa Spring (Okla.) (see results), Princeton Show Jumping Spring Classic (N.J.) (see results) and RMI Mid-Florida (Fla.) (see results).