A few of the Land Rover U.S. Eventing Team horses and riders may have had some challenges to face in recent months, but as eventers, they've toughed it out and earned their spots on the World Games team, making it one of the strongest ever.
Lynn Symansky's Donner had a light spring due to a slight filling in his ankle, only to come out in May and have an unusual fall on cross-country, studding Symansky in the process and causing her to miss several weeks of riding due to torn muscles.
Buck Davidson's Ballynoe Castle RM suffered a bout of pneumonia this spring but rebounded with a great finish at the Rolex Kentucky CCI****, while Boyd Martin had a fall from an advanced horse and broke his leg, but persevered to impress the selectors with a four-star finish on his new ride Shamwari 4.
Veteran team rider Phillip Dutton didn't have it much easier, as his top ride Mr. Medicott aggravated an old tendon injury, and in an unusual twist, he picked up the ride on Martin's Trading Aces.
Rounding out the U.S. contingent are Sinead Halpin, a first-time U.S. representative but an experienced four-star competitor with Manoir de Carneville, and one of the most decorated U.S. riders of all time, Kim Severson, with Fernhill Fearless.
The selectors had an unusually deep pool of strong combinations to choose from this World Games cycle, thanks in part to Chef d'Equipe David O'Connor, who's making his championship debut in his new job.
On Aug. 25, the U.S. Equestrian Federation announced that the team for the World Games would be Davidson, Dutton, Martin and Symansky, while Halpin and Severson will compete as individuals.
The buzz from riders has been nothing but positive all year as they prepare to battle it out for a place on the podium. "The perfect blend of humor, talent and drive has brought this team together and makes me honored to be included in the mix," Halpin said in one of her blogs for the Chronicle.
TEAM MEMBER
Ballynoe Castle RM: B. g., 14 years, Irish-bred Irish Sport Horse (Ramiro B—Ballyvaldon Natalie, Blue Laser), owned by Carl and Cassandra Segal.
Buck Davidson: Age 38, Ocala, Fla.
As one of the longest-running partnerships on the team this year, Buck and "Reggie" go together like peas and carrots. They've completed six four-stars together, including the Land Rover Burghley Horse Trials (England) and the Mitsubishi Motors Badminton Horse Trials (England). They completed the Rolex Kentucky CCI**** three times, finishing 15th in their first try in 2009, fourth in 2013 and third this year.
Reggie also has the honor of being the only horse to represent the United States at a team championship prior to this year's World Games, finishing 42nd at the 2010 Alltech FEI World Equestrian Games (Ky.). They were also alternates for the 2008 Olympic Games (Hong Kong).
Reggie's cross-country record is nearly flawless in three-days, with just two stops since his first FEI-level event in 2006 (at the 2010 World Games and the 2011 Galway Downs CCI*** [Calif.]). He's also a fast horse, making the time at his last two Rolex starts and picking up just a handful of time penalties in previous four-stars.
His average dressage score is a 49.7 at the four-star level, and he's had a total of four rails down in all of his four-star completions.
"He's done everything I've asked, every time, with all the pressure in the world on him," said Davidson after his third place finish at Rolex in the May 12, 2014, issue of the Chronicle. "Over time, he's just been a friend who's hung in there the longest. He's always just doing the right thing. The two of us have been through so much together, and it's just such a cool bond."
Did You Know?
• Reggie underwent wind surgery in 2012, and according to Davidson, he came back stronger than ever. But last year he sustained a bone bruise while getting up in his stall, resulting in him sitting out the fall season. Then this spring, he had a bout of pneumonia, but he recovered well for Rolex.
• Davidson is currently ranked No. 3 in the world on the FEI Rider Rankings.
• Davidson always wears a pair of lucky socks—in his traditional yellow and red colors that he inherited from his father Bruce—for the horse inspections at CCIs.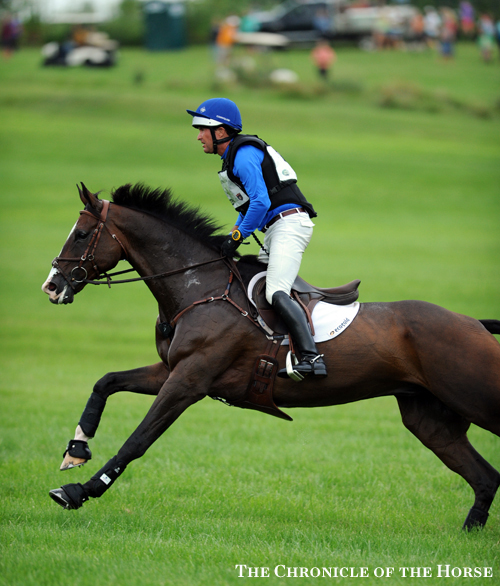 TEAM MEMBER
Trading Aces: B. g., 10 years, Irish-bred Irish Sport Horse (Coevers Diamond Boy—Ballyvannon Beauty VII, Leaburg), owned by Trading Aces LLC.
Phillip Dutton: Age 50, West Grove, Pa.
Trading Aces, or "Oscar", competed to the advanced level with Kylie Dermody (née Lyman) and won the Dansko Fair Hill International CCI** in 2011. Soon after, Dermody moved to Ireland and sold the gelding to Boyd Martin.
The pair made fast friends in their first season together in 2012, finishing second in the Land Rover Bromont CCI*** (Quebec). They made their four-star debut at Rolex in 2013, but Oscar ran out of steam near the end of the cross-country course, and Martin pulled up.
They came back strong that August, winning the Richland Park CIC*** (Mich.), and went on to represent the United States at the Boekelo CCIO*** (the Netherlands), where they finished 28th.
This spring they won the Red Hills CIC*** (Fla.) and were aiming for Rolex again when Martin broke his leg in a fall from another horse at the Cloud 11-Gavilan North Carolina International (N.C.).
Determined to let Oscar have a chance at a four-star completion, Martin asked his mentor and friend, Phillip Dutton, to take over the ride.
With Dutton, Oscar won the advanced at The Fork (N.C.) in April and went on to finish eighth at Rolex, scoring a 52.5 in dressage, jumping double clear on cross-country and adding a rail and one time fault in show jumping.
After Rolex, Martin announced that he and Oscar's owners decided to offer the ride on him to Dutton for the World Games should he need another mount, since Dutton's top ride Mr. Medicott aggravated an old tendon injury and needed time to heal.
While Dutton had qualified with Mighty Nice, in a somewhat surprising decision, selectors placed him on the team with Oscar and as a reserve with Mighty Nice.
"We've been through good times and bad times; we've been on teams together for the [World Games] and the Olympic Games, and we've also been together through tragedy with the barn fire," said Martin. "All that aside, I think Phillip's a brilliant rider. I wouldn't do this for any old rider. I think he's one of the best riders in the world, and to this day I'm still learning stuff off him. When I think back on all the wonderful things that Phillip's done for me—I think I was lucky enough to meet him—this would be one thing that I could repay him with."
Did You Know?
• Martin made a concerted effort to work on Oscar's fitness after his cross-country retirement at Rolex in 2013. He found out that the gelding suffered from anhydrosis, so now he gets a can of Miller beer in his feed every morning.
• Oscar only has one cross-country penalty to his name on his FEI record, and his average dressage score at the three-star level is 48.3. He's never had more than one rail down in show jumping at that level.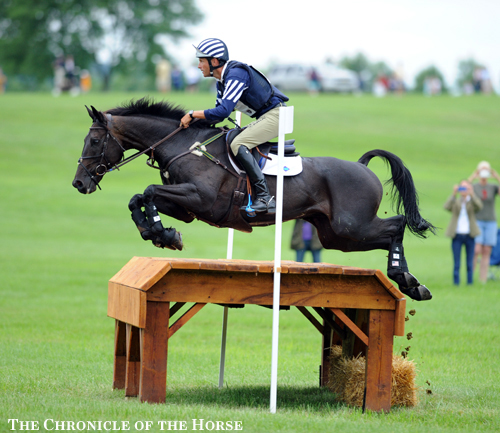 TEAM MEMBER
Shamwari 4: B. g., 12 years, German-bred Hanoverian (Star Regent XX—Donnice, Der Clou), bred by Gita Zuhlsdorf, owned by the Shamwari 4 Syndicate LLC.
Boyd Martin: Age 35, Cochranville, Pa.
Martin's partnership with Shamwari 4 started this winter when he put together a syndicate to buy the gelding from Swedish rider Ludwig Svennerstal, who placed 20th with him at the 2012 London Olympic Games.
Svennerstal finished 10th in the European Eventing Championships (Sweden) last year, and the pair earned their best three-star dressage score, a 37.6. They were eliminated in their first four-star attempt at Pau (France) when Svennerstal fell on cross-country. Until that point, Shamwari hadn't had a cross-country penalty in an FEI competition since the 2011 CCI*** at Boekelo (the Netherlands).
Martin competed in a few horse trials this spring before he broke his leg, after which he asked Dutton to step in.
At The Fork (N.C.), Dutton led the dressage in the CIC*** but went off course in show jumping and was eliminated. He rallied and finished third with Shamwari at the Fair Hill CIC*** (Md.) in April and third in the CIC*** at Jersey Fresh (N.J.), before Martin was finally able to ride again.
As a last minute decision, Martin headed to Germany to compete in the Luhmühlen CCI**** to prove to the selectors that he and Shamwari would be a good bet for the team, and he impressed, finishing third with a 47.8 in dressage and 1 time fault in show jumping.
The pair led the dressage and show jumping at the final preparatory event at Great Meadow (Va.) in July, and Martin is looking forward to the World Games.
"As in every championship I've gone to, I feel like no stone's been left unturned in the preparation," he told the Chronicle in the August 18 issue. "I feel like the hard work's been done, and now it's time to execute the performance."
Shamwari is known for his businesslike attitude in all phases and Martin said he tends to light up as the jumps get bigger.
Did You Know?
• "Shamwari" means "my friend" in Shona, the language of the native people of Zimbabwe and southern Zambia.
• Martin, a native of Australia, became a U.S. citizen in 2009. He's competed to the four-star level on numerous horses, including Neville Bardos, who captured national media attention after he survived a horrific barn fire at Dutton's True Prospect Farm in 2011. Martin represented the United States at the 2010 Alltech FEI World Equestrian Games (Ky.) on Neville Bardos, where they finished 10th individually. He competed Otis Barbotiere at the 2012 London Olympics but withdrew after cross-country.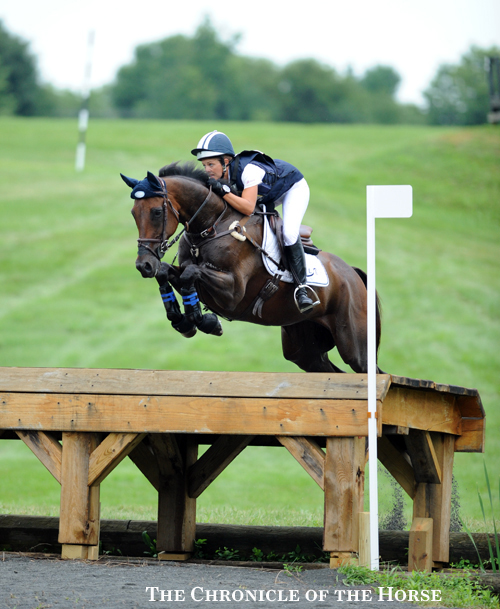 TEAM MEMBER
Donner: B. g., 11-years, U.S.-bred Thoroughbred (Gorky Park—Smart Jane, Smarten), bred by Wilson Securities Corp, owned by the rider.
Lynn Symansky: Age 31, Middleburg, Va.
Donner was bred and raised just a mile down the road from Symansky's Handlen Farm. She bought him as a 5-year-old and brought him up from the novice level.
They represented the U.S. at the 2011 Pan American Games (Mexico), where they finished 22nd individually on their dressage score.
In 2013, they won The Fork CIC*** (N.C.) on their way to their first four-star at Rolex, where they finished fifth, even with Symansky riding with a broken finger and her hand bound up into a "claw".
Last year, they also completed the Pau CCI**** (France) in 13th place.
Donner had a light spring this year due to a slight filling in a hind ankle over the winter, and they came out at the Jersey Fresh CIC*** (N.J.) hoping to impress selectors and show they hadn't lost form.
Unfortunately, they pair fell at the water jump and Symansky was studded in the process, tearing multiple muscles in her leg.
But they rebounded at the Jaguar Land Rover Bromont CIC*** (Quebec) to take the win and earn their place on the team.
"I thought Donner had a good shot, but I didn't know if our spotty spring would have marred that for him," she said in her Road To The World Games feature in the August 18 issue of the Chronicle. "I was really honored. It was such a good group of people they had to choose from; it's hard to choose just those six."
Donner can be a bit spooky in the dressage and show jumping, but he held it all together at the World Games prep event at Great Meadow (Va.), which Symansky considered a turning point.
Did You Know?
• Donner is one of two U.S.-bred eventers at the World Games (Canada's Hawley Bennett-Awad rides the other, Gin N' Juice).
• Donner is known as "the deer" to those in his circle because of his spookiness, lightness on his feet and speed across country.
• In Donner's two four-star completions, he's earned a 54.8 and 53.3 in dressage. He jumped double clear in both on cross-country, show jumped clear at Rolex and picked up two rails at Pau.
• Symansky blogs for the Chronicle—you can read all her entries here.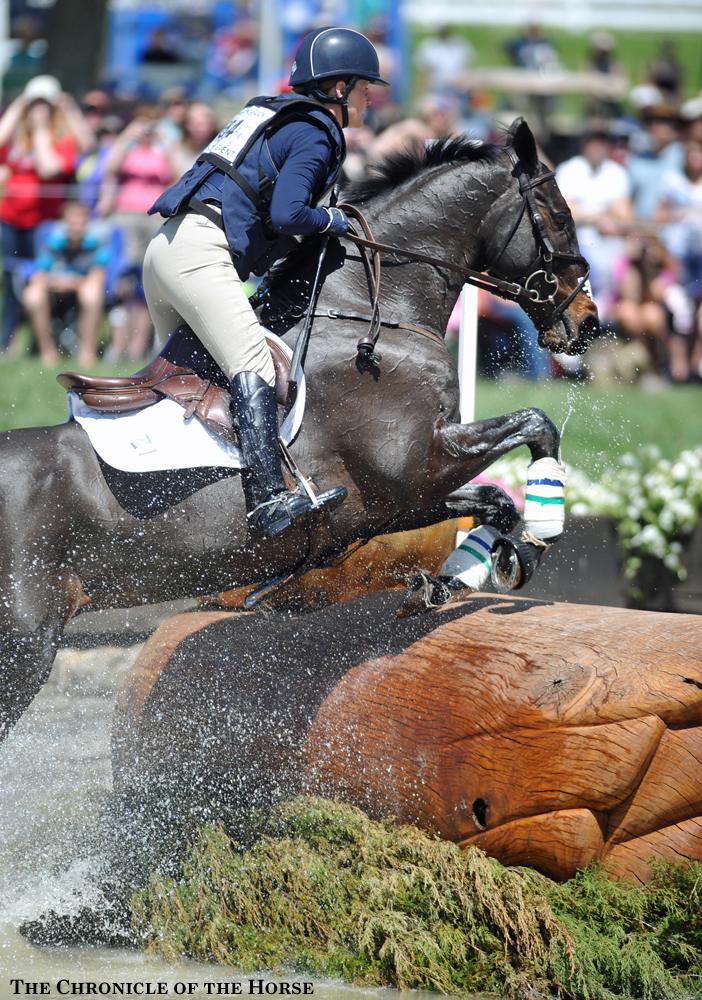 COMPETING AS INDIVIDUAL
Fernhill Fearless: B. g., 14 years, Irish-bred Irish Sport Horse by Mark Twain, owned by Kim Severson.
Kim Severson: Age 41, Charlottesville Va.
Kim Severson brings her veteran championship experience to the team this year. A three-time Rolex winner aboard Winsome Adante (2002, 2004, 2005), Severson represented the United States at the 2002 World Games (Spain), the 2004 Olympic Games (Greece) and the 2006 World Games (Germany) with the gelding.
She had another strong four-star partner in Tipperary Liadhnan, who completed Rolex three times.
Severson first met Fernhill Fearless, aka "Sparky", when she coached her student, Thai eventer Nina Ligon, on him as Ligon prepared for the 2012 London Olympic Games with several mounts.
Ligon bought the gelding from Hayden Robert Hanket of Great Britain, who competed him to the three-star level. After Ligon went to the Olympics on Butts Leon, she sold her horses and headed off to college. In 2013, she gave Sparky to Severson to ride after he recovered from an injury.
With only a few events under their belts together, Severson and Sparky finished fifth in the Dutta Corp Fair Hill International CCI*** (Md.) last year and finished Rolex this spring in 11th place, sealing their spot on the U.S. squad.
Severson, a former selector herself, was without a top horse after Tipperary Liadhnan was sold to a lower level home, so she's thrilled to have another upper level mount.
"He's so smart, he knows what he's doing, and I know what I'm doing, and it's hard to bring the two together," Severson told the Chronicle in the April 21 & 28 issue. "It's really like having another person to deal with. He's taken care of himself his whole life. He was ridden by an amateur before he was Nina's first advanced horse, and then he took care of Nina. He's really never had someone ride him who had a real opinion, so he's just like, 'Just let me do it!' especially on cross-country."
Did You Know?
• Severson, known for her dressage skills, has been able to coax solid tests out of Sparky, who isn't known for big movement on the flat. Their average three-star score is 52.28. At Rolex, they scored a 55.7 in dressage, jumped double clear and dropped one rail.
• Sparky lives outdoors 24/7 at Severson's farm.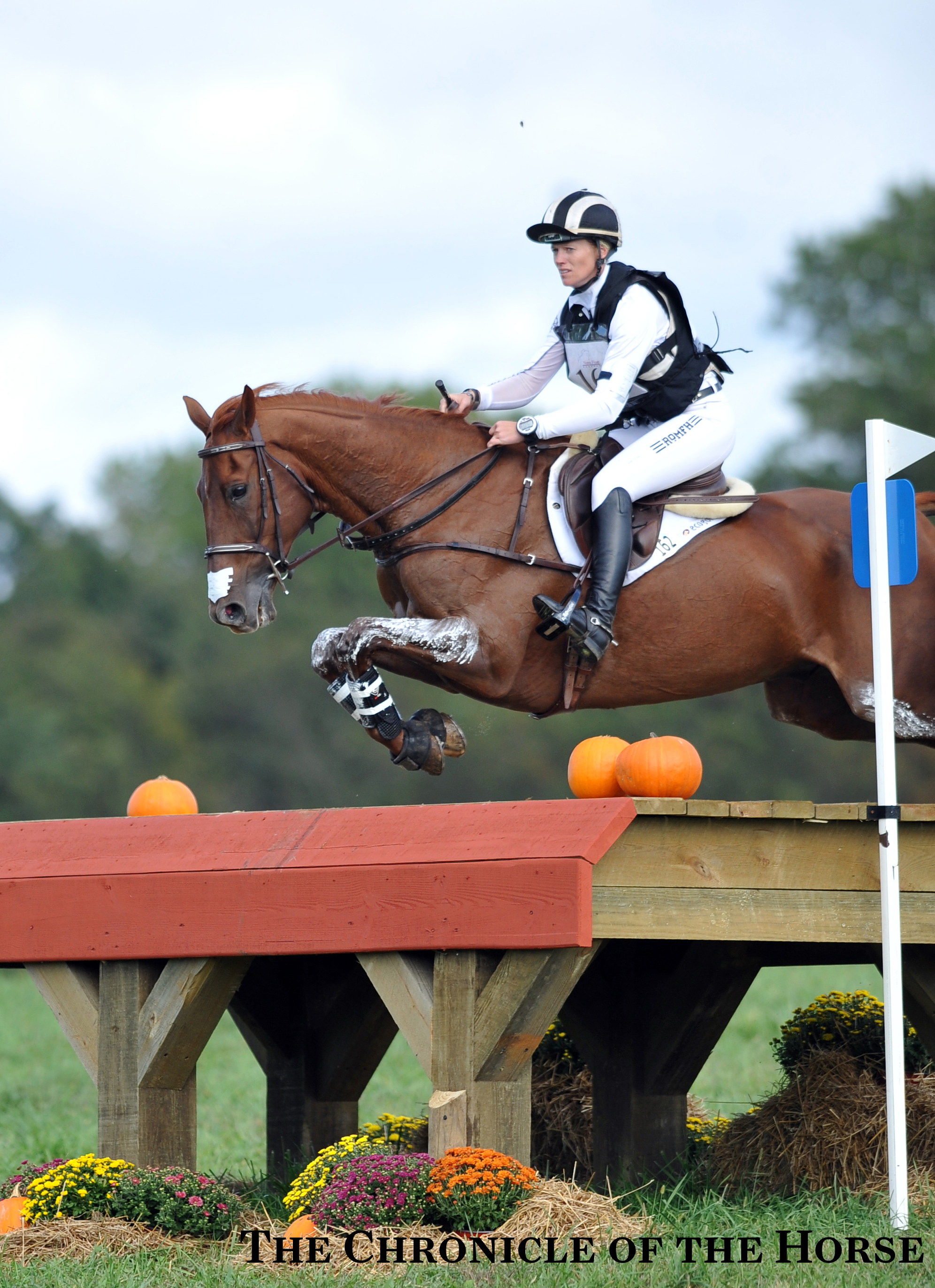 COMPETING AS AN INDIVIDUAL
Manoir de Carneville: Ch. g., 14 years, French-bred Selle Français (Gaub—Carneville, Matador Du Bois), bred by M. Andre Le Goupil, owned by the Manoir De Carneville Syndicate.
Sinead Halpin: Age 32, Oldwick, N.J.
Sinead Halpin came across "Tate" while she was working for William Fox-Pitt in 2007. He'd competed to the two-star level with Guillaume Le Goupil of France. After cutting his hind extensor tendon in a kicking fit at Fox-Pitt's, Tate came back into work and started competing in the United States in 2008.
In their four-star debut at Rolex in 2011, they finished third and went on to finish 15th at Burghley the same year.
After disappointingly being left off the 2012 Olympic team, Halpin rerouted to Burghley and finished third after leading the dressage and dropping three rails.
They competed lightly last year and finished fourth at Rolex this spring.
"The last few years have been such a transition period for us," said Halpin in her Chronicle blog. "We learned some hard truths about what it really means to be professionals, and the pressure of expectation. But we did it together and with every low we came out stronger and better, together."
Did You Know?
• Halpin and her groom, Megan Kepferle, both blog for the Chronicle's website with insight into behind the scenes as they prepare and compete. You can read Halpin's entries here and Kepferle's here.
• Halpin affectionately refers to Tate as a French princess because of his picky personality. He kicks his stall, so he needs stall pads, and he goes in a rubber nathe bit for dressage. He also has allergies, so Halpin steams his hay and he uses a saline nebulizer before competing.
• Halpin and Tate have only had one cross-country jumping penalty in their FEI career when Halpin fell at last year's Dutta Corp Fair Hill International CCI*** (Md.). They've completed four four-stars together. Their average dressage score at the level is 45.6 and they've show jumped clear twice. On cross-country, the pair has made time twice at a four-star and picked up fewer than 5 time penalties in their other starts.
Make sure to follow all the eventing action—and all the other disciplines too!—at www.chronofhorse.com. We have a dedicated page for World Games eventing coverage and coverage of all the other disciplines, too.