In August, U.S. Chef d'Equipe Robert Ridland joked that he wished he could send two teams to the Alltech FEI World Equestrian Games, because he was so thrilled with how each of the riders on the 10-name short list had performed.
"I will be so bold as to say that I could make two teams of five riders from our short list and be competitive with both in Normandy. We're in a wonderful situation. Of course it made team selection a little more difficult, but that's a great problem to have," Ridland said in an interview with the Chronicle after the Hermès U.S. Show Jumping Team for the Alltech FEI World Equestrian Games was named on Aug. 13.
The Hermès U.S. Show Jumping Team heads to Normandy bolstered by some pretty spectacular results in their preparation. U.S. teams made up of short-listed riders won Furusiyya FEI Nations Cups at Dublin (Ireland) and Hickstead (Ireland) in early August, as well as placing second in the Mercedes Benz Nations Cup at the famed Aachen (Germany) in July.
"I caution myself all the time—it's really easy to get too high with your successes and too low with your failures. I want to make sure we do keep the proper perspective," Ridland said. "We know in our sport how things can change from day to day. But I do believe that the depth that we have is strong and our future looks very good."
Ridland has made a priority of combining veteran stars with new talent on Nations Cups teams in an effort to cultivate the up-and-coming talent and create depth, and his World Games team shows that. From the short list of 10 riders named in April, Ridland and the U.S. Equestrian Federation selectors chose five after watching the various Nations Cup observation events this summer.
The anchors will be the dynamic duo of McLain Ward and Beezie Madden, who ever since the glory days of Sapphire and Authentic's two Olympic gold team medals have been the rocks around which the U.S. team has been built. Rising star Lucy Davis joins them at just 21 years of age, and Kent Farrington makes his major international championship debut at age 33.
There was some drama in the lead-up to the World Games, as the original traveling reserve, Margie Engle, broke her collarbone in August and decided it was in her best interests to remove herself from the reserve spot. Charlie Jayne and Chill R Z, who were also the traveling reserves for the 2012 London Olympic Games, stepped up to that role again. And in August, Davis cut her hand badly, but she's back in action and ready to compete in Normandy.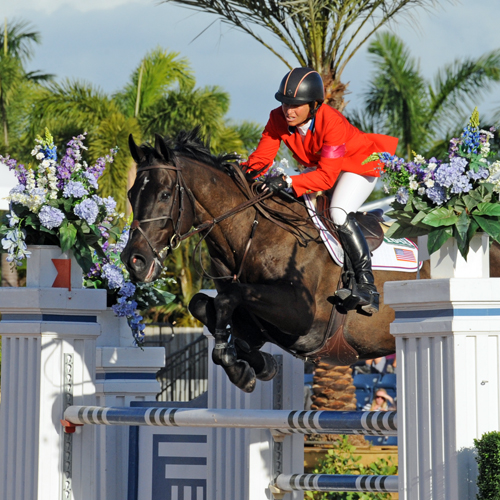 Cortes 'C': Br. G., 12 years, Belgian-bred Belgian Warmblood (Randel Z—Orchidee van de Tombeele, Darco, bred by Bart Clement, owned by Abigail Wexner.
Beezie Madden: Age 50, Cazenovia, N.Y.
It's hard to imagine a U.S. team without the soft-spoken, quiet, but tough as nails Beezie on it. She's been an essential part of U.S. show jumping's international efforts for more than a decade. And she's got two high-powered and capable mounts in Simon, her 2012 Rolex FEI World Cup Finals winner, and Cortes 'C'.
But in May, things got dicey. While competing at the Old Salem Horse Show (N.Y.), Beezie broke her collarbonewhen a young grand prix horses misjudged the water jump. She underwent surgery on May 20 to repair it, and was back riding by the end of June.
And at her first five-star show back, Hickstead, she pretty much said "I haven't missed a beat. Put me on the team." With Cortes 'C', she not only jumped two clean rounds to anchor the U.S. team's Furusiyya FEI Nations Cup victory, but she also won the Longines King George V Gold Cup Grand Prix.
The next week, she and Simon helped the U.S. team win the Furusiyya FEI Nations Cup in Dublin, and she was named to the team with both of Abigail Wexner's horses. But when the team jogged in Normandy on Aug. 31, it was Cortes 'C' trotting up, so he'll be Beezie's ride.
Cortes 'C' has massive scope and can be a very fast horse across the ground. He hasn't jumped on a championship team yet, but he's shown he can be counted on for clean round after clean round in many Nations Cups, and he's won big grand prix classes like the Global Champions Tour grand prix classes at Chantilly (France) and Valkenswaard.
Did You Know?
• Cortes 'C' jumps with his front legs crossed over almost every fence. It doesn't slow him down, and he always sorts them out before landing, though!
• Authentic, Beezie's mount for Olympic team gold in 2004, team gold and individual bronze at the 2008 Olympic Games in Hong Kong, and team and individual silver at the 2006 World Equestrian Games, is living a very happy retirement at their farm in Cazenovia, N.Y.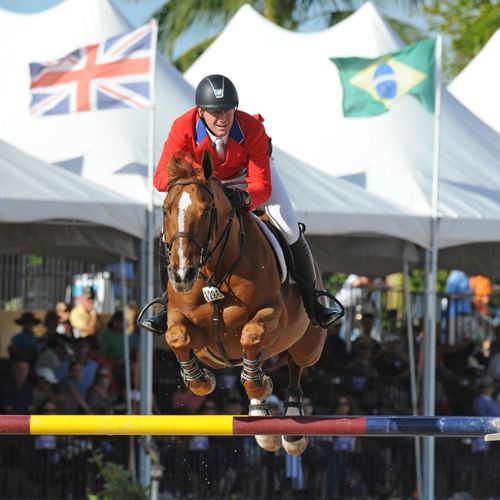 Rothchild: Ch. G., 13 years, Belgian-bred warmblood (Artos—Pitchounette du Bostquetiau, Elegant l'Ile), bred by Arnoud Dobber, owned by Sagamore Farm.
McLain Ward: Age 39, Brewster, N.Y.
Together with Beezie, McLain has been a pillar of U.S. show jumping teams since the 2004 Athens Olympic Games. He has nerves of steel, and knows how to put in a clean round when it counts. McLain made it to the 2012 London Olympic Games after a horrific break of his kneecap and leg in January of that year, but this year he's had smooth sailing in preparation.
Rothchild has been the little horse overcoming the odds for quite a long time. He's certainly unconventional in his style—he's not going to win any beauty pageants with his pinned ears, swishing tail and not-perfect knees. But he has a heart of pure gold, and he tries so amazingly hard for McLain. If there's any way "Bongo" can jump a clean round, he will. He's that determined.
In a Facebook post on Aug. 30, McLain commented on how fitting it was for he and Bongo to arrive in Normandy on that date, his late father, Barney's birthday.
"My dad always believed in Bongo in the special way only he could do. He worked with him, trained him and is the reason he has become the horse he is today," McLain wrote. "A few years ago I would never imagined we would be here on the eve of the WEG with Bongo and having the feeling we are right were we belong but like my father, Bongo has a way of beating the odds, disregarding the naysayers including myself and showing how great he is. I miss my dad everyday and realize more and more with time how much he gave me, taught me, and loved me. I think if he's looking down this would be a very proud moment for him, not just that Bongo made it to the WEG but also because I learned to be open minded enough to believe and see what is possible with faith in a little horse with a big heart.
"Of course our goals for this week are set high but no matter the result I feel proud to be part of this story and this horse. I respect him more than any horse I have ever ridden, thanks Dad."
Did You Know?
• Rothchild's ears-pinned, knees-below-the-horizontal jumping style is exactly the same as his sire's. Artos competed at grand prix in the United States with McLain's friend Mark Leone, but then returned to Europe for stud duties.
• McLain didn't want to buy Rothchild when he first tried him at Francois Mathy's farm. He was turned off by the cheeky little gelding's jumping style. But his father, Barney, liked the little horse and bought him as McLain was in the air flying home. Rothchild's been proving Barney's point ever since.
• Rothchild was the Chronicle's 2013 Show Jumping Horse of the Year.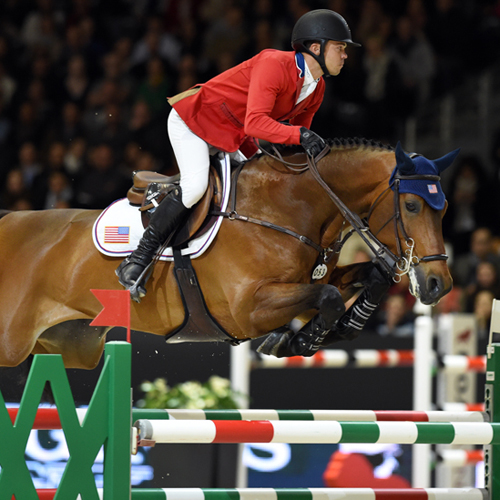 Voyeur: B. g., 12 years, Dutch-bred Dutch Warmblood (Tolano van't Riethof—Loma, Goodwill), bred by GCJ van Kooten, owned by Amalaya Investments.
Kent Farrington: Age 33, Wellington, Fla.
Kent has focused on building a strong string of horses, and as this year rolled around, those efforts came to fruition. He has Voyeur, Willow, Blue Angel and Ucecko all performing at the top of their game and winning all over the world. But it's Voyeur, the hot little bay who won the $210,00 ATCO Power Queen Elizabeth Cup at Spruce Meadows and placed second in the Rolex Grand Prix of Aachen in July, who got the call for Normandy.
Voyeur is a blazingly fast horse—he won the second leg of the Longines FEI World Cup Finals with a jump-off round that astounded everyone. But then Kent, who is an incredibly clever strategist with his horses' schedules, withdrew Voyeur from the third leg of the Finals, because he wasn't in contention overall because of a rail the first day.
Kent is a thinker, and a horseman dedicated to putting each horse exactly where he needs to be to succeed. If he thinks Voyeur is ready to shine in Normandy, he's probably right on the money. Look for them to be right near the top in the speed leg the first day, but Voyeur can also jump clean rounds over the big courses after that, too.
Did You Know?
• Farrington's pony-riding days includes a little bit of pony racing and eventing in his youth, before he settled down in the show ring. When he was 17, he took on a working student role with Andre Dignelli and won the 1998 Pessoa/USEF Medal Final.
• Kent never even tried Voyeur—he trusted the word of his European dealer Javier Salvador and bought him.
• Voyeur goes in a hackamore/snaffle combination. His rideability has always been a bit of an issue, and Kent finds the unusual bitting arrangement works best for brakes and turning.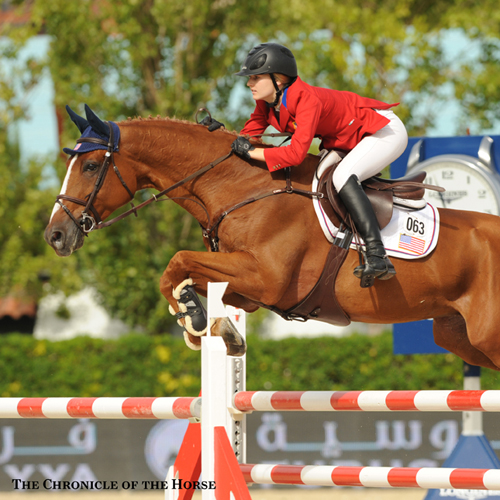 Barron: Ch. G., 10 years, Belgian-bred Belgian Warmblood (For Pleasure—Vita van het Riethof, Nabab de Reve), bred by Marc Devos, owned by Old Oak Farm.
Lucy Davis: Age 21, Berlin, Germany.
Lucy is the youngest on the team, but she's fast making a name for herself on the international scene. She had a breakout year in 2013, jumping two cleans rounds with Barron to help the U.S. team take second in the Furusiyya FEI Nations Cup in Rotterdam. She then won the Global Champions Tour Grand Prix of Lausanne (Switzerland) over a star-studded field and helped the U.S. team win the consolation final of the Furusiyya FEI Nations Cup Final in Barcelona.
In her two observation events for the short list, Lucy turned in rounds of 4 and 4 in the Furusiyya FEI Nations Cup at Rotterdam, then placed ninth in the grand prix there. At Aachen, she sparkled, putting in two clear rounds over a massive course to help the U.S. team to second place in the Nations Cup, then taking sixth in the prestigious Rolex Grand Prix of Aachen.
Lucy grew up riding in California and came up the junior hunter, jumper and equitation ranks with trainer Archie Cox. She started riding with Markus Beerbaum and Meredith Michaels-Beerbaum in 2010, focusing on the jumpers. Her first big star was Nemo 119, a feisty gelding she took bought in 2010 after he'd had much success with British rider Nick Skelton. Nemo was known for his bucking antics on course.
Did You Know?
• Barron was formerly ridden by Canadian rider Francois Lamontagne, who competed him up to the two-star CDIO level until Lucy bought him at the end of 2012.
• Barron's original name was Underground des Hauts Droits, but Lucy changed it to Barron in tribute to her grandfather, Robert Barron Frieze, who is involved in the racing industry and passed his love of horses on to Lucy.
• Lucy combines her riding with studying architecture at Stanford University (Calif.), where she's a member of the class of 2015.
Want to keep up with all the World Games show jumping action? Bookmark the Chronicle's online hub for Alltech FEI World Equestrian Games coverage. Or, go to their dedicated World Games Show Jumping page to keep informed with all the action!