Oregon City, Ore.—Dec. 3
George Morris is old school.
Let's be clear, actually. George Morris is the school.
The weekend of Dec. 2-4 gave equestrians in Oregon and Washington the opportunity to ride in and audit a clinic by Morris matched with the chance to watch Olympian Rich Fellers ride with the father of hunt seat equitation.
The three-day clinic at Fellers' Timberline Meadows Farm in Oregon City, Ore., featured Morris in classic form—biting in his criticism, unabashed in his praise and full of meticulous attention to detail.
Morris peppered his remarks with the comment that "it's not politically correct, but." He wasn't referring to the recent election or cringe-inducing remarks but to his philosophy of riding that isn't affected by changes in fashion or whoever the current top rider is.
For example, he decried the current trend toward low hands in jumping and instead had riders lift their hands to create contact. "Contact is beautiful, it's subtle, it's definitive," he said.
Tools such as short martingales or draw reins are a cop-out by riders who refuse to develop good hands, he said. The next level higher is to develop educated hands, saying he himself was not talented but had developed educated hands.
He started each group at the walk, telling riders to position their bodies just 5 percent in front of the vertical. The 4' riders started work at sitting trot soon after the walk warm-up. He admonished that he didn't normally start with a slow sitting trot but he wanted to work on position—both the canter and the sitting trot have that slightly forward position but a seat "fixed to the saddle."
Morris repeatedly emphasized the importance of dressage—but not a deep seat, saying that an extremely deep seat in dressage is also a modern trend not used by top riders decades ago. "More forward," he told several riders.
Morris' belief in the principles of dressage was made clear as the riders and their mounts were put through a series of flatwork exercises. "You can't teach a rider jumping by jumping," he said.
"This is art not a sport.
"Don't reinvent riding," he continued. "Next year I will have ridden a horse for 72 years," and yet he said he's still learning. He cautioned against equestrians who think they have all the answers. "I'm still learning. I make mistakes. Mistakes are your best teacher," he advised. They tell you that "this ain't the right way."
While the rules of riding are simple, he said, it's not easy to do. "The horses are all different; the basic principles don't change."
Riders first did shoulders-in, then haunches-in, something he would then later have them do at a canter on a circle before and after fences to set the horses up correctly for their jumps. "Shoulders-in always precedes haunches-in," he said, adding that "all bend is is making a horse straight on curved lines." And the basis of riding is the volte, the circle.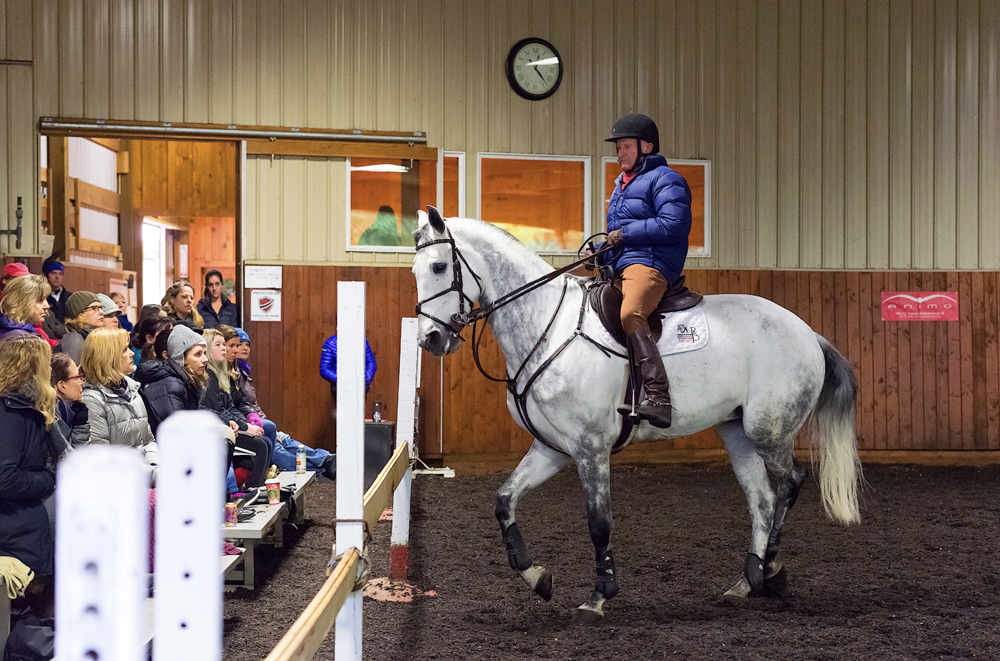 George Morris demonstrating haunches-in on Kimber Evers' horse.
Most horses, Morris said, are hollow on the right, as a result of the way they lay in their mothers' womb. Riders endeavor to make them straight, he said, but even the great Valegro isn't truly straight.
The exercises increased in difficulty from the basics of backing up—always move your legs back first to create a chute and keep the horse straight—to a shoulder-in then a half pass on a half turn in reverse to a haunches-in, an exercise that helps set up for lead changes.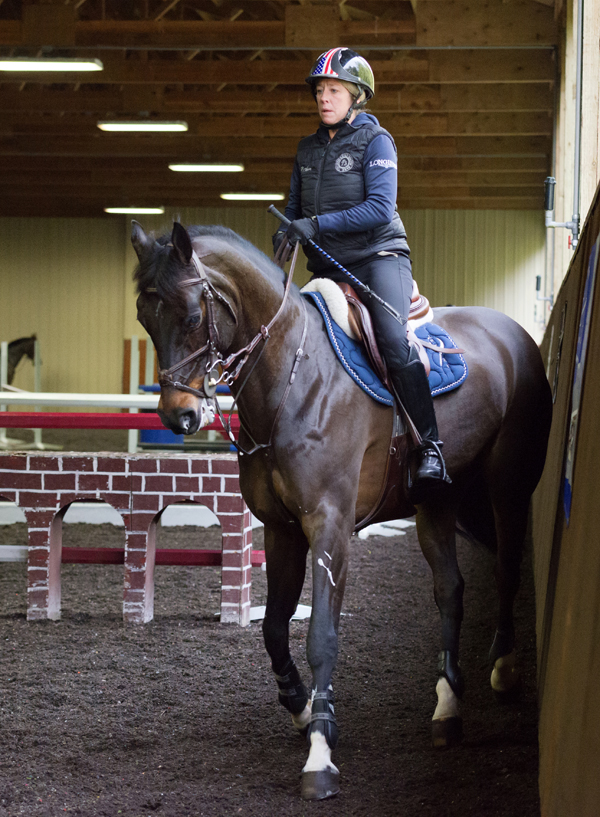 Shelley Fellers executing shoulder-in on her grand prix horse Revenge.
Morris himself demonstrated changes on Kimber Evers' tall gray, telling her when he handed the gelding back, "You're driving a Rolls Royce now."
In Fellers' group, his wife Shelley Fellers was the lead-change star on her dark bay gelding Revenge (aka Reggie). The audience in the stands murmured in admiration as the pair did three-tempi changes down the center of the arena without even a swish of the tail. Morris hammered home that tail swishing in the lead change is a sign of lightness in the croup and said lead changes must be taught in a full, not half, seat to keep the croup down. Bucking, kicking and tail swishing are resistance to the leg and seat he said.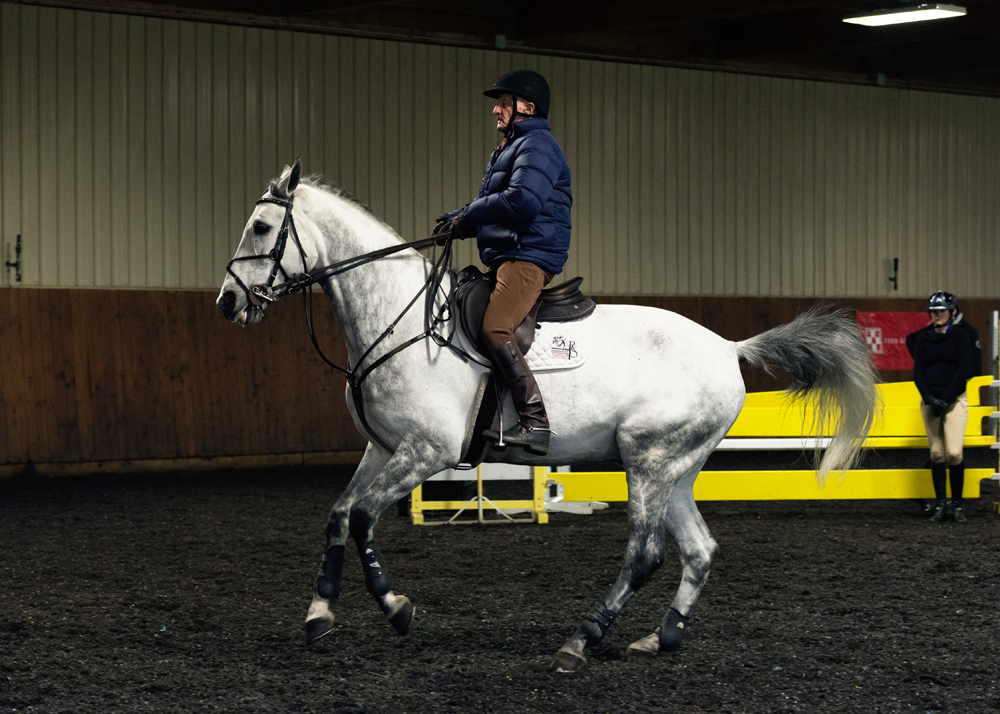 George Morris schooled flying changes on Kimber Evers' horse.
Suppleness comes from the hindquarters, the seat of resistance, Morris said, chiding riders who let their horses stop to defecate and thereby teaching their mount it's OK to drop behind the leg to poop. "I love a cluck," he told one rider whose horse tried to slow as it pooped its way to a fence. But he cautioned against becoming too dependent on the voice when a well-timed swat behind the leg with a crop might be what's called for.
Hunter/jumper riders tend to not to pay attention to detail on the flat and get "sloppy," Morris said. "Even when cooling out, you are schooling the horse."
Jumping began with a crossrail about 20 feet to an oxer. For the 4′ group the height and width of the oxer was slowly increased. For Rich Fellers' 4'6″ group, riders were asked to jump the crossrail to the oxer, do a half turn in reverse, jump the exercise backwards, then another half turn in reverse and through the exercise again.
Horses and riders who did well didn't repeat the exercise until the difficulty increased because as he pointed out, "If it's excellent don't do it again and again. Don't jump horses just to jump horses."
Rich Fellers jumping Darco's Legacy.
One of the key combinations of the day was a quadruple down the long wall. A vertical in, a short one-stride; to a two-stride, also fairly tight; to a longer one-stride. Riders not only jumped through the combination directly but they also did the end fences on an angle.
The 4'6″ group was given an extra challenge—after negotiating the quadruple one direction, they switched directions and came at it with the longer one stride as the first element, which led several riders to chase to the first fence. Morris pointed out that the chasing had later repercussions in the course as rails came down.
The 4'6″ group was a family affair with Rich on Darco's Legacy (instead of his usual mount Flexible, who was recently back from winning the WIN $34,600 HITS Welcome Stake [Calif.]), as well as Shelley and their son and assistant trainer Chris Fellers all riding together.
Another tricky exercise was an oxer into a short corner, with a left turn and a long gallop to a rollback over a yellow fan, three strides to a plank, then a bending five to the oxer again. The yellow fan fence allowed Morris to put the shoulders-in, haunches-in exercise into play. The horses that had the best distances were the ones who had their hindquarters slightly to the inside around the corner, setting them up for a straight ride to the plank. If all went well, then riders could bend outward for the five.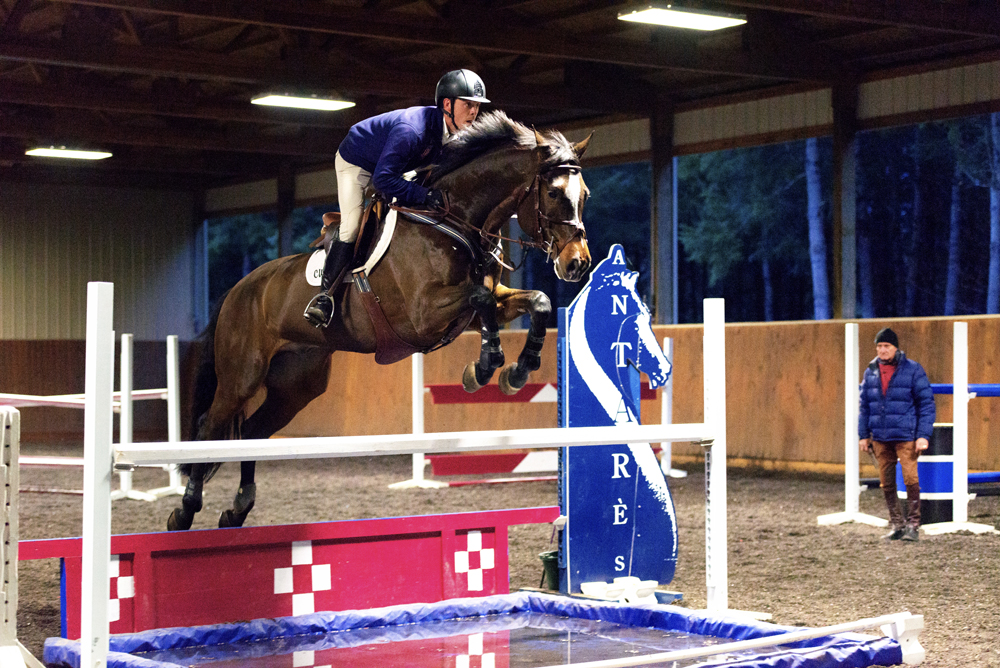 George Morris watched carefully as Chris Fellers jumped through the exercise.
Mistakes were met with classic Morris commentary. "Ditz brain," he said of one rider who left out strides. Of another who bobbled the oxer after an otherwise lovely go he said, "She snatched defeat out of the hands of victory! You are not over the oxer until the fat lady sings."
Even Rich himself didn't escape critique, aboard Darco—an eventer transitioning to the jumpers—he was told his fingers were "too busy." Morris however was also quick to say that it's Fellers' attention to detail that gets him to the World Cup Finals and to praise his form over fences and ability to not interfere with the animal's jump.
When a rider fell after a refusal, the audience gasped, but Morris just calmly shook his head and said, "You people fall off so easily."
He recommended more riding without stirrups.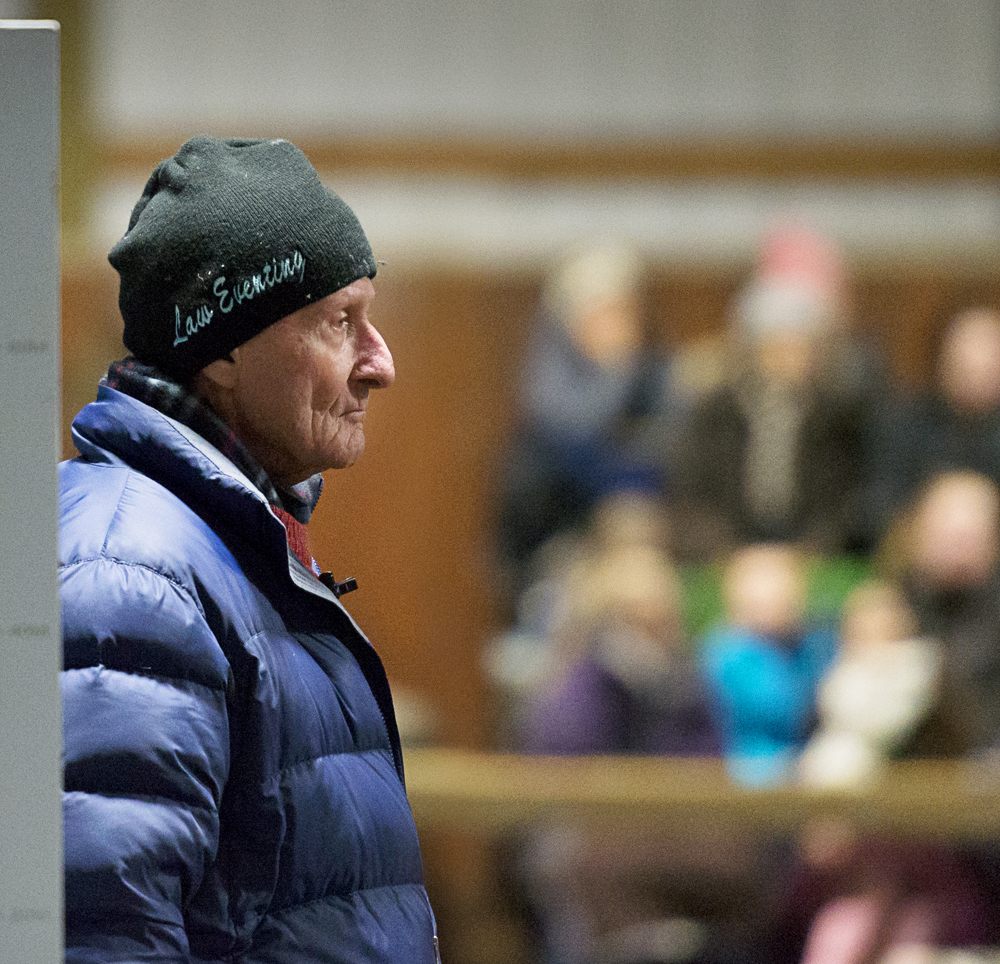 George Morris watching.
Successful rides were greeted with "Beautiful!" or a simple nod of approval.
After each of the riders in the groups finished with aplomb, Morris reminded them to never just be done after fences. Circle, halt, counter canter. Finish with something.
Morris' widely known acerbic commentary isn't without a point. After the "ditz brain" comment, he discussed the need to be able to ride under pressure and stress.
Check back on Monday morning at www.coth.com for a report on Day 3 of George Morris' Oregon clinic.