It's a pretty safe bet that not many of the junior hunters showing at the Pennsylvania National were eventing at a high level last year. But Deejay is special, say all those connected with him.
"I never imagined he'd learn it so fast, but he's one of the kindest horses I've ever known. He tries his heart out no matter what he's doing, whether it's eventing or the hunters," said Savannah Hemby, who rode Deejay in the large junior hunter, 15 and under division at the Pennsylvania National.
Hemby, of Argyle, Texas, has been showing Deejay for just a year, and before she took over the reins, Deejay was competing at the preliminary and intermediate levels with Jessica Pye. His last event was at the Plantation Field Horse Trials (Pa.) in May 2016, where he placed third in an intermediate division.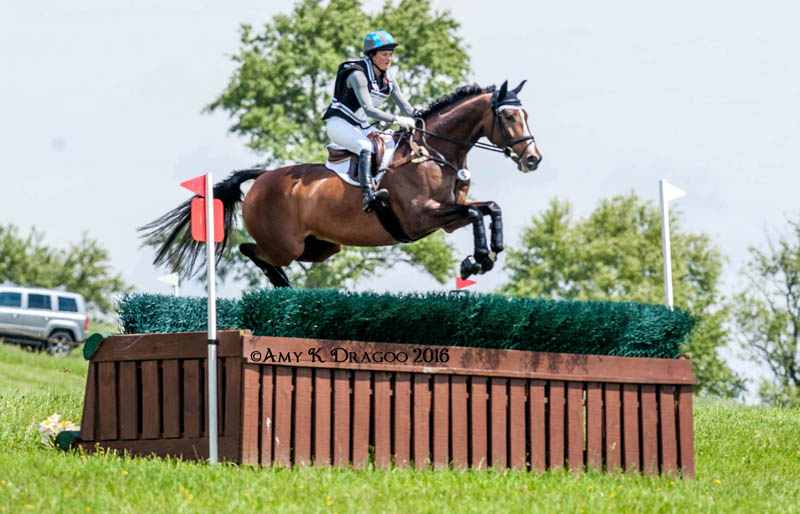 Last year, Pye was keeping Deejay at hunter/jumper trainer Debbie diVecchia's Windswept Farms in Argyle. "I kept telling her, he'd make an awfully nice hunter! Jessica loves this horse and she did very well with him, but she decided he would probably like a different job," diVecchia said. "He'd do anything for her, but this is really his forte."
Owner Jo Ellen Keuger bought Deejay as a 5-year-old after he'd been started as a dressage horse. "My deal with his owner was that he was intended to be a four-star horse and if he wasn't going to do that, he'd go back to be useful for her daughters," Pye said. "I ran him intermediate for a season and he did get some ribbons, but I had to chase him around a little bit. He was never going to stop; he was just a little over careful and he jumped really high. I didn't feel like he loved it.
"Debbie is a mentor of mine. She used to event back in the '80s. I chatted with her about the horse and I said, 'I don't want to ruin him trying.' He's too nice. It would have been a real shame to ruin this horse trying to make him something he's not."
So, diVecchia went about the process of transitioning Deejay to a hunter. She characterized the process as "pretty easy. At first he was a little worried, but it's been a short time. She qualified for indoors on not that many shows," she said. "He's just such a kind horse. He's very beautiful and moves great. It was just getting him to take a breath but that's his nature a bit. He likes to take his time."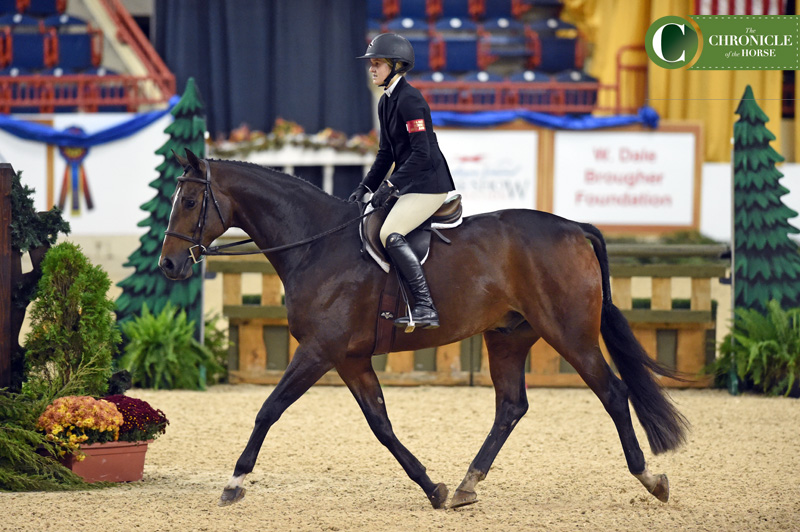 Hemby, 16, was herself just coming back to riding after a two-year break. "I wanted to play basketball, so I tried that. And I did not like it at all," she said. "I had to come back to my passion."
And when Hemby came back to riding with her, diVecchia knew she was just what Deejay needed. "When Jessica started talking about maybe trying to make him into a hunter, I said, 'I've got a kid who would be perfect to help him make that transition.' She's a very talented and focused kid," she said.
Pye had evented the Dutch Warmblood (San Remo—Titiana II) since he debuted at beginner novice in 2014. In September 2014, Deejay won the novice ATC division at the American Eventing Championships (Texas). He spent 2015 at preliminary level and moved up to intermediate in early 2016, sometimes earning a ribbon and sometimes retiring on course. She told diVecchia he was ready to be a hunter.
Kreuger has owned Deejay throughout—Hemby leases him from her. In October 2016, Hemby and Deejay started out in the children's hunter division and then moved up to the low junior hunters in January. They made their 3'6" debut during the Great Southwest Series (Texas) in February.
"The first time I rode him, we jumped, and I knew he'd be a great hunter. Our only issue was two-strides. It took us a while to not run through those a bit. But his jump was just there," Hemby said.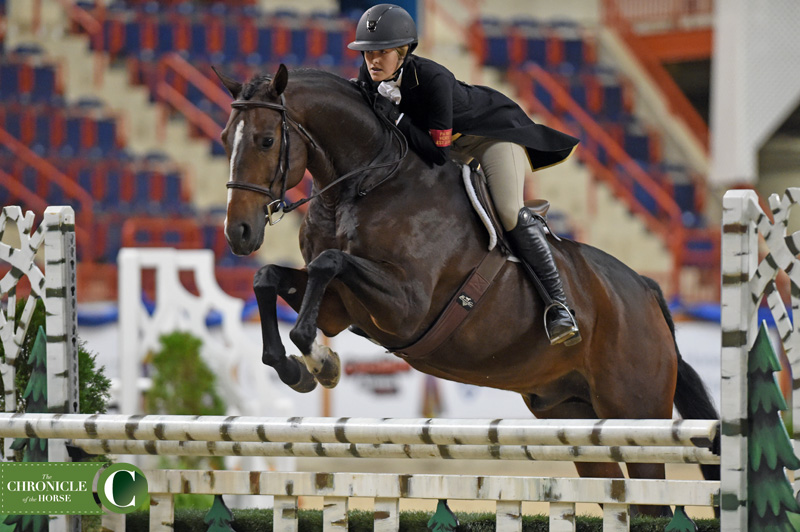 "He's a lovely, easy, consistent kind of guy and Savannah is about as sweet and kind as they come and she rides so well," Pye said. "Debbie said she was fairly new to this level and Deejay is obviously new to the whole discipline, so it's been pretty cool to watch her be so successful with him. He's a really cool horse; definitely one of a kind."
By July, they'd done well enough that Hemby started eyeing the possibility of indoor shows. They placed eighth in the USEF Junior Hunter Finals—East (N.Y.) and indoor shows became more likely. "It means a lot to me to be here; it's always been one of my dreams," Hemby said of showing at the Pennsylvania National.
Hemby and Deejay warmed up at the Capital Challenge (Md.), placing fifth in the large junior, 15 and under stake classes there, then headed to Harrisburg, Pa.
At the Pennsylvania National, they placed fourth in the under saddle and seventh in an over fences class. Hemby had good news to text back to Pye.
"All the time, after every day I show, I text her how we did. She loves it," Hemby said. "I think it was heartbreaking for her to give him up, but I think she knew this was best for him. I think it was really humble of her to do that because I for sure can't imagine giving him up."
IMPORTANT LINKS:  All the COTH Pennsylvania National coverage  |  What You Need To Know  |  live results/order of go  |  live streaming  |  show website