Wellington, Fla.—Feb. 9
Canadian Olympic Champion Eric Lamaze topped the $130,000 Ruby et Violette WEF Challenge Cup Round 5 riding Fine Lady 5 at the Winter Equestrian Festival.
"She is really an unbelievable horse," said Lamaze of Fine Lady 5, the mount he piloted to an individual bronze medal at the 2016 Rio Olympic Games. "I have said it before; no one wants to compare anyone to Hickstead, but she is getting there slowly. For me, it is going to be the second horse of a lifetime."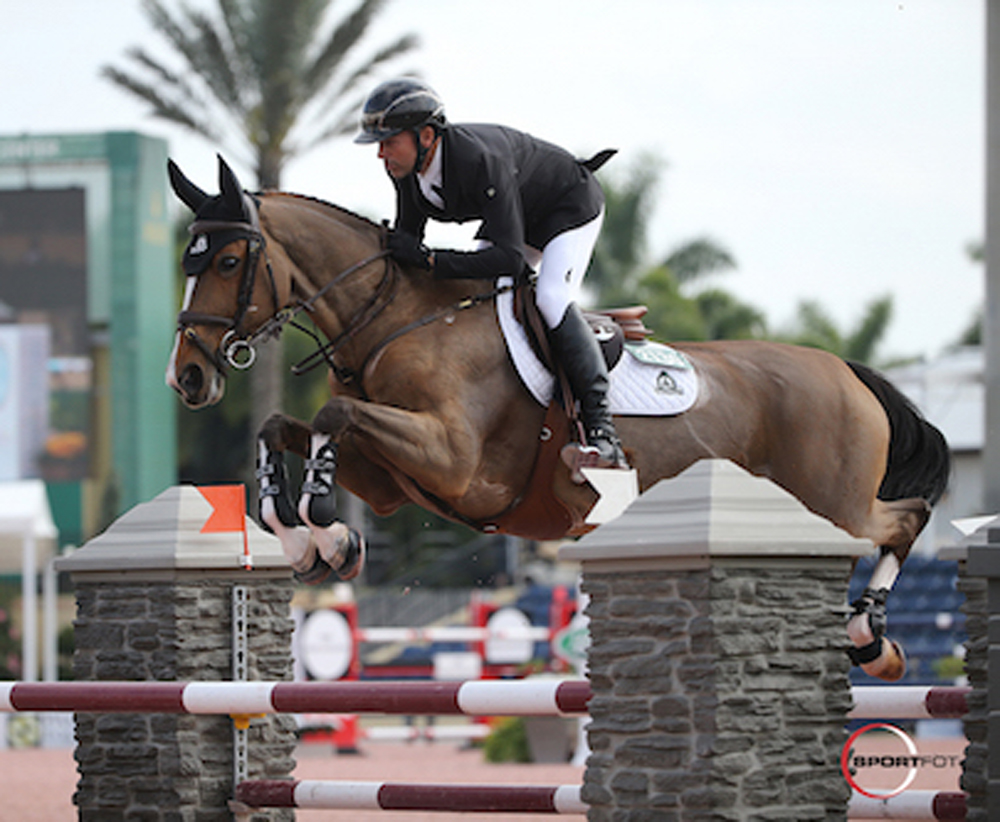 Eric Lamaze on Fine Lady 5. Photo by Sportfot
Thursday's victory marked Lamaze's 25th WEF Challenge Cup win in his career, four of which were in the irons of Fine Lady 5, a 14-year-old Hanoverian mare (Forsyth FRH x Drosselklang II).
"I've been doing it for quite some time!" laughed Lamaze when asked what the secret was to his success in the weekly WEF Challenge Cup classes. "Specific to today, Fine Lady suits every sort of competition. As you saw at the Olympics, she is really an unbelievable horse."
The 2012 London Olympic course designer Robert Ellis of Great Britain built the track for 55 competitors in Thursday's class. Fourteen horses advanced to the jump-off with Lamaze and Fine Lady 5, owned by Artisan Farms, LLC and Torrey Pines Stable, returning third to post a fault-free round in 41.23 seconds.
His time could not be beat and gave Lamaze his second WEF Challenge Cup Series victory of the 2017 season after also winning Round 3 with Houston.
Hardin Towell came the closest to bumping Lamaze from the top, but finished double clear in 43.72 seconds for second place riding Lucifer V, owned by Evergate Stables, LLC. From the lead-off position in the jump-off, Margie Engle settled for third with a double-clear effort in 45.27 seconds aboard Royce for owner Gladewinds Partners, LLC.
Following the 2016 Rio Olympic Games in August, Lamaze gave Fine Lady a long rest before resuming competition at five-star events in Paris, France, and Geneva in December. He then relocated his training stable to Wellington, Fla., for the 2017 winter season.
"My plan was to carry forward the momentum from [the European tour] and start WEF with her, then leave her alone and get her ready for the European show season. You won't see much more of her after the next week or two." Lamaze said.
Second place rider, Hardin Towell, was pleased with Lucifer V's performance saying, "We were riding for second today. I knew I wasn't going to catch [Eric]. Fine Lady is fast, and they looked fast today. I set my plan and went as quickly as I felt I could to leave up the jumps."
Final Results: $35,000 Ruby Et Violette Wef Challenge Cup Round 5
1. Fine Lady 5: 2003 Hanoverian mare by Forsyth FRH x Drosselklang II, Eric Lamaze (CAN), Artisan Farms LLC & Torrey Pines Stable: 0/0/41.23
2. Lucifer V: 2006 Westphalian gelding by Lord Dezi x Grandeur, Hardin Towell (USA), Evergate Stables Llc: 0/0/43.72
3. Royce: 2004 Oldenburg stallion by Café Au Lait x Grandilot, Margie Engle (USA), Gladewinds Partners LLC: 0/0/45.27
4. GC Chopin's Bushi: 2006 Kwpn gelding by Contendro II x Nairobi, Alberto Michan (MEX), Iron Horse Farm: 0/0/45.69
5. Don Vito: 2008 KWPN gelding by Quaprice Z x Jus De Pomme, Ben Maher (GBR), Poden Farms: 0/0/45.80
6. Enjoy Louis: 2004 Belgian Warmblood gelding by Coriano x Kannan,, Catherine Tyree (USA), Mary & Joe Tyree: 0/0/48.05
7. Carrabis Z: 2003 Zangersheide stallion by Canabis Z x Grannusso, Richie Moloney (IRL), Equinimity LLC: 0/0/57.20
8. Cornet 39: 2004 Oldenburg gelding by Cornet Obolensky x Caletto I, Lauren Hough (USA), Willow Grace Farm: 0/4/46.82
9. Sfn Zenith: 2004 KWPN gelding by Rash x Fuego Du Prelet, Jeroen Dubbeldam (NED), Springpaarden Fonds Nederland & W. Van Der Ham: 0/4/46.96
10. Victor: 2002 KWPN gelding by Elmshorn x Grandeur, Tiffany Foster (CAN), Artisan Farms LLC & Torrey Pines Stable: 0/8/47.60
11. Corette: 2007 KWPN mare by Lupicor x Clinton, Keean White (CAN), Angelstone Farms, Salvador Stables & Diamante Atelier: 0/8/52.16
12. Quintol: 2005 Oldenburg gelding by Quintender x Cento, Eduardo Menezes (BRA), Eduardo Menezes: 0/12/50.98