North Salem, N.Y.—Sept. 18
It's not often that grand prix winners salute the crowd from the ground, but Kent Farrington took a bow—literally!—after winning the $216,000 Longines FEI World Cup New York World Cup qualifier.
Just as he and Gazelle had galloped through the timers in their winning jump-off round, Gazelle spooked and catapulted Farrington out of the saddle, demonstrating even an Olympic silver medalist and winner of the American Gold Cup still falls off from time to time.
Farrington got right up and was all smiles as he caught Gazelle and took a bow for the crowd after sticking his involuntary landing. "I finished the round and I thought, 'Oh that's over,' and I leaned forward to give her a pat on the neck and canter around the pond. She had a different idea to turn around and go back to the gate. So we compromised with a front flip and bow!" Farrington said.
"She spooked at something at the end of the jump-off," Farrington continued. "She did that in the first round. She's a really special horse. A lot of my horses are like that. I try to find horses that are careful, and that makes them a bit skittish and sometimes a little bit funny about anything moving fast or anything that looks a bit different to them. That's their quality and that's what makes them great and able to win a lot of classes. It's also makes them a little strange sometimes and you don't know exactly what they are going to do."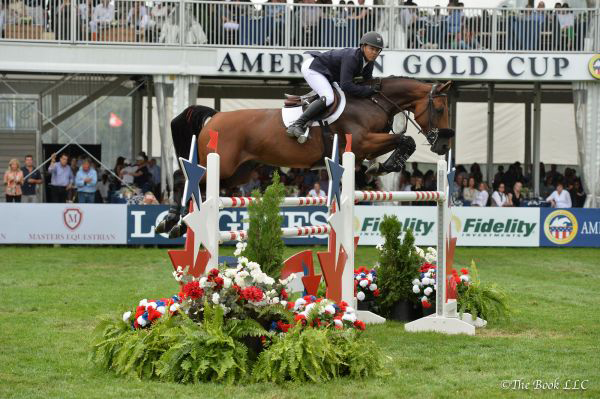 Kent Farrington and Gazelle on their way to the win in the $216,000 American Gold Cup CSI-W.
Forty horses and athletes, who qualified for the week's main event in Friday's $86,000 American Gold Cup Qualifier, not only competed for the coveted prize money on Sunday, but also for valuable ranking points within the Longines FEI World Cup™ Jumping North American League.
Course designer Alan Wade set a technical and challenging first round track in the class and only saw two athletes—Farrington on Gazelle and Charlie Jacobs on Cassinja S—produce clear rounds to advance to the short course.
Going head-to-head in the tiebreaker, Jacobs returned to the field first to tackle the nine-fence jump-off course. The pair started strong over Wade's shortened track, but the 10-year-old mare just brushed the back rail over the third to last oxer to collect 4 faults in 48.69 seconds. Thus, all Farrington had to do to win the class was jump clear.
The experienced show jumping veteran showed no mercy and did just that to claim his first grand prix victory at the American Gold Cup. With no faults, they crossed the finish line in 53.18 seconds for the win.
With no other major championships occurring in 2017, athletes such as Farrington are focused on qualifying for the Longines FEI World Cup™ Jumping Finals in Omaha, Neb., in March 2017, and the American Gold Cup hosted the second leg of the East Coast qualifying events.
"This year, especially with it being in the United States, I'd like to go if I feel like I have a horse that is on form at that time," said Farrington. "I've been to the World Cup Finals a few times. I really only want to go if I think I'm going to be a contender, but I'd like to plan on going right now.
But Farrington isn't targeting Voyeur, the horse who helped him win team bronze at the 2015 Pan American Games (Toronto) and team silver at the 2016 Rio Olympic Games, for the World Cup Final.
"The World Cup Final is a very particular type of competition," continued Farrington. "It's in a small indoor arena so you really need an indoor specialist. They have to be able to hold up over five rounds, which is a lot of jumping. I wouldn't necessarily take Voyeur, who is an older horse. He's done multiple championships already for me. I think that would be a big ask of him at this point in his career. I'd rather spot him towards individual competitions. If one of my younger ones is ready, in my eyes, to go then I'll take a swing at it."
For Jacobs, Sunday's runner-up finish not only adds to his list of impressive second-place finishes collected throughout the summer with Cassinja S, but it also moved him up to the No. 1 spot in the Longines FEI World Cup™ Jumping North American East Coast League rankings.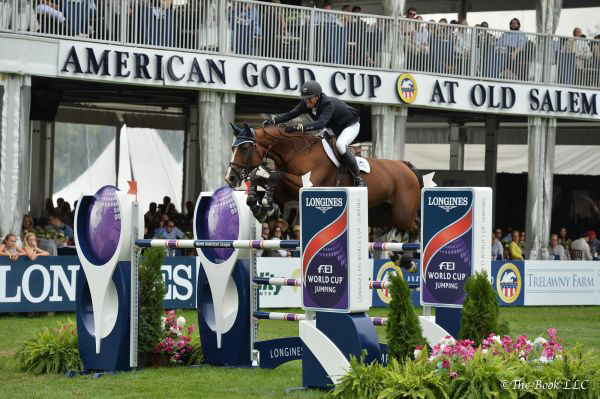 Charlie Jacobs on Cassinja S.
The pair was also second in the $375,000 CP Grand Prix at the Spruce Meadows 'Continental' CSI5* Tournament in June as well as in the $300,000 Hampton Classic Grand Prix (N.Y.) at the beginning of September.
"First and foremost, congratulations to Kent on a great ride," said Jacobs. "Thank you to Longines and the organizing committee for a wonderful week of showing here at the American Gold Cup.
"I am fortunate to have a really good team behind me," continued Jacobs, an amateur competitor who balances work and showing as the CEO of Delaware North's Boston Holdings including the Boston Bruins. "They look after my horses and keep them in top shape. When I arrive at a place like Calgary or here, the horses already have some good days under their belts and I am able to go right in the ring. I think it also speaks volumes about the quality of the horses. This is the third major grand prix in a row this summer that she has been second in. That speaks a lot to her consistency and her quality."
Taking third place honors was the fastest of the athletes with a single time fault, Lauren Tisbo and Coriandolo Di Ribano, owned by Tequestrian Farms, LLC. "Coriandolo Di Ribano is a young horse," said Tisbo. "I just got him in the middle of February. This was a big step up for him so I am very happy with his round today!" In addition, the top five placings in Sunday's grand prix all went to U.S. athletes as Laura Kraut and St. Bride's Farm's Confu finished in fourth place on 1 time fault in the first round, while McLain Ward and Double H Farm's HH Carlos Z finished in fifth place on 4 faults.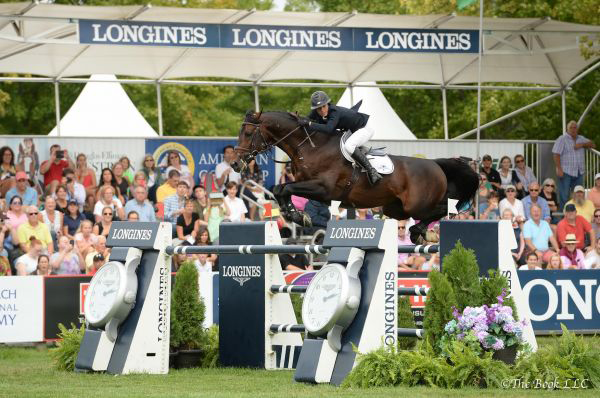 Lauren Tisbo on Coriandolo Di Ribano.
See full results of the $216,000 American Gold Cup CSI-W.