Aachen, Germany—July 20
"That pole today was really expensive," Kent Farrington proclaimed, in what might be the understatement of the year, at the press conference following his second-placed finish in the Rolex Grand Prix of Aachen.
After jumping two spectacular clear rounds and every jump-off fence clear up until the last, his mount Voyeur tipped the rail on final vertical to hand German star Christian Ahlmann the top check—worth a stunning €330,000, or $446,000—and a bid for the Rolex Grand Slam of Show Jumping with his victory in the €1 Million Rolex Grand Prix of Aachen.
"I was not so happy about that, but I thought my horse was great all week," Farrington continued, mastering the art of understatement yet again. In this, his first appearance at the historic German venue, the 33-year-old rider has been on fire, jumping to a scorching win with Voyeur in the Rolex Grand Prix qualifier class on July 16, the Turkish Airlines Prix of Europe.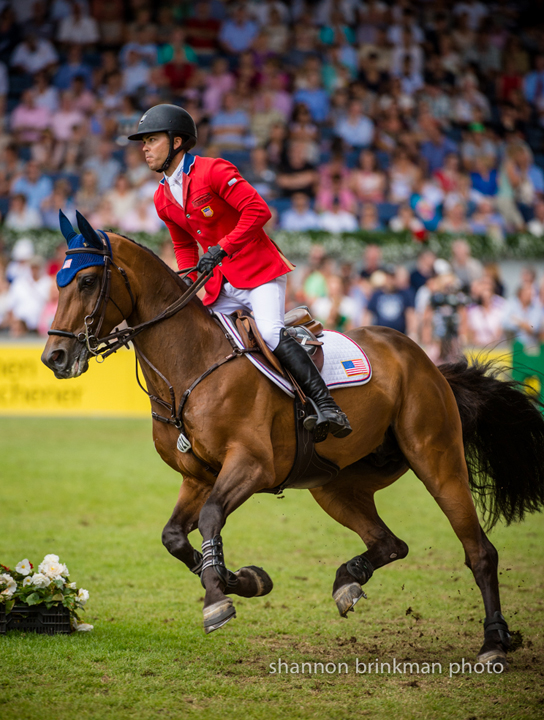 Look out, Richard Spooner: Kent Farrington may be making
a name for himself as the new "Master of Faster."
Photo by Shannon Brinkman.
Farrington's second-placed finish today will send him home with a check for more than $270,000. Voyeur, owned by Amalaya Investments, was also awarded the Halla Award, given to the "Best Horse of the Show."
"It is a fantastic show, and it is amazing just to be here," Farrington said. "So for me, it's already a dream. I came very close today. That was a very painful last rail, but Christian was awesome."
"Simply fantastic," was the only way Ahlmann, 39, could describe the feeling of accomplishing his childhood dream. "I have thought about this moment for 20 years."
Course designer Frank Rothenberger will sleep well tonight knowing he met his goal of having four to six riders advance to the jump-off. After 15 jumped clear in the first round, five emerged flawless from the second and moved ahead to the final.
Aboard Codex One, Ahlmann was the first to jump off, and his clear go in front of 40,000 spectators couldn't be matched by the four riders who followed him: Farrington, Marcus Ehning of Germany (Plot Blue, eventual third), Daniel Deusser of Germany (Cornet D'Amour, eventual fourth) and U.S. rider Lauren Hough (Ohlala, fifth).
"Normally it is better to ride last. But not today," Ahlmann said with a laugh.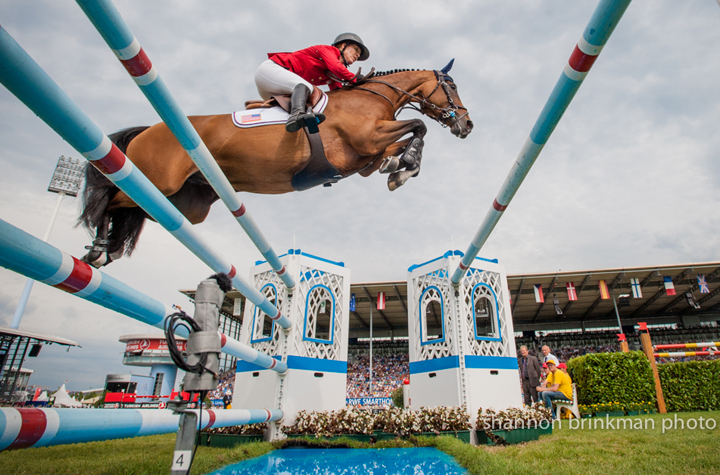 Lauren Hough went for broke in the jump-off today, but her risks for speed cost her two rails.
She finished fifth and picked up a check for $81,000 in the Rolex Grand Prix of Aachen
aboard Ohlala. Photo by Shannon Brinkman.
Had Farrington cleared the last fence, the victory would have been his, as his time of 43.91 seconds was the fastest by far. Hough was the second-speediest, clocking in at 44.71 seconds, but she picked up 8 faults along the way.
Lucy Davis and Barron also put in a great showing for the stars and stripes. One rail in the first round kept them out of the jump-off, but their overall speed and their clear second round left them sixth overall in the final standings. Margie Engle finished 11th aboard Royce.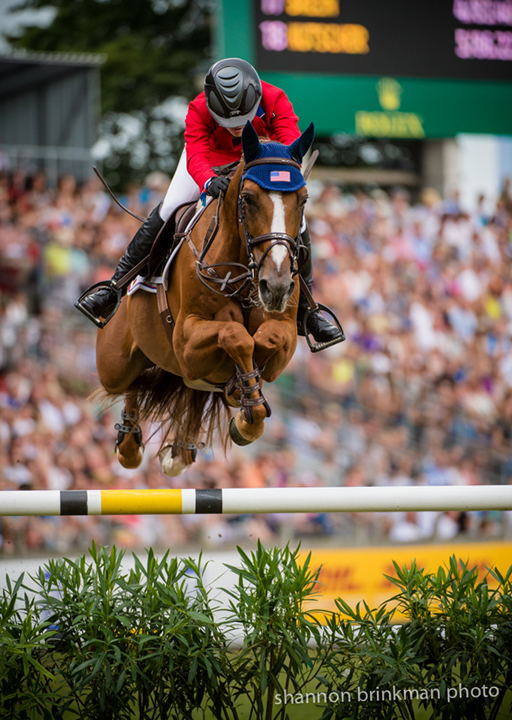 Lucy Davis barely missed the jump-off with
Barron, finishing sixth in the Rolex Grand
Prix of Aachen. Photo by Shannon Brinkman.
Reed Kessler, who helped the U.S. team finish second in the Nations Cup earlier this week, did not advance to the second round today after having two rails in the first with Cylana.
Looking for full results from the Aachen CHIO? You can find them here.